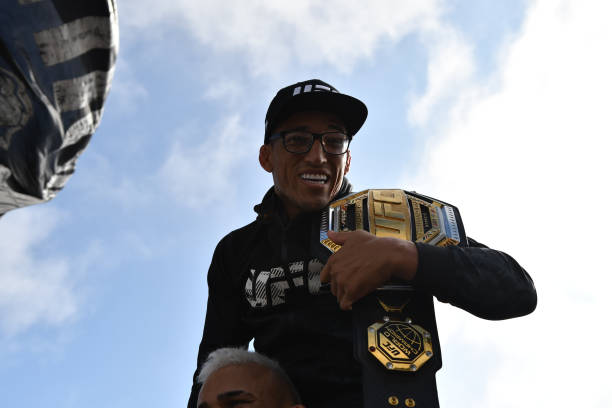 Regardless of who you ask, Dustin Poirier is the UFC's overwhelming uncrowned champion and Dec. 11 in Las Vegas will be his title coronation. Charles Oliveira, who won the lightweight belt six months prior vs. Michael Chandler at UFC 262, is relishing the chance to silence that noise – making his first title defence and heading into 2022 with a whole host of contenders circling.
Poirier not ready to retire, vows to hand out 'ass-whoopings'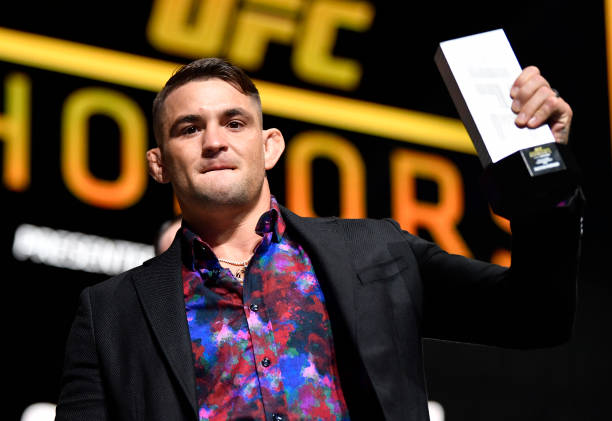 After failed attempts to entice former UFC lightweight champion Khabib Nurmagomedov back into the Octagon, an Oliveira-Chandler matchup always felt like the interim title fight while Justin Gaethje (#2) and Dustin Poirier (#1) were experiencing a contrasting year themselves.
"Nah man, I'm a fighter. I'm fortune enough now, with this year I've had, I could walk away. It's a great position to be in, but these guys need ass-whoopings and I'm the guy to give it to them. We can't walk away like that.

I'm not walking away, I'm a young man in his prime."

Poirier on whether he'd retire with a championship win next month
While there was a lot said about his abrupt retirement, Khabib earned stoppage wins over Poirier and later Gaethje, the latter in his final professional appearance, and was dominant at 155lbs.
Poirier earned a fourth-round TKO win over Gaethje during a Fight of the Night encounter back in April 2018 and has won seven of his last eight – Khabib proving a special exception to the rule.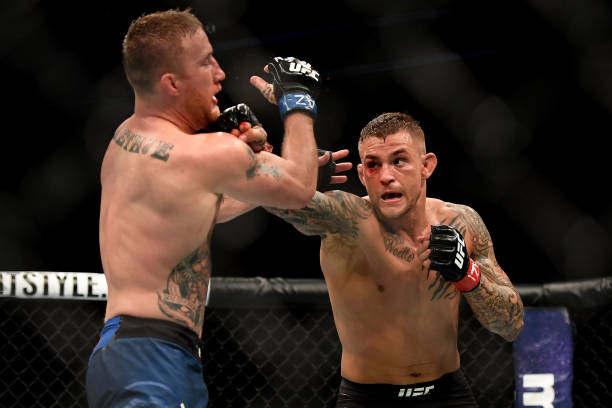 Gaethje has already done his bit, as far as fight promotion is concerned, ahead of a potential rematch between the two lightweights. Dustin is aware and remembers the night fondly:
"Good on him, I'm a fan. I have nothing bad to say about the guy, but I beat him that night in his hometown. What else can I say? I was back at the big Airbnb, we did like a house party, I'm drinking Modelos and was fine.

He [Gaethje] doesn't have any memories of going back and looking at the fight, because I knocked him out… probably kind of cloudy. It was a great night."
---
Oliveira aware of disrespect, but content fighting the best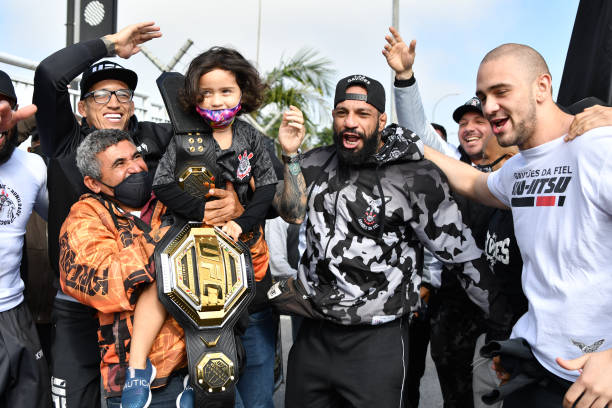 All things considered, Oliveira feels disrespected as the defending champion, something the Brazilian doesn't expect will change if he makes a successful defence at UFC 269 either.
Khabib's teammate Islam Makhachev (#4) has been boldly billed as the next long-term titlist at 155lbs, irrespective of whether Poirier backtracks in retiring or not. He raced to a first-round finish against Dan Hooker on short-notice last month, and has called for a title shot too.
Tony Ferguson's durability and remarkable pain tolerance were on display but Beneil Dariush eased past the perennial contender elsewhere at UFC 262 to record a third post-lockdown victory. Now on a seven-fight win streak himself, dating back to 2018, he remains unbooked.
Michael Chandler (#5) was involved in a war for the ages against Gaethje at UFC 268 and despite losing, has gained fans aplenty – which will help his case for more high-profile matchups.
He fell short against Oliveira, but a rematch isn't impossible in the long-run as that fight could've easily gone either way after a thrilling first-round where momentum swung dramatically.
"Someone else will show up and be like 'Oh, you have to beat this one now, that one.' We'll keep on fighting, making history, staying focused and centred, putting on great fights – I wanted to fight the best and have been doing that.

No-one has such a gigantic winning streak like me, nine with only one decision. Many say I have to beat Dustin to prove I'm the champion. I am the champion!

I think I have way more weapons than him, strikers took him down way too easily and you know what happens if I take him down. If he trades on the feet with me, you know I'm hitting hard.

I have firepower in my hands, my jiu-jitsu. I'm not one of these guys that keep talking, looking for attention. I show up inside the Octagon."
On a PPV card alongside compatriot and two-division champion Amanda Nunes, we'll have to wait patiently and see whether the underdog prevails next month in his first title defence.
Picture source: Getty Images — quotes via MMAFighting