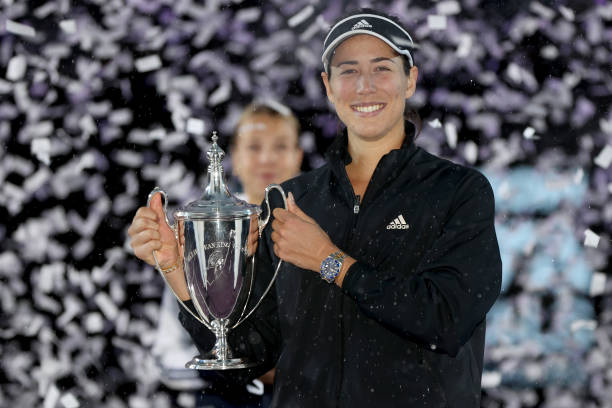 After hearing rumours this year-end event would be moved to Mexico, Garbine Muguruza was giddy with anticipation. Despite losing her first group match and trailing a set down to Barbora Krejcikova in match two, the Venezuelan-born Spaniard won eight consecutive sets – four against the same opponent – making history in Latin America as the first Spanish champion.

Muguruza delivers big at crucial points in tension-packed finale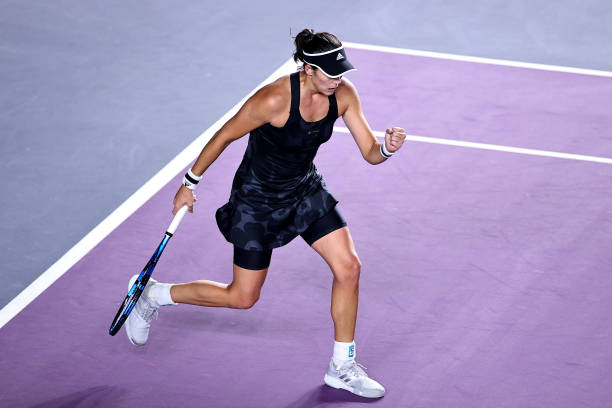 Muguruza [6] bt. Kontaveit [8] 6-3, 7-5 to win the 2021 WTA Finals tournament
"It was a dream come true," Muguruza describes opportunity to play event in Mexico after China's COVID-19 concerns forced a location change on short-notice
The 28-year-old also becomes the first Spanish winner of WTA Finals tournament, after compatriot Aranxta Sanchez Vicario lost in four sets to Steffi Graf in 1993 – her birth year
"Thanks to everyone in Estonia, waking up at 3.30am to watch my matches, the support this week has been incredible," Kontaveit said afterwards
One of six tournament debutants this year, Anett will rise to a new career-high world no. 7 next week – two-time Slam champ Muguruza leapfrogs Krejcikova and Pliskova into #3
Admittedly, it felt like Anett Kontaveit was fighting a losing battle here long before the first ball had been struck. She'd already lost a dead rubber to Garbine Muguruza in the early hours on Monday and after a gritty three-set win over Maria Sakkari overnight, how would she fare?
While it wasn't the same patriotic Paris atmosphere that saw Carlos Alcaraz capitulate spectacularly against their home favourite Hugo Gaston earlier this month, it was clear who the Guadalajara crowd wanted to win and understandably so with a piece of history in the offing.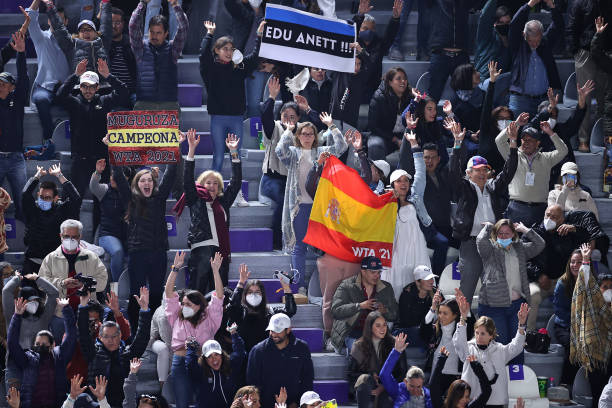 There's no shortcut for big-match experience and, even with the pressure firmly on a more seasoned Spaniard, she knew what she had to do. However, the task was made easier than it should've been at times as Kontaveit repeatedly gifted her opportunities to break serve early on.
In her first two service games, she saved three break points but crucially blinked with a costly double-fault a few points later when she could've consolidated another tough hold at 2-2.
Instead, the Estonian had to bide her time carefully and wait for opportunities to pounce upon with Muguruza also made some surprising misses early, as they exchanged breaks of serve.
Brilliant winners like these rather emphasised a back-and-forth affair in parts, as momentum quickly shifted across the net based on a well-executed finish to win a point or ferocious serve:
The commentators microanalysed Kontaveit's negative body language at the first change of ends, with her head in her hands and perhaps sensing the match was already out of her hands.
Whether it was a close call, emphatic winner or wild swing that veered long, you couldn't escape the feeling Anett was repeatedly hitting balls back too hard in anger from her sloppy start – cranking up preventable unforced errors and thus giving Muguruza the upper hand on serve.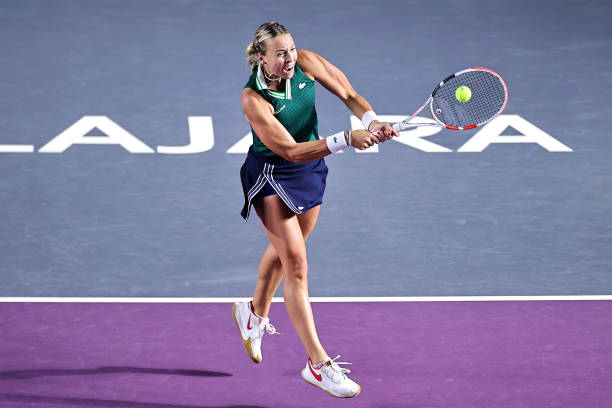 She saved two more break points at 3-3, one of which was with a rare bullish second serve that visibly disrupted the Spaniard's rhythm, but had already found herself in a tricky predicament down 40-15 on serve and Muguruza soon mustered up another chance to gratefully grab.
While the two-time Slam champion would often race through her service games, Kontaveit had to grind and rarely had a comfortable hold, which showed in an ever-increasing error count.
But even with a forehand lacking control, serves without consistent conviction and an infrequent approach to point-winning shots, there wasn't much she could do facing situations like these:
Kontaveit, to her credit, stayed within reach – trying to balance risk with reward in a final appearing destined for a deciding set. Whether it was Kontaveit or world no. 1 Ashleigh Barty up the other end, I doubt anyone would've beaten Muguruza the way she was performing here.
The sheer defence on display to subtly return blistering 106mph serves like this one below (and then subsequently force an error), or regrouping from precarious situations – facing two break points – by winning four consecutive points to slam the door shut, she refused to be beaten.
A timely graphic showed Kontaveit had only won 29% of the rallies lasting nine shots or more, and yet, she remained competitive in an underdog role. She couldn't turn defence into attack often enough, but when it came off like this, it served as a reminder that Muguruza couldn't relax.
Muguruza asked her the serve it out question down 5-4 in set two and after firing off a 175km/h ace to start, that proved as good as it got for the 25-year-old. Two forehand errors set up another break chance, which was duly taken beautifully with a trademark forehand up-the-line finish.
From there – having trailed 5-3 at one stage – she raced to the finish line, on an evening where small margins proved pivotal during an encounter both should reflect upon fondly, even if it'll serve as motivation in different ways for the pair as they look to build on this year in 2022.
---
Analysis, what's next for both?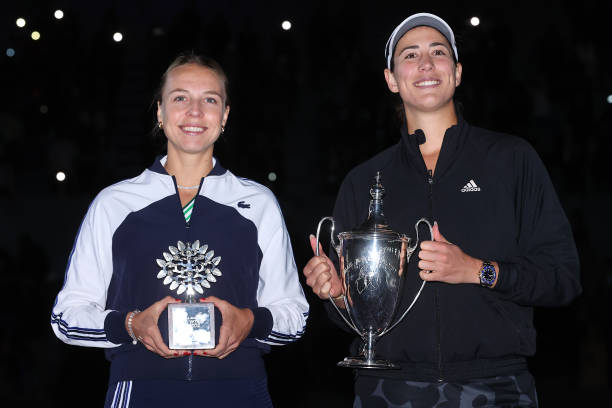 Kontaveit only had her serve broken four times all week, but was broken on five separate occasions today. Muguruza was forceful – hitting 16 winners and much less unforced errors – while more adventurous with her shot-selection and importantly assertive in how she played.
Kontaveit served three aces but undid that work with six double-faults, her highest tally in a match since squeezing past Ekaterina Alexandrova to win the Moscow WTA Final on Oct. 24.
Her first serve percentage was at a lowly 52%, while hitting 39 unforced errors. It felt like she loosened up and finally found her striking rhythm for periods by which time it was too late when by contrast, Muguruza refused to panic as the chance to force a deciding set came and went.
That experience should prove invaluable for her in years to come, if she's to do what many beaten finalists haven't – cementing their place in the world's top 10 with continuity, while consistently venturing deep into Grand Slam tournaments and inching closer to a maiden title.
Petra Kvitova, Angelique Kerber, Venus Williams and Sloane Stephens – four Slam champions in their own right – have all finished runner-up at this tournament since 2015.
Only Kerber has won another Major title since, and as poor form saw retirement rumours surface, the German responded the only way she knows how: defiantly silencing naysayers.
Elina Svitolina (lost 6-4, 6-3 to Barty in 2019), feels like an exception to that quartet – although she hasn't won a Slam and injuries accelerated her descent out of this year's WTA Finals race.
Kontaveit, like many others over the last twelve months, has broken new ground – but 2022 and the years to follow will show whether she can sustain these high levels against the highest opposition, now that more scouting, tactical incorporation and focus is on her at bigger events.
While they are the biggest tournaments and where success – harshly or not – is largely judged, Muguruza spoke post-match when reflecting on a year featuring more Slam inconsistency:
Ultimately, that's the most important thing. She's back in the world's top three and among a ladder which continues to fluctuate, good to see her happy and playing well.
It feels like an age since she won her first Major at Roland Garros (2016), then Wimbledon the year afterwards, in what many critics are describing as somewhat of a second career altogether – since reuniting with Conchita Martinez just before the Australian Open Final journey last year.
As has been my criticism of Aryna Sabalenka (#2) and Olympic gold medallist Belinda Bencic among others, it's all about peaking at the right time. If Muguruza can maintain the steely resolve she showed here when things get tough, there's no reason why more Slams aren't in her future.
Picture source: Getty Images