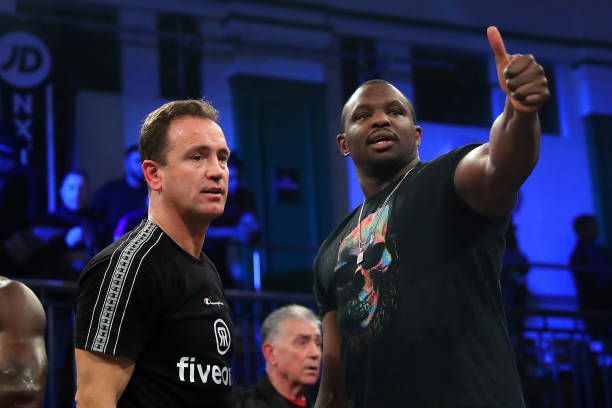 Needless posturing about a prospective title defence against domestic rival Dillian Whyte next year by co-promoters Bob Arum and Frank Warren surrounding Tyson Fury's homecoming has only served to shine a light on why The Gypsy King's resume remains flimsy at the highest level – as well as why the bulk of the world's best often hibernate much longer than they should.
So, what's happened now? 
This week, Hall of Fame promoter Frank Warren advised – and essentially tried his hand at guilt-tripping – WBC interim titlist Dillian Whyte into lowering his monetary demands, agreeing to a domestic duel with Tyson Fury in the first quarter of 2022. As quoted by talkSPORT, he said:
"I think Whyte's fighting over the purse split [with the WBC] and don't think he's got anywhere to go with it. Facts are facts and he lodged his last purse as being £300,000 [for the March rematch with Alexander Povetkin].

Tyson is in the driving seat – the champion – fought hard to get there, not had any easy fights. Of course the fighter wants to get paid, I get that, but if you're as good as you think you are, go and win it!

He could've done that against Anthony Joshua, turned down $4-5m to fight him. I look at that and say, where's your ambition, why are you in this?"
There's much to unpick from those comments alone, with the rest of his interview transcript available to read here. Firstly, the notion Fury hasn't had easy fights, is simply untrue.
Since beating Wladimir Klitschko to become unified heavyweight champion un November 2015, he's fought seven times – well-documented hiatus inbetween – but three have been against former WBC title-holder Deontay Wilder, the last of which was his first championship defence.
Wilder was originally cited as the main motivation behind Fury's comeback, but stay-busy fights against Sefer Seferi, Francesco Pianeta, Tom Schwarz and Otto Wallin? Well…
Between the quartet, they've had seven fights since losing to Fury – Pianeta hasn't returned, Seferi and Schwarz were last active two years ago and Wallin is emerging as a credible heavyweight contender after a pair of recent wins over ageing Americans.
That's hardly a glowing assessment of Fury's recent competition, which is compounded by his will he, won't he fight breakdown late last year.
Expected to fight someone – anyone – during the winter months post-lockdown after it became clear the Wilder trilogy was on ice at the time, nothing materalised. It's why most critics will report the naming of possible dates, but are sceptical on just how quickly Fury makes his return.
Whyte-Wallin, originally slated for the final weekend in October, was cancelled after Dillian sustained a troublesome shoulder injury in training that didn't improve in time to fight.
He has an ongoing legal dispute with the WBC, which Warren claims is partly based on gaining a fairer monetary split in a purse bid.
He wants at least a 45% split to fight Fury – a considerable number higher than Tyson's handlers are suggesting, claiming an 80-20 or 85-15 split based on comparative recent in-ring earnings.
But that notion is disingenuous to say the least, given Fury has just reeled off three fights in three years against Wilder – lauded as the most devastating power puncher in heavyweight history.
"I think Whyte's fighting over the purse split [with the WBC] and I don't think he's got anywhere to go with it. Facts are facts, he lodged his last purse as being £300,000 [for the March rematch with Alexander Povetkin]."
That rematch had to be postponed after Povetkin tested positive for COVID-19, then moved to Gibraltar, which naturally can impact a fighter's purse – especially with a limit on fans in attendance post-lockdown.
Why not mention the previous fights? Like how much he earned from their initial bout in Matchroom's Fight Camp, or multiple main event fights (Oscar Rivas, Dereck Chisora, Joseph Parker etc). Well, it doesn't suit the narrative.
So while they want to portray Whyte as naive yet overzealous in negotiations, it's easy to see through the proverbial fog if that fight doesn't get made.
"Not for what he thinks his worth is. It will be what is determined by the WBC – if we can get that on, it shouldn't be a problem. We're not bending over backwards for him."
Fury wants to return by late February, early March at the latest according to Top Rank boss Bob Arum.
They would much prefer a unification bout with Anthony Joshua's latest conqueror Oleksandr Usyk, but we can't always get what we want – especially as the two-time champion exercising his rematch clause in the aftermath of that September humbling on home turf.
They've floated out the possibility of Joe Joyce as a possible option – another in Warren's stable – and it feels ironic given how fickle Frank has proved after the Daniel Dubois duel last winter.
I've already written about how Joyce is racing against time as far as his world title ambitions are concerned, having turned 36 in September with no fight currently scheduled.
Like many, he's missed a trick by not finishing the year with another bout under his belt but that could also prove beneficial in the long-run as an alternative choice for the sport's biggest prize.
Ultimately, there are a lot of hypotheticals still to be finalised but boxing doesn't benefit from this approach, it stagnates as top fighters hibernate too long – reducing the highly-anticipated bouts to fantasy matchups or finally happen once the spark has gone.
Picture source: Getty Images