As the rounds ticked by and the competitive juices flowed, WBO welterweight champion Terence Crawford cranked up the pressure in the later rounds and scored two quick knockdowns in the tenth, becoming the first fighter to stop Shawn Porter in Showtime's 36-fight pro career. At the post-fight press conference afterwards, Porter announced his retirement.
Crawford earns contentious stoppage as Spence watches on
R10, 1:21 – Terence Crawford defeats Shawn Porter, retains WBO welterweight strap
Crawford improves to 38-0, earning his ninth consecutive stoppage victory as WBC, IBF champion Errol Spence Jr was spotted looking unimpressed by the finishing sequence
"I'm not gonna be a gatekeeper, four losses and you can assume I am … but that's not me," Porter announces his retirement (31-4-1, 17 KOs) in the post-fight press conference
"My decision is made already, Bob couldn't secure me the Spence fight … I'm moving forward with my career, wish everyone the best," Crawford reveals he's now a free agent
There was a moment, in Top Rank's pre-fight all access video feature, that said all you need to know about Terence Crawford's motivated mindset.
"Ain't no stopping us, no-one does it better.

November 20th, we just getting started. There's definitely gonna be an and new, after and still, when I become undisputed welterweight champion of the world. They're gonna see something they've never seen before."
His demeanour means he doesn't appear media-friendly while many have bemoaned his resume, but a switch was flicked somewhere during one of his uphill run workouts that day.
That very same look in his eyes returned while receiving instructions before round ten began, as he applied the finishing touches to an impressive showing against his toughest challenge yet.
In the post-fight press conference, he confirmed what was suspected – getting the look from someone in his team that the fight was close and knowing he had to "turn it up", but Bud had truthfully taken over in the second-half of a bout brewing nicely before the anti-climactic finish.
You don't get to compete in 16 straight world title fights without the seasoning and knowhow, picking moments to attack and others to evade. Porter began quickly, as expected, throwing multiple combinations and targeting the body early while marching forward pressing the issue.
Crawford is known for being economical with his output, so this start wasn't surprising – especially if you saw his title defences vs. Egidijus Kavaliauskas or Kell Brook most recently.
Every time Showtime threw a punch with venom or looked to land something big, Terence quickly shifted out of the way and tied him up.
Undisputed junior-welterweight champion Josh Taylor (18-0, 13 KOs) was among a whole host of boxers and famous figures captured in attendance and they would've liked what they saw.
Porter landed a good right-hand and had the better of their furious exchanges in round two, but was stung by a check hook after needlessly overextending and that moment proved prophetic.
Crawford's demeanour was one of disappointment and frustration that he was getting hit clean, but importantly didn't deviate from a boxing style that would eventually wear on the challenger.
Through nine minutes, it felt like he was 3-0 down on the scorecards – such was Porter's success with a point-fighting tactic, being patient and importantly more active with further combos.
Both were bloodied by an accidental clash of heads, Porter in R3 and Crawford three rounds later, but while there was plenty of wrestling against the ropes, Bud made sure to continue investing to the body. Much to Timothy Bradley's delight on commentary, that was pivotal.
The fourth was Crawford's first definitive round of the night, crowned by a big body shot and then super counter right, darting one way and clubbing Porter the other, into the neutral corner.
Porter landed explosive sneak attacks where he could, connecting clean with overhand rights while showing a vulnerability by repeatedly lunging forward and leaving his head open.
Importantly, R5 was a bounceback round for the challenger – more active, bouncy and landing with intent, even if Crawford's defence withstood it well, as that action could sway the judges.
Getting into gear: bo-mac urged bud to step it up, and he did
Brian McIntyre, Crawford's trainer, echoed that sentiment between rounds:
"It might not matter much to you, but it matters to the judges," Bo-Mac said as Crawford – who finished the round well – appeared to encourage Porter's high level of punch output, waiting for the right time to counter him perfectly.
Right on cue then, Crawford started quickly in R6 and won it on all three scorecards. That proved the beginning of the end, as Bud closed the proverbial gap on the cards and overwhelmed him.
Stinging counter left-hands and sharp one-two combinations had Porter buzzed as he trudged back to the corner after the seventh, but his resistance held firm under duress in round eight.
Crawford caught him clean as he came in, but instead of wilting under the punching power, he exchanged shots while trying to keep his defence and head movement – easier said than done.
He landed a looping overhand among a flurry of rights but Crawford again dug deep to the body with two subtle yet taxing shots which certainly hurt. R9 was weird as the natural southpaw swatted Porter to the side, landed a series of lefts to the body but didn't increase his intensity.
It felt like Porter was taking the round off somewhat in comparison, but with a 92-79 punch differential in the champion's favour, that figure and accuracy only heightened as time wore on.
To start the tenth, Porter was caught again lunging forward and floored by a left uppercut.
Crawford's magnificent accuracy had honed in on its target, so before long, the second knockdown arrived after the two-time welterweight champion absorbed a heavy right hook.
Porter slammed his hands against the canvas in frustration, said he wanted to continue when quizzed by the referee after a second eight count but his father and trainer Kenny had already got on the ring apron with towel in hand to wave it off, unhappy with what he'd just seen.
In a bloodthirsty sport where knockouts are encouraged, it was an abrupt ending to a competitive duel and left many feeling short changed. Among them was two-belt welterweight titleholder Errol Spence Jr, who swiftly departed the building with his guys after the stoppage.
---
Post-fight comments and analysis as Porter praises Crawford
Porter and his father Kenny had their say first ringside to address a surprisingly abrupt stoppage:
"He [Kenny] is doing what he knows he needs to, I didn't expect that but we always had an unspoken understanding. He [Crawford] was catching me too clean, I think my timing was a little off, wouldn't allow me to catch my rhythm.

He's a dynamite dude in-and-out of the ring, congratulations. That man hit me more than anybody, was on point, the competitor in me wants to fight him again but he's got it."

Shawn was frustrated but not angry at his dad for stopping the fight
If you go back and look closer at Porter's body language after the second knockdown – even while annoyred at himself – the writing was on the wall. Just like Andre Ward said on commentary, his father was saving him from the inevitable, such is Crawford's finishing abilities.
"He didn't prepare like I wanted him to, I don't want him in that situation [against Crawford, who is] super sharp, at a deficit. It's like fighting him blindfolded! When guys get to certain levels, they don't necessarily take all of the information. it was an easy decision for me, didn't defend like he should."

Kenny Porter revealing his belief that Shawn didn't prepare properly
Afterwards, Crawford was surprised upon hearing Spence was in attendance and as he's done in the past, actively welcomed the challenge. Manny Pacquiao's final conqueror Yordenis Ugas is the other titleholder at 147lbs, but is stuck in purgratory regarding mandatory challengers.
Crawford is now a promotional free agent after revealing – to cheers from the assembled media – during the post-fight presser that he wouldn't be re-signing with Top Rank boss Bob Arum.
We'll have to wait and see how things shake out in the first quarter of 2022 as questions will linger over Spence's condition after his recent eye injury, but Crawford has done precisely what he said he would – without needing to produce a career-best performance here either.
He said performances against Felix Diaz (May 2017) and Jeff Horn (June 2018) were better than this, admitting his approach allowed Porter an opportunity to grow in confidence.
"He tried to maul and push me back but I used my angles, was too strong.

Shawn did some slick things in there, made me think, but I saw in his face that he was real hurt after the uppercut and his dad did the right thing. Didn't think it was close at all, once I got the look that it was, I had to turn it up.


I really didn't want to fight him – I love him – but since I couldn't get any of the champions, had to go for the next best thing.

Who is no. 1 in the welterweight division? Y'all already know who I want, maybe I'll go up to 154, if he gets his tail out his butt I'll fight him. That boy [Spence] said he'd never be at my fights, you see what I did compared to him."
---
Final words on Porter, retiring with plenty to be proud of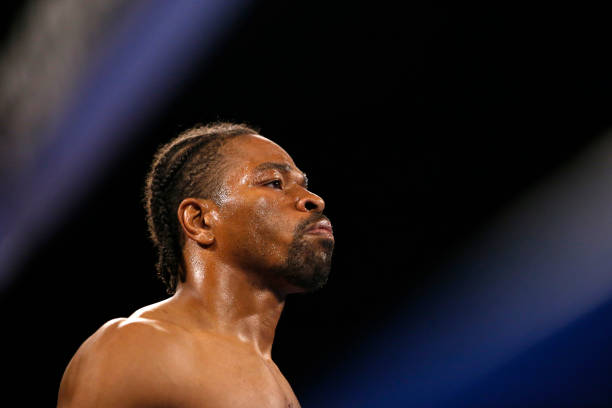 Porter said his execution was there, but lacked consistency and while attention centred around the nature of the stoppage, there was an elephant in the room that eventually got addressed.
Having fought all the top guys in the welterweight division, Porter was always going to be in an awkward position regardless of the result here.
Win, and you'd expect an immediate rematch would be issued for early 2022. Draw, probably the same if there was interest on both sides for it. Lose and the nearly man tag would resurface, as a world champion who simply couldn't get over the hump against the division's elites. He knew.
"I was prepared to announce my retirement tonight, I'm announcing it right now. You expect us to fight for 15-20 years, I've been fortunate to be in some really big fights with really good guys, always have my health.

I knew Errol would be my last fight – knew in 2017 when he won a world title – after we fought though, felt like there was something else [Crawford bout] and I've given this sport a great deal, training, competition, more training."
He used the Ward-Canelo anecdote from his commentary duties during Fury-Wilder 3, where a fan tried to convince Ward into coming out of retirement for one more fight and was rejected.
"Why can't I have one more in me," was a phrase that stuck with Shawn – who turned 34 last month and will continue his ever-growing broadcasting career, that has flown post-lockdown.
He's aware the younger generation – Vergil Ortiz Jr, Jaron Ennis and more – are all starting to blossom in their respective careers, so what's the incentive to be a world level gatekeeper?
Conor Benn's callout earlier this year, while characteristically bullish, is an example of a bout that quite literally doesn't advance Showtime's career. If you are already thinking of retiring, the prospect of fighting hungry contenders looking to leapfrog you just accelerates that process.
Picture source: Getty Images — quotes via Top Rank broadcast, ESPN or hyperlinked otherwise