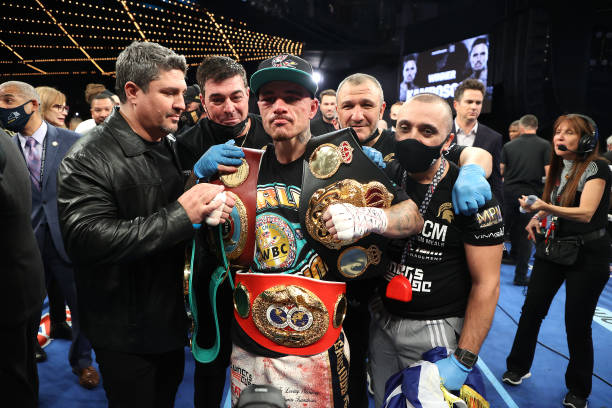 They all overlooked him. Fans booed him entering enemy territory for the biggest night of his career. An easy night's work was expected for the champion's mandatory defence. Instead, George Kambosos Jr made good on his promise to shake the world by outboxing Teofimo Lopez to win three lightweight titles via split decision – though the Australian prevailed quite clearly.
Kambosos secures biggest win in Australian boxing history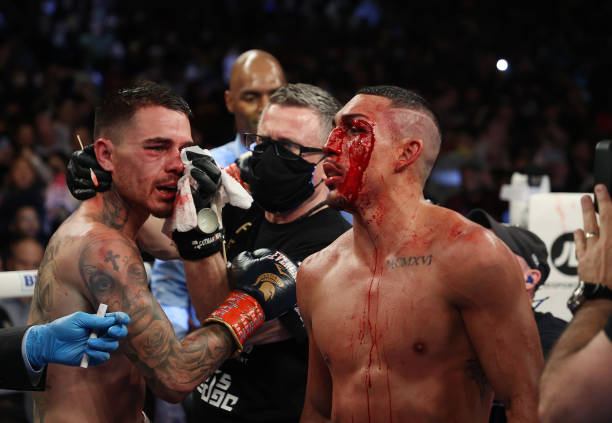 115-111, 113-114, 115-112: Kambosos Jr beats Lopez (c) to win WBA, IBF, WBO LW titles
New father Teofimo Lopez had been predicting a first-round knockout throughout fight week, and yet it was the 24-year-old who picked himself off the canvas after eating a big right-hand.
That, as George Kambosos Jr echoed post-fight, was the turning point in a fight most critics didn't expect would go more than a few rounds – let alone the full 36 minutes here.
Lopez came out fast and furious in the first minute or so, like he had other places to be, was given a stern warning by the referee for hitting on the break and got repeatedly buzzed as he charged forward intently, looking for an overhand right that didn't immediately present itself.
That, among other things, frustrated the champion. Kambosos Jr, as tough as he is, wasn't supposed to last this long. He wasn't just enduring punishment though, the 28-year-old happily dished it out too and their contrasting body language between rounds rather spoke volumes.
"Have I changed all week, or my whole career? Never. I believed in myself, backed myself and look at me now with all the jewels. I'm not [one of the LW kings], I'm the emperor. I come to every other country and take them out. 

The fight changed after that [knockdown]. My trainers, worked unbelievable in this camp, everyday I got better and better, didn't take my foot off the pedal. Here we are. If you don't believe in yourself, you don't get this far.

Kambosos during the post-fight interview, ringside with Chris Mannix
Two-weight world champion Jessica McCaskill described Lopez's approach as amateurish on commentary and it only served to spur Kambosos on further. He strutted, jumping to his corner between rounds, repeatedly jawed at him and trash-talked, clearly enjoying his evening's work.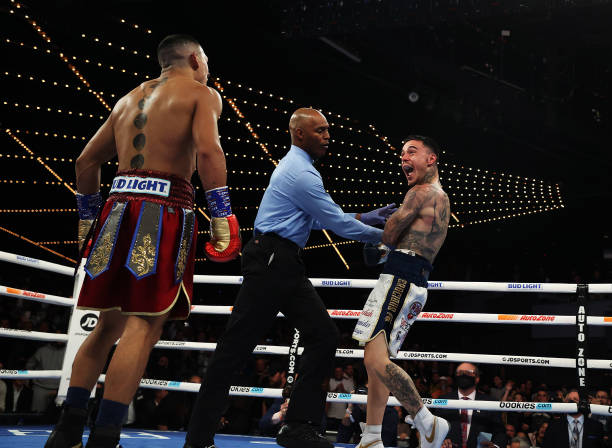 Lopez didn't listen to his father's baffling corner advice – which was more cheerleading than anything else – took too long to get settled and had an increasingly wide points deficit to recover.
After eight rounds, Sr genuinely sounded delusional. "We're gonna celebrate," he repeatedly insisted during the minute rest as Lopez grinned madly with blood dropping down his nose.
They would have nothing to celebrate, with his porous punch defence and plodding-forward style deployed here. Per Compubox, he had already absorbed 26 more power punches through 21 minutes (95-69) and that differential was one of many which showed Kambosos' success.
Having banked most of the middle rounds with a pesky point-fighting style, repeatedly landing the cleaner shots, Kambosos dug to the body and kept his overhand right flying all night long.
Staying elusive for twelve rounds in a championship fight is easier said than done to begin with, let alone against someone with Lopez's power-punching prowess. Eventually an opening was in the offing for The Takeover, buzzing the challenger with a series of big rights stumbling him back.
Lopez's knockdown proves a false dawn on sloppy night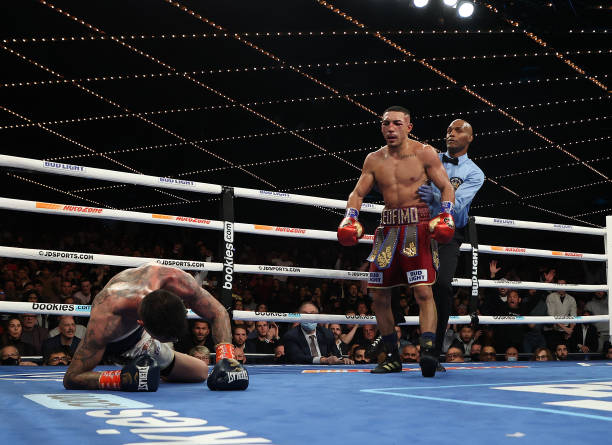 The crowd were building to a crescendo in rounds nine and ten, sensing a potential finishing sequence for the hometown fighter as he had a chance to eradicate Kambosos' brilliant work.
A chopping right to the side of the Aussie's head scored a R10 knockdown and after a frustrating night, Lopez had surely passed this problematic test like true champions do. Well, not quite.
"I was trying to entertain the fans too much, too sharp, too fast, too strong… got excited and caught but what a warrior [to rally after being knocked down]. Against all odds, I still finished and won the next two rounds!

Back yourself and you can do it too. He's [Lopez] a great kid, the build-up is the build-up, it was my night and it will be for a very long time."

Kambosos on Lopez's tenth-round knockdown and his defiant response
Kambosos stood firm as the fire grew, even while still slightly dazed as he swayed uncontrollably. Lopez didn't swarm him while the opportunity was there and that summed up his night: ruing a lack of urgency when he needed it, and unnecessary overaggressiveness was duly punished too.
Just when you thought Lopez had established some free-flowing rhythm, Kambosos Jr responded with a wicked right or perfectly-placed counterpunch. Most of them were clean to the face and body, as the champion sported an increasingly big gash dripping down his face.
The blood leaked down the left side of Teo's face and eventually, the referee called for a brief doctor assessment to ensure he was okay to continue deep into round eleven. As if George needed any more of an indicator that he'd leave here with the belts in tow. This was his night.
Whenever they exchanged haymakers in the pocket, Kambosos unloaded his shots much sharper while looking fresher of the pair. Teofimo dug deep to win the final round against Vasiliy Lomachenko, but there was no repeat here as the bullish Australian overwhelmed him.
Having failed to finish a fight he was losing a few rounds prior, the adrenaline dump had taken over Lopez as his punch output continued slowing down while Kambosos' energy grew once more – after doing remarkably well to withstand the ferocious flames earlier and hold firm.
I remember writing about how Devin Haney's vulnerabilities vs. Jorge Linares in May were good for the lightweight division and this stunning upset has blown the door wide open at 135lbs, ahead of the WBC champion's defence next weekend against his interim Joseph Diaz.
---
Post-fight comments, analysis and what's next?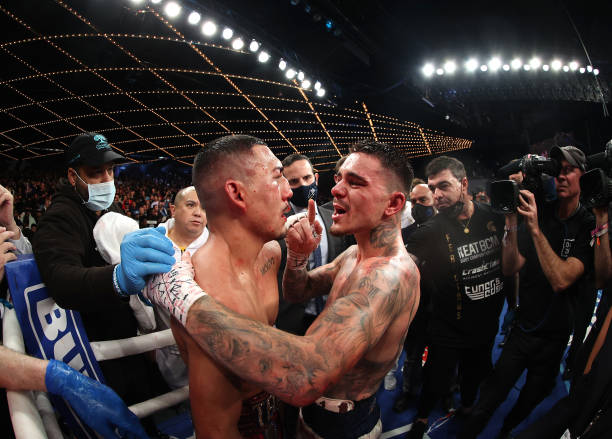 Even though he came across poorly during the post-fight interviews ringside, Lopez lost and handedly at that. I scored it 116-110 for Kambosos Jr, even taking into account both knockdown rounds… R3, R8 and R9 were the only ones I could definitively score in the champion's favour.
So how this result was even a split decision, is a mystery. But that's a debate for another day:  115-111 feels about right, though any suggestions this bout was razor-thin? No chance.
During fight week, Lopez said he wanted three fights in 2022. Given the brutal beatdown absorbed here, he'll be fortunate to return before the summer months in the New Year.
He revealed he was coming into this with a pre-existing injury too, which felt both unsettling and untimely information to publicly share if nothing else. Disregard his dad for one moment, Teo had a chip on his shoulder and the ringwalk – Roy Jones Jr's y'all must've forgot, said plenty.
It's a shame then, that from the first bell he seemed to just recklessly abandon the measured approach which got him to this stage in the first place – a career-high purse, the a-side, the star attraction on home soil, all because he outfoxed an off-colour Lomachenko 13 months prior.
Say what you want about inactivity or ring rust, Kambosos Jr hadn't fought since beating Lee Selby in October 2020 either. While one was looking to bigger things, the other lived up to his spartan ringwalk entrance, ultimately proving a problem he couldn't solve quickly enough.
Earlier this week while looking ahead to this matchup, I wrote about Kambosos' route to his first championship fight. He showed warrior spirit to ensure it won't be his last, either.
Lopez said he's been drained physically at 135lbs and hinted at regretting the decision not to just vacate the belts, moving up to 140.
"Hell of a fighter, I won tonight. I ain't no sore loser, I'm a true champion, did my best, everyone knew I won tonight. Don't believe it was close at all, I scored it 10-2."
Quick on the spot, Kambosos provided the ultimate retort.
"You're a bit delusional brother, look at your face! We do it again in Australia – 80,000 – why not? I wish him [Haney] all the best next week, I'll probably be there."
Naturally, the sharks have already started swimming in the water:
Haney needs to focus all his energies on next weekend, avoiding a similar shock himself – while Stevenson has been publicly campaigning for a unification bout against Oscar Valdez at 130lbs, which doesn't seem forthcoming right now.
Lopez doesn't have a rematch clause, so Kambosos is free in that sense if he wants to try unifying the lightweight division against the Haney vs. Diaz winner next year.
Gervonta Davis is the WBA (Regular) lightweight champion beneath him, but also has business to take care of vs. short-notice opponent Isaac Cruz next Sunday. As for Lopez, it would've been wise for someone in his team to better manage the situation than let him speak raw like that.
This loss will hurt, undoubtedly, but he needs to take his licks and move on. His head movement – or lack thereof – was jarring to watch and he got hit far too often.
They said their circle was getting smaller but he has some serious decisions to make about his dad, because that corner work wasn't just misguided because of their personal bond, it was frankly irresponsible and only served as a further delusion as though he genuinely won the fight.
Picture source: Getty Images