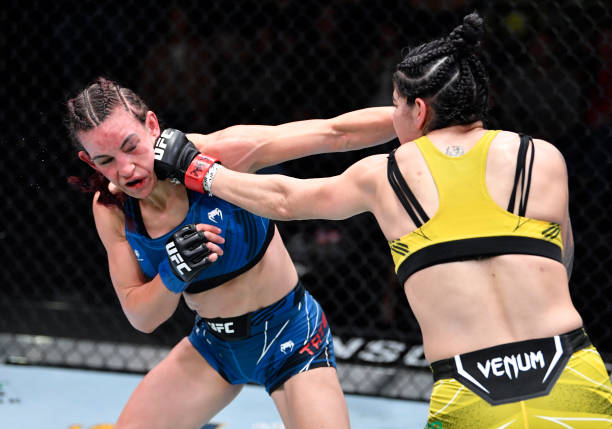 It's been a full week since Ketlen Vieira (#6) seized her main event opportunity vs. Miesha Tate (#8), derailing the former bantamweight champion's return in a gritty UD win. In the co-main event, welterweight prospect Sean Brady stifled perennial contender Michael Chiesa to overtake him in the rankings. Where do these results leave the big losers as they pursue gold?

Big winners and losers on an underwhelming card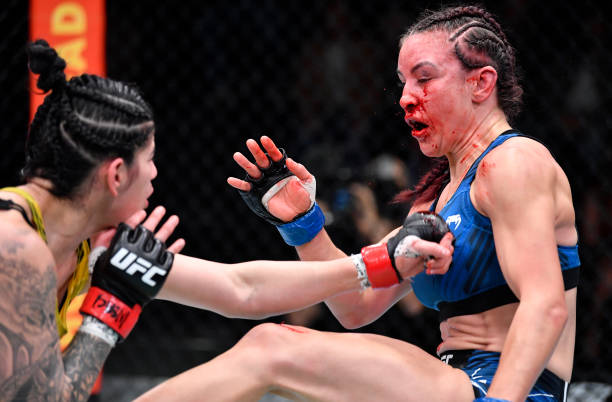 If you watched live, or with commentary in your ears, you might've been surprised to know Tate was down on all three judges' scorecards through 15 minutes – 29-28 x 2, and 30-27 on another.
She started promisingly, was clearly confident in her improved boxing skills and truly hurt Vieira a few times with sharp jabs, slick one-two combos and power punches.
There was a dicey moment in R1 and R3 where it looked like the one-time 135lb titlist was pushing forcefully for a finish, but her Brazilian adversary ate the damage and fired back harder.
Although height and reach differentials weren't significant, their physical builds suggested the pair – as well as they fought – were and should've been competing in different weight classes.
That, among other things, is why many fans aren't really engaged in inconsequential fights like these between mid-level ranked talents – let alone as the main event of a Fight Night card.
In a month where UFC fans have been spoiled by two PPV events as well as an exhilarating main event the following week that immediately entered the Fight of the Year sweepstakes, there was always going to be a drop-off. Well, try telling that to a bullish (and still unbeaten!) Sean Brady.
Brady bullies his way through credible Chiesa challenge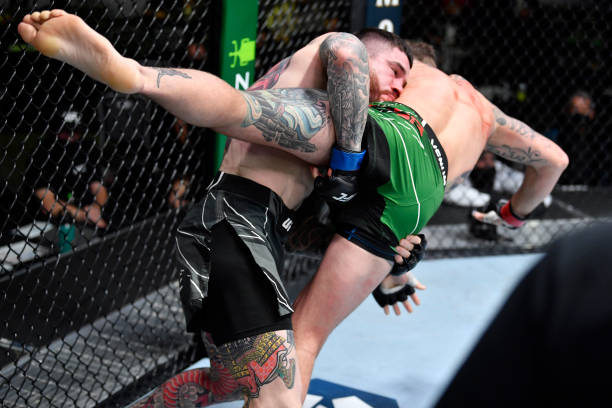 Well-rounded, looks the part and with 170lb champ Kamaru Usman in attendance? What more could you want? Well, two accidental eyepokes in round one wouldn't have helped his rhythm.
Importantly though, Brady channelled that frustration the right way, securing two takedowns and quickly justifying the favourite perception here in a grappler vs. grappler matchup.
Chiesa's not known for his stand-up skills and those herky-jerky movements had mixed success, as he circled while trying to pick Brady apart with clever counterpunching from the outside.
Unhappy he got caught too easily, Brady swiftly secured a body lock against the fence and eventually earned another takedown. As such, Chiesa knew he needed to empty the tank in R3.
He did precisely that, briefly hurting Brady early – until Sean responded again, wearing on him against the fence as they scrambled on the mat and another takedown was logged.
Chiesa charged to the finish line, first trying a late submission and then ground-and-pound strikes in top position, but Brady had already built up a big enough lead with his grappling to have his hand raised once the judges' scorecards were read out.
"This was a big deal, no. 14 fighting no. 6, the media and cameras… I proved I belong here, don't think anyone's ever done that to Michael.

I think I'm the best grappler in the division, so yeah. I know he was super tough, he might've threw me in the last round but I was tired, I'm ready to keep moving up. Give me a main event, I want five rounds, to prove I can do it!"

Brady on his decision win, outgrappling a grappler of Chiesa's calibre
Brady has moved to the #8 ranked welterweight after that win, with Chiesa dropping to #9.
After contrasting defeats vs. Vicente Luque and Brady, Chiesa finds himself in a compromising position – especially considering a few months ago, Usman's team named Chiesa as a potential opponent citing his four-fight win streak and activity as key factors to consider.
Now, he's on a two-fight losing skid and is on the lower end of a division with Belal Muhammad (#10) and rising star Khamzat Chimaev (#11) among those keen to fly up the rankings.
---
Yanez vs. O'Malley anyone? Santos solidifies her flyweight rise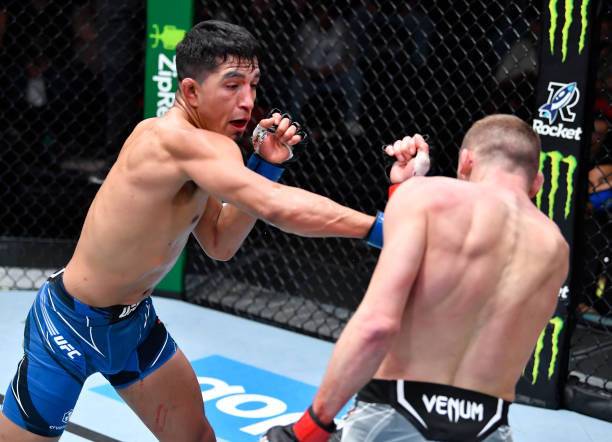 Elsewhere, Contender Series signee Adrian Yanez finished his successful 2021 by improving to 4-0 in the UFC and did so the hard way: finishing strong to earn a tough split decision win (27-30, 29-28 x 2) against Davey Grant in a bantamweight battle that won Fight of the Night honours.
They combined for 198 significant strikes in 15 minutes, with Yanez slightly more accurate (39%) and importantly producing his most impactful round in the final stanza to eventually edge it.
His first outing since the 28-year-old's head coach Saul Soliz died of COVID-19 in mid-August, he broke down in tears afterwards, releasing his emotions after losing an influential father figure.
Sean O'Malley, who has business to take care of against Raulian Paiva (#15) at UFC 269 next month, sees himself as Yanez's next matchup and called for a March meeting next year.
Yanez revealed an eagerness to face top-15 opposition, or someone on the cusp of breaking into the rankings, in his next bout. O'Malley (14-1 MMA, 6-1 UFC) could be interesting.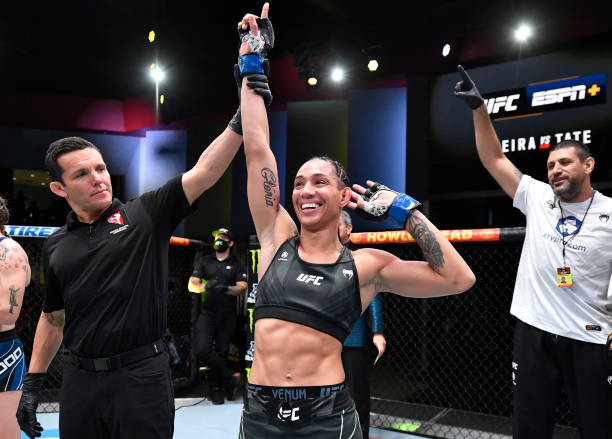 Taila Santos flew into the flyweight's top-5 with a first-round submission win over perennial contender Joanne Wood (nee Calderwood), improving to 4-0 since last year's lockdown.
Able to showcase her sharp boxing skills and punch power in the early going, the Brazilian scored two knockdowns with big right-hands landing flush to sit Wood down against the fence.
Despite recovering well enough to the first, there was more damage incoming for the Scotswoman as Santos' fast yet furious hands helped her quickly secured the back and eventually tightened grip on a rear-naked choke with just over ten seconds left in round one.
Having been undone somewhat dubiously against Lauren Murphy in a title eliminator this past summer, Wood has now lost successive fights for the second time in her nine-year career.
The first saw a weight class change, but with the 125lb division as lopsided with contenders and pretenders as it is right now, it'll be interesting to see who she's matched up against next.
Picture source: Getty Images