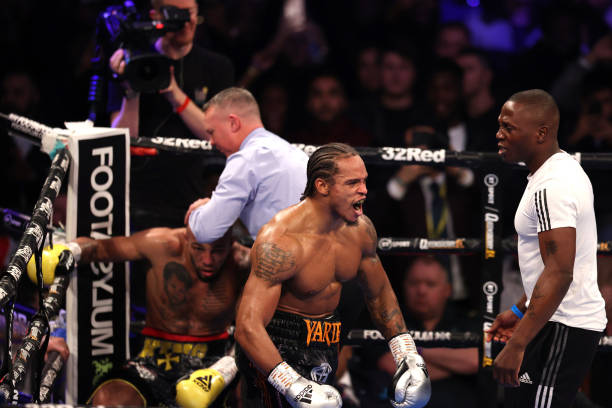 364 days on from losing their first bout with an underwhelming display, there was no time for more hesitation from Anthony Yarde. He knew what was needed of him and executed it well, to emphatically stop domestic rival Lyndon Arthur with a fourth-round KO. Now, he'll challenge for the WBO light-heavyweight title in 2022 – against the Joe Smith Jr vs Callum Johnson winner.
under pressure, Yarde prevails in must-win circumstances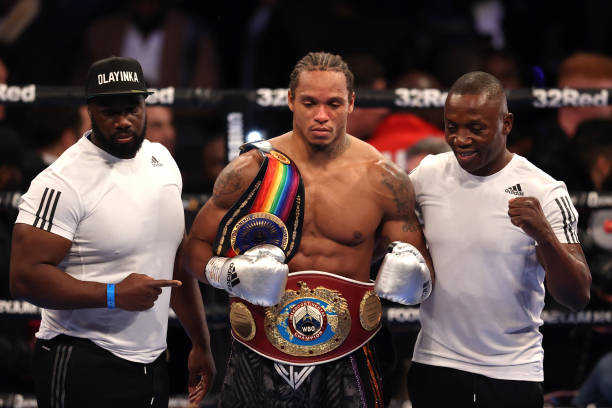 R4, 1:27 – Yarde defeats Arthur via KO, winning LHW Commonwealth and WBO Intercontinental titles
Digging body shots flew, uppercuts, hooks and a short right hand punch to finish a furious flurry that just wouldn't relent. Lyndon Arthur, for all his savvy skills, simply couldn't weather the ominous storm long enough in a contrasting matchup to their first meeting twelve months prior.
"I told you, I knew what I had to do. People forget my experience in this boxing thing is minimal but my mind wasn't there in the first fight … I was spaced off, been through a lot that year.

This fight, was switched on, took my time and got the job done. I hurt him in the first, said ahhhh… be patient, it'll come. When I let my hands go, there's no light-heavyweight in the world that withstands that."

Yarde delves into his mindset and approach, post-fight ringside
Even after he and trainer Tunde Ajayi were roundly ridiculed on social media last year, Yarde never lost faith in his abilities and importantly made adjustments with his team to clearly shift a matchup that could've easily doubled the road en route back to world title contention.
Ajayi said he was crying as he called promoter Frank Warren pleading for a rematch opportunity, such was their collective need – not just Yarde – to right this wrong.
He also praised James Cook, a new addition to the team, saying they were "a ship without a rudder," but now they'll be hoping this act of vengeance proves a second coming of someone agonisingly close to becoming world champion two years ago against Russia's Sergey Kovalev.
That night on enemy territory in Chelyabinsk, he had Kovalev badly hurt but ultimately fatigued late and was duly punished with an eleventh-round stoppage. The narrative that he's unable to sustain his stamina over a full twelve rounds hasn't disappeared and won't after this, either.
A statistic flashed up on screen pre-fight: Yarde has never won a fight that's gone past seven rounds and it's no surprise his fast-and-furious approach didn't last that long here either.
He came out quickly with aggression, the same approach expected of him last year – raining down with a flurry of right-hand punches as Arthur beckoned him forward. That was a sign of things to come, Yarde cutting off the ring and Lyndon absorbing too much damage for comfort.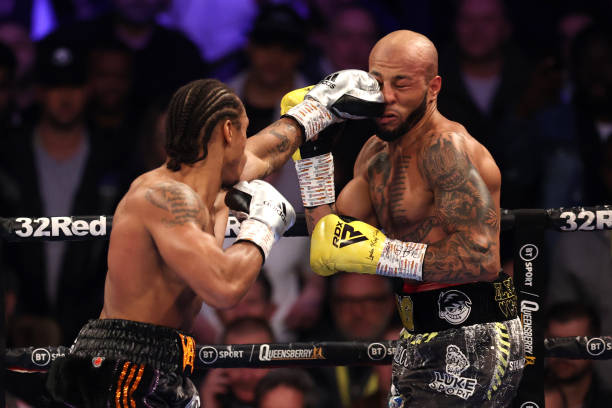 There was to be no jabbing joy here for the Mancunian, as the distance he was able to maintain and exploit last December was frequently cut down to size here.
The frustrated look on flyweight champion Sunny Edwards' face – Arthur's close friend – said it all. While he acquitted himself well in scrappy moments as they fought in the clinch during round two, there was a sense of inevitability about how this would end after Yarde's fast start.
Yarde showcased his hand speed, throwing power punches to the head and body as he backed the champion up against the ropes in round three.
Once the fourth had begun, he put the finishing touches to an accomplished display that felt long overdue – sustained pressure, chopping Arthur down with a right hand. Although he might've beaten the referee's ten count, there was no disputes over Bob Williams' stoppage.
Afterwards, Warren called Yarde a tremendous finisher while confirming talks with US-based promoter Bob Arum mean they've already agreed Yarde will face the Smith Jr vs. Johnson winner next year, presumably in the summer months.
"I'm excited. Whenever Frank said something [about the possibility] beforehand, my ears closed because y'know… anything can happen in boxing."

Yarde ahead of his second world title opportunity on the horizon in 2022r world title in 2022
---
What's next for both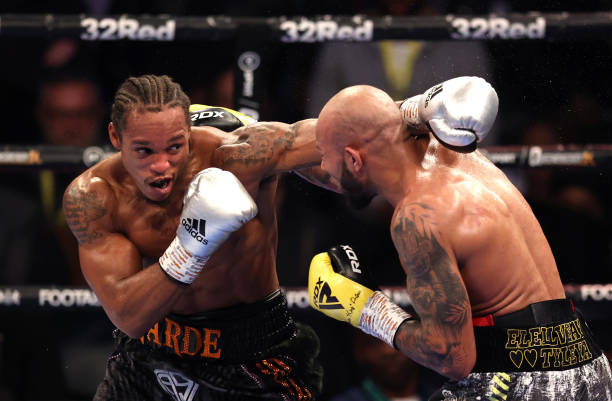 On that invaluable evening two years ago, Kovalev insisted Yarde would one day be a future world champion. After exacting revenge, now he'll be on a scouting mission on January 15 next year when compatriot Callum Johnson faces Joe Smith Jr in the American's first title defence.
Although the body language experts will scrutinise his demeanour, this is not the end of the world for Arthur after suffering his first professional defeat. That being said, a rematch – and subsequent trilogy between the pair – isn't something anyone should be keen on right now.
Just as Yarde and Joshua Buatsi have felt destined to collide in a domestic duel for many years, it's important Arthur rebuilds from this loss and finds another route to world level contention.
Some blood-thirsty fans of the sport will criticise his style or the fact he doesn't appear to have true knockout power, but that hasn't stopped him getting this far. He'll need to make adjustments, just like Yarde did, based on future opponents but shouldn't be disheartened.
Picture source: Getty Images, badlefthook