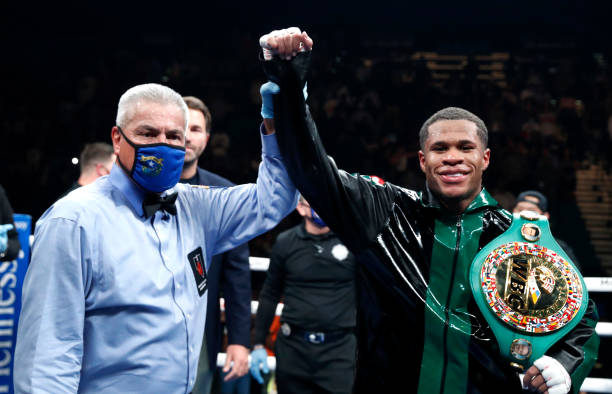 Banana skin avoided: Devin Haney absorbed some tricky moments, invested heavily to the body and wore on a bullish Joseph Diaz Jr as the WBC lightweight titlist improved to 27-0, before reaffirming his desire to fight new unified champion George Kambosos Jr next in 2022.

Haney hurries Diaz into submission, wins comfortable decision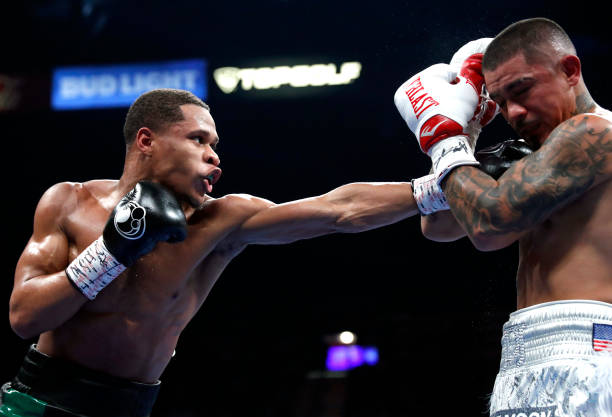 117-111, 117-111, 116-112: Haney beats Diaz Jr to retain WBC lightweight strap

For someone who only landed 24 more total punches over 36 minutes, Devin Haney effectively nullified Joseph Diaz Jr while showing he's still vulnerable enough for other contenders – and new three-belt champion George Kambosos Jr – to get excited about in prospective bouts.
The pair shared a joint interview on DAZN post-fight, with a view to making an undisputed title fight in Australia perhaps sometime after March once both rest and recover from recent outings.
Haney has been roundly criticised by some for his knockout power – or lack thereof – while others feel he's simply not as good as the hype suggests.
Having weathered the Jorge Linares storm in May, Diaz Jr represented his toughest challenge to date and he passed in a manner that should stand him in good stead for future foes, as long as he makes some defensive tweaks and adjustments after watching the film from this fight.
Diaz Jr (32-1-1, 15 KOs) himself is a two-division champion, beat Javier Fortuna in July to become the WBC's interim champion and merited this short-notice opportunity.
"I knew I was fighting a tough competitor, went in there and got the job done. The gameplan was to keep him at bay, work combinations… he's a true champion, gave a good fight, brought the dog out of me like he said he would.

Let's do it for all the [lightweight title] belts. It's a great fight, the fans would love to see it, no dispute over who is the real champion. 135 is tough for me to make, so that's the biggest fight for me. I'll go to Jupiter if I have to."

Haney's assessment of Diaz's toughness and looking ahead to Kambosos Jr
Booed on his way to the ring by a partisan crowd in Diaz's favour at the MGM Grand Garden Arena, Haney was undeterred. He began purposefully, landing body shots aplenty and frequent punches to the head as JoJo's tentative start saw him get tagged too much in the early going.
"No lower," referee Russell Mora insisted as Haney's body shots were landing low below the belt line but certainly made their mark. Diaz Jr landed a few good shots of his own as they exchanged hooks but the Mexican wasn't active enough to steal rounds on the judges' scorecards.
While his punch placement and strike variation was on display, Haney wasn't actually landing many shots clean yet despite being the aggressor for sustained periods throughout.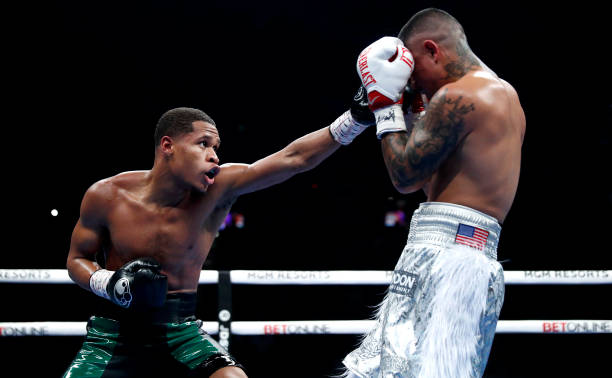 Kambosos Jr, providing ringside analysis for DAZN, said he'd be scouting for potential weaknesses and would've found some nuggets of encouragement in round four.
Having eaten a big uppercut and jab in the previous round, Haney was finally under duress for the first time as Diaz decided to get dirty and rough him up.
He was given a stern warning by Mora for pushing Haney down up against the ropes in one corner, quickly dismissed it and a big left hand was the pick of his power shots as a swarming attack seconds later clearly took the champion by surprise. The crowd could sense danger.
Despite handling it well by peppering back body shots given the circumstances, Haney lost a round and perhaps Diaz had adjusted accordingly to establish his own foothold in this bout?
Not quite. Round five was competitive with Haney landing point-scoring shots through Diaz's peekaboo guard. A sweeping right hand and more body shots connected, the 29-year-old not doing enough to block them or fire back harder.
Haney was content picking his short-notice challenger apart at distance, especially armed with an eight-inch reach advantage. Diaz though, was losing rounds and needed to revert back to what brought success: continuing to exchange in close, make it scrappy while boxing clever.
Like the fifth, Haney's workrate and cleaner work helped him score much easier than Diaz's energetic flurries, which just weren't consistent enough as the champion's evasive movement came to the fore. "He's fading," Haney told his corner before the start of round seven.
Almost as though he heard that declaration from the opposite side, Diaz had his best round of the night by landing a series of left hooks to hurt the 23-year-old. He smiled in response as they continued exchanging shots, but Joseph couldn't afford to take his foot off the pedal now.
Just as I say that, another lethargic round was logged for the challenger as Haney was happy to stick and move with his punches and watch the live underdog's chances of an upset slip away.
Diaz landed more impactful shots in R9 but found himself outworked, on an evening where his tendency to land two or three big punches a round weren't enough to win that stanza outright.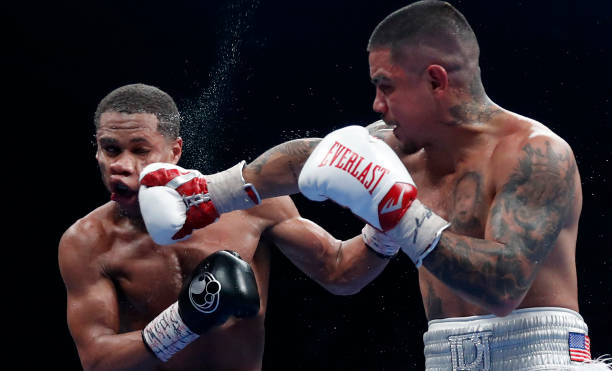 Haney beat him to the punch, literally, for the remainder of most rounds and that was evidenced in R10 as he again dug to the body and vicious hooks.
He knew he needed a knockout when coming out for the finale, so started quickly with flurries aplenty. Haney expected that, and stood there to see Diaz punch himself out somewhat.
There was to be no last-ditch heroics or dramatic finish, with the champion finishing strong on an evening where he had a job to do and importantly didn't fold.
He landed considerably more power punches (154-113) at a 10% higher clip (38%) than Diaz, with frequent back-and-forth exchanges skewing the punch statistics. While admirable that his chin held up under pressure, this wasn't a flawless showing from Devin either.
Against better, more technical boxers, he can't afford to absorb such damage – especially late in fights – when things could be much closer on the scorecards in future.
"He boxed nice, knew what he had to do, gotta give Jojo credit… Haney done his thing, I liked the fight. I saw the holes there already, that's just me as a fighter, give him his props and we'll see what happens next. I'm very fast, explosive, it'd be something he'd never experienced before."

Kambosos Jr's main event verdict before his joint-interview with Haney
We'll have to wait and see.
Picture source: Getty Images