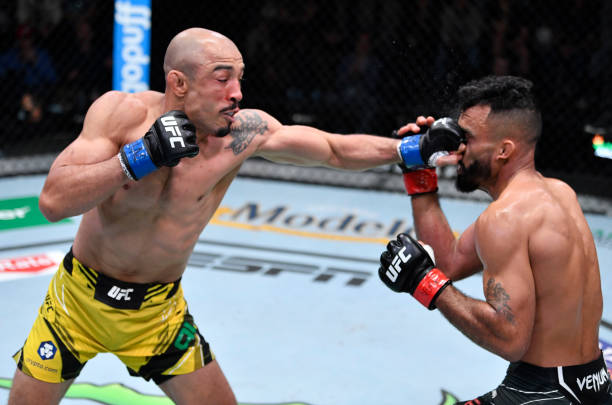 It feels like just yesterday, critics were starting to get worried about Jose Aldo's career trajectory after suffering three contrasting defeats for the first time in his 17-year pro stint. Now, he's flipped the script: three consecutive UD wins against hopeful contenders – a first since 2014 – and his potential has risen again, in a bantamweight division packed with uncertainty.
Aldo picks apart gamely Font showing in style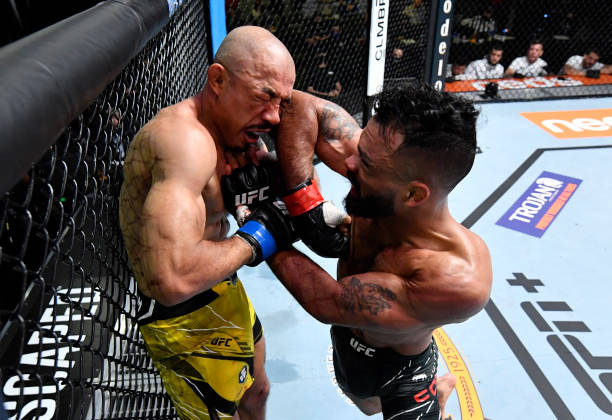 Admittedly, the King of Rio's start here was somewhat slow but he quickly erased Font's forward-thinking pressure by dropping him with a one-two combo. That sharp boxing startled him and from there, Aldo took charge of an encounter he was the heavy pre-fight underdog in.
Now-interim champion Petr Yan, who earned a fifth-round stoppage win over him to claim UFC gold last summer, was watching with vested interest and praised him on Twitter afterwards:
While those are nice words indeed, last year's championship clash felt like a changing of the guard.
While Aldo beating Marlon Vera, Pedro Munhoz and now Rob Font is commendable, it doesn't mask that either. Yan has continued to improve since, with high-marquee title fights against Aljamain Sterling and Cory Sandhagen reinforcing a belief he's the true king at 135lbs.
Font's big break came against a relative unknown quantity in former champ Cody Garbrandt, who was outworked and outboxed to oblivion earlier this year. With Cody dropping down a weight class though, it amplifies the notion Font was fighting credible yet flawed opposition.
Sterling, who memorably won the title from Yan via a fourth-round DQ in March, also chimed in.
While the easy thing to do has been a unified rush in criticising Aljo, it feels like he'll never get the respect (and recognition) he craves until he beats Yan.
Post-fight, Aldo called out Sandhagen's conqueror TJ Dillashaw for a showdown in 2022 and while the promotion will probably look to book it when both are fully recovered from their respective injuries, can either of them say they deserve a title shot with another win?
Dillashaw used his fight IQ brilliantly in edging past Sandhagen via split decision, but it could've gone the other way while the musk of his drugs ban still lingers. Aldo, urged by his coaches to incorporate kicks into his arsenal between rounds, utilised them later on vs. Font.
However, this win represents only the third time in an illustrious UFC stint so far that he's prevailed while also landing less total strikes than his opponent. It's the one with the widest margin too, showing his striking defence is unsurprisingly not what it once was.
The former featherweight champion shows why fighters often opt to wear sunglasses immediately after they've been in competitive duels like his:
With all of that information in mind… The bantamweight division finds itself in an awkward position right now as far as depth of viable contenders are concerned. Besides Sterling's training partner Merab Dvalishvili (#6) there's not many genuinely fresh contenders on the rise.
This weekend welcomes the year's final PPV event – UFC 269 – otherwise known as Sean O'Malley fight week, which means:
"'Unranked champ' seems to make sense going into this fight considering I'm on the main card. I've got [Raulian] Paiva moved all the way up to the main card as well – we've got two top-10 guys fighting on my prelims. It makes sense.

"It's Dominick Cruz, the dude's a legend, I can't sit here and disrespect him, but he's on the prelims. The UFC stacks the card in a specific way for a reason, you know what I mean?

If they thought Cruz and Pedro Munhoz could sell more pay-per-views than me, they'd put him on the main card. I think it's just the UFC's a business and they understand what they're doing."

O'Malley's thoughts on how he's being handled as a main card attraction
This forward planning may yet bite Sean O'Malley, but Suga Sean has already named Adrian Yanez among those he wants to fight in the new year. We'll see how he fares this weekend first.
Like surging lightweight contender Rafael Fiziev has shown, there's two ways to climb up the promotional ladder. He scored the 13th wheel kick in UFC history, earning a R3 TKO victory over former training partner Brad Riddell and afterwards expressed regret he had to fight a friend.
Picture source: Getty Images