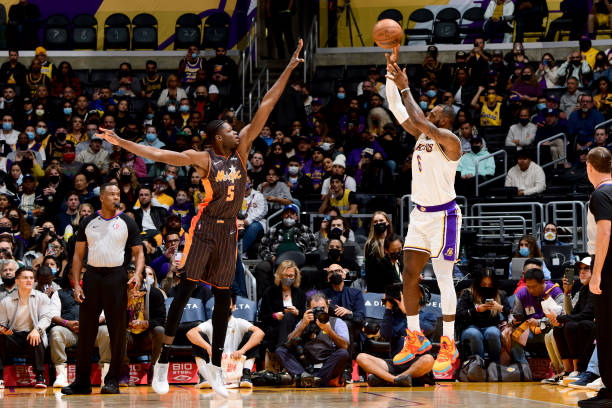 LeBron James scored 14 of his 30 points during a whirlwind third quarter, while also recording 11 rebounds and 10 assists to complete a productive triple-double, as the Los Angeles Lakers ultimately eased into a comfortable victory over the youthful yet struggling Orlando Magic.
Lakers win at home, before fierce finish to 2021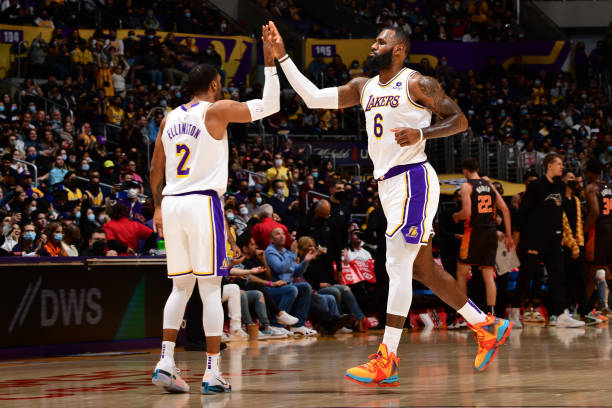 Lakers 106-94 Magic: LeBron shines as Davis-less LA win at home
Anthony, Carter Jr and Wagner impactful for visitors
Between now and December 30, Frank Vogel's Lakers have a tough schedule featuring two road trips and plenty of nationally televised games. Among those, they host the league-leading Phoenix Suns (Dec. 22) and a Brooklyn Nets side headlined by Kevin Durant on Christmas Day.
After enduring some worrying early season form, Houston have been recharged recently while road games against Dallas and Chicago should also prove tricky this upcoming week.
With that in mind, it'll be reassuring for Vogel and his coaching staff to see their team getting the job done without being at full strength – even if against a team with just five wins so far this term.
Eight-time All-Star forward Anthony Davis (knee soreness) didn't play for the second successive outing and while availability of their key players could prove decisive as far as their title aspirations are concerned this season, whether they can adapt under duress is also important.
On this occasion, LA trailed by three points heading into the half-time interval and Russell Westbrook – an expensive offseason acquisition – grimaced as he trudged off the court, landing awkwardly on his ankle after Wendell Carter Jr blocked his driving layup with 6.4 seconds left.
James reacted quickest, grabbing the rebound and sinking a tip shot afterwards – finishing the first-half scoring or assisting on LA's final three baskets. That foreshadowed what was to come.
"When he's aggressive, making the right plays and reads, our team is different. This was another game where he imposed his will.

[The blocked shots] are just big for us, and I know it's big for him to show he's still doing what he's been doing year-after-year. It's great to see."

Westbrook on James' display, posting 19 pts, 7 rebs and 5 assists himself
He made two threes in quick succession to start the third quarter, before again combining with Talen Horton-Tucker from close-range to give LA a 57-56 advantage they wouldn't relinquish.
Orlando couldn't buy a basket – enduring a rough nine-minute scoring drought – while LeBron and co were energised by many excellent plays as they flowed their way into a double-digit lead.
"Tonight, LeBron happened. He came out, hit two 3s quickly. We missed a couple of chippies, and it fuelled their break. They just turned up the defensive pressure, we did get some good looks, shots just didn't happen to fall. Those go in, it slows down the run, but those misses led to easy transition baskets."

Jamahl Mosley's post-game verdict after a rough road defeat
Extravagant passes, thunderous chasedown blocks, sinking shots, a dunk apiece for Dwight Howard and DeAndre Jordan: just excitement aplenty as players aplenty were involved.
Despite some hurried decision-making, Horton-Tucker recorded his third most points of the season (19 on 7-14 shooting), but the 21-year-old's defensive awareness had fans purring:
Orlando by contrast, were wilting before everyone's eyes. They shot just 2-for-23 in the third quarter, with Chuma Okeke and Cole Anthony in particular missing big.
Despite his size and patented hook shot, Robin Lopez couldn't find any close-range success either – but Orlando responded with a 32-point fourth, their highest scoring quarter of the night.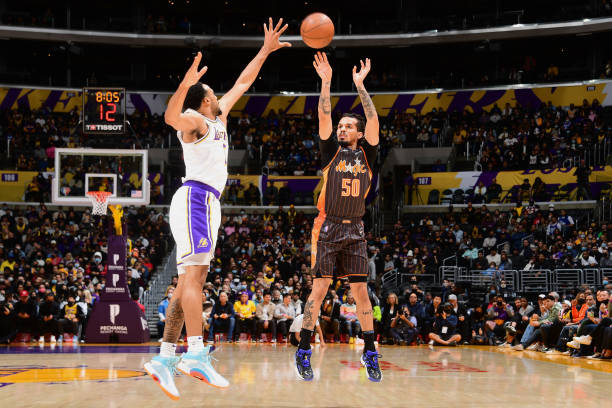 Second-year SG Cole Anthony scored 21 points on 6-of-18 shooting, while rookie forward Franz Wagner posted 20 points and seven rebounds in another teachable moment for Mosley's men.
"We see where we're trying to go as a team, and for a lot of us, we understand it doesn't happen overnight. I've seen it with the team I've been on [Chicago] before I came here – it's a process.

Things don't happen overnight with a young team, there's going to be ups and downs, but as long as we're learning from mistakes, I like it."

Wendell Carter Jr, who recorded 16 points and eight rebounds, on taking positives from negative experiences
By this point the damage was already long done, as the Lakers moved two games above .500 for the first time in a month. That statistic, per AP's Greg Beacham, rather reinforces why critics leaguewide have been quick to turn their noses up at an underwhelming LA team this term.
James, who turns 37 on Dec. 30, continues to thrive as one of the league's best players while everyone is waiting for Father Time inevitably slowing him down.
Vogel said post-game he's inspiring their group by finding joy through hustle, but sceptics will warn this is far too early in the regular season for LA to rely on him producing such efforts. We'll have to wait and see, especially with the skewed way their roster is currently constructed.
What's next?
Orlando will hope to bounce back after going 0-5 on their West Coast trip, when they entertain Trae Young and the Atlanta Hawks on Wednesday night.
LA travel to Dallas with a few familiar faces awaiting them midweek – first-year head coach Jason Kidd and Luka Doncic, who could return after missing two games with an ankle complaint.
Picture source: Getty Images — player, head coach quotes via AP