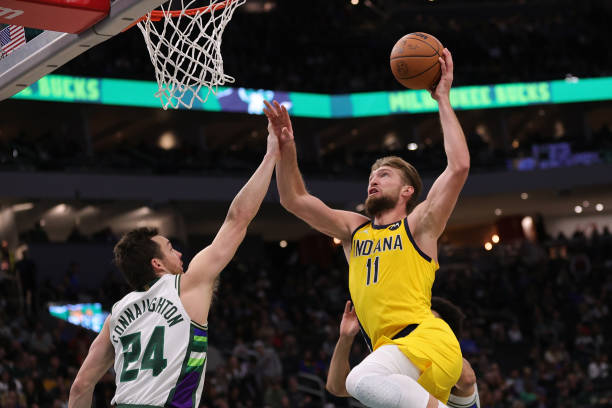 As speculation continues rumbling about the Indiana Pacers' desired long-term direction, their two-time All-Star power forward Domantas Sabonis reportedly wants a change of scenery in 2022. Sacramento and Phoenix have been previously linked with a possible trade deal, while the league-leading Golden State Warriors are among interested suitors for the 25-year-old.
If true, Sabonis seeking fresh ground is unsurprising
All-Star power forward Sabonis wants a change of scenery, and has held this stance since last year according to new information breaking last night from the Action Network's Matt Moore.
Their 12-18 start to the regular season means they're three games behind the final play-in tournament spots (9th and 10th) currently held by the Atlanta Hawks and Boston Celtics.
Franchise owner Herb Simon has refuted claims they're looking to make wholesale changes – even if multiple players appear on the trade block, including Caris LeVert and Myles Turner.
The latter's disgruntled comments in a featured piece on The Athletic earlier this month raised some eyebrows, while Sabonis' desire for a new home isn't exactly surprising. Among the things Turner said, this quote stood out ahead of what promises to be a busy few months:
"It's clear that I'm not valued as anything more than a glorified role player here, and I want something more, more opportunity. I'm trying really hard to make the role that I'm given here work and find a way to maximise it.

I've been trying to the past two, three seasons. But it's clear to me that, just numbers-wise, I'm not valued as more than a rotational role player, and I hold myself in a higher regard than that."  
What's next for Turner and Sabonis?
Turner, a perennial contender for Defensive Player of the Year honours in recent seasons, feels undervalued and there's a genuine argument that whether he or Sabonis is treated as Indiana's best player, they won't be able to truly match their ever-improving Eastern Conference rivals.
Turner is averaging 12.8 points, shooting 37.4% from three-point range and logging a career-high 7.4 rebounds per game, while also leading the league in blocks (2.9) after 29 contests.
Sabonis meanwhile, is averaging career-highs in FG% (59.1), 2P% (66.7) and FT% (75.7) and had a double-double (16 pts, 14 rebs) with five assists in their 114-99 loss to the Bucks overnight.
These efforts rather amplify a sense he's working hard for nothing, or at the very least, minimal reward in return. Malcolm Brogdon, who inked a two-year $45m contract extension last summer, cannot be traded until next season at the earliest. The rest of the Pacers core certainly can.
The Athletic's Shams Charania and Bob Kravitz wrote a piece on the situation last week, with this the biggest takeaway:
Over the past few seasons, the Pacers have faced the question internally and externally: Can Sabonis and Turner co-exist on the floor and help the organization take the next step in playoff contention?

The franchise has remained patient by seeing through both big men and their potential together in their primes, but a breakup now appears on the horizon.
Sabonis has two years and $37.9m guaranteed left on his contract once this season is over, after which point he'll hit unrestricted free agency. As such, Indiana's best chance to retrieve a handsome haul: sell high while they still have a chance – before the waters get muddy in 22-23.
While it's admirable they want to keep Sabonis, one of their key foundational pieces, they risk losing him for much less later down the line in what would prove a counterproductive move.
There's still plenty of time to mull offers with this season's trade deadline set for February 10, but change feels inevitable in a franchise that has stagnated too long and doesn't appear any closer to being a genuine Eastern Conference contender than when they traded Paul George in 2017.
Picture source: Getty Images