Less than six months into his Catalan adventure, Manchester City's all-time top goalscorer wept during the announcement as he explained what we've known for a few weeks now: having to retire prematurely with a heart condition. But as we reflect on his greatest moments and angrily wonder what could've been, I'm relieved he's okay at a time where nothing is certain.
Aguero forced to retire with heart condition, aged 33
This wasn't how it was meant to go. Recently diagnosed with a cardiac arrhythmia – an irregular heartbeat – Aguero was taken to hospital after suffering chest pain in the first-half of Barcelona's 1-1 draw with Alaves on October 30. That evening soon proved the end of his illustrous career.
Even while I write, there's a burning sense of injustice through the words. Imagine how he feels, even now, six weeks removed from the last in a long line of problems plaguing his best years.
"When I did the first tests the doctors called to say there was a very big chance that I shouldn't continue [playing] and I started to mentalise myself but it wasn't easy. I was processing it all when they called and said it was definitive.

I took a few extra days to process it, got it into my head, thought properly and decided. I'm OK now, but the first few weeks were hard.

I'm proud of my career, very happy. I always dreamed of playing football, ever since I first kicked a ball aged five – I leave with my head held high."

Aguero, on mentalising the reality his career was over
He said he did all he could, just in case there was any hope, but the bleak news offered no respite. Thankfully, as I've acknowledged in the weeks since, he was able to make the public announcement anyway. Like he said, had this happened again, he might not have been so lucky.
The Athletic's Sam Lee described it all as incredibly touching to watch, regardless of allegiances worldwide – Manchester, those in Argentina, friends and family or others besides. I couldn't bare to join them, seeing a striker I've idolised since primary school close the curtain for a final time.
"Representatives from all of the teams he represented, including City boss Pep Guardiola, sporting director Txiki Begiristain and several coaches, were in attendance for a day that everybody had known was coming but nobody could have been quite prepared for."
Aguero's most memorable moments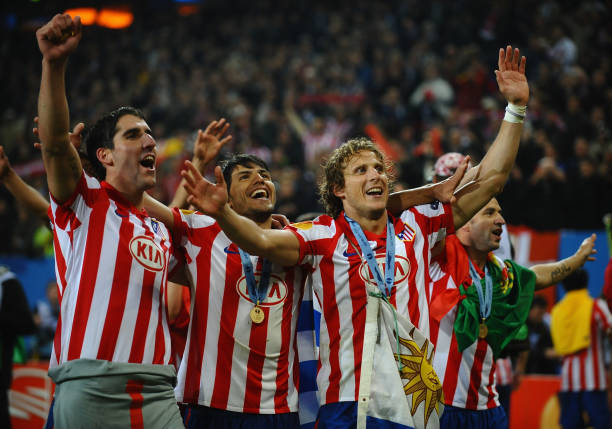 That shy, mischievous smile flickered across his face as he gave a short list of the most memorable moments over a 20-season professional career. Independiente vs Racing, the Europa League with Atletico, that goal against QPR, winning the Copa America as well as his final strike.
Despite only playing them twice, he made his mark at Independiente in the Avellaneda derby against Racing Club, regarded as Argentina's second-most important rivalry behind Boca-River.
He created both assists for Diego Forlan in the 2010 Europa League Final against Fulham, as they clinched their first piece of major silverware since 1995-96 – a maiden international competition.
That last-gasp, title-clinching goal against QPR nine years ago, will outlive us as an unforgettable Premier League memory. You can only hope future generations take the time to truly appreciate the story behind it, understanding just how that moment shook the top table in England.
While he only created one assist in four Copa America appearances (133 minutes) this summer, the triumph mattered all the same. That the closest he came to achieving Champions League glory was with him playing a bit-part role – if at all – in the knockout rounds, just feels wrong.
His first strike for Barca came off the substitutes' bench, sweeping a late consolation past Thibaut Courtois on his El Clasico debut on Oct. 24 as they succumbed to a 2-1 home defeat.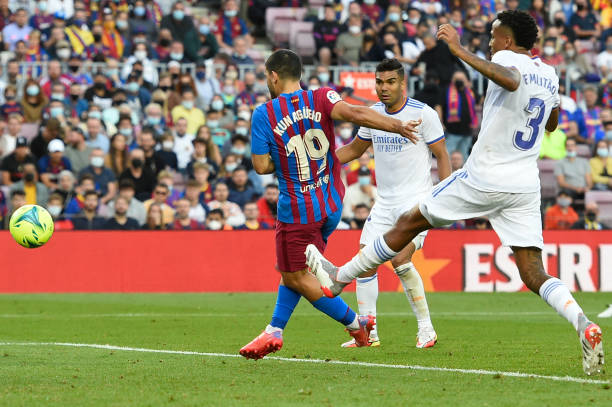 Courtois, whose imperious goalkeeping form has been heralded in recent weeks, was left with no chance. It was the sort of first-time finish that Aguero made look so easy, having been teed up by Sergino Dest, and yet the degree of difficulty is much higher than you've been led to believe.
It feels symbolic of late-career Aguero, that aforementioned assist was for Lionel Messi – who he was set to join in Spain. Instead, Messi left for PSG as Kun watched helplessly injured (calf) as the team he'd long dreamed of joining continued their steep decline across all fronts this term.
The Guardian's Sid Lowe, as he regularly does, said it best:
At the Calderón, he had been astonishing, La Liga's best player in 2007-08 aged 19. Manchester City fans soon found out how good he was. Barcelona fans would not, not first hand.
Injured in August, he played only 339 minutes, none with Lionel Messi, the friend alongside whom he won the Under-20 World Cup 16 years ago and hoped to play out his final games.
Also read – Meticulous planning, irreparable damage and cruel irony: Lionel Messi at PSG
At the time of writing, Barcelona dropped into Europe's secondary competition for the first time in 17 years and face Italian side Napoli in February's two-legged Europa League playoff round.
After 16 matches, they're five points adrift of the top-four places in La Liga, currently in their third three-match winless streak and a whopping 18 points behind runaway leaders Real Madrid.
"We've been left with the hope of what might've been but think you made the right decision. We would have liked you to come sooner: we were jealous when you were at Atlético."

Barcelona's president Joan Laporta on Aguero
Aguero, much like close friend Leo, reinforced the belief you don't have to be the biggest or physically strongest to succeed. When many questioned his suitability and whether he'd succeed under Pep Guardiola's high-pressing playstyle, he duly responded by adapting brilliantly.
As Jonathan Wilson wrote in March, he's done more than anyone to change City's image as a club – one everyone who doesn't support them has continued sneering at, one way or another.
A team that I covered in a personal capacity, for three full seasons during his sky Blue tenure. I just wish I lived closer to truly savour his brilliance in the flesh before it ended. Thank you, Sergio.
Picture source: Getty Images — quotes via Guardian