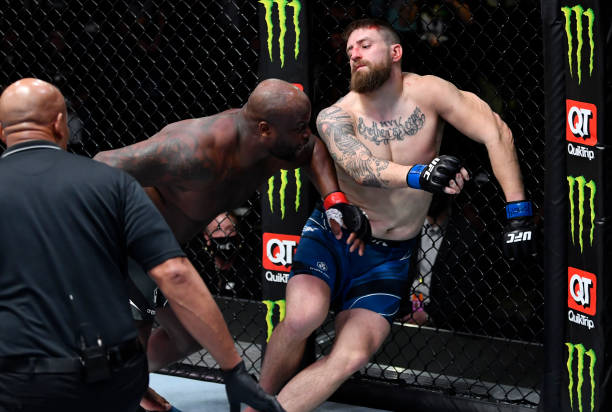 Derrick Lewis reinforced his knockout artist pedigree, now standing alone with the UFC's KO record (13) after viciously ending Chris Daukaus' first main event in R1 to cap the promotion's final card of an eventful 2021 campaign. Elsewhere, there were big wins for welterweight contender Belal Muhammad and lightweight prospect Mateusz Gamrot among others.

Lewis returns to winning ways, capping 2021 with a bang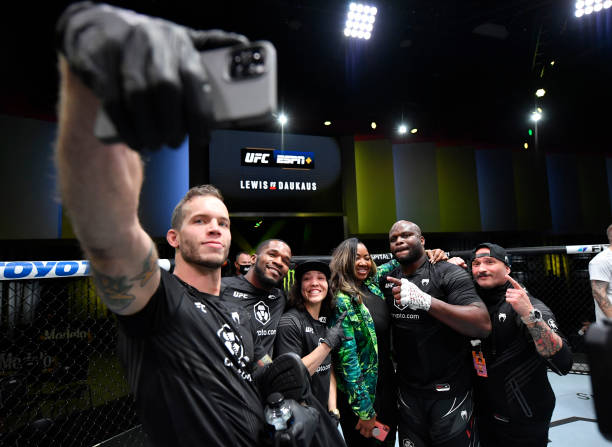 Daukaus was noticeably cautious from the get-go, as Lewis initially walked forward intently before himself waiting for openings to exploit. Chris took his time, peppering him with low leg kicks and trying to keep his distance but Lewis, bobbing and weaving, was happy to trade.
Eventually they exchanged up against the fence and despite Daukaus doing well to stay upright initially after absorbing a wild explosion of unanswered attacks, it felt only a matter of time.
Started by an acrobatic high kick which visibly startled Daukaus, Lewis left him nowhere to hide as he cut off the small cage before unloading with 13 punches in quick succession, a knee to the body as they clinched, then three more for good measure as he sent Daukaus crashing down.
"I'm feeling good, I'm also happy to be the first fighter – the clean fighter – to get the [knockout] record. That's all I wanted to do [avenging Gane loss]."
He passes Vitor Belfort and Matt Brown for the UFC's most knockout victories of all-time, while sitting four wins behind Andrei Arlovski (21) for most total victories in the heavyweight division.
---
Belal bullies Wonderboy, calls out Usman and Edwards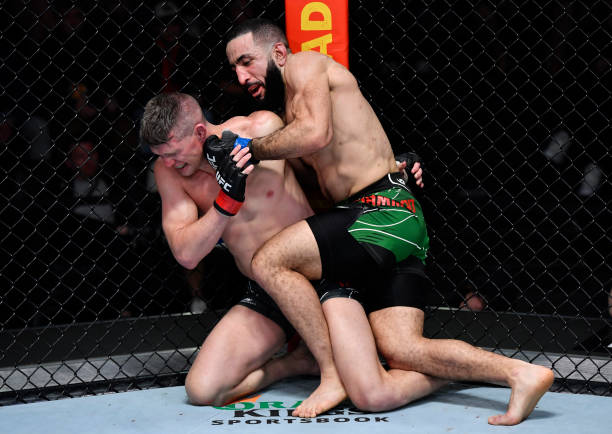 30-25, 30-26, 30-26: Belal Muahmmad (#10) defeats Stephen Thompson via UD
Questions about Wonderboy's takedown defence were always going to be posed, such was the dominant manner of his lopsided decision defeat by Gilbert Burns back in July.
After absorbing one too many sharp head kicks early on, Belal shot for a takedown and despite being stung on the exit, it didn't deter him from trying again.
They exchanged punches in the clinch, grappled plenty and Muhammad's persistence paid off as he flattened Thompson out with punches aplenty on his back, threatening a submission.
After clearly coming out second best in the first stanza, Thompson needed to keep the fight standing and box his way back into proceedings, which was easier said than done.
In his 15th Octagon appearance, Muhammad tallied a new career-high for takedowns (7) as he continued pushing for a sustained but ultimately unsuccessful kimura attempt. He let fly with more ground-and-pound strikes in the final 30 seconds, banking another hard-fought round.
Wonderboy tried to box his way into a commanding position to start the third, but almost immediately found himself wrestled to the mat once more in frustrating circumstances.
Muhammad's head positioning almost saw him get stuck in a guillotine choke, but quickly recentred himself and secured another takedown en route to a comfortable finish.
"I'm the fucking boogeyman, Usman I'm coming for you. I need that title shot, Leon almost got knocked out by Nate Diaz, let's get new blood in title fights.

[If not him next?] Kamaru has fought three times this year, let him rest a bit, we don't need to see another rematch. Leon's fought like three 155ers in a row, poked me in the eye so there's bad blood there, no-one has beaten Wonderboy like that, I'm the real hype in the division – none of these other guys."
---
Gamrot gallops forward in lightweight division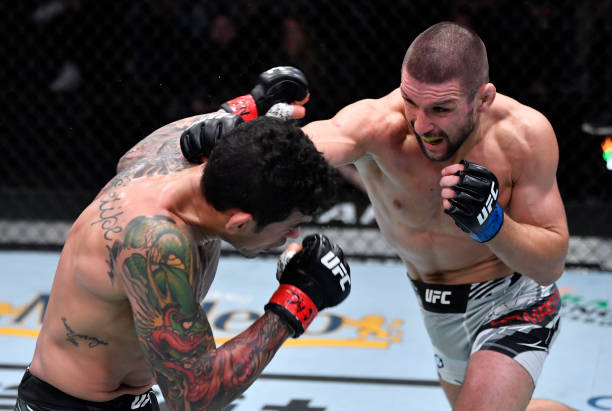 With all due respect to Diego Ferreira (#12), this always felt like a showcase fight opportunity for Polish lightweight prospect Mateusz Gamrot — who at 31, has delivered an impressive body of work within the UFC and continues trending upward.
He had to deal with some adversity, as Ferreira justified his stand-up skills while they scrambled aplenty, going tit-for-tat justifying their credentials on the ground.
However, Gamrot earned a R2 finish and will feature in this week's rankings update, after getting the Brazilian to verbally submit with an injury just as he threatened a sub attempt near the fence.
While softening him up with strikes, he landed a knee from behind to the ribs which Diego audibly, then physically gesticulated to referee Jason Herzog he couldn't continue any longer from. Something tells me he definitely won't get what he wants next, but full props for trying:
"I'm a complete fighter and think I'm gonna be a problem for everyone in this division – I'm healthy and looking forward to my next fight. Everybody wants to fight [Conor] McGregor, but he's a businessman now. Michael Chandler, come fight me. You're 1-2 in the UFC, recover quick and let's get it!"
---
Simon styles his way into top-15 at 135lbs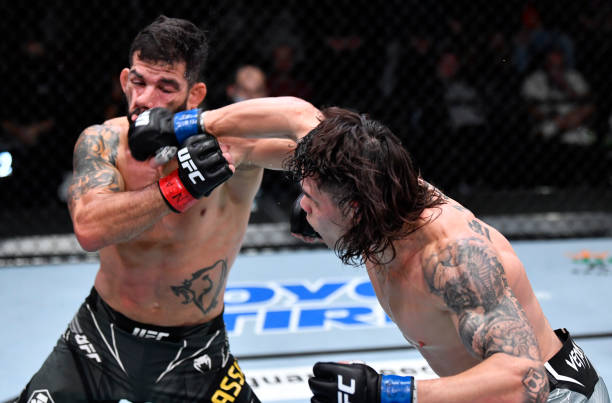 In an eventful bantamweight battle, Contender Series graduate Ricky Simon extended his win streak to four while improving to 19-3 with a second-round KO win over Raphael Assuncao (#12).
The 29-year-old shook off an early inadvertent kick to the groin just seconds into the contest, earning a takedown while showcasing his ability to produce grit-and-grind wrestling.
He completed a slam in what soon proved a dominant round, before finishing in the second stanza after flashes of slick head movement reinforced the difference in speed between the pair.
He sent the Brazilian veteran to sleep with a right hook and uppercut combo, before having one particular name on his lips to call out in 2022:
"I know where I'm headed, to the title… if [Sean] O'Malley can get Dana White's permission, I'd love that fight – been trying to make it for a while now."
---
Rest of the main card, prelim results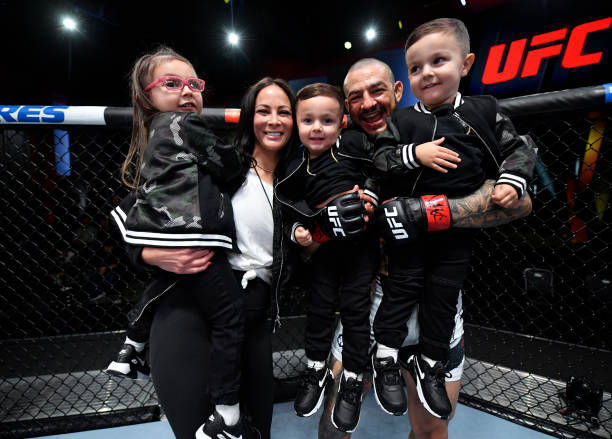 After being folded by Giga Chikadze in May, 145lb veteran Cub Swanson scored a first-round finish of his own vs. Darren Elkins, with wife Kenda and three kids in attendance to watch their dad unload sweet combos until referee Herb Dean had no choice but to stop the encounter.
Elkins quite literally fell into the highly-regarded official, after partially absorbing a spinning wheel kick to the face and some follow-up punches.
Angela Hill (#12) suffered her third split decision defeat post-lockdown, this time against Amanda Lemos (#11) in a back-and-forth strawweight duel that won Fight of the Night honours.
Featherweight prospect Charles Jourdain would've been disappointed not to earn a finish, but logged 15 minutes of compelling work in the tank nonetheless as he eased past Andre Ewell
It was ultimately via UD (30-26, 30-27, 29-27) – having almost ended their encounter on multiple occasions, such was the intensity of his ninja-like style and relentless forward pressure.
"As I walked out, I told myself you're a man now… arrived in the UFC at 23, had some ups and downs but I need to prove that I can join those beasts in the top-15. I'm far from that but working hard to get there. That was my last fight on my UFC contract, if I lose, I can go home and not know what I'm gonna do…"
Lightweight prospect Jordan Leavitt returned to winning ways and made some history doing so: earning the third inverted triangle choke submission win in UFC history, against Matt Sayles.
After coasting past Roque Martinez in Paul Felder's retirement fight last November, Contender Series graduate Don'Tale Mayes scored his second consecutive win at heavyweight, this time via TKO (elbows) with a third-round victory against Josh Parisian.
After a patchy 2020, middleweight veteran Gerald Meerschaert finished a productive year with three straight wins — all via submission — this time a R3 rear-naked choke vs. Dustin Stoltzfus.
He extended his streak atop the 185lb division's submission stakes (8), and is only one behind Jim Miller and lightweight champion Charles Oliveira (9) across the promotion all-time.
Former women's bantamweight title challenger Raquel Pennington is now on a three-fight winning streak for the first time in five years, this time earning a second-round submission victory (guillotine choke) against an overweight and short-notice opponent in Macy Chiasson.
Sijara Eubanks missed weight (127.5lbs) and then suffered her third post-lockdown defeat, this time vs. Brazilian prospect Melissa Gatto (8-0-2) – who earned a second-round win over Victoria Leonardo via doctor stoppage (broken arm) on the Gane-Lewis prelims four months ago.
New Zealand-born Australian heavyweight Justin Tafa, another fighter who missed weight (267lbs), scored a first-round head kick KO win over Harry Hunsucker – before stressing a desire to avenge his Carlos Felipe split decision loss on the Adesanya-Whittaker II card in February.
Up next: Fight Night headlined by featherweight duel — Calvin Kattar vs. Giga Chikadze, Jan. 15
Picture source: Getty Images