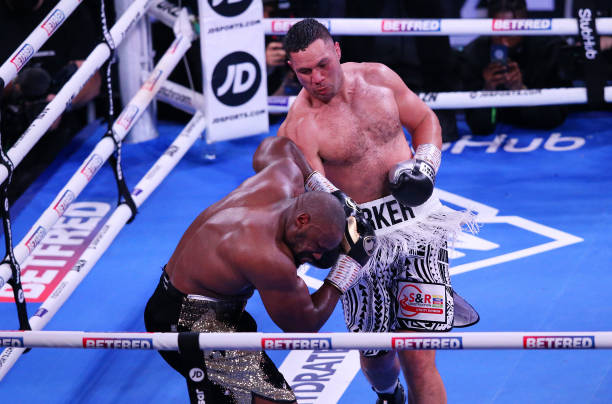 Former WBO heavyweight champion Joseph Parker produced a refreshing change for once en route to a comfortable decision win over a gamely Derek Chisora – dodgy scorecards aside. While he'll remain in Morecambe with his family and team over Christmas, the 29-year-old will hope this showing sets up a successful return to the top table with big fights to make in 2022.
Parker-Chisora 2 was better than the first, thankfully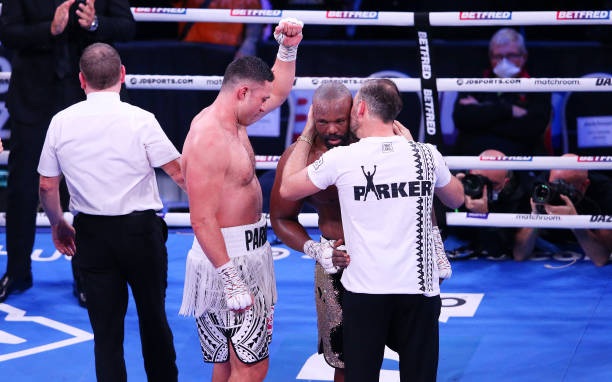 I audibly chuckled, somewhat incredulously, hearing BBC's Steve Bunce effortlessly describe Chisora-Parker II as a pre-Christmas present pitting the world's sixth and seventh best heavyweights against one another – and how it was going under-the-radar this past weekend.
This was the same Joseph Parker who had limped to an unspectacular unanimous decision win against highly-rated compatriot Junior Fa back in February, and not fought anyone of note on the world stage after successful decision defeats by Anthony Joshua and Dillian Whyte in 2018.
Conversely this was a gamely fan favourite in Chisora, the same man with 11 (now 12) pro defeats on his record? Who suffered the fourth split decision loss of his career after their first bout on May 1 and regularly emerges second-best whenever he faces truly tough opposition?
When judging which fight to write a featured preview on last week, I purposely chose to focus on Lewis-Daukaus instead — there was more on the line, a genuine storyline and implications.
Parker retained the WBO Inter-Continental HW title he gladly snatched seven months prior, even after suffering a flash knockdown in R1 that evening. Somehow this bout lasted the full twelve rounds, despite the Kiwi scoring three knockdowns and repeatedly closing in on a finish.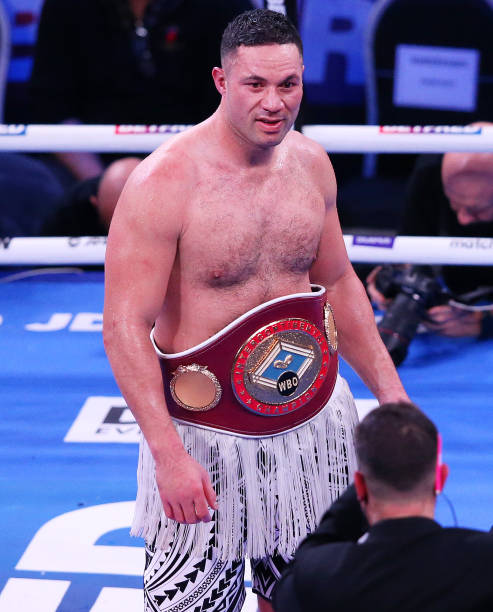 Armed with 12,000 compared with the eerie backdrop for their behind-closed-doors first encounter, this bout caught fire quickly but proved a tough watch at times, unpredictably frenzied in others, as Chisora refused to relent despite being outboxed for sustained periods.
The crowd roared their support for Del Boy wherever possible, aware they were energising his defiance and provided the necessary tonic to startle Parker whenever he looked to complete a final finishing sequence.
Chisora beckoned him forward, even when backed up against the ropes, almost baiting the 29-year-old to engage. Then he would explode, unloading ample resistance to ensure referee Howard Foster wouldn't wave this fight off. This, weirdly enough, happened multiple times.
Parker didn't want to poke the bear that he had picked apart, whether with vicious uppercuts or a flurry of spiteful punches, a refreshing hope that new head trainer Andy Lee has finally channelled his aggression and purposeful approach into more than brief, frustrating flashes.
He's not flawless either though, as Chisora was content dragging him into a slugfest and he needlessly obliged – almost to prove he's not the risk-averse boxer everyone has seen from him.
Chisora, as Bunce said beautifully afterwards, has nothing to prove and there's a reason why fans love him – unflattering record aside – he's a warrior who always leaves everything in the ring.
On Saturday night about 12,000 sang his name in defiant respect during the last round. It was quite breathtaking, a privilege to witness the defiant old master letting his fists fly. In the final seconds, Del never let the people down and finished swinging like a man with his eyes closed chasing a wasp in a tornado.
He quickly shot down retirement speculation post-fight, and with money still there to be made, it's an understandable stance but hopefully he gets a win or two and rides off into the sunset. Boxing, especially at heavyweight with sharks circling, isn't a game to be taken lightly.
---
What's next?
Andy Ruiz (knee) was to return this month, before undergoing surgery. Parker already beat him in Dec. 2016 and as far as rematches are concerned, that doesn't really move the needle much.
He wants Dillian Whyte again, but The Body Snatcher is finally expected to face Tyson Fury for WBC gold next at some stage in the first quarter of 2022. Parker, who weighed a career-high 114kg for the rematch, said the added bulk helped him without sacrificing hand or foot speed.
"I think it intensified from the beginning, and I started stronger, a lot more positive. The weight did help me push him around a little bit, but I still have a lot of work to do – got to keep practising with this new extra weight.

He kept coming forward, knew how to recover every time I hurt him, dodged the big punches and kept coming back more. It was a more convincing, dominant performance but hard work.

It's up to David [Higgins, his manager] and Andy [Lee, trainer], I don't really care to be honest. There's the belt at the top, I'd like to fight Dillian [Whyte] again in a rematch. Joe Joyce, his name was mentioned a few times."

Parker on how the new weight aided his tactics, and looking ahead to 2022
Two-time WBC title challenger Luis Ortiz faces former IBF heavyweight champion Charles Martin (#2 IBF) on New Year's Day, so with that in mind:
Croatia's unbeaten Filip Hrgovic (14-0, 12 KOs — #3 IBF) could be ready for a step-up in an IBF eliminator between #3 and #4. Frank Sanchez (19-0, 1 NC — #5 WBC, WBO) faces Puerto Rico's Carlos Negron on the Ortiz-Martin undercard, so that too may be an interesting future matchup.
However, the bout I've called to see for months now involves Joe Joyce. Parker himself addressed the possibility of them dueling, in a piece I covered three months ago, so it feels inevitable that it'll be made in the new year, especially after an encouraging showing like that.
Picture source: Getty Images