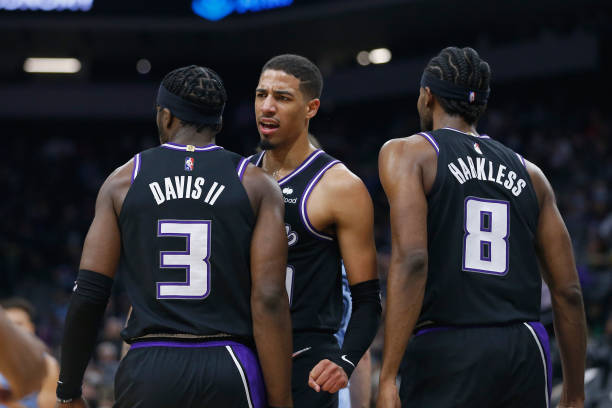 Tyrese Haliburton has now recorded six games with 20+ points this season — five have come since December 17, with franchise guard De'Aaron Fox missing four outings during that stretch after entering the league's health and safety protocols. Given the startling statistics with and without his backcourt partner, do Sacramento have a potential long-term issue on their hands?
right now, Kings appear no closer to ending playoff drought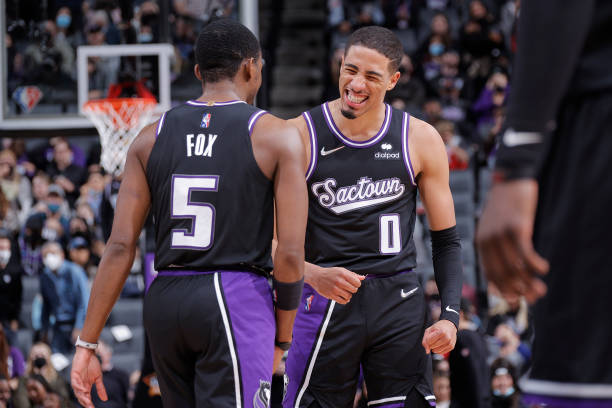 It's been two months since I wrote this game report on how the Kings started showing maturity, closing out a tough clash against the Suns. Since then, they've coughed up some narrow defeats – as has everyone – but these inconsistencies won't help their playoff hunt.
After beating the Oklahoma City Thunder 117-111 overnight, they now hold a 14-21 record — a game behind 10th placed San Antonio out West occupying the final play-in tournament spot.
Portland (13-20), the Pelicans (13-22) and OKC (12-21) aren't exactly far behind them either.
Every team suffers a few preventable defeats across the course of a regular season. That eventuality is worsened by the COVID-19 protocols sidelining players aplenty leaguewide, but Sacramento holding five already on their record now feels like it'll add up come March and April.
As I've mentioned about the Memphis Grizzlies and Indiana Pacers already this month alone, closing out winnable games is key for the lower-ranked ball clubs because every early season win matters twice as much once the playoff stakes intensify after the February All-Star break.
Kings' losses by six points or less:
105-99: Dallas, Oct. 31 – Luka Doncic takes over late, stops comeback rally
94-91: Indiana, Nov. 7 – Three consecutive missed shots, late turnover to boot
109-104: Phoenix, Nov. 9 – Two key turnovers and two missed FTs in last two mins
105-103: Oklahoma, Nov. 13 – Luguentz Dort steal and gamewinner to erase 11-pt 4Q deficit
124-123: Charlotte, Dec. 11 – Two FTs and subsequent two tip shots missed in final seconds
Did you know? Haliburton has led the team in scoring or assisting – or both – in their last seven games, dating back to their blowout loss vs. Toronto (Dec. 14) where he only took two shots.
Walton underwhelmed, but Sacramento's expectations remain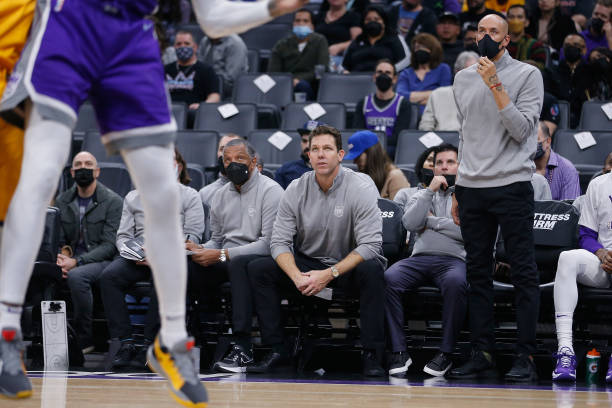 Luke Walton, fortunate to keep his job through the offseason, was fired on Nov. 21 – with interim head coach Alvin Gentry and assistant Doug Christie taking the reigns since his dismissal.
Per ESPN's Adrian Wojnarowski, the Kings have already discussed potential benchmarks of success that could serve as parameters for him retaining the job on a long-term basis.
Their GM, Monte McNair, said this at the time:
"We all know all of us have to be better, especially over the last two weeks. We're not meeting expectations – that's not just on Luke, that's on me, the rest of our coaches and players, everyone acknowledges that. I think we have the talent, we've shown that we can do that. Alvin will be the guy to lead us there."
Considering how his five-year stint in New Orleans ended with a whimper after the team grossly underperformed in the Orlando bubble, that last line is jarring to read. No pressure then, Alvin.
On paper, they have a promising core to be encouraged by. However, given how the Buddy Hield offseason trade broke down and their unorthodox three-guard lineup isn't faultless, are they really a better team than the Lakers/Mavericks – now sitting seventh and eighth respectively? No.
That could change with time though, which leads me onto the next point. Tyrese Haliburton.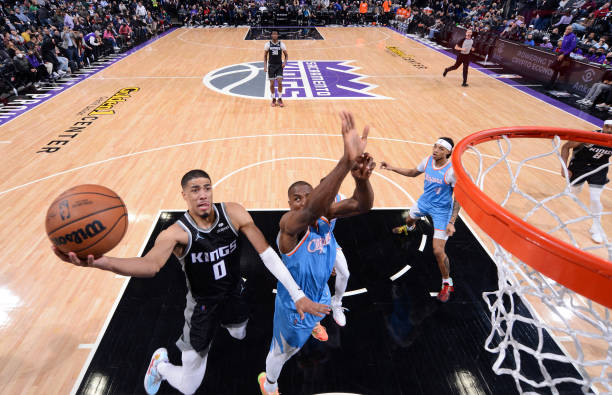 Evan Sidery wrote a piece last week about how the 21-year-old's play could force the organisation's hand on their backcourt decisions and before long, it feels like an uncomfortable decision is coming. He's already a better playmaker, midway through Year 2, than De'Aaron Fox.
His ability to play on and off-ball, slotting in where he's needed, was obvious early on in Year 1 as the guard quickly got his feet wet and impressed. However, the head-to-head statistics when he's playing with and without Fox alongside him are remarkable – requiring a double-take.
With Fox: 11.5 points, 5.7 assists, 4.0 rebounds, 1.8 steals, 54.2 TS%, 15.5 USG%
Without Fox: 23.5 points, 11.3 assists, 4.3 rebounds, 2.0 steals, 63.8 TS, 24.7 USG%
While you may argue it's a small sample size, the difference is indefensible. When his usage rate increases, he's more efficient and aggressive in the right way – Fox hasn't yet mastered that.
Fox, a borderline All-Star last year, inked a five-year $163m extension that began this season. He's been Sacramento's building block over the past half-decade and only turned 24 earlier this month. Both can continue to co-exist in the backcourt, but you can't ignore these numbers.
Just as quickly as critics had knives out for Chicago, seemingly overpaying DeMar DeRozan this offseason, the 13-year shooting guard hasn't only meshed well alongside Zach LaVine and co, he's easily been one of the league's best players doing it – contributing to winning basketball.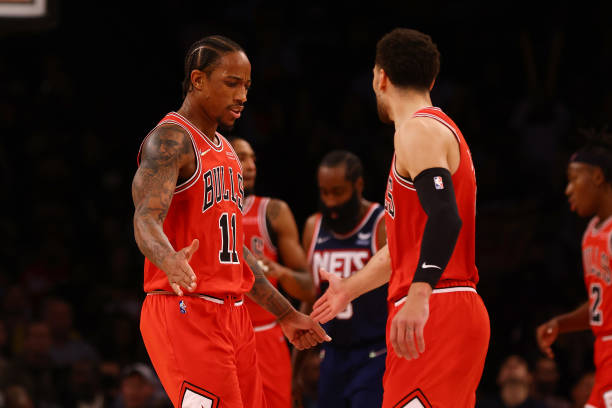 That's really what it comes down to, ultimately. If Sacramento were this year's surprise package, ala Memphis or Cleveland, things would be going smoothly. Instead, that's not the case.
I enjoy watching both but while not actively advocating to split up the Fox-Haliburton backcourt in future, I'm unsurprised speculation surrounding De'Aaron's trade value has flared up of late.
Per Evan's piece:
Kevin O'Connor of The Ringer mentioned earlier this month he's heard from other executives that Sacramento is more open to the idea of trading Fox after drafting Haliburton and Mitchell in consecutive years. Meanwhile, ESPN's Tim Bontemps said a few days ago that he's heard Fox isn't off-limits in trade discussions anymore.
Where there's smoke, there's usually fire, especially as it relates to trade rumours. If two notable national NBA reports are hearing the same type of intel revolving around Fox's future in Sacramento, Haliburton's recent play could put this potential scenario into realistic overdrive.
Fox, an undeniably fantastic player, isn't playing with the same verve he did a year ago and that's obvious by a quick box score scan. Points (20.7), assists (5.1), FG% (44.8), 3P% (25.2) and eFG% (47.7) are all down on the previous year, while he remains their big high-usage player (28%).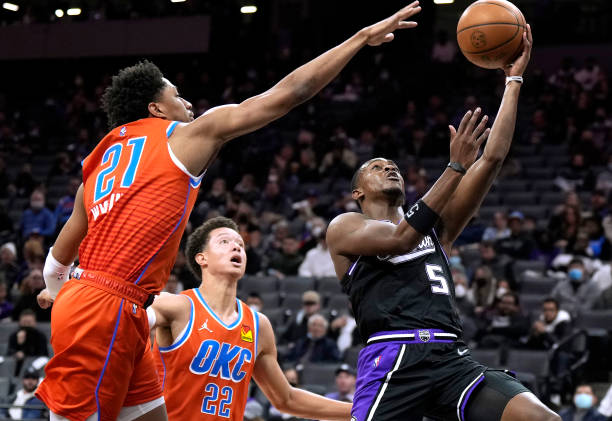 Hield, whose sharpshooting skills are valued, still feels like the odd one out – especially in a bench role, with the 29-year-old's stats also unsurprisingly down on the previous year.
Of the Kings players with more than 500 minutes logged so far, Haliburton is sixth in USG% (17.6) behind Hield, Harrison Barnes, promising rookie guard Davion Mitchell and Chimezie Metu.
He should be, at worst, third. More confidence and reps with that lead ball-handler responsibility will see his turnover rate continue to drop, while expecting his impressive shooting to continue.
The only player, leaguewide, averaging a higher assist percentage (28.2) – % of field goals they assisted while on the floor – with less USG% than Haliburton is Warriors PF/C Draymond Green.
Just like LaVine and DeRozan know when to alternate in the aforementioned role, Fox needs to take notice and adapt as Haliburton surges. Just like against Memphis, Fox struggled with his shot (4-of-17) against OKC overnight, recording 12 points and eight assists in 35 minutes.
Haliburton (9-of-17) – had five threes, logging 24 points and 10 assists in 33:10 by comparison.
I highlight those made threes because, well, Fox's long-range shooting remains poor (25.2% this season, 31.7% career) at best. The last time he made five three-pointers in a game, was during a 43-point display against the Pelicans on April 13. Tyrese? He has four of those this term alone.
The longer these statlines continue, the more whispers will increase. Philadelphia 76ers' wantaway All-Star guard Ben Simmons and Toronto Raptors forward Pascal Siakam have been named as a duo who'd slot in well with Haliburton, but both feel hasty if not idealistic additions.
Even still, the clock is ticking.
Picture source: Getty Images — stats via basketball-reference.com unless linked