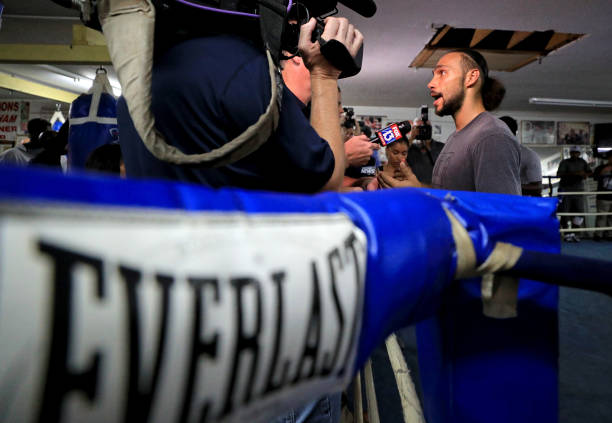 Former unified welterweight world champion Keith Thurman has already outlined his ambitious plans for a big 2022, three bouts in the new year – starting on PPV against Mario Barrios in early February. However, after his previous comments on a planned comeback proved premature, how much stock should we truly buy ahead of his long-awaited return?
Thurman-Barrios confirmed on PPV, February 5
After watching former foe Shawn Porter lose what proved his final bout last month, Keith Thurman confidently threw his hat into the Terence Crawford sweepstakes by saying he'd be more than willing for a summer championship duel – eight months from now – at the time.
Assuming he gets past Mario Barrios on February 5 without any serious injuries, the June timeline seems a fair one. Whether he'll get the opportunity though, remains to be seen.
"With my inactivity, it should be very understandable that I want to get back in the ring. I want to shake off some of the dust, showcase my skills and talent to the world once again, remind them what it's like to watch me fight.

So after I restimulate everybody's senses, I would be more than willing to get in the ring with Bud Crawford. I know in his statements prior to this fight, he pretty much wants Thurman on his resume.

Then obviously, he'd also love to get the Errol Spence's, the Ugas' and all of the champions because we're at a pinnacle point in the welterweight division." 

Thurman on Crawford's desire to clean out the 147 division for his legacy
It will have been 932 days – two years and six months – since Thurman last fought professionally, by the time he steps foot inside the Michelob Ultra Arena on fight night early next year.
As far as optics go, beating someone who is moving up in weight – having debuted as a super-bantamweight (122lbs), it's not mightily impressive. That fact is worsened considering he was knocked out cold by Gervonta Davis, despite producing a commendable effort back in June.
Also read: Barrios vows to return better than ever after Davis defeat
So as far as Barrios is concerned, he – much like Isaac Cruz – has benefited from the Tank glow and this bout presents a high-reward opportunity, should he manage to step up on the night.
There are worse ways to announce yourself in a new division than by beating a former champion in Thurman, regardless of his long layoff.
That this bout is PPV though, is a subject too strong for one boxing analyst I watch to stomach. It seems as though One Time, who turned 33 last month, has plenty of catching up to do as far as boxing activity is concerned and crucially no goodwill left to save himself from the fans' disdain.
Here's just a few comments from Thurman expressing interest in a Crawford fight: 
Why is Thurman still so revered? Sure he has two nice wins vs Porter/Garcia but those were 5 years ago and he's only fought twice since then AND coming off of a loss to an undersized 40 year old.
Thurman needs to climb the ladder like everyone else. Has done nothing lately to deserve an immediate title shot
Crawford would wipe the floor with Thurman. That's one fight I don't need to see
Once Upon A Time Keith Thurman is going to be 5/6 years removed from his best form (Porter/Garcia) by the time Bud comes around and worse, 3 years since Pacquiao lit him up. There's only one fight to make and it's not him.
Please take more than one tune up fight. Bud is no joke
---
Time is ticking for the world's best welterweights
Ultimately, there isn't much time left for his generation atop the welterweight division.
Yordenis Ugas (35), Crawford (34), Danny Garcia (33) and others like them are all staring at the back nine of their respective careers – whether the current champions or perennial contenders.
Two-belt champion Errol Spence Jr, 32 in March, was hospitalised after a high-speed car crash in late 2019 and sustained a serious eye injury earlier this year too. He's no spring chicken either.
Thurman, who tested positive for coronavirus sometime after doing analyst work on site in Las Vegas for Pacquiao-Ugas in August, had originally planned to return in the final quarter of 2021.
If you cast your mind back even further, I covered his comments last summer after revealing hopeful plans to make an unlikely UK debut against former IBF champion Kell Brook last year.
Per BoxingScene, Thurman said this during a virtual press conference announcing the event:
"I'm looking forward to this return, it's been a long time coming. February 5 is the date, not really what I wanted but what life has given me. There was a little bit of push back, now we're gonna get that ball rolling and I have all the admiration to perform three fights if I can, to make up for lost time."
We'll have to wait and see but if boxing teaches us anything, it's that time waits for no man.
Picture source: Getty Images — quotes via The Athletic, boxingscene.com