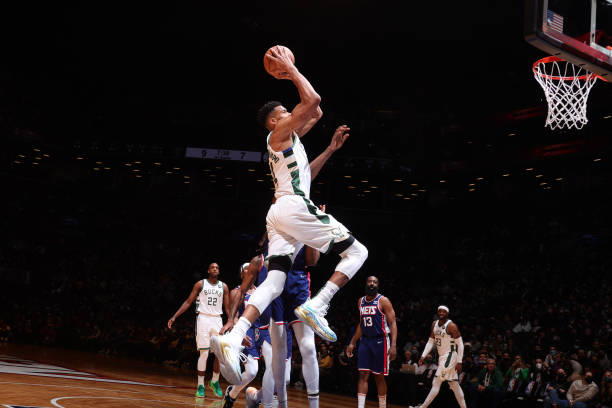 On his return from a non COVID-related illness, two-time MVP Giannis Antetokounmpo produced another matchwinning display – 31 points, nine assists and seven rebounds in 27 minutes – as the defending champion Milwaukee Bucks picked up where they left off on opening night with another double-digit road win against their fierce Eastern Conference rival Brooklyn Nets.
Portis the energiser as Bucks fly out the blocks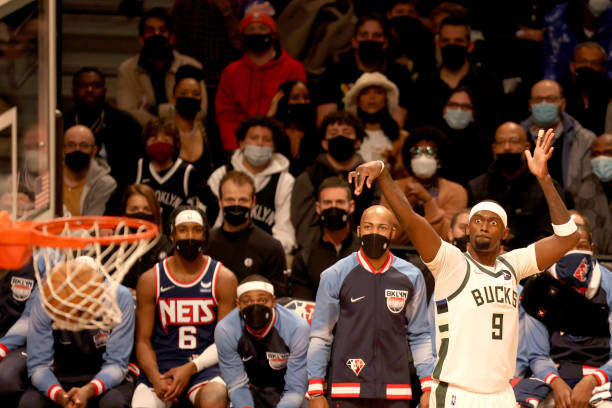 Nets 109-121 Bucks: portis' purposeful play helps inspire Bucks, snapping their two-game losing streak without Jrue Holiday
Giannis, fresh from his seventh straight game scoring 30 points or more against Brooklyn, answered Cassidy Hubbarth's questions thoughtfully and without hesitation post-game.
"We were active, knew that KD/Harden try to get to their spots and score the ball so made it tough for those guys. It's not personal [his statistic], I try to run my own race and make my own team great.

There's a lot of excitement in the air when you play Brooklyn but at the end of the day, try to enjoy the game. KD is the best player in the world, showed it in the past and [is doing so] right now, I'm just trying to get better."
But it would be disingenuous to only highlight Milwaukee's best player as the reason for this victory, considering they were up 11 at half-time while their Finals MVP was in foul trouble.
Harshly judged perhaps, but three quick fouls saw him depart with 9:24 in the second quarter, and he wouldn't return until after the 15-minute break. Their commanding lead had dwindled to just four at the time, but several players chipped in to make the Nets pay for their own misses.
Portis had 10 in the quarter alone, while Giannis' absence gave second-year small forward Jordan Nwora more minutes to shine, logging another rare start but one he's more than deserved with his play of late. Rodney Hood provided valuable minutes from the bench too.
Giannis described Portis' display as amazing, the big man knocking down shots while continuing to play with the energy and passion that has quickly made him a fan favourite in Wisconsin.
Whenever you had an inkling that the Nets would sustain a second-half comeback, it was quickly shot down. After missing good looks early on, their big hitters were struggling efficiency wise.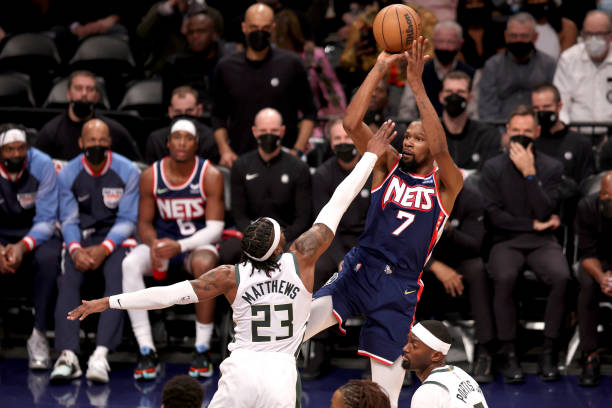 James Harden finished with 16 points on 15 shot attempts, alongside a game-high five turnovers. Kevin Durant needed 19 shots and eight made free-throws to get his 29-piece, while reliable sharpshooting point guard Patty Mills was a lowly 1-of-8 shooting (1-of-6 from 3PT).
Sizzling statistic: Late in the first quarter, Kevin Durant passed Hall of Fame big man Patrick Ewing and is now sitting 23rd for all-time leading scorers in NBA history (24,841 points).
Shots just weren't falling for them, and when you add their Kyrie Irving situation – having made his long-awaited debut vs. Indiana midweek – the seven-time All-Star guard still can't play in New York with their vaccine mandate and is a part-time player for the foreseeable future.
"I think the Kyrie situation hopefully helps Patty. I think we've seen him kind of almost be overused and over-depended on, and it's been difficult for him at times to be able to continue his level of play because we've overburdened him.

So, can Kyrie keep his minutes in a sweet spot where he can keep it consistently high level?"

Steve Nash on how the Nets' over-reliance on Mills will hopefully be lessened now that Irving has returned, albeit in a part-time role, during his post-game media
This latest result means Brooklyn have now lost five straight games at home, with the San Antonio Spurs (15-23) to come on Sunday. In terms of genuine positives to take from this?
Big man Nic Claxton (14 pts, six rebs in 25 mins) and first-round draft pick Cameron Thomas (14 pts, five rebs, two ast, two stl) had encouraging numbers, as did Bruce Brown off the bench.
---
Were you watching? Giannis' playmaking capabilities on show
This was more a game highlighting another facet to Giannis' offensive arsenal, that will become increasingly magnified with each passing week and televised games like these – even if critics and basketball writers would much prefer to wax lyrical about Golden State, Phoenix or the Nets.
Many people have criticised Giannis' perceived inflexibility against half-court defences and specific schemes to isolate him in the playoffs. Even with a title in the bank from 2021, this disrespect remains and you can see subtle nuances in the way defenders still guard him.
His decision-making continues to sharpen while the IQ and on-court awareness, often baiting opposition defences to better help facilitate others cannot be understated. They don't always end up in highlight reel makes, but I just had to capture this superb no-look bullet pass as a GIF:
As mentioned, Brooklyn will be backed to end their poor home form against a below .500 side in San Antonio, who were blown out 119-100 by an inspired Joel Embiid showing earlier tonight.
After snatching a 127-125 win late on in an exciting first regular season matchup on Dec. 2, Milwaukee face a trip to Charlotte with LaMelo Ball and the Hornets overnight on Sunday (BST).
Picture source: Getty Images — quotes via ESPN's TV broadcast