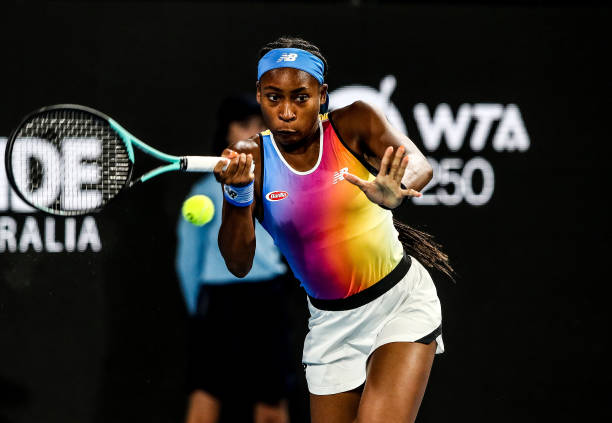 In a duel between two promising teenagers, the tournament's third seed Coco Gauff was pushed to the brink but battled to win in a competitive three-set clash vs. Ukraine's Marta Kostyuk – winning 6-3, 5-7, 6-3. She'll play Croatia's Ana Konjuh in the Adelaide 2 quarter-finals tomorrow (2.30am BST), after the Croatian's gutsy comeback win over Marketa Vondrousova.
Gauff starts well, but Kostyuk duly responds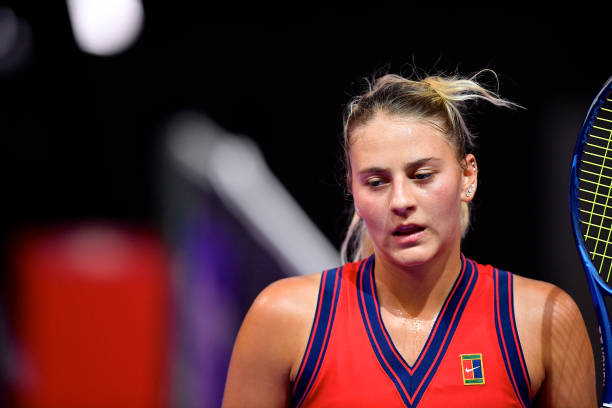 Gauff (#3) bt. Kostyuk 6-3, 5-7, 6-3
Even after storming into a 6-3 first set lead in 33 minutes, you could sense that Coco Gauff's evening wasn't going to be all plain sailing against Ukraine's bullish Marta Kostyuk.
In a fiercely competitive battle between two promising teenagers trending upwards, the American took the early initiative before being pegged back in set two.
Under increasing duress, she played some points poorly and was subsequently broken early, with a seemingly unassailable 2-5, 0-15 deficit to overturn on serve.
Having raced through the previous service game, producing the panache which saw her tipped for greatness when breaking through onto the WTA scene in 2019, she wouldn't be deterred by a scoreboard which continued to dwindle out of control.
Instead she fought her way back forward, making things increasingly tough for Kostyuk again and forcing timely errors – which saw the 19-year-old relinquish three set point opportunities in two games. With excellent hitting in spurts by both, set two seemed destined for a tiebreak.
Gauff needed to hold serve once more to do so, but instead started coughing up surprising unforced errors instead, gifting Kostyuk three cheap points before shanking a forehand long to level the scoring once more.
There she was, looking pensive at the change of ends. Deja vu? After losing from 6-4, 3-2 up against eventual champion Ashleigh Barty in last week's Adelaide tournament, would recent history repeat itself? Not this time.
She buckled down and showed resolve, keeping things tight as the rally exchanges varried in length – either long and pulsating or bluntly brief, providing much-needed respite for the victor.
Coco saved two break points in her first service game, setting the tone for a final set that hung on a thread as the pendulum swung one way, then the next. Just as you'd think Kostyuk was getting some momentum, Gauff would fire off a crosscourt forehand winner or blast an ace past her.
Tactic tweaks, tightly-contested points and momentum shifts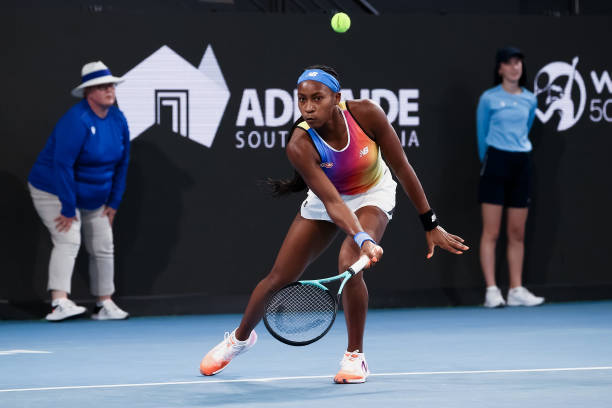 Then, the no. 3 seed would have the wind in her sails but not for long, watching as a return ace flew beyond reach or Kostyuk's subtle tactical tweaks – like incorporating loopy shots or backspin – repeatedly forced her into uncomfortable situations to force more conservative play.
It was nip-and-tuck for a while, Kostyuk constantly threatening to break the Gauff serve at 3-2, but the 17-year-old refused to relent in what felt like the match's longest stanza. That steely defiance, with the match hanging in the balance, ultimately paid dividends in the next game.
40-15 down and with her aggressive approach proving a double-edged sword, Coco's promising start appeared to be deceived by another underwhelming finish – ala the US Open last year.
Then, an opportunity opened up with Kostyuk's fourth double-fault of the match. A powerful body serve was well defended, prompting a wide forehand return and just like that, deuce.
Kostyuk served her fifth double shortly afterwards, erasing the first of two advantage points.
Gauff remained composed as she approached the net mid-rally, gently placing a backhand slice winner on her second. It was then a case of who would blink first, with Kostyuk firing another forehand into the net as Gauff earned her way back into the ascendancy.
The Ukrainian looked disgusted at the fact she'd just thrown away such a promising third set lead and while debatable, you could sense that frustration seeping into her shot placement, blasting back returns with too much power to help send the world no. 18 into round three.
She looked in a hurry to get off court afterwards and for good reason: Croatia's Ana Konjuh awaits her in tomorrow's quarter-finals, after the 24-year-old – a former world top-20 player – saved match point en route to beating Czech Republic's Marketa Vondrousova in three sets earlier on.
This latest result sees her leapfrog notable names like experienced Frenchwoman Alize Cornet, last week's Melbourne Summer Set 2 winner Amanda Anisimova and injury-impacted Serena Williams to world no. 57.
Since her long-awaited comeback in 2020 from a series of troublesome injuries, she has now beaten eight top-50 players and will prepare to play her fifth WTA quarter-final since returning.
Quietly building her way through events before, it feels inevitable attention will soon return her way.
In a draw featuring five Americans – including 2017 US Open finalist Madison Keys – does she have enough left in the tank to knock out Gauff, the tournament's highest remaining seed?
Elsewhere, Emma Raducanu's latest conqueror Elena Rybakina withdrew from her proposed R2 clash against France's Caroline Garcia with a left thigh injury. The 22-year-old said her body hadn't recovered well enough to continue, having logged nine hours on court in eight days.
Picture source: Getty Images