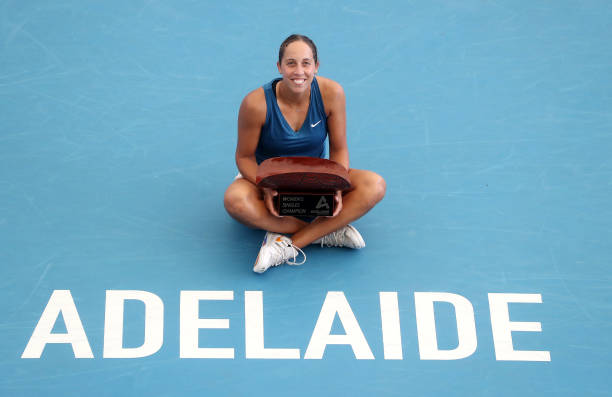 Madison Keys thrived in what resembled a mismatch vs. close friend Alison Riske, winning her first WTA title since Aug. 2019. Elsewhere, Paula Badosa won her second piece of silverware in three months while Thanasi Kokkinakis won his first ATP title, on home soil no less. Shortly afterwards, Aslan Karatsev's power proved key in overwhelming a spirited Andy Murray.
Keys drops just three games en route to well-earned silverware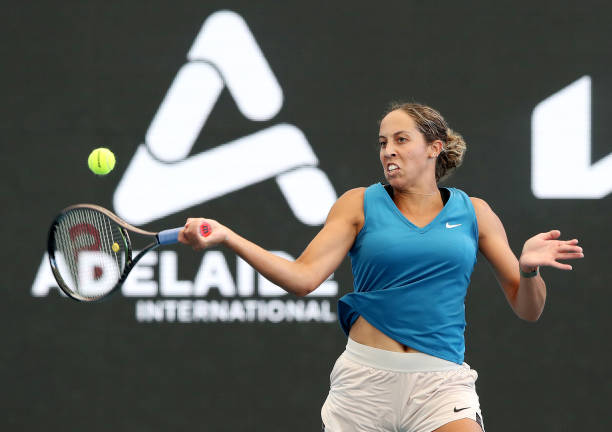 Keys bt. Riske 6-1, 6-2
Keys' fearsome forehand again proved the tonic needed to kickstart a striking clinic against Riske, but importantly in her case, the roles were reversed from yesterday's frenetic semi-final.
Playing like she had somewhere else to be, the 2017 US Open runner-up showed great touch and shot variation when it was needed — whether that be carefully constructed approach shots at the net, more of those thunderous forehand winners and some devilish backhands to boot.
Up against another compatriot in this year's Slam draw, she'll play 2020 Australian Open champion Sofia Kenin in R1 on Monday. She stormed ahead and sure, needed four set points to close, but Riske stood no chance of a first set comeback after going down an early break of serve.
The winner differential (13-2 in Keys' favour) said all you needed to know.
Riske's serving percentages were unconvincing to begin with, and shaky for sustained periods. A third double-fault of the match hand-wrapped Keys two break points at 2-0 in set two, but she showed great resolve to keep fighting and eventually hold serve.
Doing so in successive service games is hard enough without having to fend off booming winners and saving more break points, but did it she did.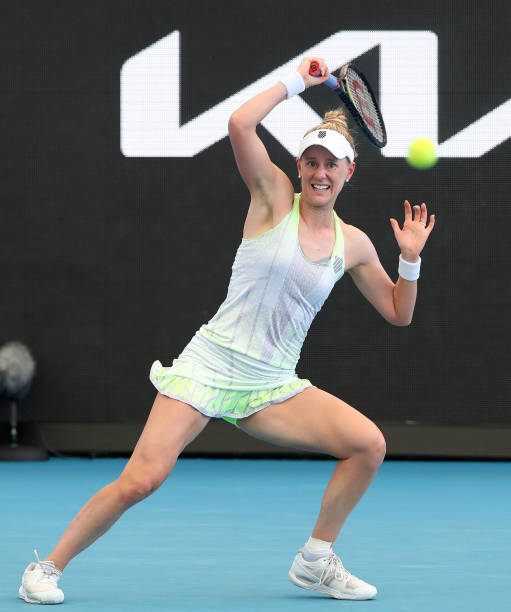 However, it gets harder to frequently hold your nerve when backed into a corner as often as Riske was here, with Keys seizing the initiative to break once more.
5-2 up and serving for the championship, she didn't take her foot off the pedal.
Shifting Riske from left-to-right, then back the other way again, you couldn't help but feel a little sorry for the 31-year-old. A forehand into the net finally ended things after 66 minutes.
"Sorry I couldn't make it longer for you today guys, she was just too good! We train together at home in Orlando so it was pretty cool to rep our home city, congrats to Maddy." 
Recording 24 winners to Riske's paltry one, it speaks volumes. An in-form Keys is a worrisome proposition for all contenders on the WTA tour, but her inconsistent results and tendency to give away too many free points is why she won't be seeded at this year's first Major.
"I'll keep it quick because I know everyone wants to watch Thanasi [Kokkinakis]. Great week Ali, hopefully the rest of our matches are in finals. It's not been nearly as fun without crowds, we appreciate your support so much.

Thanks to my team, we had a really great offseason and the change you have helped me make mentally, helped. The hard training sessions, the long conversations, everything. I can't wait to be back."
That won't matter much to her though, clinching a title in the same country where she fell short two years ago against last year's Wimbledon finalist Karolina Pliskova in Brisbane. Although only a WTA 250 event, this win should provide confidence she can return to the world's top 20.
As a result of her success this week, she's shot up in the rankings – from world #87 to 51 ahead of next week's Australian Open, while Riske [46] has equally risen a few places higher too.
---
results from Other warm-up events, as badosa wins again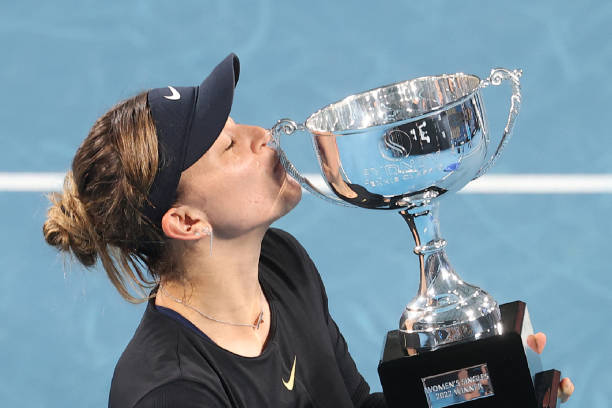 Badosa (#5) bt. Krejcikova (#3) 6-3, 4-6, 7-6
Just like against Olympic champion Belinda Bencic midweek, she had to grit through tense stretches packed with adversity but Paula Badosa emerged as the Sydney Tennis Classic winner.
Pushed to the brink by last year's French Open champion Barbora Krejcikova in another three-set battle, the Spaniard will rise to a new career-high world no. 6 before her Australian Open curtain-raiser against Ajla Tomljanovic, who'll have the crowd on side come Monday.
"I know how heartbreaking it is for you, feel really bad because we both went to the limit and losing is never easy. I remember we both broke into the top-100 a few years ago and now look at us, playing big finals! You're a Grand Slam champion, so I wanna congratulate you, wish you all the best, keep going." 

Badosa reflects on how she and Barbora have progressed in recent years
---
composed Kokkinakis rises to the occasion for first title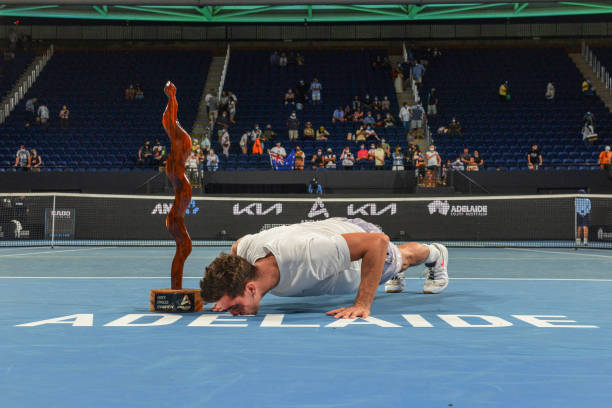 Kokkinakis bt. Rinderknech 6-7, 7-6, 6-3
Australia's own Thanasi Kokkinakis recovered from a set down, outlasting France's Arthur Rinderknech to clinch the Adelaide 2 title – his first ATP trophy – on home soil no less.
Much like the stack of big-serving top players he's had to beat this past week, including John Isner and Marin Cilic yesterday, the 25-year-old was down and seemingly out at times here.
Injuries and illness have cruelly halted his progress in recent seasons (2016, 2017 and 2019) but Thanasi, who memorably took Stefanos Tsitsipas to the brink at last year's Australian Open, once again reinforced the belief by many: his tennis belies that ever-increasing world ranking.
Armed with 39 winners and just 12 unforced errors in more than two hours 30 minutes, as well as a healthy 77% first serve percentage, Thanasi was patiently and outgunned someone who kept him honest with solid hitting throughout – even with a partisan crowd supporting the other side.
This unforgettable week sees him rise 42 places to #103, just outside the world's top 100 and in a position where he wouldn't need wildcards to earn main draw entry in Grand Slam tournaments.
"This is definitely not gonna be his [Rinderknech] last final, he's playing great tennis and the only way is up. I feel like you [the crowd] should have half this trophy, the atmosphere, hear every comment and I love it, thank you guys so much. To my family, coaches, friends, everyone here, what a ride.

My lowest lows, highest highs, hope this is just the beginning. I'll worry about next week, next week. Been practising on this court since I was eight or nine before school, wouldn't want to win my first title anywhere else."
Fellow first-time finalist Rinderknech, who played his part in some enthralling rallies, joked afterwards wishing the crowd were supporting him a little more – but knew what was at stake for their man. It won't get easier either, with Thanasi's compatriot Alexei Popyrin next on Monday.
---
karatsev earns third atp title, a challenge too far for Murray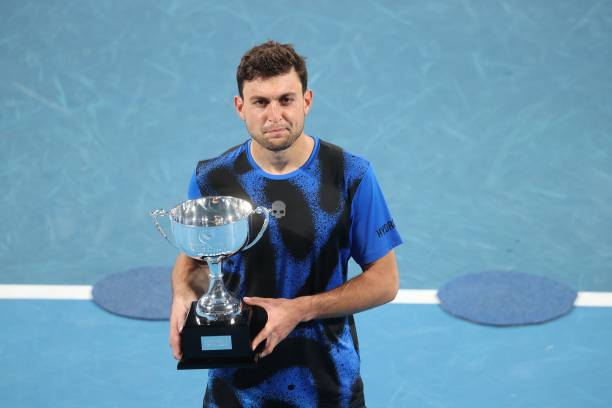 Karatsev (#1) bt. Murray (WC) 6-3, 6-3
At one stage midway through set one, one of the TV commentators said Aslan Karatsev was essentially hitting Andy Murray off the court. A minute or so later, he fired a blistering forehand that saw Andy frantically scrambling – and eventually failing – to try returning it low to his left.
Karatsev, memorably a semi-finalist at last year's Australian Open as a qualifier, is in a tough section featuring Poland's Hubert Hurkacz and 20-time champion Rafael Nadal. But if he can continue to play the way he has this past week, over a best-of-five setting, he'll beat both.
Successive double-faults for Murray gave the Russian a 6-3 set in 35 minutes, with the contrast between their winner and unforced error count rising by the game.
The way he plays though, draws those mistakes from opponents. He hurries, hustles, persistently works to frustrate you, like an irritant you try but just can't successfully fend off.
Murray's trademark fighting spirit wouldn't let him lose without a fight, especially with the crowd firmly behind a man who has dealt with so much in recent years.
"Like to congratulate Aslan, fantastic week, I know he arrived late because of COVID, so even better and all the best for AO.

To my team, it's the first time back in the finals for three years, it's been a long road but couldn't have done it without all of your help, so thank you.

My family, I miss you all… my first time in Sydney, fantastic job, really enjoyed it. Amazing atmosphere to play in, it was so good, thanks. I've really missed playing in-front of these crowds, I'll keep trying to have nights like this."
He had five break point opportunities, all in the same game, but couldn't take any of them after a tense 13-minute exchange where Karatsev held his nerve. Too good and toying with the Brit at times, there was only going to be one winner from there.
29 winners to Murray's 13, his big hitting paid off. Aslan's trophy ceremony speech was brief and the 28-year-old's not one for many words, letting his tennis do the talking. It certainly did today.
Picture source: Getty Images — player quotes via Amazon Prime, Tennis TV