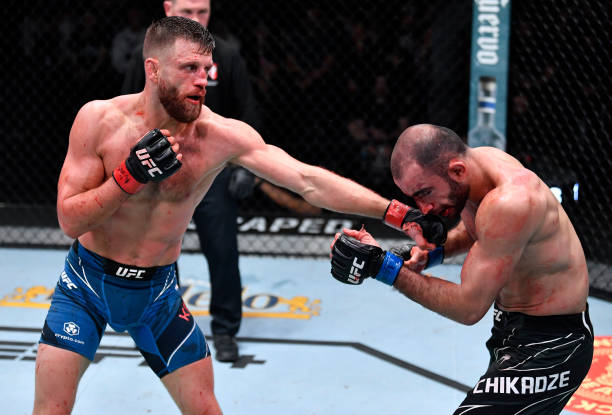 Despite outside noise suggesting otherwise, Calvin Kattar (#5) defended his ranking with aplomb – producing a brilliant all-round display to earn a shutout victory against surging Georgian Giga Chikadze (#8), inflicting his first UFC loss. Prior, there were contrasting decision wins for flyweight Brandon Royval and women's flyweight Katlyn Chookagian, among others.

With 145lb title picture unclear, Kattar kills Chikadze's streak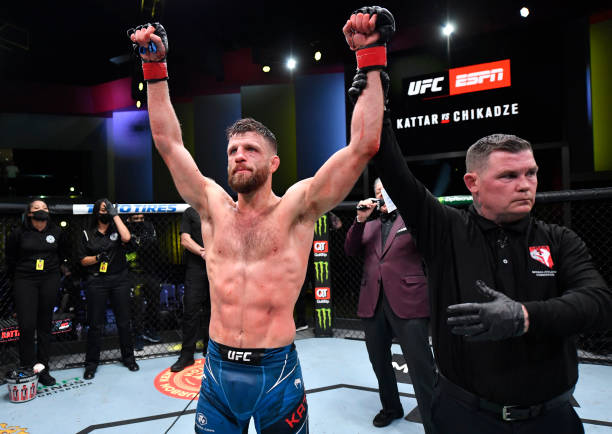 50-45, 50-45, 50-44: Calvin Kattar (#5) defeats Giga Chikadze (#8) via unanimous decision
All the questions about his long-awaited return, whether the damage accumulation would take its toll on future performances, doubts and equally justified criticism of a risky fighting style.
Kattar answered those naysayers the best way he could, popping his jab while applying ample pressure and showing grappling expertise, giving Chikadze multiple problems to contend with.
In truth, the result isn't entirely a shock but the manner felt jarring to watch. Just like he found out first-hand twelve months ago against Max Holloway, in MMA there are levels to this game.
Chikadze, who had three straight Performance of the Night ($50,000) bonuses before this matchup, has now fought seven times since the start of 2020. He felt, given Holloway's latest injury this month, deserving of a bump to face champ Alexander Volkanovski next for the title.
Instead here in his first main event slot, with the bright lights and more eyes focused solely on him, it showed that while a rising contender, the 33-year-old still has holes in his game to correct.
Kattar's forward pressure began early and often, while Chikadze was content letting his hands and feet go – known as a fearsome kickboxer who can shut your lights out at a moment's notice.
A slip proved costly midway through R1 though, and set the tone for how this fight would unfold. Kattar charged at him, quickly secured a takedown and utilised it well for large periods as both attempted submission manoevures in a round that quickly got away from the favourite.
Armed with a high school wrestling background, this effort would pay dividends deep into a competitive but increasingly bloody featherweight duel.
Kattar's torso was cherry red from Chikadze's kicks and his face too wasn't far behind, but soon he'd make subtle adjustments – whether that be stance switching or forcing him to fight in the pocket – so both would be exchanging in the proverbial fire.
As time wore on, you could see Kattar's pressure was wearing on him. Whether being outboxed or having to fend off takedown attempts, the Georgian backpedalled and was made to think.
You can't afford to stand and stall in the centre though, especially not against someone with Kattar's slick boxing skills because he'll happily pick you apart. Whether it was knees to the body, looping lefts or spinning elbows upon occasion, Calvin was clearly ahead through ten minutes.
Despite head coach Rafael Cordeiro stressing a need for Chikadze to jab while recovering, in an attempt to accelerate his second wind, that was easier said than done.
He was tired and needed to hold his ground, but instead, was moving back and inviting further pressure. So whenever he unloaded with a big few punch combo, Kattar could respond – either with another takedown attempt, or more pressure, amplifying the notion he was in control.
Too passive, loading up on shots and now on wobbly legs through three rounds, Chikadze appeared to listen to his corner in R4. Setting up his kicks and not wasting punch output as much, the adjustments came too late to faze Kattar.
Calvin walked forward as if the Georgian's punches didn't have enough power to deter him. By contrast, Kattar's jab peppered Chikadze and the Georgian wore the damage across his face.
Breaking his career-high significant strike total with more than a round to go, Calvin needed to stay composed and avoid silly mistakes. Tyson Chartier, his head coach, reinforced this between rounds, and he was very close to a stoppage as referee Keith Peterson finally ended their battle.
"Bittersweet, feel like shit but never been better. Giga's a tough fighter, 7-0 in the UFC, you're doing something right. They all counted me out, everybody, but it doesn't matter about them – believe in yourself – that's all that matters.

I knew what I had, think everyone else is learning. Still gotta clean this shit up, no shape for a winner to be in, Giga did his thing and was a great opponent for me to test my skills against, prove I belong at the top of this division."

Kattar reflects on a hard-fought return, silencing the critics in style
---
Big wins for Chookagian, Royval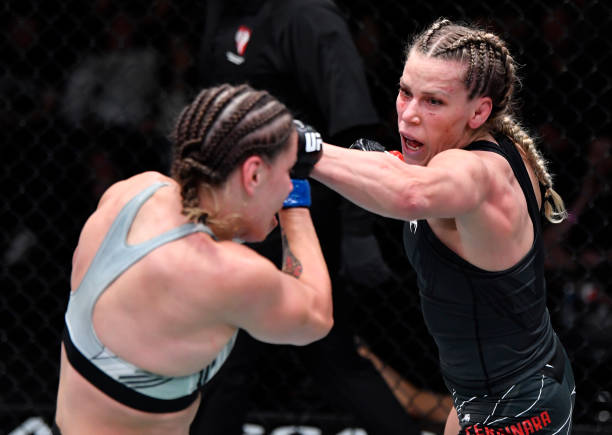 It will probably get lost in the post-fight haze as her fights often do, but Katlyn Chookagian tied reigning champion Valentina Shevchenko for most UFC flyweight wins (8) and had to do it the hard way, winning a gritty rematch against fellow one-time title challenger Jennifer Maia.
She won 29-28 on all three cards during their first meeting at UFC 244 in Nov. 2019, but earned a shutout this time around thanks to timely grappling, dirty clinch work and her technical boxing.
Afterwards, she thanked her husband for helping sharpen the wrestling skills that proved key here – while eager to welcome Miesha Tate at 125lbs on the former 135lb titlist's debut.
Instead, the 35-year-old is set to face Lauren Murphy (#3) in May, rather typifying the awkward position Katlyn finds herself in right now. "I'll fight whoever," was the claim, but she's in a spot where she's fought all the rising contenders… besides Brazil's 28-year-old Taila Santos (#5).
Given there's no appetite for a Shevchenko rematch, having been TKO'd just before the COVID-19 lockdown came in force, perhaps another litmus test matchup is next in the coming months?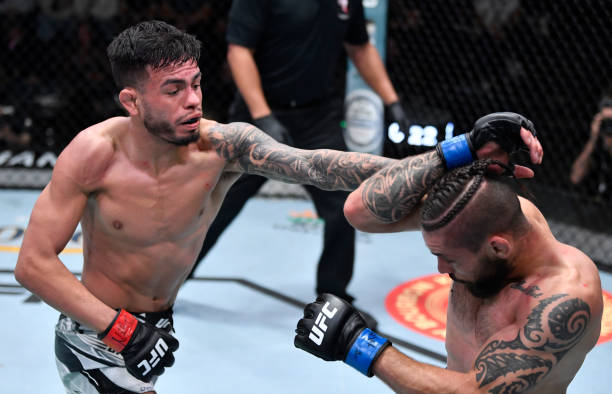 He looked unhappy and plead for forgiveness during his post-fight interview, but it's refreshing to see flyweight contender Brandon Royval (#5) embrace a less risk-averse style as he edged a split decision win vs. Rogerio Bontorin (#7) – even if not exactly edge-of-the-seat stuff for fans.
After winning a frenetic firefight against Kai Kara-France at UFC 253 in Sept. 2020, the 29-year-old suffered successive stoppage defeats – first to now-champion Brandon Moreno, then Alexandre Pantoja submitted him with a second-round rear-naked choke five months ago.
In a scrap decided by the finest of margins, Royval outlanded Bontorin in all three rounds and fought his way to three submission attempts – holding his own on the mat – despite being taken down a whopping eight times in 15 minutes. Naturally, that doesn't make for thrilling viewing.
But if it gets the job done and maintains his top-5 ranking, that's all he should care about.
Having alternated wins and losses since his UFC debut in Dec. 2014, heavyweight Jake Collier returned to .500 (5-5 UFC, 13-6 MMA) with a first-round submission win over Chase Sherman.
Just don't ask me why this was in the co-main event slot, rather than the two aforementioned fights…
---
Big wins for algeo and russian debutant, after Prelim results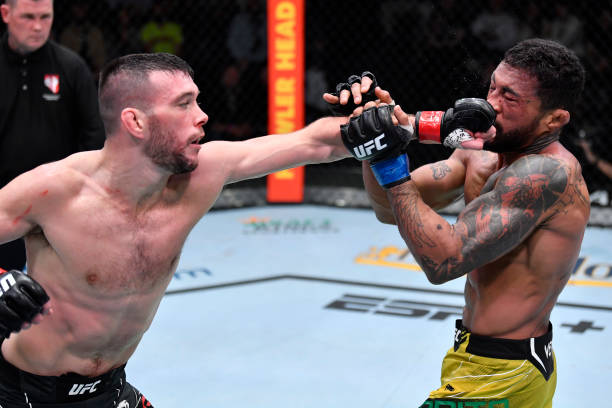 It felt like hopeful foreshadowing at the time, but featherweight Bill Algeo surprised many with a fiery promo after returning to winning ways against Joanderson Brito (30-27, 29-28 x 2).
The 32-year-old asked who in the crowd was there to see Chikadze during the main event, actively calling the #8 ranked fighter before saying he'd take the Georgian's neck if they fought.
It was a reference to his perceived grappling weaknesses, having suffered a third-round submission defeat (rear-naked choke) by Austin Springer on the Contender Series back in 2018.
Beforehand during the pre-fight promos, Russian kickboxing debutant Viacheslav Borshchev had predicted a second-round TKO finish. Instead, the 30-year-old flattened Dakota Bush in the first with a nasty body punch causing the lightweight all sorts of trouble and unable to continue.
Elsewhere, the promotion's first card of 2022 featured decisions aplenty, with five straight to kick off a ten-fight slate. Contender Series graduate T.J. Brown has now strung together successive wins, after an 0-2 UFC start, inflicting Charles Rosa's fourth post-lockdown defeat at lightweight.
Speaking of two-fight winning streaks, featherweight Brian Kelleher recorded the third of his five-year UFC stint thus far as the 35-year-old earned yet another UD win against Kevin Croom.
Welterweight Ramiz Brahimaj logged his first UFC win with a first-round submission over Sasha Palatnikov in August, but the 29-year-old couldn't back it up in what could've proven a showcase evening for him – losing comfortably (30-27 x 3) vs. 12-year veteran Court McGee.
Meanwhile, middleweight Jamie Pickett – another Contender Series graduate on a card packed with them – earned a hard-fought decision win (29-28 x 3) over debutant Joseph Holmes.
Up next: UFC 270 headlined by heavyweight title fight — Francis Ngannou vs. Ciryl Gane, Jan. 22
Picture source: Getty Images