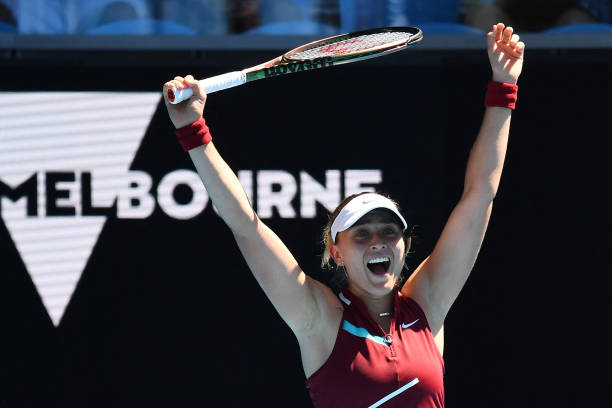 Paula Badosa and Barbora Krejcikova's contrasting three-set wins continued their career-best Australian Open runs, on a day full of surprises. Elsewhere, defending champion Naomi Osaka had two match points on her racquet but tightened up and lost against Amanda Anisimova after Matteo Berrettini [7] was pushed to a deciding set tiebreak by rising star Carlos Alcaraz.
Badosa-Kostyuk engaged in rollercoaster ride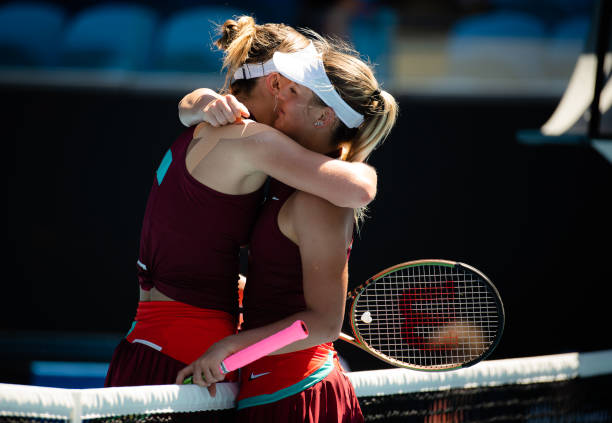 Badosa [8] bt. Kostyuk 6-2, 5-7, 6-4
In a battle between close friends on tour, Indian Wells champion Paula Badosa – who clinched Sydney last week – was pulled into deep waters but outlasted Marta Kostyuk 6-2, 5-7, 6-4.
After three straight breaks of serve, it was the Spaniard who seized control in a set that quickly evaded Kostyuk's reach, made worse by costly unforced errors.
The 19-year-old chuntered between points, threw her racquet and smashed a volley at the net long on the first of three set points, reiterating how quickly things were going wrong during a matchup most were looking forward to. Was this clash going to be done and dusted in a flash?
Kostyuk, who was 7-12 against top-10 players heading into this first meeting, is notorious for her high-risk, high-reward tennis based upon a lot of winners and naturally, unforced errors too.
It's beautiful to watch when it works, but when she can't overpower a player like Badosa – who'll just pick holes in your game – she gets irritated too easily.
That was evident to start set two: an early break for the eighth seed, aided by successive errors into the net and being punished for passiveness from the baseline.
Two sudden double-faults gifted Kostyuk a break back chance in the very next game, but excellent court coverage and channelled aggression saw that quickly vanish.
Badosa's serving was shaky throughout (57% first serve percentage, nine double faults total), but she still stood her ground in rallies to nullify any opening rather convincingly as time wore on.
If you wanted a point which accurately summarised this matchup, 6-2, 3-2 30*-0 was probably it.
Kostyuk had multiple opportunities to finish, but Badosa guessed right from the back of the court and repelled those efforts each time before eventually drawing an error. Then, right on cue, Badosa's level dropped enough for Kostyuk to wrestle away a break point of her own.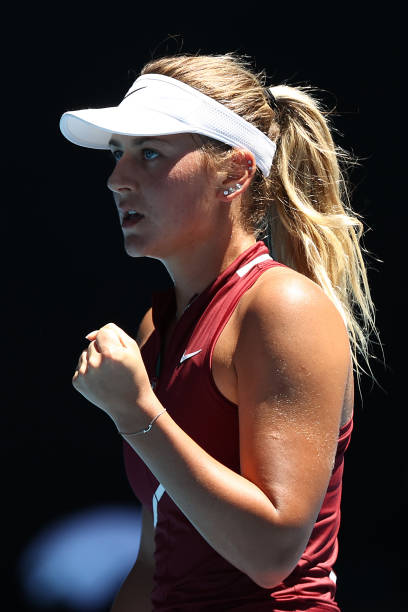 She coughed up errors, allowing Kostyuk's confidence to rise as the Ukrainian's animated fans inside Margaret Court Arena buzzed with conviction that a revival was brewing before their eyes.
The teenager's play shifted, counterpunching with success while making rallies uncomfortable by hitting the corners with more venom, draining more from an increasingly weary Badosa.
Kostyuk's deft drop shot winner mid-rally rather told the story, considering she hadn't utilised that weapon all match and now felt confident executing it well. So despite saving two set points, Badosa was fighting a losing physical battle and they were level once more.
Not for long. Kostyuk hit four unforced errors to gift the Spaniard an early break to start the decider, which she subsequently consolidated with some subtle in-game management.
Encouraging you to beat her with booming winners, she frequently flicked up balls into the sky and scampered into a position ready to return – knowing Kostyuk wasn't devastating at the net.
Their frantic, edgy exchanges continued as they exchanged breaks of serve once more, before the teenager's tetchy tendencies returned at precisely the wrong time.
A group of four more unforced errors gifted Badosa another slender advantage, which she once again consolidated, but Kostyuk wasn't going down without a fight.
After a double-fault and agonising net cord presented two long overdue match points for the eighth seed, the Ukrainian held firm under duress – a two-handed backhand winner and rally to again ask Badosa the question. Could she serve it out?
A shocking smash miss might've fazed most players at such a pivotal moment, but on the fifth time of asking, the 24-year-old clinched victory in two hours 19 minutes.
Her exasperated response immediately afterwards said all you needed to know. Through to the second week for the first time, she hailed Kostyuk's potential post-match:
"I was expecting a match like this, Marta is an insane player and was playing at the level of a top-5 player in this match. She has a lot of potential and will be one of the best soon. I gave it all today, played a really good match, left everything on court and am super happy to get this win.

Super excited, motivated, going for it [matches] with confidence, this is one of my favourite tournaments and it's nice to be in the second week."
She'll play Adelaide champion Madison Keys in R4, after the 2017 US Open runner-up recovered from a set down to beat Coco Gauff's conqueror Qiang Wang 4-6, 6-3, 7-6 (10-2).
---
Krejcikova-Azarenka set for Sunday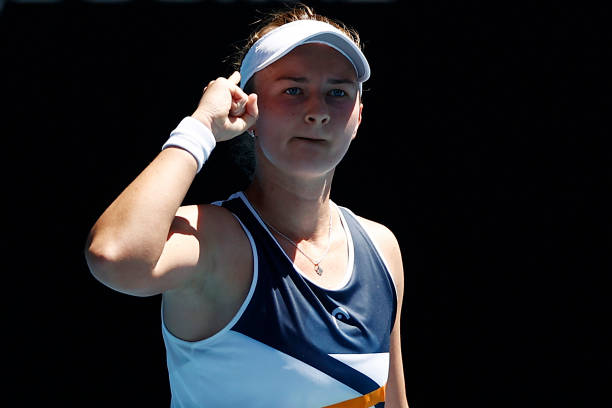 In a battle of two French Open champions, 2021 titlist Barbora Krejcikova [4] recovered from a set and a break down to oust 2017 winner Jelena Ostapenko 2-6, 6-4, 6-4.
It doesn't get any easier for the Czech international, with two-time Australian Open champion Victoria Azarenka [24] in round four after she blasted Elina Svitolina [15] off the court 6-0, 6-2 to start the day session in style. Post-match, the 26-year-old stressed her attitude was key here:
"Really tough and difficult, I had to dig deep to get this win – proud of myself and really happy I can show on court: I'm never gonna leave without a fight.

She was having a good day, just smashing winners, but I kept telling myself to keep going, this is Rod Laver Arena, your dream, make it as long as you can."
After losing in the doubles final here 11 months ago, she and formidable compatriot Katerina Siniakova [1] are the top seeds this year and will play in R2 vs. Adamczak/Han tomorrow.
On how she'll recover, she didn't hesitate to answer:
"I love to play tennis, it was a hard decision not to because I would've loved to play mixed doubles again [aswell] but have to save as much power as I can, gonna just focus on doubles – that's the best recovery, to see people entertained is what makes me really happy."
Did you know? Krejcikova has won the last three Australian Open mixed doubles titles, with Rajeev Ram (2019, 2021) and Nikola Mektic (2020).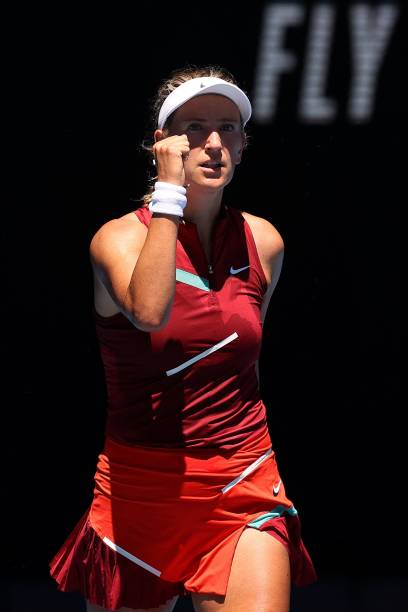 Azarenka was full of praise for Krejcikova's progression in recent seasons afterwards when asked about potentially facing her, and the feeling was mutual in their post-match media conferences.
"I didn't wanna give her any chances, put pressure from the start and I executed well.

My aggressivity, consistency, played really strong on the break points I faced, taking control of my end of the court."

Azarenka on what pleased her about the Svitolina win
---
Kecmanovic proves the biggest winner in Djokovic's section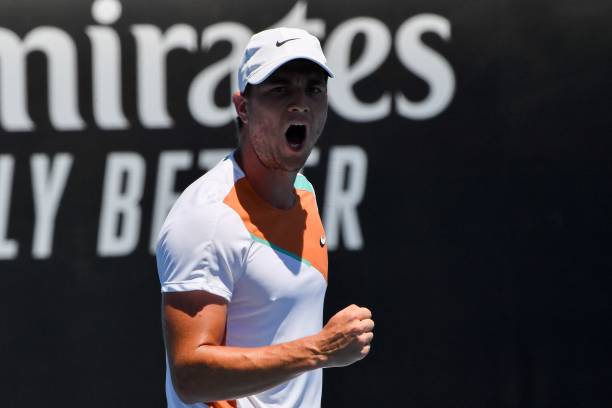 After R1 defeats here in 2019 and 2020 by Fernando Verdasco and Andreas Seppi, then a R2 straight-sets loss vs. Adrian Mannarino, you could forgive Miomir Kecmanovic for feeling down on his chances of a deep run this fortnight after drawing defending champ Novak Djokovic.
But in a twist of fate, the 22-year-old has seized full advantage as his beloved compatriot departed the country Monday and he instead beat Italian lucky loser Salvatore Caruso in R1.
He held his nerve in two tiebreaks to edge past America's Tommy Paul in R2 (7-6, 7-5, 7-6) and has done the same again – this time against a seeded opponent in Italy's Lorenzo Sonego [25].
Despite conceding 13 aces to the 26-year-old, he crucially saved 85% of the break point chances on offer (11/13) and was duly rewarded for his persistence against an inconsistent talent who finished with 50 unforced errors as well as eight double-faults – more than R1 and R2 combined.
He'll play entertaining maverick Gael Monfils with a maiden quarter-final berth in the offing against an in-form Frenchman enjoying a 9-1 run since defeat by Diego Schwartzman in Vienna last season – including a comeback victory over Miomir himself in Paris the week afterwards.
---
Berrettini edges five-set thriller against 'unbelievable' Alcaraz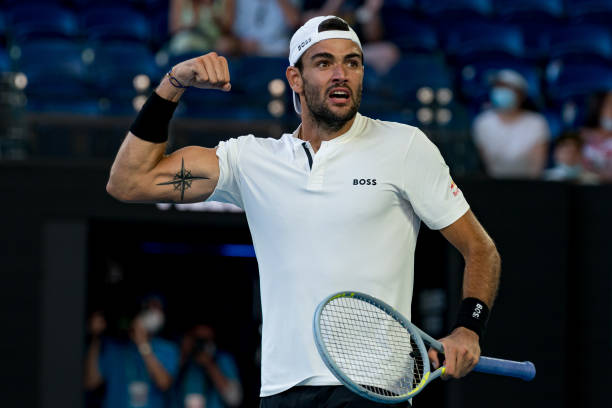 Berrettini [7] bt. Alcaraz [31] 6-2, 7-6, 4-6, 2-6, 7-6 (10-5)
After dropping a set against two plucky Americans already this week, Wimbledon finalist Matteo Berrettini knew he had a battle on his hands vs. Carlos Alcaraz – who beat Stefanos Tsitsipas at Flushing Meadows and has justified his status as one of the game's feared prodigious stars.
He confirmed as much post-match, saying:
"He's unbelievable. At his age I didn't even have ATP [ranking] points so he'll only improve playing matches like this, luckily today I won!

In my mind I was feeling confident, was 0-30 then tennis is like this *clicks fingers*, my energy wasn't right in the fourth, started to think about fighting for every point in the fifth … it feels like every match something else has to happen with my body [ankle injury]."
He'll play Alcaraz's compatriot Pablo Carreno Busta [19] next, after the Olympic bronze medallist won 6-4, 7-5, 6-7, 6-3 vs. American talent Sebastian Korda elsewhere on a busy Day 5.
---
assertive Anisimova ensures new champion will be crowned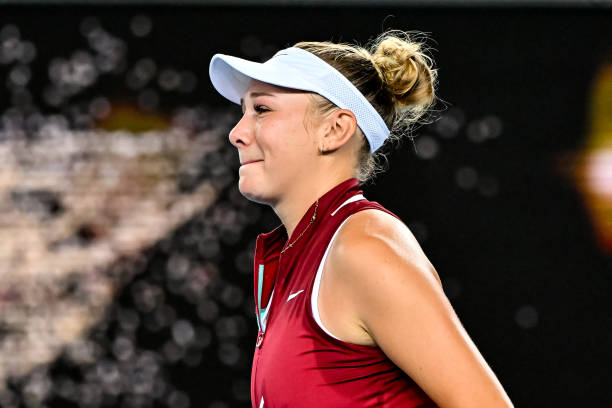 Anisimova bt. Osaka [13] 4-6, 6-3, 7-6 (10-5)
There was always a sense this could prove a potential banana skin – because like Kostyuk – Amanda Anisimova has long been tipped for greatness since turning professional in 2016.
At times, you could be forgiven for questioning whether she had the nerve to stay with Osaka after being outplayed in the first 15 minutes. But, as Berrettini said post-match after his gritty five-set win and others can attest, tennis is a game that can change at the click of your fingers.
Having gone down an early break, the 20-year-old was grimacing as her aggressive approach spilled all-too-frequent unforced errors.
She had the right intention, but was curtailed by wayward ball-striking too often during their entertaining baseline exchanges.
That would soon change, but first Osaka needed to build up a clear lead first. The Japanese played brilliantly at times, sketchy at others and did well to save break points in set one.
But the pressure of having to frequently recover from a deficit on serve is taxing, and often proves detrimental in the long run, especially if your opponent makes adjustments or performs at a high level than before.
So for all of her forehand winners and first serve points won (82%), it wouldn't last if Anisimova could clean up her tennis.
To start set two she did exactly that, finishing rallies with good point construction and importantly holding her serve. That proved the catalyst for a comeback which had all those on the Margaret Court Arena compelled.
Anisimova was playing with poise, evidenced by a delicate drop shot winner that left her new coach Darren Cahill smirking in the stands and the crowd purring.
After a nervy service game saw her broken, Osaka's lead had vanished.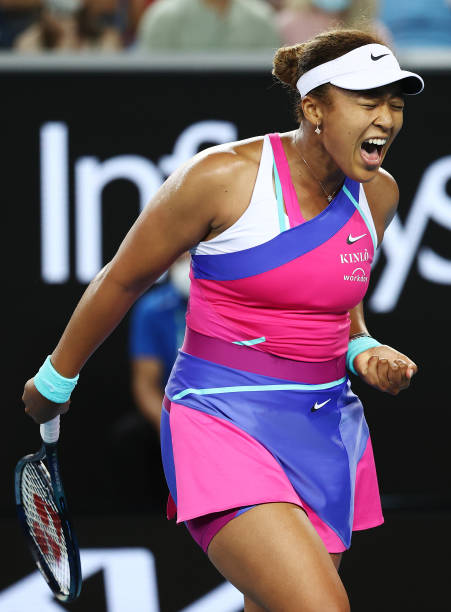 From there the pair went tit-for-tat in the deciding set, the four-time Major winner trying to impose her will with "come on!" shouts only serving to further motivate Amanda. She was crunching the ball and continued blasting winners for good measure.
They were neck-and-neck, but Osaka had two match points and failed to convert.
Increasingly tight as the encounter reached its final stages, a wild forehand miss on second serve and repeated groundstrokes into the net said all you needed to know.
There was still a chance to revive that opportunity, like Berrettini did in the resulting tiebreak at six games apiece, but she was shanking shots and littered it with costly errors to gift Anisimova a cushion she wouldn't lose.
"I'm speechless, love playing in-front of you, can't help but smile even when I should be serious. I knew I had to be playing sharp, Naomi is always going to be playing well, an absolute champion, so I had to step up and be aggressive, that's what I did in the second set, so grateful to get the win."
Amanda will need more of that sensational hitting to deter Ashleigh Barty next, after the world no. 1 saved all four break points and dropped five games (6-2, 6-3) vs. Italy's Camila Giorgi [30].
I'll be producing daily round-ups with the latest results, game reports and news at this year's Australian Open, so make sure you stay tuned to moandsports.com for the latest coverage.
Picture source: Getty Images