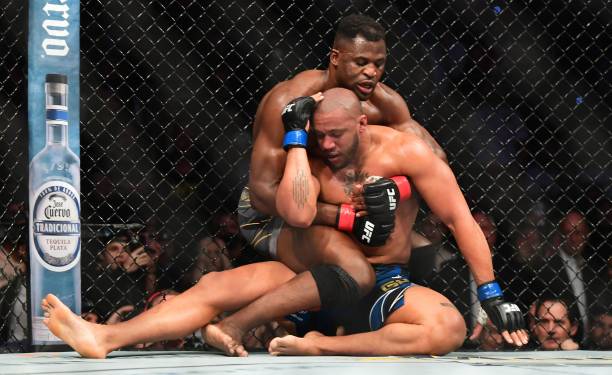 After plenty of build-up, expectations and storylines aplenty, the first UFC PPV event of the new year didn't disappoint. Deiveson Figueiredo regained his flyweight title in a competitive chess match with Brandon Moreno before Francis Ngannou fought through pre-existing knee injuries to make the first defence of his heavyweight strap against former training partner Ciryl Gane.
evolving as we go: Ngannou's new wrinkles show once more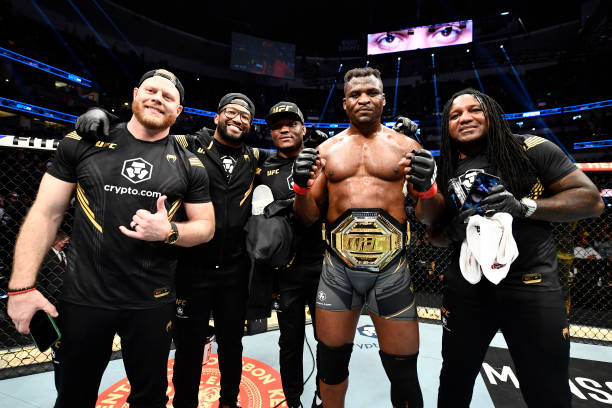 48-47, 48-47, 49-46: Francis Ngannou beats Ciryl Gane via unanimous decision, retains title
"It was a moment for me to make a statement, remind people I'm the champ," Ngannou says post-fight before doubling down on his desire to box professionally before retiring 
Responds well to corner advice after cagey start to eventually overwhelm Gane, using timely wrestling and inflicts the Frenchman's first professional loss (10-1 MMA, 8-1 UFC)
Reigning champ reveals he sustained a grade three torn MCL, damaged ACL and MPFL
during training camp, was close to pulling out but couldn't see himself retreating from such a big moment, doctor said this week that he'd be "risking irreversible damage"

"Evolution baby, who said heavyweights can't grapple!"
UFC welterweight champion Kamaru Usman, a man who knows a lot about winning and doing so in multiple ways, was among those serenading his friend's display in the Octagon after watching a 25-minute main event again showed yet more evolution to the 35-year-old's game.
With 8:29 worth of control time, four takedowns and some jiu-jitsu mixed in, Francis Ngannou did what he had to do to nullify Ciryl Gane's troublesome kickboxing style during a tense heavyweight title fight encounter which didn't have a devastating finish but didn't need one.
Just like against Stipe Miocic last March, the champ's corner stressed the importance of patience and setting up his attacks.
Whether that was by throwing uppercuts whenever Gane came too close for comfort, changing the target by aiming for the 31-year-old's chest tattoo, or an Usman special – "you don't have to kill him, just touch and move," as he nodded along stoically at the end of round one.
Sporting black kneepads for the first time as he made his walkout, the commentators hinted that perhaps he sustained a training injury impacting his movement. They weren't wrong.
But armed with a two-inch reach advantage and 10lbs heavier – which felt much more having rehydrated on fight night – Ngannou wasn't punished as much as you'd expect for ominously plodding along the cage as the Cameroonian looked to unload sharp power punches.
Gane tried to set the tone early by charging into the clinch, landing elbows over-the-top, but as both looked to assert control in those exchanges, Ciryl's confidence was growing by utilising his distance management against a seemingly tired champion unstead in a tense stand-up battle.
As he eluded to in the post-fight press conference, Ngannou couldn't find his spots in the first 10 minutes or so before changing tack in R3 with a manoevure catching the Frenchman off-guard, which is where the fight drastically turned in his favour.
Having thrown and whizzed wildly with multiple haymaker attempts before receiving a variety of kicks back for good measure, he completed a huge slam into side control.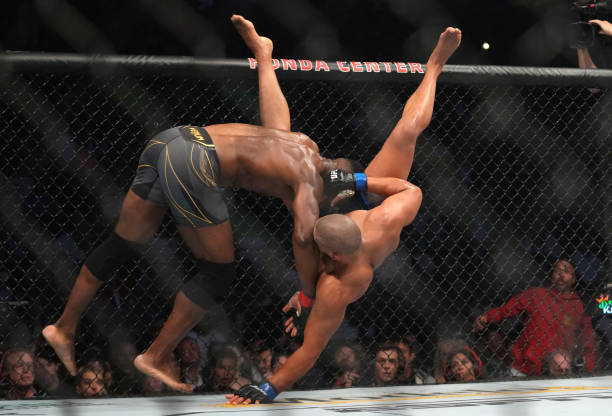 As a graphic flashed across the screen showing Ngannou was the first fighter to put Gane down, nine fights into his UFC career, the commentators were in disbelief. Ngannou was doing jiu-jitsu!
He threatened a choke of sorts against the fence, before Gane briefly returned to his feet before a judo throw back down to the canvas. A gruelling round logged, Francis was finally in the groove himself, albeit achieving it in a way no-one had expected given his devastating knockout power.
Gane started R4 with kicks aplenty: turning sidekicks, low to the leg, body, pit-pat from the outside and the sort which seem insignificant but still score on judges' scorecards in what he perhaps hoped would prove a hard-fought decision win centred around that kickboxing style.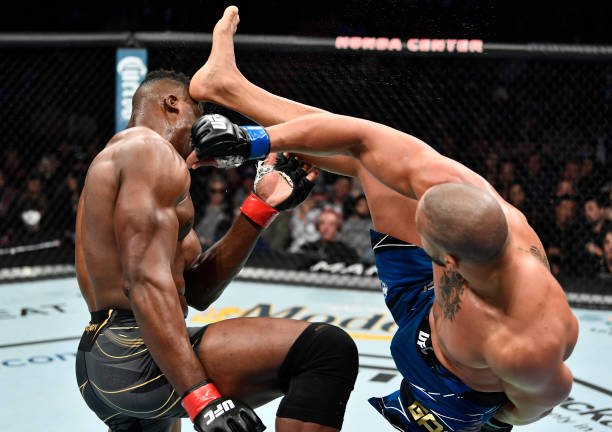 Ngannou, sensing the swift shift in tactics, maintained a grappling focus and wrestled Gane to the ground. Although he didn't exactly landing many punishing blows from top position, he maintained ground control and importantly logged another round in the bank.
Potentially 2-2 through 20 minutes, much-maligned head coach Fernand Lopez stressed the importance of the final five minutes to Gane, as if he needed telling.
"I'm a little sad, but it's a good experience. I'm just arriving in this game so there's a lot in-front of me." 

Gane was understandably dejected afterwards, but had a lot to be proud of
After successfully taking Ngannou to the ground himself, he then took risks and ultimately paid the price for them, as Francis rode out the pain from a compromising angle that was transformed into multiple submission attempts – a heel hook and leg locks from top position.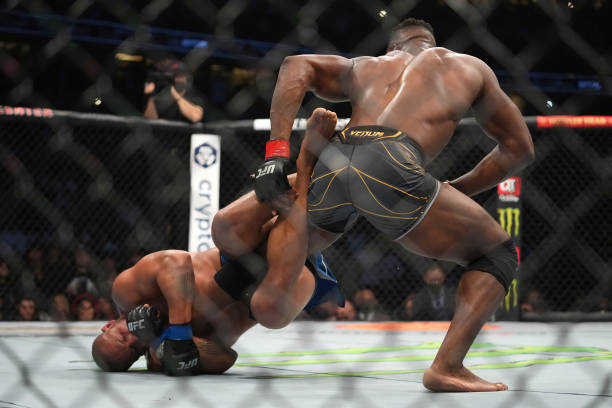 "I know he was gonna be a tough opponent, surprised he held [on] until the end of the fight, was very good and knows how to manage that, the only thing I had to do was stay composed – don't case him, trust yourself.

An incredible journey, tough training camp, tore my MCL, hurt my ACL and wanted to pull out but couldn't see myself retreat from this, it was a moment for me to make a statement and remind people I'm the champ.

You [fans] might sleep on me, I work everyday. Extreme Couture is elite for wrestling and jiu-jitsu, my ground game is evolving – gonna be on another level. [Boxing?] The option is always in the back of my pocket, I must do it, I'm looking forward to any opportunity to do that, not as if I have a lifetime here."

Ngannou speaking to Joe Rogan in the Octagon post-fight
It'll be interesting to see what happens next as far as the heavyweight landscape is concerned, considering Jon Jones' last fight will have been two full years next month and Ngannou confirmed he'll need surgery to repair the damage sustained during this aforementioned camp.
A timeline on Stipe Miocic's return is unclear, while Ngannou's burning desire to box – and promoter Dana White's media no-show after this – will again raise questions about his future.
---
fourth fight? Figueiredo recaptures title vs. moreno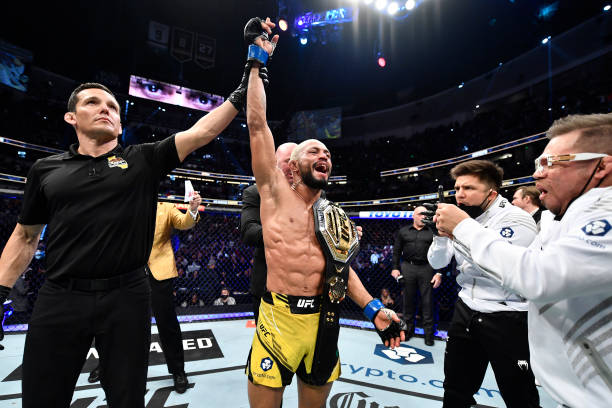 48-47, 48-47, 48-47: Deiveson Figueiredo edges past Brandon Moreno via unanimous decision, crowned two-time flyweight champion
Just as he was gracious in defeat last summer, Deiveson Figueiredo welled up with emotions once the result was read out and with a new team in tow, didn't hide how he felt after eeking out a decision win over a familiar foe in seemingly enemy territory from the Honda Center.
With now-retired two-division champion Henry Cejudo and the rest of the Fight Ready crew in his corner, Figueiredo ignored the Mexico-centric crowd pulling for their champion and importantly stayed patient, en route to a hard-fought victory. Quadrilogy anyone?
Starting with the same karate stance Cejudo used vs. Dominick Cruz, that approach set the tone for an evening where he was repeatedly stung by Moreno's left hand but gave more than he got: three knockdowns, including one that changed round three – a round he was losing covincingly.
Figueiredo started scoring early with low kicks, while securing an early takedown in transition as Moreno was punished for loading up and missing wildly with a punch, albeit briefly.
The kicking game would ultimately pay dividends, as did throwing the champion various looks, rather than just one form of attack.
Moreno's left hand punches continued to wobble the Brazilian as they engaged in boxing exchanges, but he would frequently respond with a looping right or two of his own. Through 10 minutes though, his patience was obvious and only served to frustrate Moreno's pacing.
After completing an early takedown and momentarily taking Moreno's back to start R3, the pair stung one another with short sharp punches before an outside leg kick briefly dropped Moreno as the aforementioned leg strikes were clearly accumulating.
Moreno was clearly winning R3, until he wasn't:
30 seconds more and you would've seen a new champion crowned, with Moreno needing to stay more elusive and avoid getting too comfortable absorbing Figueiredo's power.
He did exactly that to start the fourth, reacting a lot more to his feints and feigned takedown attempts, as they again exchanged boxing combos.
Moreno was applying pressure, while Figueiredo's economical output pleased his corner – recording some good work along the fence with damaging knees to the back of Moreno's legs.
So through four rounds, two apiece for both.
Moreno initiated his attack and secured an early takedown to start the fifth, and you couldn't help but think back to Namajunas vs. Weili 2 – the latter another training with Fight Ready.
The circumstances were similar in that fight too, Namajunas using an early takedown in the final round to help her edge a split decision victory.
There wouldn't be any deja vu this time, as Figueiredo swiftly returned to the feet and was content attempting to pick Moreno apart, biding his time knowing opportunities would open up.
Eventually, they did.
He scored another knockdown with that same right hand, Moreno tagging him back in response, with the challenger's team stressing patience – why risk a firefight at such a delicate stage?
Both eventually abandoned their tactical principles by slugging things out in the last 20 seconds, but Figueiredo – more accurate with less output – was rightly the victor in a competitive clash that could've gone the other way, had Moreno been more defensively responsible at distance.
"I've been away from my family for four months, tonight is my night! Let's do it for a fourth time!"

Figueiredo is open to a fourth fight, closing the chapter once and for all

"Feel like I threw more combos with more speed, maybe he hit me more but it is what it is, he did a better gameplan but he was waiting too much, I was pushing the pace but I don't know, need to watch it again."

Moreno felt he did enough to win, but left empty-handed
Askar Askarov (#2) is set to face Kai-Kara France (#5) in a title eliminator on March 26, with Figueiredo naming the latter as a potential future foe in his post-fight media after his highlight reel knockout win over two-time bantamweight champion Cody Garbrandt late last year.
---
Elsewhere on the main card…
In the welterweight division, Michel Pereira gave Portuguese prospect Andre Fialho a welcome litmus test on his UFC debut – earning a comeback unanimous decision win (29-28, 29-28, 29-28), his fourth straight post-lockdown, while wowing those watching with moves like this:
At 135lbs, Said Nurmagomedov wasted no time against Cody Stamann – earning a 42-second guillotine choke submission victory and a Performance of the Night bonus ($50,000) to boot after watching minutes of pre-fight promos with both stressing a desire to box and avoid a decision.
After starching Mark Striegl inside a minute on the Ortega-Zombie undercard in Oct. 2020, the Russian has also earned another statistic: the third-fastest finish in UFC bantamweight history.
As for Ecuadorian welterweight Michael Morales, who won on Dana White's Contender Series last September, he produced a memorable first-round debut finish to KO Trevin Giles.
---
Prelims, early prelim results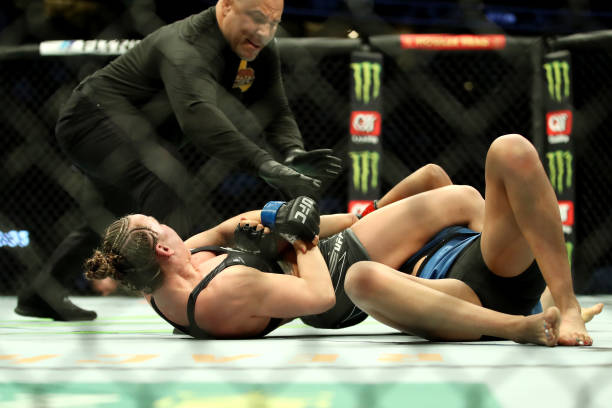 In the featured prelim, Victor Henry – formerly of RIZIN and other promotions – produced a debut to remember against the durable Raoni Barcelos, a high-level Brazilian bantamweight who has been memorably involved in consecutive Fight of the Night contests post-lockdown.
After losing his first two pro fights, Australian welterweight Jack Della Maddalena is 11-0 having left Pete Rodriguez unable to defend himself with a counter left hand midway through R1:
Also back in the winning column is bantamweight Tony Gravely, after a UD win against Saimon Oliveira (30-27, 30-27, 30-27).
Lightweight Matt Frevola returned to winning ways after being memorably KO'd in seven seconds at UFC 263 – with a ground-and-pound finish, inflicting Mexican debutant Genaro Valdez's first career defeat:
Speaking of DWCS, LFA alum Vanessa Demopoulos earned her first UFC win at the second time of asking with a first-round armbar submission over Silvana Gomez Juarez.
To kick off the early prelims in the women's flyweight division, Contender Series graduate Jasmine Jasdavicious earned a clear UD win over Kay Hansen (30-27, 29-28, 29-28).
Up next: UFC Vegas 46 on Feb. 5, headlined by Jack Hermansson vs. Sean Strickland

Picture source: Getty Images