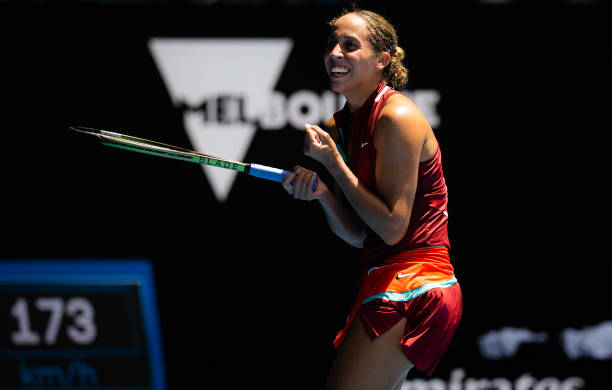 Rafael Nadal withstood a spirited Denis Shapovalov comeback to oust the Canadian in five sets, before Matteo Berrettini similarly held firm under Gael Monfils' pressure in a night session showdown lasting almost four hours, becoming the first Italian ever to reach this tournament's semis. Elsewhere, Ashleigh Barty made quick work of her last-eight clash with Jessica Pegula and now faces another American in Barbora Krejcikova's conqueror Madison Keys on Thursday.

Berrettini battles past rowdy crowd and Monfils' magic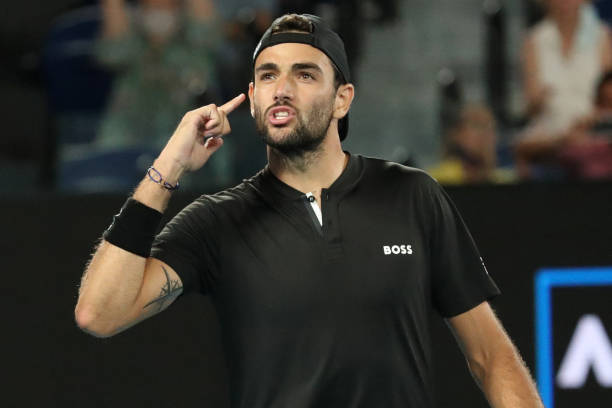 Berrettini [7] bt. Monfils [17] 6-4, 6-4, 3-6, 3-6, 6-2
Even with all of the Frenchman's success to date, this was to be Gael Monfils' first true test after four consecutive straight-set victories in a section devoid of the deported world number one.
Matteo Berrettini by contrast, had certainly been battle-tested in Melbourne with a whole host of challenges rather emphasised by his five-set duel with rising star Carlos Alcaraz last week.
So all things considered, it wasn't surprising to see the Wimbledon finalist surge ahead in a match punctuated by momentum swings as both did their best to hold firm the longest on serve.
Four games away from a maiden semi-final berth in Australia, the 25-year-old – who had three break point opportunities at 1-1 – cracked first, relinquishing a break of serve at 3-2.
That proved the jolt of electricity Monfils, as well as a rowdy crowd largely in his favour, needed to shift this entire encounter on its head.
They wanted more tennis and Monfils, ever the showman, was happy to oblige. One thing was unmistakable watching rallies: he hit the ball harder, channelling his aggression the right way and playing with freedom in a match of such magnitude as the scoreline was heavily skewed.
A short drop shot gave Monfils three set points, which he secured with a forehand up-the-line winner. 2-1 down, it was game on again. They exchanged service holds but Berrettini suddenly couldn't find a first serve and Monfils gratefully pounced to take an early break in set four.
Hitting the ball with more assertiveness, momentum on his side, the Italian couldn't handle his serve and the sheer power he could consistently generate – even behind the baseline – was causing the world no. 7 all sorts of problems.
Rattled by the crowd in-between serves, shanking forehands, missing shots mid-rally and delaying the inevitable, Berrettini was aware a deciding set would be required to settle this.
He saved four set points but a routine backhand into the net meant this matchup was going even longer, past midnight local time. But as he stressed in the flash interview with Eurosport afterwards, he was either going to win or go down fighting after allowing Monfils to gain parity.
Quickly up a double break to start the fifth, he won 13 of 17 points to begin the set and showed the same steely resolve he's done in the past to continue forcing Monfils to play an extra shot or three, stretching out rallies and importantly dictating more of them too.
Using the serve-and-volley tactic smartly, charging towards the net with devastating effect, Monfils was suddenly serving to stay in the match at 5-1 down. He held, but Berrettini closed the show not long afterwards before gesturing to the boisterous crowd, where's your noise now?
[How does it feel, first Italian in an AO semi-final?]

Yeah, hopefully we'll have another tomorrow [Jannik Sinner plays Stefanos Tsitsipas], a great fight again against Gael, thought I had him in the third and found myself in the fifth… had a couple of break points, couldn't make them and this happens, it's tennis – happened against Alcaraz as well.

[On dealing with crowd noise] It is what it is, you can't control everything, I think some people here aren't tennis fans.

[Nadal next, thoughts?] That was a really tough match, my first Slam semi-final – even though I had set points, he played five sets [today], needs to rest too."
He'll play Rafael Nadal for the second time on Friday, hoping to avenge the aforementioned 2019 US Open semi-final defeat – the Spaniard went on to clinch that title.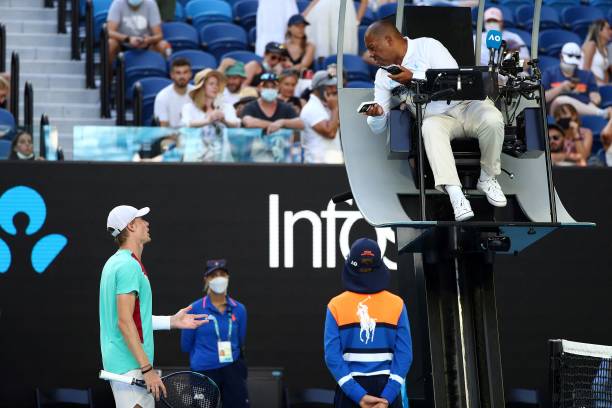 Earlier today during the day session, Nadal served 11 double faults and saved 75% of the break points on offer (6/8) as he eventually outlasted Denis Shapovalov 6-3, 6-4, 4-6, 3-6, 6-3 in four hours eight minutes – a match overshadowed by the Canadian's claims of preferential treatment.
"I respect everything that Rafa has done, and I think he's an unbelievable player. But you know, there's got to be some boundaries, some rules set.

It's just so frustrating as a player, you feel like you're not just playing against the player; against the umpire and so much more.

"It was a big break after the fourth set for this reason, and the momentum just goesm away… every other match that I have played, the pace has been so quick because the refs have been on the clock after every single point.

This one, I mean, after the first two sets it was like an hour-and-a-half just because he's dragged out so much after every single point. He's given so much time in between sets and all this, it's just dragged out."

Shapovalov doubles down on his Nadal take post-match
Wednesday
Jannik Sinner [11] vs. Stefanos Tsitsipas [4]
Felix Auger-Aliassime [9] vs. Daniil Medvedev [2]
Friday's semi-finals
Matteo Berrettini [7] vs. Rafael Nadal [6]
Sinner/Tsitsipas vs. Auger-Aliassime/Medvedev
---
Barty's backhand helps her ease to cruise control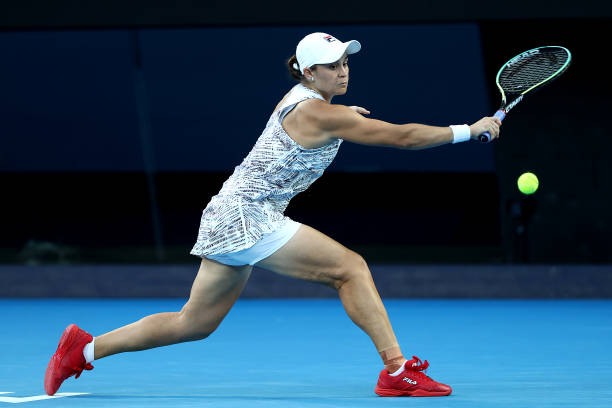 Barty [1] bt. Pegula [21] 6-2, 6-0
Ashleigh Barty earned her first bagel set since sweeping aside Ukrainian qualifier Lesia Tsurenko in R1, but praised Jessica Pegula's display as one which prompted that flawless display from the world no. 1 on an evening where she raced into the Australian Open semis.
63 minutes is all it took and there was a sense of inevitable from the first game, with Pegula 40-0 down early on as Barty immediately applying pressure to break early while incorporating the slice backhand to devastating effect – winning 81% of points behind her first serve (22/27).
In addition, she added her name to the history books: joining Martina Hingis, Jennifer Capriati and two-time Slam champion Simona Halep as the only players to have relinquished just two games en route to victory in a women's quarter-final. The 25-year-old had this to say afterwards:
Up next is an in-form Madison Keys, who hit 27 winners alongside 11 aces and dropped just five games (6-3, 6-2) against French Open champion Barbora Krejcikova early in the day session.
Wednesday
Danielle Collins [27] vs. Alize Cornet
Iga Swiatek [7] vs. Kaia Kanepi
Thursday's semi-finals
Ashleigh Barty [1] vs. Madison Keys
Collins/Cornet vs Swiatek/Kanepi
I'll be producing daily round-ups with the latest results, game reports and news at this year's Australian Open, so make sure you stay tuned to moandsports.com for the latest coverage.
Picture source: Getty Images