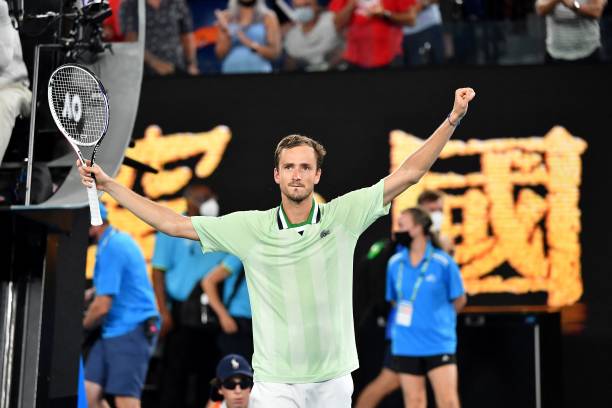 US Open champion Daniil Medvedev saved a match point and recovered to ultimately overwhelm Felix Auger-Aliassime in a gripping five-set clash. Next, the world no. 2 plays a spirited Stefanos Tsitsipas after the Greek oozed class en route to a straight-sets win vs. Italian youngster Jannik Sinner. Beforehand, Danielle Collins [27] and Iga Swiatek [7] set up a second H2H meeting by reaching their second Grand Slam semi-finals – in contrasting circumstances.

Swiatek snatches another sneaky comeback victory
Swiatek [7] bt. Kanepi 4-6, 7-6, 6-3
Iga Swiatek again recovered from a set down to punch her ticket into the Australian Open semi-finals, winning 4-6, 7-6, 6-3 against a dangerous giantkiller in unseeded Estonian Kaia Kanepi.
With almost double the number of unforced errors (112) than winners (66) combined, this match was littered with mistakes and multiple sudden momentum shifts as the pair tussled for three hours in the sweltering Melbourne heat. That didn't detract from a pulsating contest though.
But just like against Sorana Cirstea on Monday, the 2020 Roland Garros champion showed resilience while upping her performance levels when things got tough and applied ample pressure against a veteran whose forehand failed her when she needed it most.
Although she didn't clinch set one, the 20-year-old Pole saved eight set points in the opening stanza, displaying the sort of defiant resistance that would foreshadow a gritty comeback win.
Just as quickly as you thought she'd race away to the finish line, Kanepi would pull her back and level things again in a back-and-forth third set.
But having eased to win the second set tiebreak 7-2, Swiatek's confidence grew as she won the bulk of longer rallies and was picking her spots with better accuracy down the stretch.
The best example of this came in the match's final point, Kanepi hitting a return narrowly wide after Swiatek showed great anticipation and defensive awareness to repeatedly play balls back towards the 35-year-old in a sequence where nerves impacted both for different reasons.
Swiatek, who started slowly and finished with 50 unforced errors alongside a worrying 12 double-faults, praised the crowd's support while providing insight into her mental toughness – winning without playing her best has continued to do the trick so far. Post-match, she said:
"I'm pretty glad I have my voice to be able to thank you [the fans] for the support, was shouting so long! This match was crazy, without the stadium's energy, I wouldn't have won.

My mistake was that I had so many break points and felt like I missed my chances, while she broke me on her first [opportunity], should've focused on the next ball instead. Felt like she was playing so fast I couldn't be tight, had to finish my forehands and she played so great.

[On her mental approach] I try to focus on myself, trust my intuition in important moments, I know I can lean on them [her team], they believe in me, they told me after I beat Sorana [Cirstea] they knew I was going to win, even when down a set, so I remembered that in the tiebreak and it gave me a lot."
She'll play America's Danielle Collins in Thursday's second of two semi-finals, after the 27th seed won 7-5, 6-1 against first-time quarter-finalist Alize Cornet elsewhere in the day session.
Thursday's semi-finals
Ashleigh Barty [1] vs. Madison Keys
Danielle Collins [27] vs. Iga Swiatek [7]
---
Marvellous Medvedev musters unlikely comeback to sink FAA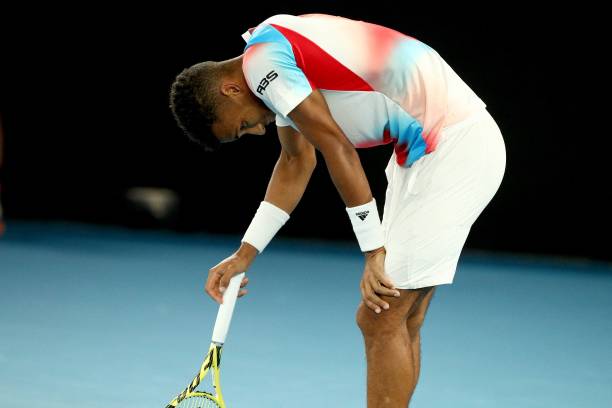 Medvedev [2] bt. Auger-Aliassime [9] 6-7, 3-6, 7-6, 7-5, 6-4
Four hours, 42 minutes. You could justifiably argue this match should've been over in half the time, such was the sight as 21-year-old Felix Auger-Aliassime flourished before our eyes.
Shots like these during breathless rallies were worth their weight in gold:
74 minutes prior to the final point being played, the Canadian had a look at his first – and only – match point of an evening that extended long past midnight and doubts were repeatedly cast.
Could he sustain these freakishly high levels? Would Medvedev shake himself into top gear?
After gift-wrapping him a match point in set four with a double-fault, Medvedev responded as champions do: a 213km/h serve, virtually unreturnable, that Auger-Aliassime barely got to.
The 25-year-old's double-faults have gradually crept up this tournament (9 here) but even his serving inconsistency couldn't mask the fact Felix was fantastic for two-and-a-half sets.
Failure to close it out in three proved decisive, as Medvedev grew in strength knowing he'd done it before – recovering from similar circumstances vs. Marin Cilic at Wimbledon last summer.
FAA — DM: winners, unforced errors
set 1-3: 43, 43 — 24, 34
set 4-5: 21, 32 — 25, 19
From those raw numbers alone, you can see Felix understandably tailed off as the match wore on while Medvedev was energised by an ever-changing scoreline with the momentum swinging in his favour for the first time. No wonder the Russian's coach, Gilles Cervara, smirked courtside.
Standing a few feet behind the baseline to receive serve, the US Open champion's defiant defence from deep worked a treat as things went long: forcing extended rallies and in turn, more Felix forehand errors, as he eventually found rhythm and began playing like the world no. 2.
There were still a few hiccups for Daniil himself to overcome in the final set, as expected with the match still hanging perilously in the balance, but held firm under duress again to earn a gritty win – one he'll hope doesn't take too much from him ahead of Friday's upcoming showdown.
Auger-Aliassime was awesome, a contrast to last year's underwhelming US Open semi-final display, but crucially lacked conviction with the match's biggest points and was made to pay.
At the highest-level with the finest of margins, the world's best overcome such heightened hurdles without playing their best. It felt fitting that without Djokovic, Medvedev did so here.
Friday's semi-finals
Matteo Berrettini [7] vs. Rafael Nadal [6]
Stefanos Tsitsipas [4] vs. Daniil Medvedev [2]
---
post-match comments, look ahead as Tsitsipas-Medvedev is next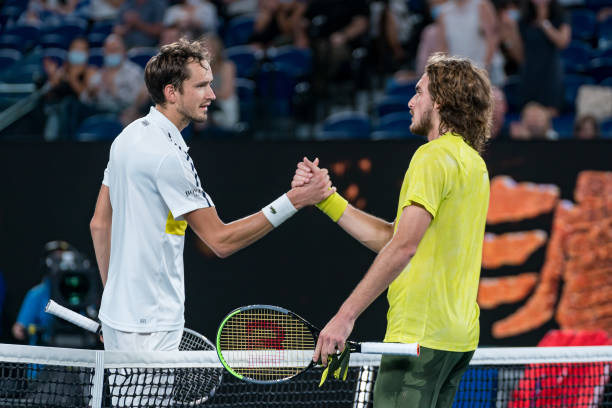 On how he staged such a dramatic comeback:
"I have no idea, I managed to serve well… second serve, would've been a different story. I brought this bag with like six pairs of clothes, just in case, and look – now it's empty!

I wasn't playing my best, he was all over me to be honest, didn't know what to do… some of you [fans] won't like this but I told myself, what would Novak do? Fight to the last point.

So I was gonna try and make him tired for the next match, just started playing better. Whether I'm tired or not, I'll fight my best – it's a Grand Slam semi-final.

Stef is a tough player, we've had a lot of matches already, last year I played pretty well so just hope I serve well and show my best tennis, that's how we'll have a good match."
In the flash interview, he was probed a bit more on other questions. On being told he hit the match's strongest serve when down match point:
"Okay wow, I didn't know that. You're there and down a match point, I was serving down the T a lot and I knew he might read it so just thought to smash it out wide as hard as possible, don't overthink it.

First two-three sets he [Felix] was playing unreal, no easy mistakes, amazing serve, no double-faults, I didn't know what to do. In the third, I was like okay, make his life as tough as possible, try to serve aces, win one set, maybe two, then… it worked. Let's see how I'll be on Friday, adrenaline is going through my body now, need to recover well and be ready for the next match."
If anyone will be fatigued in Friday's semi-final, it'll be the reverse of last year's underwhelming spectacle as Tsitsipas – still on a high from recovering to outlast Nadal – looked weary and played like it too in what soon proved a comfortable straight-sets win for runner-up Medvedev.
Overshadowed by elbow surgery that ended his 2021 with a whimper, then lingering concerns to begin the new year, Tsitsipas has been granted an opportunity to thrive in Melbourne with minimal fuss, up until his comeback five-set victory over America's Taylor Fritz in R4.
The 23-year-old reserved his best showing of 2022 so far for another talented youngster in Sinner, who did well to keep things relatively competitive for large periods (6-3, 6-4, 6-2 in one hour 56 minutes) without having as much as one chance to break the Greek's serve throughout.
The Italian, three years his junior, was rather ruthlessly picked apart by a bullish Tsitsipas display here – crushing backhands, frequently hitting lines while putting pressure on the 11th seed's serve wherever possible. After early breaks in all three sets, there was only going to be one victor.
I'll be producing daily round-ups with the latest results, game reports and news at this year's Australian Open, so make sure you stay tuned to moandsports.com for the latest coverage.
Picture source: Getty Images — quotes via Eurosport's TV broadcast