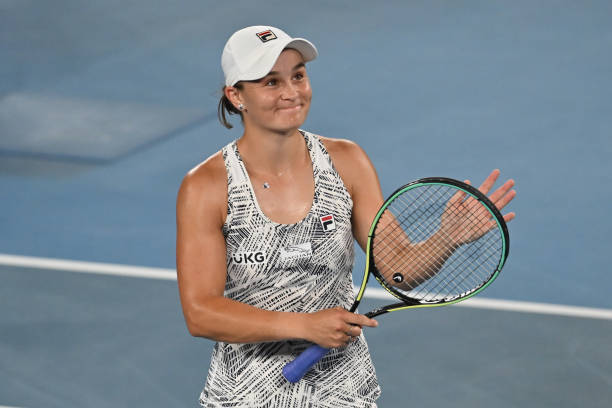 Ashleigh Barty needed just 62 minutes to become the first Australian player to reach the Australian Open Final since Wendy Turnbull in 1980, dropping just four games against an underwhelming Madison Keys display. She'll play Keys' compatriot Danielle Collins [27] on Saturday night, after the 28-year-old utilised a blistering start to blast past Iga Swiatek 6-4, 6-1.

Keys can't stop the Barty party from rolling on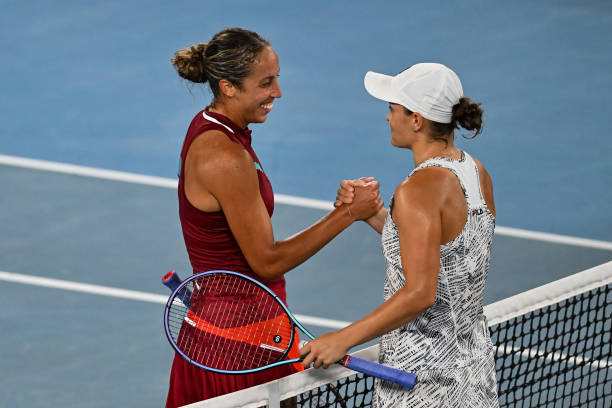 Barty [1] bt. Keys 6-1, 6-3
In what should've been a comfortable hold to settle the nerves and apply pressure on the home favourite, Madison Keys' tense start was quickly pounced upon by the world no. 1.
She stretched her left, then right, with crosscourt forehands and smart hitting as the crowd played every point with her. After establishing an early break, Ashleigh Barty added to it and never looked back – despite a mini wobble which Keys disappointingly failed to capitalise upon.
The slice served as an unwelcome sight for Keys, who wasn't allowed a chance to assert her game while coughing up more than thrice the Australian's unforced errors (14 to 3) in set one.
Couple that with her suspect movement and an evening packed with patchy serving, you could forgive most critics for counting her out of contention. But this was a Grand Slam semi-final, the fourth of her career to date, and the Adelaide champion wasn't going to go away quietly.
Once the scoreboard pressure had evaporated and the expectations had shifted onto Barty to close this one out rather convincingly, Keys went for her shots with more venomous vigour and was being rewarded for that too.
Barty started getting a little tight, missing a couple of routine shots and Keys twice had break point opportunities. Twice they were saved though, as the American's overeagerness to overpower Barty in their baseline rallies saw more unforced errors spill from her racquet.
The chipped return worked wonders for the Wimbledon champion, forcing Keys into awkward positions and importantly making her move on already unsteady legs.
Despite saving two break points herself at 3-2, the 26-year-old was being pulled from pillar to post and Barty's clever passing shot said all you needed to know at the third time of asking.
Keys eventually held, but Barty didn't hesitate on her first match point to finish. Post-match, the history-maker had plenty to say about the occasion as well as praise for Keys' resurgence too:
"Unreal, incredible, I love this tournament and as an Aussie we're exceptionally spoiled, get to play at home and in our backyard, done well before [here] and now I have a chance to play for a title.

Conditions were different – proper Brisbane weather – humid, the ball was slower and heavier off the strings, just tried to make as many balls as I could, keep Maddy under the pump on serve, try doing the right things every time.

It's so nice to see her [Madison] back where she belongs: an amazing human being, always smiling, gives it her best, a great person, I know a lot of girls really respect her and we love her."
On facing Swiatek or Collins in Saturday's showpiece, she was understandably coy:
"Both are a little different in the way they play, both compete, find a way to win when they're not playing their best and it's gonna be a hell of a match. I probably won't watch it – Tyz [Craig Tyzzer, her coach] will, I just have to enjoy it, will have a massive smile on my face and we'll see what happens."
---
Collins' clinic pays dividends against slow-starting swiatek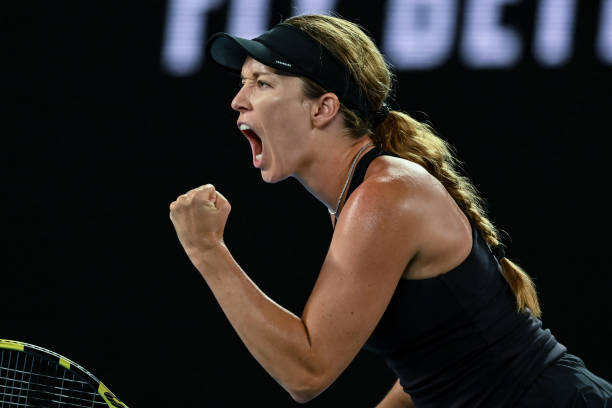 Collins [27] bt. Swiatek [7] 6-4, 6-1
Keeping up with the theme and just like Keys, French Open champion Iga Swiatek was broken in the match's very first game en route to a stark straight-sets defeat by a purposeful Danielle Collins display emphasised by 27 total winners (to 12..) and the same unforced errors (13).
A double-fault gave the American a golden opportunity she gladly seized, and subsequently raced to a 4-0 lead based around aggressive groundstrokes and smart point construction.
She pulled the Pole in all sorts of directions and refused to give the 20-year-old a chance to problem solve as she has done repeatedly despite not playing her best over this fortnight.
Why is this scoreline so stark? It could've been even more one-sided.
Two double-faults, in a game Collins saw three set points flash by, helped Swiatek grab a break back at 5-3 in a set that resembled two halves. The first was remarkable as Collins ruthlessly gobbled up Swiatek's serve, almost like she was in disbelief at what was coming her way.
The second gave the youngster hope that a second set fightback wasn't impossible, albeit still unlikely. Highly-regarded coach Darren Cahill stressed a need for more variety and assertiveness to start set two, and yet after five points, Swiatek was staring down double break point again.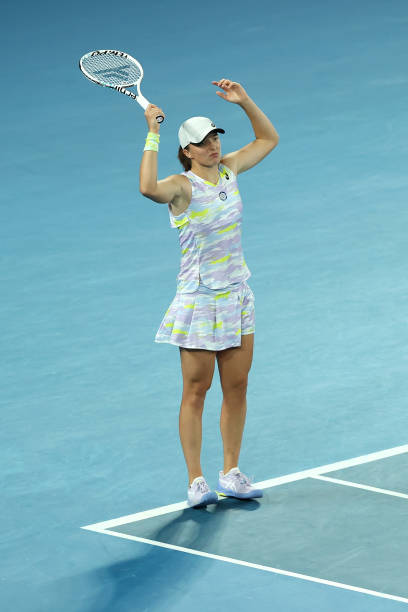 Struggling with her ball toss among other things, Collins cleverly spotted an opening before swinging a forehand crosscourt winner into the far corner. As good as Swiatek is, this was only going one way.
Still, she pressed the issue and reacted with justified frustration after overhitting returns as she was keen to get the immediate break back.
Even a change of racquet didn't appear to do anything, as successive shots into the net saw Collins consolidate a commanding advantage she continued adding to.
A shanked forehand opened up three break points for the American, who slammed through the ball and sealed a 3-0 lead at the first attempt. Just like set one, she was 4-0 up and cruising.
Swiatek held to avoid a bagel set, but was essentially delaying the inevitable on an evening where nothing went right for her and Collins' confidence soared. Despite doing brilliantly to save one match point, another thunderous return on second serve helped Collins force another error.
Afterwards, she reflected on earning her first Grand Slam final appearance and facing Barty:
"It feels amazing, it's been such a journey and hasn't happened overnight. So much hard work, hours on court, was talking before about all the hours my dad would get up early and practice with me before school. Especially with the health challenges, I couldn't be happier.

We've had some incredible battles over the years, to play the no. 1 player in her home country is gonna be spectacular, the energy from the fans – whether they're for me or my opponent – to have this after COVID, I'm excited to have everyone back, hopefully have a great match and battle away with Ash."
Friday, Men's semi-finals
Matteo Berrettini [7] vs. Rafael Nadal [6]
Stefanos Tsitsipas [4] vs. Daniil Medvedev [2]
Saturday, Women's Final
Ashleigh Barty [1] vs. Danielle Collins [27]
I'll be producing daily round-ups with the latest results, game reports and news at this year's Australian Open, so make sure you stay tuned to moandsports.com for the latest coverage.
Picture source: Getty Images — quotes via Eurosport's TV broadcast