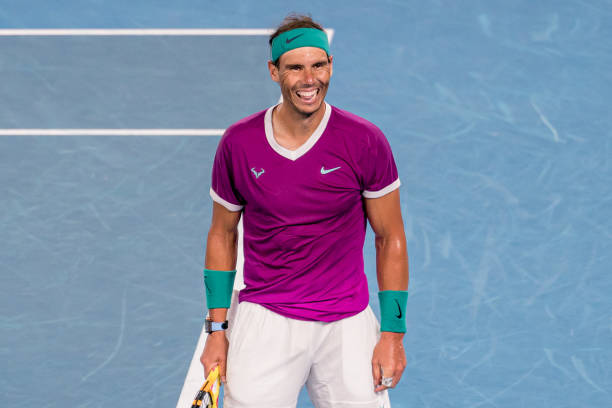 Regardless of who wins, this weekend will see history made when 20-time Major champion Rafael Nadal looks to cement his remarkable comeback from foot surgery against the man he beat to claim #19 at Flushing Meadows three years ago: Daniil Medvedev. Both won in four sets vs. Matteo Berrettini and Stefanos Tsitsipas, but who will be the last man standing Sunday?
Despite third set hiccup, Nadal into his sixth AO Final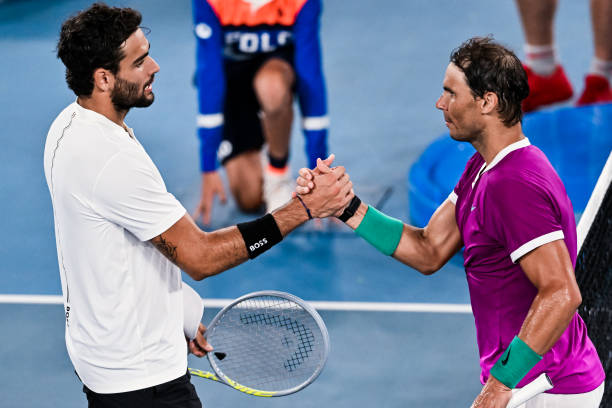 Nadal [6] bt. Berrettini [7] 6-3, 6-2, 3-6, 6-3
Unlike yesterday's two semi-finals, Rafael Nadal got off to a promising start against Matteo Berrettini and was quickly up an early break after repeatedly exploiting the Italian's well-documented backhand frailties.
Berrettini, to his credit, saved three set points at 5-3 down – the third with a 157km/h forehand winner that elicited a fiery response. But just as fast as his favourable groundstrokes were, Nadal kept probing the weakness to great effect, much to Matteo's bemusement as the fourth opportunity was eventually seized and he found himself a set down in 40 minutes.
It's one thing to lose against one of the game's greats if you're punished for a slow start or are just outmuscled, but Rafa's relentlessness and tennis IQ came to the fore as he continued asking questions that the seventh seed couldn't sufficiently answer.
Remember, this is the same man plagued by a troublesome foot injury requiring surgery and crutches last year. Since losing an four-set epic to Novak Djokovic on hallowed clay last June, the Spaniard had only played five competitive matches (and two exhibitions) pre-tournament.
That didn't matter. He'd just bide his time, wait patiently and watch Berrettini beat himself down the other end. 0-30 on serve? No problem, just encourage him to play longer rallies and outlast the Italian on a pulsating 19-shot duel to go up 4-0 – a double break – in set two.
When he missed a makeable shot mid-rally, the Rod Laver Arena crowd almost couldn't believe it. So comfortable and yet crucially unsatisfied, he was frequently making Berrettini work harder to return shots from various angles.
Just when there was potentially a half-chance of breaking back at 5-2, after blasting a forehand up the line, successive unforced errors on Nadal's second serve gifted the 20-time Major champion another set in the bank.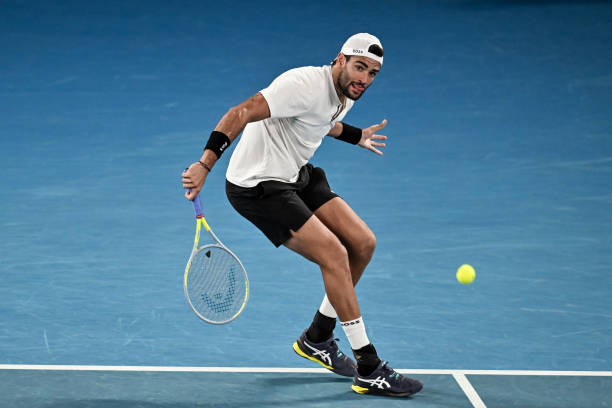 Having been swept up by the Nadal tsunami in the first two sets, Berrettini needed to hold serve to start set three. It was a challenge, but he did. The pressure was off, he could play freely and while the pair were exchanging service holds, there was suddenly a pep in his step.
Successful at the net and unleashing an inch-perfect forehand winner around the net post, Matteo wouldn't disappear quietly. Afterwards, the Spaniard reflected on that specific moment: "You play a so-so game, they play better and you're in trouble." Well, he wasn't wrong.
Sumptuous ball-striking saw Matteo earn three break points, his first of the match, and suddenly a shift. A fast service hold meant a seemingly insurmountable deficit was halved. Surely not?
Increasingly tense holds of serve were recorded by both, as the fourth set's apex point neared.
However, Berrettini was first to blink. Despite edging a 23-shot rally to save a break point, consecutive forehands into the net gifted Nadal the chance to serve for a place in Sunday's final.
His first serve had deserted him when he needed it most, unlike Medvedev on Wednesday, and now was at Rafa's mercy again. This time though, there'd be no easing off the pedal as two match points arrived after two hours 54 minutes on the clock.
The veteran clinched it as Berrettini hit his 39th error of the afternoon, far too many to keep pace with a 20-time Major champion one match away from separating himself at the top.
Afterwards, he had plenty to say – first on his performance, then praise for Berrettini before refusing to get caught up about the potential achievements that await him this weekend:
"I started playing great, one of the best for a long time, I know how good Berrettini is and knew he'd go for shots in the third.

He played some great shots, passing shot down the line was unbelievable, then we [he] need to suffer and fight… that's the only way to be where I am today, means a lot to be in the final.

He's young, a Wimbledon finalist and now Australian Open semis, every year he's playing better and has a great future in-front of him. For a month-and-a-half, I wasn't sure if I was even going to be here so whether it's indoors or out, just wanted to enjoy and try my best. It's an amazing event, been a bit unlucky at times, was close in others, but I'm just focusing on this tournament." 
Statistic: If Nadal wins on Sunday, he'll be one of only four men to win each Grand Slam tournament at least twice – while separating himself as the first and only man to win 21 Majors.
---
Medvedev navigates tricky task, into second straight ao final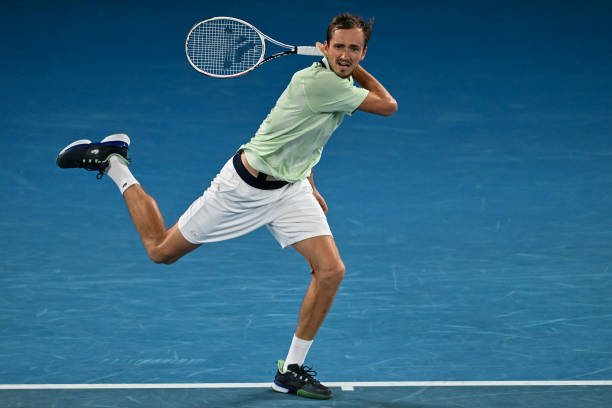 Medvedev [2] vs. Tsitsipas [4] 7-6 (8-6), 4-6, 6-4, 6-1
Stefanos Tsitsipas had the crowd purring with his deft drop shot usage and frequent forays forward, but US Open champion Daniil Medvedev remains primed for a unique piece of tennis history after bullishly overcoming adversity on more than one occasion to win in four sets.
He had the last laugh in a tight first set tiebreak, responded well after losing the second and eventually outlasted his Greek adversary in four – just like Nadal did earlier on Rod Laver Arena.
The match's first eight games flew by in 20 minutes, before Medvedev temporarily took charge in a set that remained finely poised for sustained periods.
He ended a 34-shot rally with a forehand crosscourt winner which kissed the line, opening up as many as four break point opportunities, which Tsitsipas did well to save, utilising the serve-and-volley tactic well while approaching the net efficiently.
After more comfortable service holds by both, into a first set tiebreaker they went.
Medvedev was 4-1 down at one stage, but the scoreboard didn't deter the Russian from reeling off a brilliant forehand passing shot – then a beautiful backhand up the line – to nullify Tsitsipas' aggressive net approaches and clinch the set 7-6.
After that disappointment, Tsitsipas importantly responded well by breaking early in set two. Some uncharacteristic misses in big moments rendered his promising work seemingly useless, handing the break back to the world no. 2. But wait, there was more twists and turns to come.
With the crowd firmly behind the Greek, Medvedev produced a wild sequence on serve: his first two double-faults of the match, sandwiched between a makeable forehand miss, gifting Tsitsipas a sudden chance to level the scoreboard and create doubt in the Russian's head.
Unravelling at the change of ends, the Major champion took his frustration out on unsuspecting umpire Jaume Campistol, berating the Spaniard for not giving Tsitsipas a code violation or warning of sorts after hearing repeated coaching from Apostolos, the 23-year-old's father.
Coaching caught – What happened with Apostolos?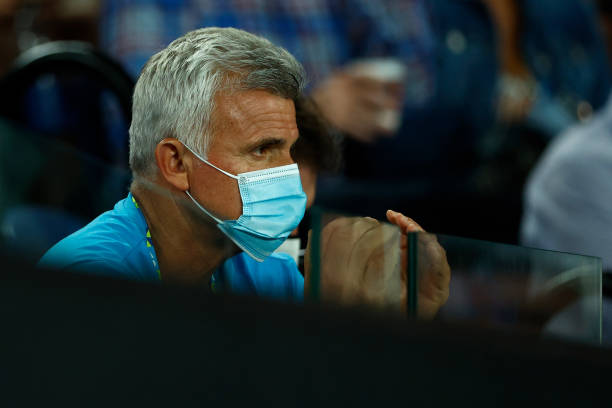 Tournament referee Wayne McKewen and veteran coach Eva Asderaki-Moore secretly positioned themselves in the mouth of the players tunnel directly under Tsitsipas' player box.
Asderaki-Moore, who speaks Greek, signalled to the chair umpire that she heard someone inside his box giving coaching advice, after which a violation was called.
That warning would come, albeit an hour later, another blow to Tsitsipas' dwindling energy reserves. Before then though, Daniil saved two set points but had no reply to stop a forehand winner from finishing a frenetic rally, ensuring this match wouldn't end in straight-sets.
After saving two break points to start set three with a crucial hold, Medvedev's groove was restored as he did his best to subdue a pro-Tsitsipas atmoshpere. While the world no. 5's approach play was still working well, it could be exploited upon occasion.
Those passing winners were the Russian's port of call and alongside the drop shot, which was utilised well against him, he broke to get back ahead by winning the third set 6-4.
From there, it was essentially over. An errant Tsitsipas backhand into the net gave Medvedev a comfortable 3-1 fourth set lead and he raced home from there. Afterwards, he too had plenty to say about his emotions, staying concentrated as well as the significance of this weekend:
"To be honest, bad emotions don't help me too much.

Many times I lose matches because of that, you lose concentration and energy, as soon as I done it I knew it was a big mistake but I'm happy I concentrated at the beginning of the third [set], my serves brought me back into the match, tried my best and happy it worked. I just found some momentum, made a few important passing shots, his energy went down and mine was going up.

I was so dead, could barely move in the locker room afterwards. Tried to recover well, the next day when I woke up I thought it's not too bad, I was more tired than usual [out here] and some mistakes could happen, especially on the backhand, but I'm happy it [this match] wasn't five hours so I can recover.

I'm gonna play against one of the greatest and what's funny is, again, I'll play someone going for their 21st [Grand Slam title]. I guess last time Rafa was watching on TV, Novak will be watching this one also… Slam finals are special, I remember the match with Nadal, we've played a few matches since and I know he's very strong, I'll do my best."
Saturday, Women's Final
Ashleigh Barty [1] vs. Danielle Collins [27]
Sunday, Men's Final
Daniil Medvedev [2] vs. Rafael Nadal [6]
I'll be producing daily round-ups with the latest results, game reports and news at this year's Australian Open, so make sure you stay tuned to moandsports.com for the latest coverage.
Picture source: Getty Images — quotes via Eurosport's TV broadcast