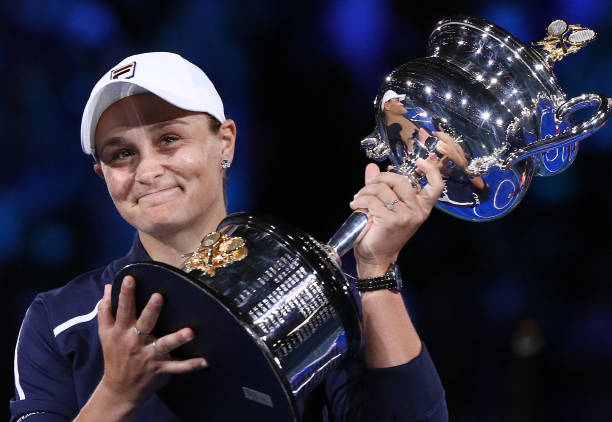 This wasn't vintage tennis but didn't need to be. World no. 1 Ashleigh Barty recovered from a 5-1 second set deficit to overcome Danielle Collins in straight-sets (6-3, 7-6), clinching a heavily-anticipated home Major for Australia and doing so without dropping a set all tournament long.
Despite slip-up, Barty overcomes set two deficit to make history
Barty [1] bt. Collins [27] 6-3, 7-6
Barty becomes first home player to win the Australian Open title since Chris O'Neil in 1978, third Major but also a first one achieved without dropping a set throughout
Despite this loss, Collins will rise to a new career-high #10 world ranking, up 20 places while replacing Sofia Kenin – a champion here two years ago – as America's new no. 1
Danielle Collins continued where she left off against Iga Swiatek in Thursday's semi-final, crushing the ball and making Ashleigh Barty move increasingly deep behind the baseline.
Eventually though, the world no. 1 did what she has with remarkable efficiency this fortnight – sweep those before her – to end a 44-year wait for an Australian champion at their home Major.
Still, perhaps this purposeful start meant we weren't going to see another all-too-easy victory after all. Barty overhit a makeable forehand at 2-2 to present the match's first break point, then remained composed to save it as the first high-pressure moment came and went unpunished.
Not for long, mind. Collins found herself under the cosh in the next game, helplessly watching a 141km/h forehand winner swing past her to give Barty her first break point opportunity.
The match's first double-fault sealed it and the Wimbledon champion didn't look back from there. Despite serving her first double at 40-0 up in the next game, Collins could only fire wide from a slow second serve and was suddenly serving to stay in set one.
Although she held and asked the serve it out question, Barty answered the call with a hold to love. Having conceded a 6-3 first set, Collins couldn't afford to crumble with the Australian still not finding her striking rhythm. That much was evident from the first three games of set two.
Collins held, before two wild misses gave her double break point on the 25-year-old's serve.
After what felt like an agonising wait for the ball to travel through the sky, the American blasted a volley winner at the net to go 2-0 up and besides a few passionate American-flag holders, the Rod Laver crowd were hushed into an awkward silence watching things unfold.
Barty, who saw two break points of her own come and go in the next game, got on the scoreboard with a quick love hold – an ace and line-kissing two-handed backhand winner among those shots to get the crowd's juices going once more.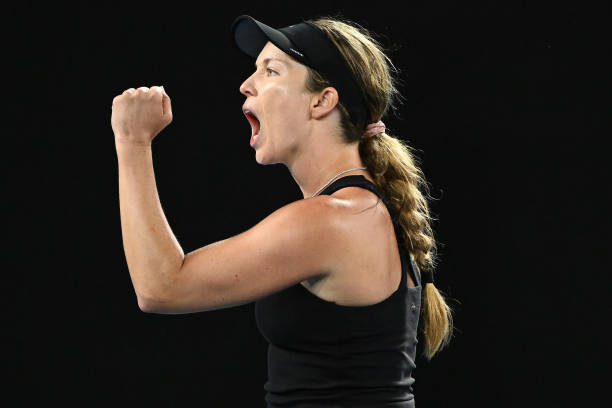 As the crowd roared Barty on, Collins didn't take notice. Instead, her confidence was growing by the minute while Barty's hesistancy to apply power on groundstrokes was clear for all to see.
An overhit volley and double-fault helped open up two more break points, before a weak backhand slice return into the net gave the American a commanding 5-1 lead.
Then, the tide shifts drastically once more
Just as quickly as the commentators were questioning whether Barty should save her energy for set three, she staged a comeback – winning four straight games to level the scoring at 5-5.
Collins, ruffled by crowd shouts mid-rally, told umpire Marijana Veljovic and was met with boos, while the Australian's aggressiveness arrived at the right time. This wasn't going the distance.
Collins held firm to go back ahead, briefly, before Barty's serve bailed her out of a tight service hold to force a set two tiebreak. Although a first in this tournament for both, it didn't last long.
Collins began with successive overhit forehands, before Barty took control: an inside out forehand winner, then a smash at the net to charge 4-0 up. 5-1 up at the change of ends, the look on Danielle's face said it all. The energy shifted and this tiebreak was merely a formality now.
After skewing a forehand wide mid-rally, four championship points were on offer and the top seed only needed one. It felt fitting that she'd clinch her first Australian Open title with a shot she hadn't utilised enough earlier on, a fiery forehand passing winner up the line.
---
Post-match comments as both reflect on a whirlwind fortnight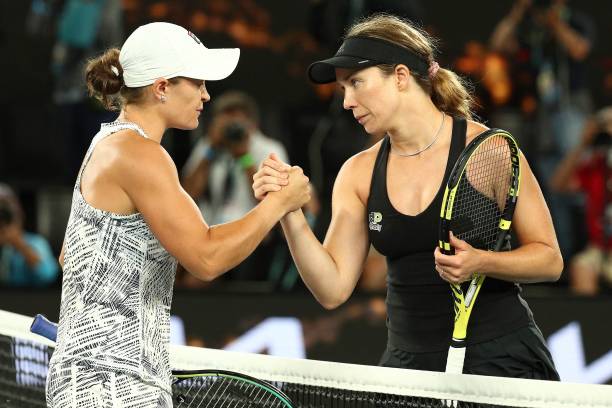 Collins congratulated Barty on the latest in an ever-increasing list of achievements, while praising her team's support and that of those who helped make this tournament a special one.
She also paid tribute to her long-time mentor Marty Schneider for always believing in her, as well as vocal boyfriend Joe Vollen, frequently captured cheering her on from the players box too.
"Big congrats to Ash, tremendous to watch her climb the rankings all the way to world number one and live out her dreams, I admire your game and hopefully can bring some of that [variety] into mine.

We wouldn't be standing here without all the awesome people at this tournament, this is one of my favourites and I'm so grateful, it's a childhood dream of mine so thanks so much. I wouldn't have been able to do what I did today, or other days in this tournament, without the medical staff."
Barty meanwhile, did similar and received a hero's reception after being presented with the trophy by a surprise guest and inspiration in 13-time Major winner Evonnne Goolagong.
"Congrats to Danielle and your team, top 10 and you're where you belong, you'll be fighting for many more of these in the future. I'm a little stumped [for words] here, love to thank everyone who does all the behind-the-scenes work, the last few years have been extraordinarily tough for everyone, you guys [the fans] have been incredible, this has been one of my favourite experiences.

The umpires, ball kids, everyone who makes this so easy for us, it's seamless and we'd be lost without you. Of course to my team, wow! I'm so lucky to have so many people who love and support me, incredibly fortunate to have so much love in my corner, we did it all together, you're the best in the business and as an Aussie the most important part of this is to share it with others.

You guys have been nothing short of exceptional, this crowd is one of the most fun and you brought me so much joy, relaxed me, forced me to bring my best tennis, thanks for your love and support these last couple weeks. This is a dream come true, I'm so proud to be an Aussie, we'll see you next time!"
---
Elsewhere on Day 13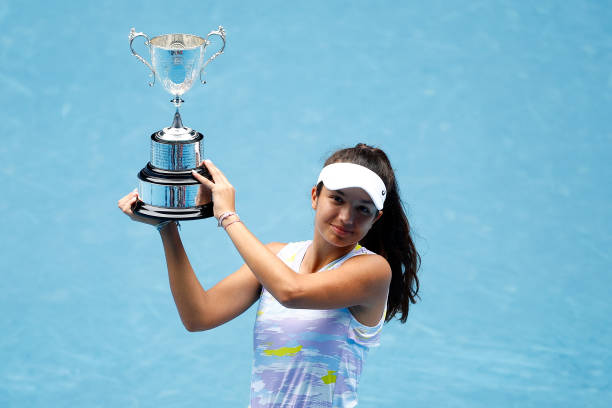 Marcinko [1] bt. Costoulas [8] 7-5, 6-1
Kuzuhara [1] bt. Mensik [4] 7-6, 6-7, 7-5
It was a day for the tournament's top seeds in the junior ranks, as Bruno Kuzuhara and Petra Marcinko were victorious in contrasting circumstances to win the boys and girls' singles finals.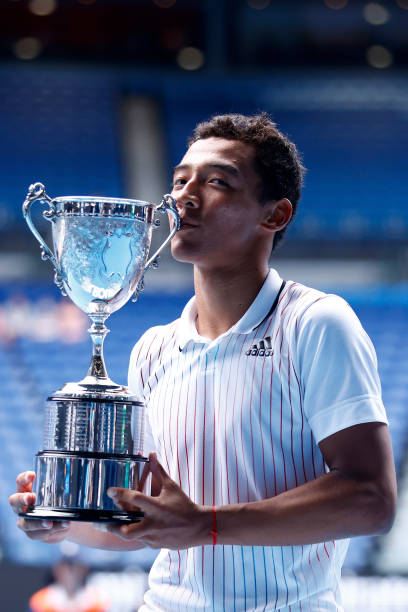 Kuzuhara, a 17-year-old American with Japanese heritage, edged one of two tight tiebreaks en route to a gruelling three hour 45 minute duel vs. 16-year-old Czech Jakub Mensik.
That was after Marcinko continued her fine form of late, beating her Belgian opposition to seal a third singles title for the Croatian in four months – and second on a hard surface.
Kuzuhara, who also clinched the junior doubles title with Hong Kong's Coleman Wong yesterday, and Marcinko both join esteemed company who have recently won these events.
Remember me?
Lorenzo Musetti won the boys' title in 2019, Sebastian Korda was victorious twelve months prior and Corentin Moutet – who lost a memorable five-set clash vs. the American earlier this month – was a beaten semi-finalist at this junior major in 2017.
As for the girls…
2019 US Open titlist Bianca Andreescu and Elena Rybakina were both beaten semi-finalists in 2017, where Marta Kostyuk won the tournament that season. Two years afterwards, highly-rated Danish prospect Clara Tauson pipped US Open runner-up Leylah Fernandez to the title.
Dynamic doubles duo Kokkinakis, Kyrgios are new Slam champs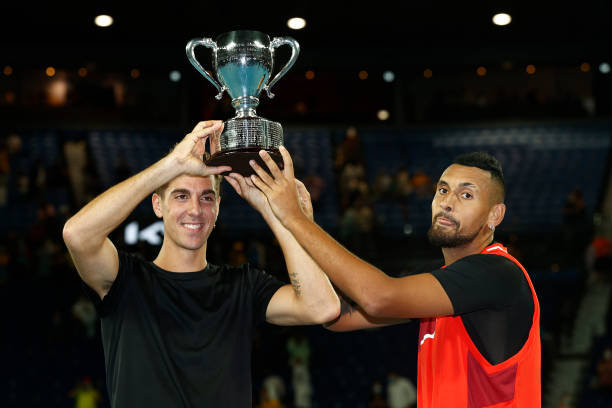 Kokkinakis/Kyrgios (WC) bt. Ebden/Purcell 7-5, 6-4
Kokkinakis, Kyrgios the first all-Australian pair to win the title since Todd Woodbridge and Mark Woodforde in 1997, who presented them with their newly-earned trophy
This result means they're also the first wildcard pair to win the title in the Open era and have qualified for the year-end ATP Doubles Finals in Turin, regardless of future results
Having surprised many over this fortnight, including the competition's top seeds, Adelaide champion Thanasi Kokkinakis and mercurial talent Nick Kyrgios are now Slam winners.
Partnering one of your closest friends to an unexpected doubles title is one thing, but to do so in a Grand Slam tournament on home soil – unseeded and with a wildcard – is another feat entirely.
After both departed the singles competition in contrasting circumstances on week one, the duo exceeded expectations by upsetting Croatian pair Nikola Mektic and Mate Pavic – the top seeds.
Their route to the final
R1: bt. Australian wildcards Bolt/McCabe 6-4, 6-2
R2: bt. Croatian world no. 1 Mektic/Pavic 7-6, 6-3
R3: bt. Behar/Escobar [15] 6-4, 4-6, 6-4
Quarter-finals: bt. Putz/Venus [6] 7-5, 3-6, 6-3
Semi-finals: bt. Granollers/Zeballos [3] 7-6, 6-4
Given Kyrgios' relative inactivity outside home comforts, only playing sparingly in Europe and the Americas since COVID-19, coupled with Kokkinakis' historical injury issues, it's unclear whether they'll play many other doubles tournaments together this season. They don't need to.
As Ebden and Purcell said during the trophy presentation afterwards, it'd be nice for them to: aware that their profile and exciting playstyle attracts more eyes, especially given who they are.
Even still, this was another feelgood moment for Thanasi after all the injury struggles he's had to cope with, while there will always be questions on Kyrgios in terms of taking tour life more seriously, trying to be the best player he can. Instead of pontificating, maybe just enjoy the ride?
---
and still to come…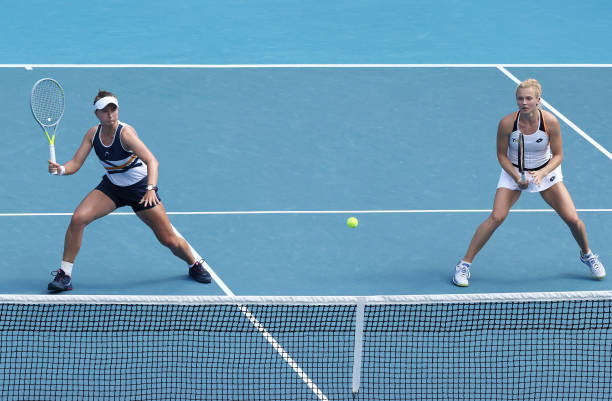 Sunday
Women's Doubles Final
Barbora Krejcikova/Katerina Siniakova [1] vs. Anna Danilina/Beatriz Haddad Maia
Men's Final
Daniil Medvedev [2] vs. Rafael Nadal [6]
I'll be producing daily round-ups with the latest results, game reports and news at this year's Australian Open, so make sure you stay tuned to moandsports.com for the latest coverage.
Picture source: Getty Images — quotes via Eurosport's TV broadcast