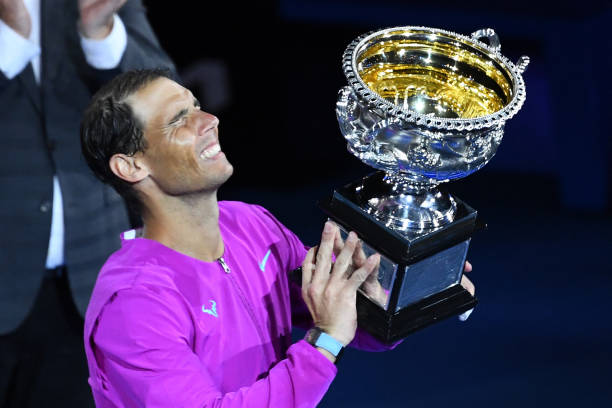 Six months out injured, unsure if he would even be playing this tournament. Down two sets to love, seemingly out and physically drained. Rafael Nadal refused to lose faith, fighting his way back to produce a remarkable comeback and beat US Open champion Daniil Medvedev in an epic Grand Slam Final lasting more than five hours. Not a bad way to clinch a 21st Major title.
Nadal completes gutsy comeback from two sets down to win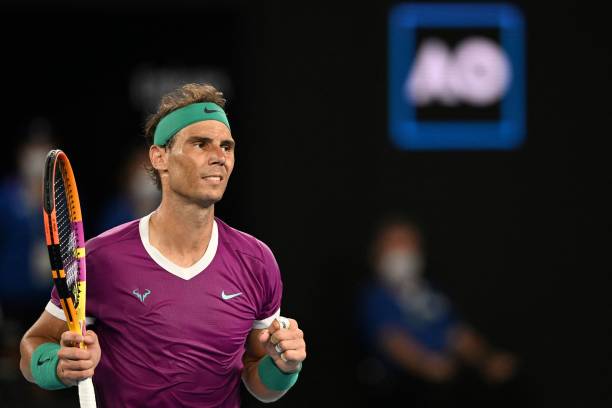 Nadal [6] bt. Medvedev [2] 2-6, 6-7, 6-4, 6-4, 7-5
Nadal surpasses jointly-held record with Novak Djokovic and Roger Federer, winning 21st Major singles title
Spaniard also becomes second man in Open Era, after Djokovic, to achieve the double career Grand Slam
13 years after his first Australian Open triumph, 35-year-old seizes his second
After enduring two tense service holds to start the match, lasting seven and nine minutes in length, they proved a precursor to a gruelling Australian Open Final which began rather quickly for Rafael Nadal. But in his quest for history, there would be twists and turns still to come.
Daniil Medvedev, a beaten finalist here last year, began more efficiently and clinical with his opportunities on an evening where Nadal sweat profusely and toiled to win their war of attrition.
Sharp reflexes helped the Spaniard recover from 0-30 down on serve early on, but rather than that moment prove an exception to the rule, it instead foreshadowed a long night's work for a fierce competitor notorious for winning longer rallies – regardless of the opposition.
Medvedev's brilliant two-handed backhand winner to end a 26-shot rally, as well as a passing winner to nullify Nadal's serve-and-volley tactic, rather spoke volumes. How could the Spaniard problem solve on the fly against a man easing through service games with free points including aces – five in his first five of the match – patiently waiting for him to tire himself out in rallies.
The Russian, who celebrates his 26th birthday next month, has long shown a capability to compete with and beat the world's best in Grand Slams over recent years. But even this, dismantling Nadal at his own game, made for uneasy viewing for the 15,000 Rod Laver crowd.
Naturally, there would be ebbs and flows: Nadal would improve and Medvedev would look a touch weary. But even then, that didn't last long enough to level the scores at a set apiece.
Utilising the backhand slice, volleys and drop shots, Nadal was twice up a break in set two. He won a 40-shot rally with a backhand slice, and was serving for the set at one point, 5-3 up.
Yet once more, Medvedev came back at him with staunch defence behind the baseline in multiple rallies while Nadal's forehand was flagging. A big 195km/h second serve handed Rafa a set point, but even his improvement in that area wasn't enough to give true breathing space.
Nadal's tired-looking backhand strokes exacerbated his ever-increasing unforced error count (31 to 15) as they were suddenly level again at 5-5 after Medvedev broke back in a 13-minute game.
After both held their nerve in subsequent games, into a second set tiebreak they went. Once more Nadal was ahead, 2-0 then 5-3 up as the Russian's legs looked weary.
But perception is a funny thing, especially in a sport as volatile as tennis. One minute you're cruising, the next you're staring down the barrel of defeat after one too many overhit forehands.
---
making history: A word on the women's doubles final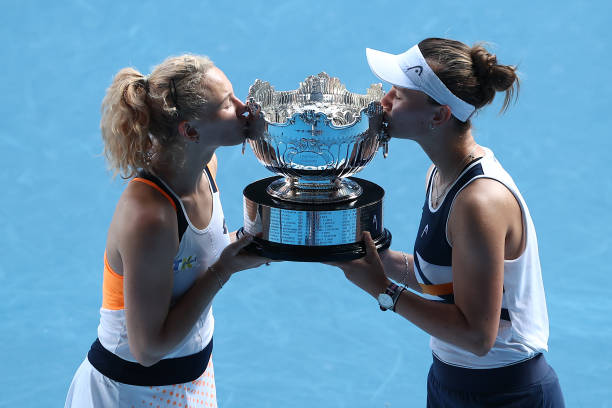 Elsewhere on Day 14… Barbora Krejcikova and Katerina Siniakova [1] clinched their fourth doubles Grand Slam title together, but had to do it the hard way: recovering from a set down to beat Anna Danilina and Beatriz Haddad Maia 6-7, 6-4, 6-4 in the Women's Doubles Final.
This result also means Krejcikova, who won Australian Open mixed doubles titles in each of the last three seasons, has now secured silverware in one of three disciplines four years straight.
Having lost 6-2, 6-3 in the final vs. champions Elise Mertens and Aryna Sabalenka at this event last year, the pair exacted revenge of sorts in the semi-finals this time around… beating Mertens and new partner Veronika Kudermetova by the same scoreline after Sabalenka opted out.
---
Medvedev dug deep, as he's had to on multiple occasions this fortnight, producing two gutsy forehand winners – putting a bow on an 84-minute set that he really should've lost.
Nadal knew it too. If he was going to have much chance of a stirring comeback, he needed to clinch set two or start the third like a house on fire. He kept fighting, saving three break points at *2-3 and staying competitive – as the scoreboard pressure shifted onto his Russian opponent.
Then, Medvedev's weak net approaches came to the fore.
Sarcastically applauding the Nadal-frenzied crowd for their reaction after missing an easy volley at the net, he rued that moment. Suddenly down double break point, Nadal then crushed a backhand pass winner past him and was handed the keys to a comeback into proceedings.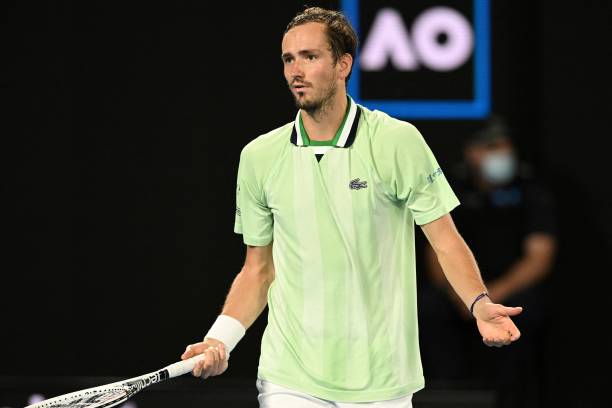 This time, there was no hesitation. Nadal halved the deficit rather assertively and carried that momentum into a fourth set poised for more thrilling action between both.
After saving two break points on serve, they exchanged breaks before Rafa had an eyewatering seven chances to break at 2-2 – Medvedev being repeatedly punished for showcasing some rather scrambled decision-making in-and-around the net. Nadal's persistence had got to him.
Nadal, armed with great point construction, eventually curled a forehand winner to break and didn't look back. The Russian was unhappy at the change of ends and told umpire John Blom to step up, keeping on top of crowd disturbance between serves. That's easier said than done.
By this point, Nadal read Medvedev's shots more regularly and kept rallying from precarious situations. He saved two break points at 4-3, just when it seemed the tide had turned once more.
Serving his second ace of the match to provide a comfortable cushion, they were all square again after four hours 12 minutes on the clock. Into a decider they went and on both battled.
All the pickle juice and physio treatment on his thighs at changeovers couldn't mask the fact Medvedev was struggling physically. Into a fifth hour they soon went, the match finely poised.
Electrified by the crowd, Nadal snatched an early break with perhaps the evening's best shot of all. He had to save three break points in the very next game to avoid an immediate break back.
Medvedev asked the ominous serve it out question, down 5-4.
Having gone 30-0 down, an overhit forehand and double-fault helped Daniil earn another break point from seemingly nowhere: this time with a smash at the net. After a time violation warning, the Spaniard overcooked another groundstroke and once more they couldn't yet be separated.
Nadal didn't dwell on his mistakes though, clawing three break points and taking the third to outlast Medvedev's bullet serving night (23 aces). For a second time, he served for the title.
This time, he didn't flinch. His third ace of the match presented three championship points, finishing with an unreturnable volley at the net.
---
Post-match comments, analysis as nadal separates himself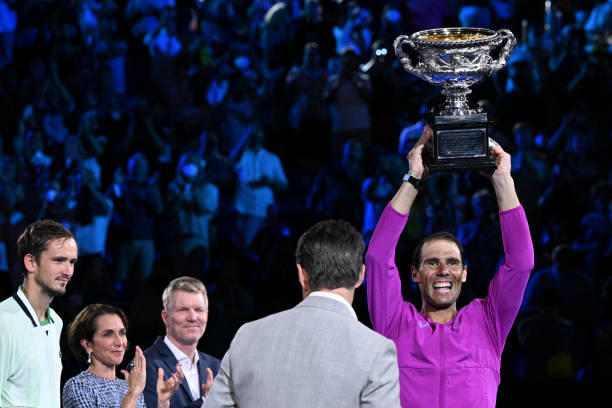 There's plenty to say and not enough time today to fully digest what happened here, that instead will unfold in the days and weeks to come after witnessing a historic match of epic proportions.
With a Novak Djokovic-sized elephant in the room to acknowledge, whether you believe he should've been allowed to play or not, there will always be an asterisk attached to this title through no fault of any other players. Does it diminish Nadal's achievement here? You decide.
Anyway, handling the situation was a responsibility which lies on the organisers and the look on director Craig Tiley's face at these trophy presentations this weekend says all you need to know.
Now, onto the uncomfortable part – addressing things like this:
Medvedev is a fiercely intense and emotive player on court but refreshingly honest and often self-deprecating off it. Yet today he found himself public enemy no. 1 in a match where it felt like everyone was rooting against him – cheering his misses and doing their utmost to rile him up.
He had a seemingly unassailable lead at one stage, lost his head and was punished by one of the greatest ever players to pick up a tennis racquet. In isolation, that's no disgrace. The bigger picture though, what the Russian has taken from this experience, threatens to damage tennis.
"You're a great champion Daniil, I've been in your position before (2012, 2014, 2017) so yeah, this was one of the most emotional matches in my tennis career – it's an honour so all the best in future."

Nadal during his post-match speech on court

"Feel sorry for him honestly but today was for me, I fought a lot to have this [title]. Got a bit nervous [when serving for the championship] but Daniil is very smart, is able to change the dynamic of a match, ready to find solutions and that's why I believe he's an amzing champion and win a lot of Slams.

I just kept believing and said to myself, I've lost a lot of times here when having the advantage on the score so maybe today is the other way, fight until the end – I won't be able to forgive myself if I don't."

Nadal reflects on his mindset and Medvedev with Eurosport afterwards
To start his post-match press conference, he told an anecdote relating to his time growing up through the ranks and rising to where he is now, before saying the kid stopped dreaming.
For those quick to say this shows he doesn't know how to fight adversity or isn't mentally cut out to deal with unpleasant fan experiences, he shouldn't have to in the first place. But like Formula One, tennis is starting to develop its own heel characters almost as if this sport is make-believe.
Tsitsipas was clowned for airing naive comments on vaccination and utilising bathroom breaks to his advantage last year, Djokovic the talk of the world this month and now Medvedev – the man in pole position to replace him long-term – is getting a taste of some sour medicine too.
Yeah, this constant narrative shift is boring.
So instead of heralding Nadal's inspirational triumph here, one many are claiming as the best of his 21-year pro career, I'm talking about an ever-growing issue that has intensified to a point where players can't express themselves truthfully for fear of being crowned the next villain?
Picture source: Getty Images — quotes via Eurosport's TV broadcast