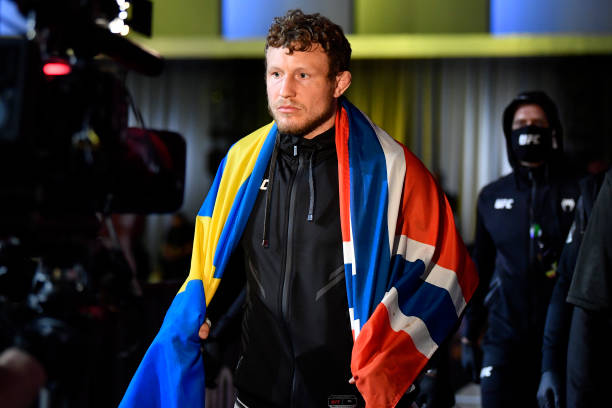 After rebounding from his Fight of the Night loss by Marvin Vettori with a UD win against Edmen Shahbazyan last May, #6 ranked middleweight contender Jack Hermansson is looking for a statement performance this weekend – ending Sean Strickland's impressive streak at 185lbs – which he believes will help propel him into the stakes for title contention once more.
can hermansson secure the perfect victory he so craves?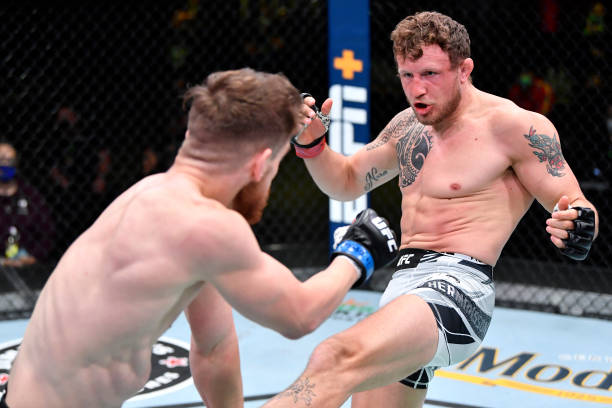 It wasn't an exciting fight, but didn't need to be. So long as he won, and Jack Hermansson passed the test rather convincingly against Edmen Shahbazyan on the Font-Garbrandt card last May – a rising divisional prospect whose shine has waned rather drastically post-lockdown.
Even after suffering contrasting defeats by Jared Cannonier (Sept. 2019) and former title-challenger Marvin Vettori (Dec. 2020), Hermansson feels the UFC's middleweight division is in such a state that he's not as far away from a title shot as it seems on the outside looking in.
That's why he's banking on this weekend – his fourth main event slot – being the perfect opportunity to produce a showcase display up against a dangerous Sean Strickland who has done what Shahbazyan couldn't: shine post-lockdown, with four victories in nine months.
Strickland's superb streak
July 31, 2021: Uriah Hall — UD (50-44, 50-45, 49-46)
May 1, 2021: Krzysztof Jotko — UD (30-27, 30-27, 29-28)
Nov. 14, 2020: Brendan Allen — second-round TKO (punches)
Oct. 31, 2020: Jack Marshman — UD (30-27 x 3)
Per MMA Junkie, the 32-year-old had this to say on Wednesday's media day about his form, respect for Strickland's skillset as well as assessing the other contenders before UFC 271:
"I feel I am at my peak right now, just getting better. It has been a few ups and downs, but the margin for error is so small in this sport, and I just need to put everything together – and when I do, I know that I can become the best.

He [Strickland] has a great record, is undefeated [at] middleweight, looks great, always comes forward, full pressure, and most people seem to have trouble handling that. You're always trying to do your best, but I visualise it.

I don't want to do a tough, long, gruelling fight – I want to have a perfect performance, so precision, perfection, early, nice clean victory. Dominance. That's what I'm looking for.

I'm always trying to find my way up there [in the middleweight rankings]. I feel with a great win here, I'm putting myself next in line. Brunson, Cannonier, how will they perform? Are they going to do an exciting fight or not?

We have had a lot of rematches lately, Vettori against Adesanya, now Whittaker. Do we want to see Brunson against Adesanya? I'm not sure. You know, I think people want to see Jack Hermansson and Adesanya."
---
Surging strickland will have something to say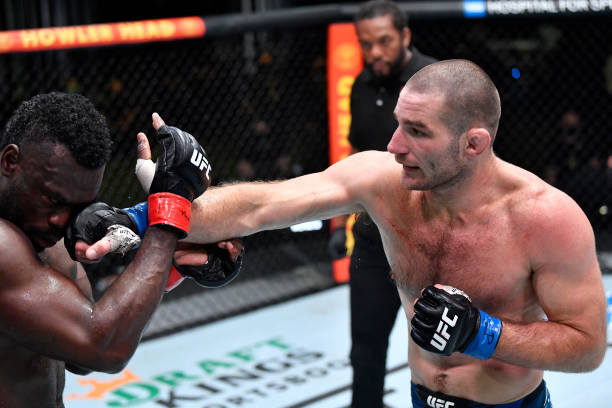 Although the easy narrative is to focus on his brash attitude and outspoken beliefs, Strickland has benefited from a community feel with the team at Xtreme Couture and rightly backs himself to have his hand raised this weekend against someone as unpredictable as Hermansson.
As evidenced by E. Spencer Kyte's feature on the UFC website this week, the 30-year-old is self-aware but behaves disarmingly enough to make you think otherwise if you're not clued up.
"I never thought I would stay in the UFC, so it's weird [being so highly ranked] to me. I try not to get too caught up over attention, was telling Chris Curtis – a good friend of mine, he's on a roll – it only takes one fuck up before all these people that are [blowing you up] look at you like you're a fucking bum, dude."
On what awaits him this weekend:
"The guy's tough, he's good, but I'm better than him. If me and him are at our best, I destroy him. I lose by completing fucking up. Look at when he fought Kelvin Gastelum. Kelvin shit the bed – took him down and got leg locked. What about Shahbazyan? I like him, but he's soft, pulled guillotines. C'mon, man.

It's shit like that – don't take the guy down and get leg locked, and if he shoots on you, don't go for guillotines. With these four-ounce gloves, sometimes shit happens, but you've got to try not to think about that."
We'll have to wait and see, but this weekend's main event promises to be an intriguing watch for multiple reasons. Many believe Hermansson's wrestling pedigree could prove Adesanya's kryptonite, assuming he remains champion by beating Whittaker again on Feb. 12.
There's a few hurdles to surpass before that challenge presents itself though.
---
UFC Vegas 45 card, as it stands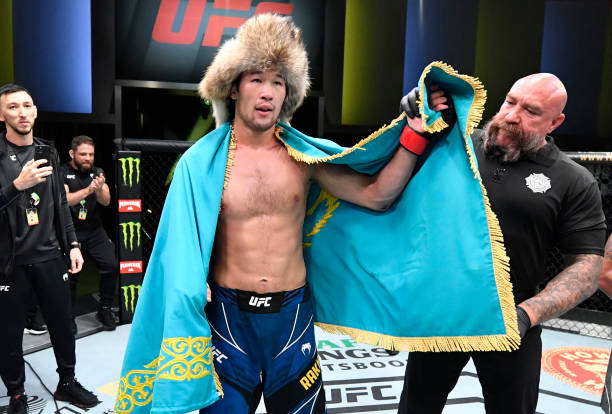 Main card, from midnight Sunday BST
Middleweight main event: Jack Hermansson (#6) vs Sean Strickland (#7)
Middleweight: Punahele Soriano vs Nick Maximov
Welterweight: Shavkat Rakhmonov vs Carlston Harris
Light-heavyweight: Sam Alvey vs Brendan Allen
Middleweight: Tresean Gore vs Bryan Battle
Featherweight: Julian Erosa vs Steven Peterson
Prelims, starts 9pm Saturday BST
Bantamweight: Miles Johns vs John Castaneda
Featherweight: Hakeem Dawodu vs Michael Trizano
Middleweight: Chidi Njokuani vs Marc-Andre Barriault
Women's bantamweight: Alexis Davis vs Julija Stoliarenko
Light-heavyweight: Jailton Almeida vs Danilo Marques
Welterweight: Jason Witt vs Phillip Rowe
Flyweight: Malcolm Gordon vs Denys Bondar
Picture source: Getty Images