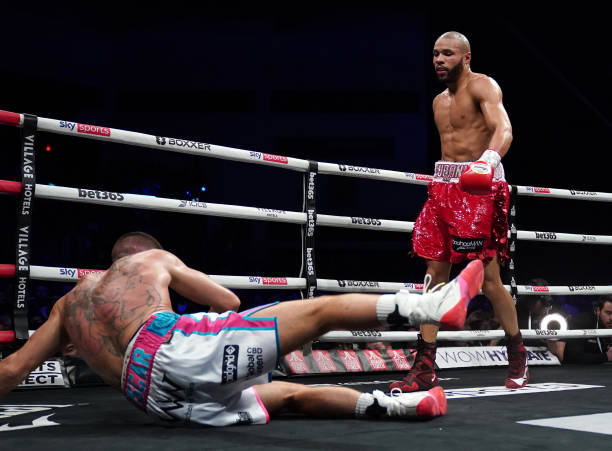 After an impressive start, it was an underwhelming finish as world title hopeful Chris Eubank Jr scored three knockdowns in the first four rounds, en route to retaining his #1 WBA middleweight ranking with a comfortable decision win (116-109, 116-109, 116-108) against Liam Williams.
Eubank's stubborn showboating sours his superb night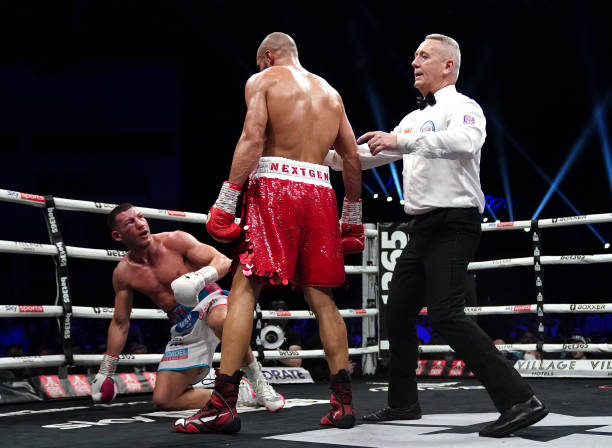 116-109, 116-108, 117-109: Chris Eubank Jr beats Liam Williams via unanimous decision
Buoyed by the Cardiff crowd, Liam Williams started fast. But it was the man who'll face punishment for his pre-fight comments who suffered the first in a furious sequence of knockdowns with a short sharp left stunning him, before being wobbled just before R1 ended.
It foreshadowed a long evening's work for the 29-year-old, who fell short abroad against Demetrius Andrade last year and this initially looked like he'd be stopped rather convincingly.
Instead, his spirit and rugged approach – even while clearly losing on the scorecards – helped him hear the final bell in a matchup hyped by bad blood between them. He fought emotionally and that accelerated his downfall on a night where his punch resistance was seriously questioned.
Getting dropped numerous times from short, sharp shots that didn't exactly scream haymaker weren't helping his cause. Eubank by contrast exuded calm while being economical with his output, almost as if he subconsciously knew this was a mismatch and treated it as such.
A right-left punch combo sent Williams to the canvas again in R2, though he brawled his way to safety. Referee Mark Lyson gave both a stern warning for dirty tactics in the third, Williams for holding Eubank in a headlock position and the latter for punching when he told them to break.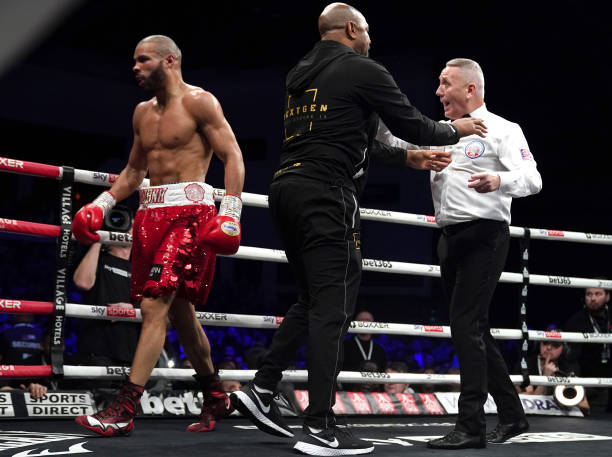 There's only so many times you can forcefully admonish a fighter before it loses its value unless you decide enough is enough and issue a point deduction. He didn't do that, instead frequently stepping in, with Eubank revealing his surprise post-fight that Williams wasn't disqualified.
"He said some very menacing things, I wanted to punish him, I wanna teach him a lesson – people like that out of boxing – you saw the fight, headbutts, head locks, I'm surprised he didn't get disqualified.

But I take it like a man, this was a fun night. People tell me I can't box, apparently have no jab, so I said let me show these critics a different side.

There was no danger, if I stepped on the gas, he would've been gone, but he needed to be taught a lesson and I didn't want to give him an easy way out. There's levels to this game, he thought he was something he wasn't."

Eubank reflecting on Williams' comments and the win, post-fight
Williams' wild swings with bad intentions were well defended, before Eubank cranked up the showboating as his confidence soared and understandably so. He goaded him forward, before another beautifully-timed jab sent Williams down again while he advanced towards the ropes.
It was a better round for Williams before then, but the shots you don't see often make you react the way he did in the early stages here. You could be forgiven for thinking Eubank was looking to finish with a flourish in R5, walking him down intently and unloading right hands and uppercuts.
Instead, his hands lowered and he looked frustratingly content to trade in the pocket rather than set up attacks and show different weapons in his arsenal. That was the invitation Williams needed, finding his footing while making this more competitive during the middle rounds.
---
after slow start, Williams wills his way into the contest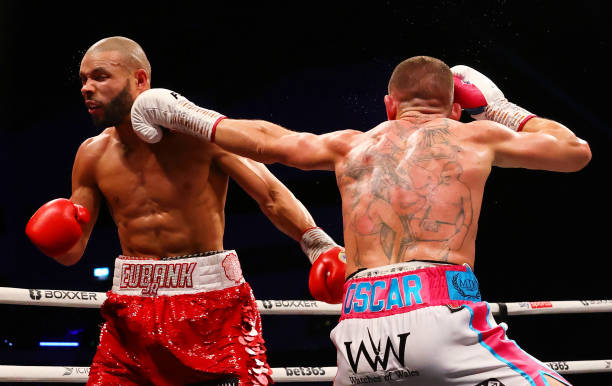 R6 was much better for the Welshman, logging multiple right-hands and pushing the pace, though Eubank was unbothered and  tried luring him into traps by abandoning his defence.
Williams engaged the dark arts in R7, leading with his head often and trying to wrestle Eubank into submission. Unlucky for him, the referee was alert to his tactics and issued more stern warnings after repeatedly separating them.
R8 was again a better round for Williams, who scored with a few venomous rights as the Motorpoint Arena crowd erupted in support of their home underdog. Eubank, for all his slippery lateral movement, was being comfortably outworked and visibly winging his punches too.
A nasty left hook was the pick of the shots in round nine, as Eubank's taunts lessened and Williams had clearly grown in confidence because more punches were landing clean.
Eubank, for all the impressive moments to start with, was whizzing and missing wildly as Williams continued wearing on him. This is why critics don't rate his technical ability, defence getting exposed and needlessly testing a chin that won't age well as he fights tougher tests.
Two up jabs backed Eubank into the ropes in R10, reinforcing the belief this fight's momentum had drastically shifted from the middle rounds.
In R11, another knockdown was scored – albeit to Williams' bemusement – as he felt he was pushed down at the back of his head in the middle of a punch combo, rather than punched.
Eubank looked stiff and happy to bide his time in the final round, as evidenced by this silly sequence featuring more showboating as a fight of two halves finally drew to a close:
The boos rained down but Eubank didn't mind, aware of his surroundings and relishing the chance to clown on a domestic rival in enemy territory – even if it hurt the overall showing.
What next for Eubank? world title picture remains Unclear
WBO, IBF super-featherweight titlist Mikaela Mayer in her role as part of Sky's broadcast team and Eubank's former foe George Groves were among the unimpressed critics afterwards, which won't exactly amplify the calls for him to fight for world gold at 160lbs later this year.
As mentioned earlier, Eubank Jr's win here keeps him in the hunt as far as world title ambitions are concerned. Things are far more complicated for Williams after this display, even despite being three years younger, he looks worn out and unlikely to challenge at world level again.
WBA titlist Ryota Murata was set to face IBF champion Gennady Golovkin in a unification bout on Dec. 29, but that matchup was postponed indefinitely after Japan closed their borders because of the Omicron COVID-19 variant.
There's still no rescheduled date, while WBC champion Jermall Charlo has entered the Canelo Álvarez sweepstakes as the undisputed super-middleweight titlist ponders his next move.
Considering that and Andrade also wanting to move up in weight, there could be two vacant titles at 160lbs but neither situation would immediately benefit Eubank.
In theory, going by rankings, the WBC and WBO would order Jaime Munguia (#1 WBC, WBO) vs. Carlos Adames (#2 WBC) while highly-rated Kazakhstani Janibek Alimkhanuly and Brazil's Esquiva Falcao (#2 WBO) are already in negotiations to fight one another for an interim title.
---
Results elsewhere, as Shields-Marshall edges closer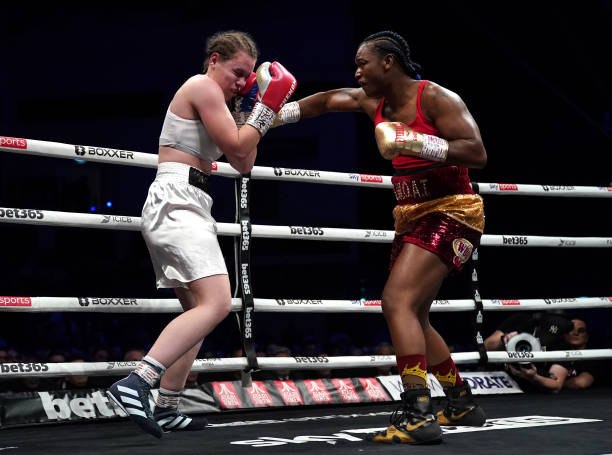 Elsewhere on the card, highly-rated youngster Caroline Dubois marked her professional debut with a comfortable decision win over Vaida Masiokaite in the women's lightweight division.
WBA, WBC and IBF middleweight champion Claressa Shields didn't get the knockout she wanted, but marked her UK debut with a dominant showing against Ema Kozin.
Savannah Marshall, who remains the only fighter to have beaten Shields – when both were amateurs ten years ago – watched ringside and wasn't impressed. Ahead of her own WBO defence against Belgium's Femke Hermans on March 12, the pair faced off outside the ring.
Picture source: Getty Images