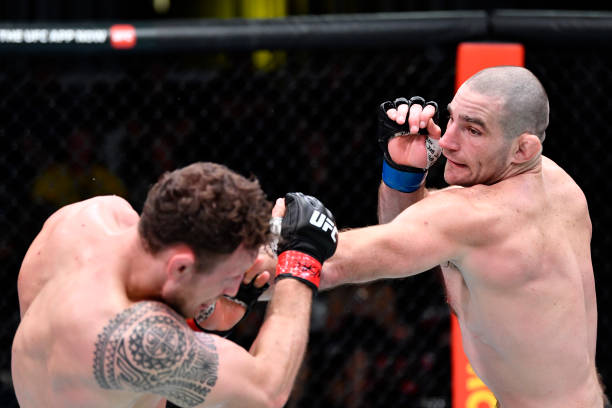 He apologised for letting the pressure get to him, 'fighting like a chump' in his own words, but Sean Strickland's winning streak improved to six as he exposed Jack Hermansson's gameplan en route to a split decision win. Elsewhere, there were contrasting wins for welterweight prospect Shavkat Rakhmonov and TUF middleweight winner Bryan Battle among others.

Strickland's takedown defence, slick boxing baffles Hermansson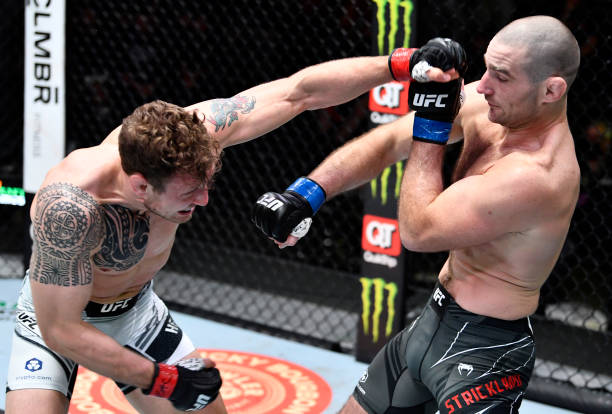 49-46, 47-48, 49-46: Sean Strickland defeats Jack Hermansson via split decision
Despite judge Sal D'amato thinking otherwise, Strickland is now 6-0 as a middleweight and passed his latest test against someone who increasingly looks like a gatekeeper at 185lbs now.
Earlier this week, Hermansson spoke about his desire to produce an early-but-perfect display here and how it would prove a key precursor to next weekend's PPV, where four of the division's best will go against each other in Houston. Instead, he fell short rather spectacularly here.
The statement he ended up making was stark: the Joker is now 2-3 in his last five fights and has lost each time he's faced an upgrade in competition. It's no wonder he was dejected post-fight.
"Not the fight I expected, was a little bit thrown off, couldn't get my timing in takedowns, several failures… I tensed up and got a little bit into his game, so I'm not happy with my performance.

[Was Strickland's takedown defence just too good?] Yeah, that's how it was."
After a close R1, which two judges credited in Hermansson's favour, Strickland's stand-up skills were accentuated by the Swedish-born Norwegian's inability to take the fight to the ground.
A graphic flashed across the screen, showing Strickland had landed more strikes to the head (32) than absorbed to the body and legs (31 combined) midway through the second round.
Strickland scored a knockdown to emphasise a strong second round and from there, he patiently built up an ever-increasing advantage. Although multiple replays showed it was more a slip than a flash knockdown, the judges didn't get the benefit of video review to see that.
Hermansson was whizzing and meeting air with his wild forward swings, largely inaccurate and made to pay as Strickland methodically knew when to advance and when to maintain distance.
Although he bloodied Strickland's nose after connecting clean with a looping jab through the guard, it didn't deter the 30-year-old from sticking to the gameplan and frustrating him aplenty.
Hermansson attempted at least one takedown in each round (4 in R1-R2, 1 each in R3, R4, two in R5) but was met with stiff resistance every time. Strickland, who was outstruck 26-24 in R1 and landed the same strikes (32) in the second, always appeared to land the more impactful shots.
Hermansson, for all of his leg attacks (51 of 54 completed), didn't show enough variety to adjust and combine punch combinations into a takedown attempt for instance. Instead, being picked off in the centre and seeing his strikes repeatedly slipped, is demoralising.
Even still, Strickland didn't seem to think the performance was all that, during his post-fight interview with Michael Bisping. Either way, he's got eyes on the winner of next week's PPV.
In truth, he should instead be targeting the Brunson-Cannonier matchup. While technical, he still has holes in his game that would be highlighted on the biggest stage against either Adesanya or former champion Whittaker, which could be ironed out against a smaller step-up in competition.
On what he thought about the scorecards and overall performance:

"I would like to think his face showed the result, but … I was being a pansy, should have thrown more [punches] in the pocket, the win bonus made me fight like a chump, I'm sorry guys."
---
Results elsewhere, including wins for Rakhmonov and Battle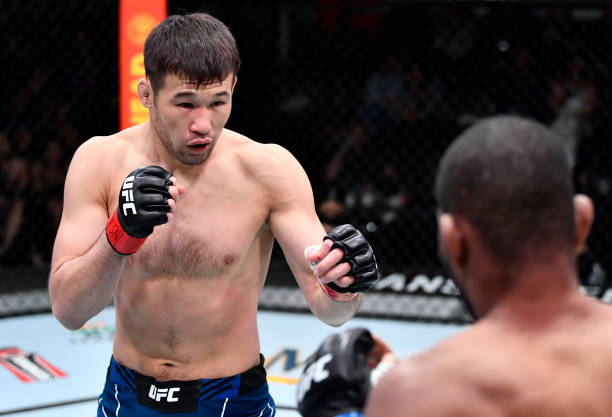 Welterweight prospect Shavkat Rakhmonov was heralded as the real one to watch on this main card against Carlston Harris, with the unbeaten Uzbekistani living up to expectations in style.
It's easy to look at a first-round knockout and assume this matchup was all plain sailing for the victor, but far from it. Pre-fight, Harris revealed an awareness to Rakhmonov's tendencies and showed great strength in the clinch, initially fighting off two of his takedown attempts.
The bulk of his significant strikes (6 of 10 landed) were to the body, as Rakhmonov was slippery enough to dodge head strikes while landing 10 of his own. As for this perfectly-executed kick, Harris didn't see it coming soon enough to evade and it caught him across the side of his head:
From there, the 27-year-old could smell blood and unloaded ground and pound strikes with Harris in a defensive position. Soon enough, two vicious right-hand punches signalled the end.
Keeping up the unbeaten theme… in the co-main event, Nate Diaz's protege Nick Maximov maintained his unbeaten streak (8-0) with a gritty split decision win over Punahele Soriano.
Maximov completed a whopping 11 of 16 takedowns, logging 8:45 control time in the process despite absorbing the same amount of significant strikes (45) that he threw in 15 minutes.
After an injury saw Tresean Gore replaced by beaten semi-finalist Gilbert Urbina on short-notice in the TUF Finale last year, middleweight prospect Bryan Battle reigned supreme against the finalist in a rescheduled matchup to prove he was the deserving TUF 29 champion.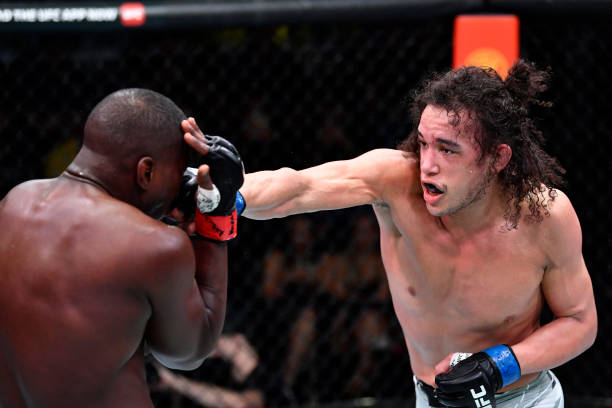 Winning 29-28 on all three scorecards, the 27-year-old's high levels of output and spatial awareness proved decisive against a methodical Gore effort – who flashed his explosive power in R1, winning R2 but crucially being controlled from almost two minutes in the final round.
He brought the TUF award with him to the Apex and confidently carried it afterwards, saying:
"I already won the competition. This is for all the people that said I wasn't the real champ, all those who said Tresean was going to knock the fuck out of me.

Don't get me wrong, Tresean is a tough motherfucker but so am I. I'm the Ultimate Fighter and proved that shit tonight."
In the light-heavyweight division, Brendan Allen benefited from a short-notice callup to get the bad taste of last month's TKO defeat by Chris Curtis out his mouth with a sharp display en route to a second-round submission victory (via rear-naked choke) against Sam Alvey.
Without a victory since Jun. 2018, Alvey's winless streak extended to eight with this latest performance, and it'd be a surprise if he wasn't released after yet another lacklustre showing.
In a catchweight bout at 149lbs, featherweight Julian Erosa certainly played his part in an entertaining Fight of the Night clash against Steven Peterson, earned a split decision win while earning himself a double bonus ($100,000) after the 31-year-old missed weight yesterday.
In his third stint with the promotion, Erosa is now 5-1 post-lockdown while Peterson – a Contender Series graduate – has now lost three of his last five fights, dating back to 2019.
---
Prelim results as dawodu, njokuani among contrasting victors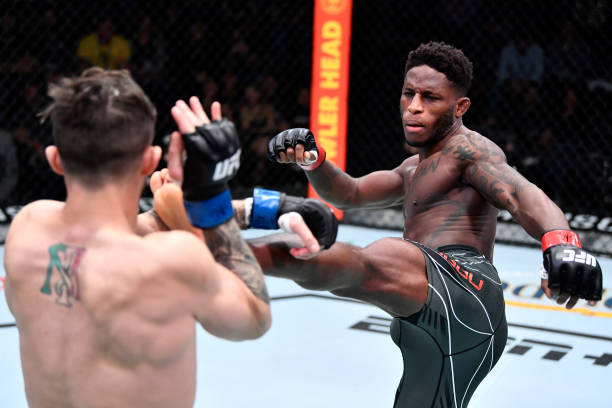 In the night's featured prelim, bantamweight John Castaneda racked up successive stoppage victories – a year apart – this time a third-round arm-triangle choke win against Miles Johns.
In one of two decision victories on a seven-fight prelim card, Canadian featherweight Hakeem Dawodu returned to winning ways with a comprehensive showing against Michael Trizano.
He landed double Trizano's significant strike totals in 15 minutes (141 to 70), thoroughly outworked him and his striking accuracy improved as the rounds went on.
With 3:46 worth of control time too, the 30-year-old nullified Trizano's sole takedown in the final stanza by good clinch work.
After losing 29-27 across all three scorecards against Movsar Evloev (#13) last summer, it'll be interesting to see how the matchmakers handle his next steps.
It was Dawodu's sixth UFC win, all but one have come by decision, so given their desire for exciting finishes, his placement on this card wasn't exactly surprising.
With that being said, he doesn't need telling that he'll need to sharpen up his arsenal against better opposition if he is to remain a serious threat in-and-around the top-15 rankings at 145lbs.
Speaking of exciting finishes, middleweight Chidi Njokuani wasted no time at all en route to a rather explosive stoppage win over Marc-Andre Barriault on his debut and earned a bonus too.
After securing a contract with a third-round finish on Dana White's Contender Series back in September, the 33-year-old – who spent five years at Bellator – lived up to his Bang Bang moniker with a venomous overhand right which led into a flurry of ground strikes against the Canadian.
Watch his thunderous finish for yourself:
In the women's bantamweight division, former title challenger Alexis Davis returned to winning ways with the 11th decision win (30-27, 29-27, 29-27) of her 32-fight pro career – logging 171 strikes and 9:09 worth of control time en route to a comfortable result vs. Julija Stoliarenko.
Having began his UFC run with successive wins, Brazilian light-heavyweight Danilo Marques is now 2-2 after suffering a TKO defeat (ground and pound) by compatriot Jailton Almeida.
After earning a second-round finish against Orion Cosce the last time Strickland headlined a Fight Night card, welterweight Philip Rowe – another to earn a contract from the Contender Series – showcased his slick striking skills once more, blasting Jason Witt rather emphatically:
To start off the night, flyweight Malcolm Gordon had an early evening's work against debutant Denys Bondar for all the wrong reasons (TKO, injury) as the 29-year-old Ukrainian sustained a grisly elbow injury after having his arm twisted unnaturally during a scramble against the fence.
Warning: This video below, isn't for the faint of heart…
Up next: UFC 271 on Feb. 12, headlined by middleweight champion Adesanya vs Whittaker II

Picture source: Getty Images — fighter quotes via UFC broadcast, graphics via ufcstats.com