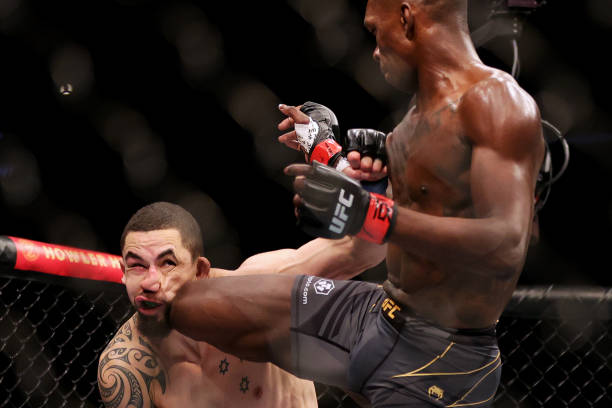 Tense and competitive, but the same result: Israel Adesanya defended his middleweight crown a fourth time, this time against an old foe in determined former champion Robert Whittaker. He then called for a June title defence against 'fresh meat' in the form of Jared Cannonier, who recovered from first-round adversity himself to convincingly end Derek Brunson's title hopes.

Adesanya bests whittaker in tense rematch over five rounds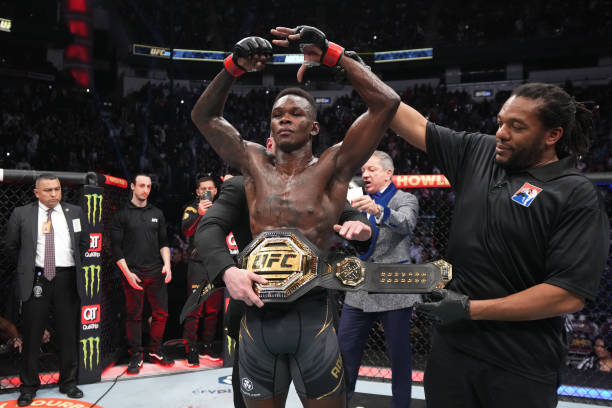 48-47, 48-47, 49-46: Adesanya beats Whittaker via UD, retains middleweight title
"I knew he was gonna bring everything, I'm the champ… you want it, come get it," Adesanya discusses Whittaker's patient gameplan in highly-anticipated rematch
32-year-old reveals he's willing and ready to return in June PPV after Jared Cannonier [3] rallies from sluggish start to earn second-round TKO win over Derek Brunson [4]
"I'm happy I fought my heart out, gutted, thought I did enough – took every round after that [R1 knockdown]. We're the two best in the world," Whittaker reflects afterward
Robert Whittaker was already being more patient through two minutes than his gung-ho style in their first meeting, while the champion tried drawing out attacks as the 6.5-inch reach advantage was more pronounced when they stood feinting at distance making multiple reads.
With Adesanya described as the "best striker we've ever seen," by former champion Michael Bisping just beforehand, Whittaker's tactics made sense against an adversary whose latest victory means he's two wins away from tying Anderson Silva's all-time middleweight streak.
However, you couldn't blame the Reaper for looking rather discouraged, both at the sound of the horn and again in his corner, after his methodical start was turned upside down.
Adesanya, switching stances frequently, logged leg kicks aplenty in the first stanza and you could sense control shifting his way after dropping Whittaker with a straight left up against the cage.
The last time Whittaker suffered a R1 knockdown in similar circumstances, his championship reign had crumbled rather emphatically. Perhaps absorbing the stinging shot, which dropped him, was needed to trust him into fourth gear, alongside his coaches' insistent feedback.
"Don't swing anymore, straight punches, no naked shots, when he changes stance, kick it [his legs], wake up," was the message between rounds and to his credit, the former champ – a clear underdog – did precisely that by producing an encouraging bounceback round in the second.
Punished for being too cautious and not letting his attack flow well enough, Whittaker didn't need telling that his execution warranted serious change and rather quickly too if this matchup was to stay competitive as the rounds ticked by and the tension wore off from both fighters.
Adesanya's assertive start poses similar problems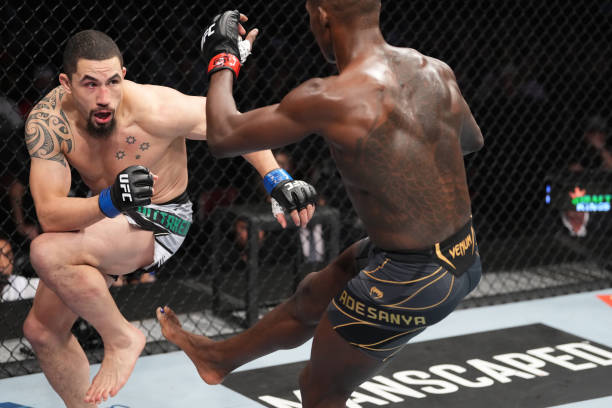 After seeing a sloppy takedown attempt stuffed by Adesanya, Whittaker reacted rather theatrically to feints and wasn't helping his issue with disadvantageous ring positioning. Couple that with an increasingly damaged lead leg and, it's no wonder he looked so disappointed.
Whittaker threw an early head kick in R2 and despite Adesanya's excellent head movement to evade it, you could sense the former champ start to take more chances as his confidence grew.
If the title was to change hands, it was likely he lulled Israel into another firefight and this time, landed the cleaner strikes – either softening him enough to finish of some kind, or making significant dents in his armour over the course of a round, ala Nunes vs. Pena at UFC 269.
While loading up, Whittaker landed jabs with increasing frequency as you could hear his corner shouting "you've got to believe!", almost like they could sense the opportunity to turn the tide.
Another encouraging sign, was him securing a takedown – even briefly – as Adesanya quickly looked to get separation, forcing the challenger back on his heels as if nothing happened.
Even the parried leg kicks were pushing Whittaker backwards, so while round two was a much better showing, did he do enough to level the scores?
Mike Beltran, a veteran referee in his own right, was part of the three-judge panel cageside for this title fight. Although he had Adesanya by the widest margin (49-46), R2 was the only one he scored for the challenger – something the other two deemed another round for the champion.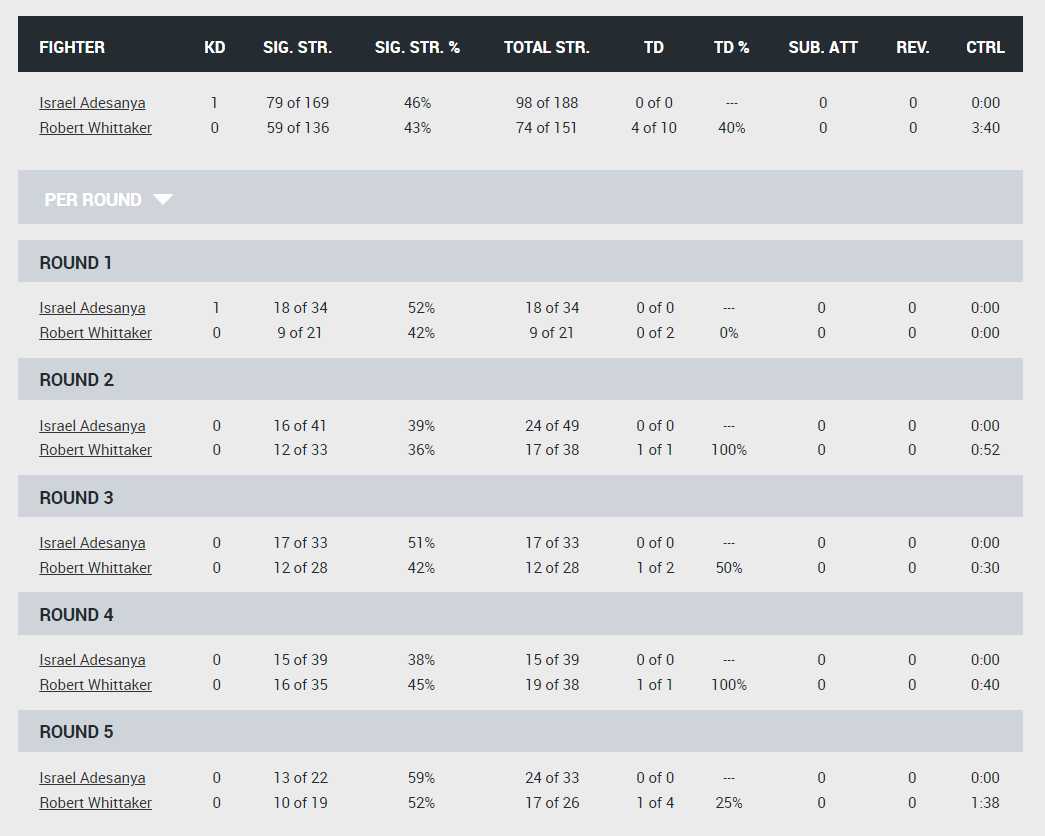 R3 followed more of the same pattern, Whittaker returning to his patient style and landing a good jab upon occasion but not enough to worry Adesanya. In a high-stakes chess match like this, the Australian's inability to continue applying forward pressure ultimately backfired.
Too predictable otherwise, frequently flicking his left hand but not much else, Whittaker's takedown tactics seemed scrambled too: whenever he had a favourable position, it was almost always abandoned because Adesanya's quickness got him out of precarious situations.
Calf kicks were clearly impacting Rob's clarity of thought too, so why wasn't he checking them?Adesanya's posturing gave the impression he injured his right hand mid-fight, but that notion was dismissed as a subtle fighting tactic during the post-fight interview with Daniel Cormier.
But rather than muddy the waters, make him uncomfortable and see if he was truly hurt, Whittaker fought like he was at a deficit – one he couldn't build enough momentum to overturn.
His dirty boxing and leg kicks, while successful, were in short supply. While his corner again stressed urgent striking before the fourth, it proved the first round he won on two scorecards.
Whittaker's confusing decision-making proves costly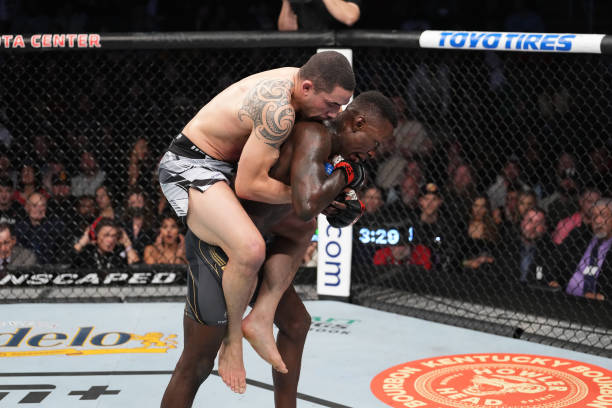 Starting it by connecting on a powerful glancing hook, his mode of infrequent attack was frustrating to watch given what had happened over the past 15 minutes. He secured a takedown, climbed up on Adesanya's back and quickly went for a choke submission against the fence.
Rather than keep him there, the scrambled thinking was again on show as the crowd erupted when the champion didn't panic, instead handfighting to a safer position and defending it well.
Despite a competitive finish to the round, Whittaker's inability to follow up his left hand punches with the right was highlighted by his coaches before the final stanza.
"Where's the right? Jab, right hand, put him down … stay on his left, you're not following him!"
That, again, proved easier said than done. Although he said in the post-fight presser that he didn't watch any of their first meeting, his coaches would've highlighted the dangers of engaging in reckless abandon – largely centred around whizzing right hands that night in Oct. 2019.
R5 was perhaps his clearest round, despite the statistics not looking particularly decisive in his favour. Armed with a cherry red left leg, his refusal to check Adesanya's low leg kicks felt borne out of frustration that he couldn't get his attack off quickly enough at a high rate of accuracy.
So when he stung the champion with a good counter jab, you could understand Bisping's frustration on commentary as he – and many others – would've been imploring Bobby Knuckles to take a chance with time ticking by considering how competitive this affair had become.
A brilliant level change helped him secure a fourth takedown, but Adesanya raced back to his feet again with more hand fighting, landing a big left hand on the break. It spoke volumes on a night where Whittaker felt he did enough to prevail, but crucially didn't persist with his attacks.
---
Post-fight comments, analysis on what's next for both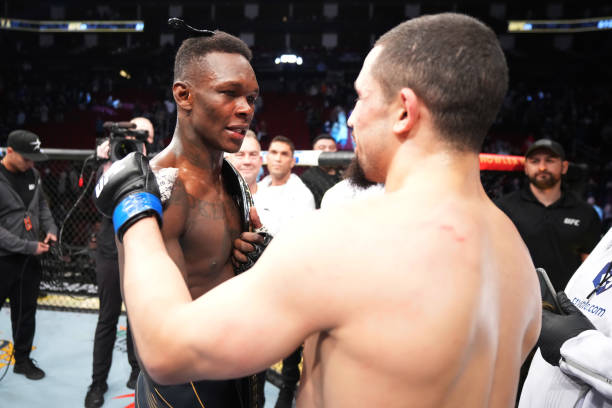 As a chorus of boos rained down on him after the close decision, Adesanya said:
"I knew he was gonna bring everything, last time I took everything from him. I'm the champ… you want it, come get it. It [not using his right hand] was just my stance, using it to distract him.

I tried to get his leg but once he realised it was hurt, he was defensive – kudos to his team and boxing coach. I knew he was gonna copy Jan's homework [by targeting wrestling] but I'm the big dog.

June doesn't have a PPV yet, but I know Jared Cannonier just did something tonight … so I'm pissing in this cage in June."
In the presser, he rated his display a 7/10 in a "good chess match," but one showing how quick people are to forget what's happened in the past when it suits the narrative.
Cannonier [3] is the only top-five middleweight Adesanya hasn't fought yet, with the bullish Sean Strickland [6] trending in the right direction but no-one else as far as credible contenders.
That is, besides the unavoidable Khamzat Chimaev hype train, as the 27-year-old Russian-born Swedish international aspires to become a future two-weight champion at 170 and 185lbs.
"Even if you've already been in there with me before, people have goldfish memories, they have to revert back to what they know. We're just two guys trying to be the best in the world, I'm the best.

The division is filled with killers but looking forward to fresh meat, even told Cannonier after the ceremonial weigh-ins, please take this guy [Brunson] out."

[Whittaker felt he did enough to win, thoughts?] "I don't know what he or Marvin were sipping on, maybe Costa's wine, needs to realise that's not true."

[Light-heavyweight?] "Later down the tracks, just glad I have a new contender in Cannonier. Looking forward to June, I'm sure my coaches will agree."
By contrast, Whittaker felt he did enough over 25 minutes to prevail on the scorecards:
"I did [think I won], started off rocky but took every round after that [first-round knockdown]. It is what it is, don't leave it to the judges.. mixed it well, I'm happy that I fought my heart out, gutted, thought I did enough.

I wasn't surprised, surprised at how well my plan was working! The gameplan was paying dividends, not gonna take anything away from him, we're the two best in the world, we know this."
He doubled down on that belief during a surprisingly jovial post-fight media scrum, saying he'll take some time to continue evolving, while graciously heaping praise on the champion and stressing a trilogy between the pair is inevitable down the line once they both continue winning.
Speaking of fresh matchups, Whittaker vs. Paulo Costa's latest conqueror Marvin Vettori [2] could be an intriguing contest later this year, even if neither earn the next shot with another win.
"I beat him to every punch, did takedowns but it is what it is. Izzy was my biggest obstacle, I'm excited for the future, the ceiling is nowhere in sight.

Honestly, I don't see anyone else getting close to beating him, he's a phenomenal fighter. Nothing but respect for his skillset, proud of myself for getting back on the horse and taking it to him, don't think a lot could.

The grudge is gone, you could see it in the media, nothing but happy for him, in another life we might've been mates but unfortunately the other side of the fence. A third fight is inevitable, gonna stomp anyone who comes next."

As for his thoughts on Adesanya vs Cannonier next:

"Adesanya is a hard fight for anyone, he's very good. Jared is tough – you can see in his fights – you have to drag him outta there dead to win, he'll go out on his shield but Israel can play the game for five rounds, fast, smart, keep his distance. I like Cannonier and don't wanna bet against him, it's a good fight."
---
Comeback kings: Big r2 victories for Tuivasa and Cannonier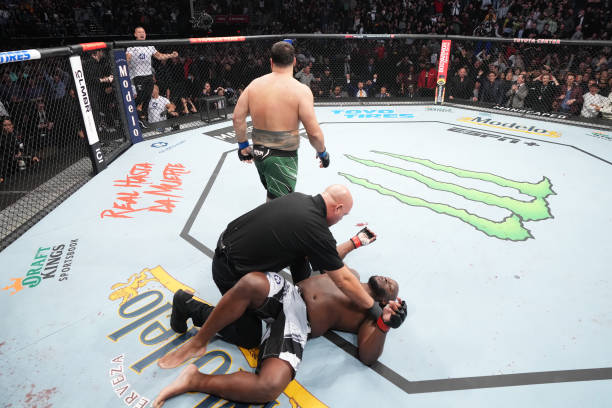 R2, 1:40 – Tai Tuivasa (#11) defeats Derrick Lewis (#3) via KO (elbow)
Considering the stark difference in their promotional rankings, this matchup probably shouldn't have been booked – but the personalities behind the numbers, as well as the fact both are fan favourites, made it much easier to understand. Tai Tuivasa won't be complaining come Monday.
Bam Bam, who turns 29 next month, now finds himself on a five-fight win streak – all blistering knockouts – and now has three successive Performance of the Night bonuses ($50,000) to boot.
One-time title challenger Derrick Lewis, who underwhelmed in his hometown during an abrupt interim title opportunity against Ciryl Gane last August, returned to winning ways just before the new year. But again, the volatile nature of heavyweight fighting was emphasised here.
Lewis stands alone in promotional history for most knockout victories (13), but historically tends to fight down against the level of opposition he's facing. That couldn't be levelled at him here.
It's why the first name out of his mouth after blasting Chris Daukaus inside two rounds in December was two-time champion Stipe Miocic, whose return timeline remains unclear.
Instead, it'll be back to the drawing board for the Black Beast after a second successive defeat in Houston – though this matchup could and probably would've been a first-round finish, if only he was facing someone with less chin durability than Tuivasa.
Lewis landed a career-high two takedowns (yes, you read that right), connected on more significant strikes (27 to 24) and despite having Tuivasa in serious trouble at one stage in R1, sharply found himself faceplanting on the mat after eating a nasty elbow up against the fence:
"That's the king of knockouts, like I said, I'm young, upcoming and taking over now. Whoever, whenever.

Definitely a surprise [that Lewis chose to wrestle], we had a bit of a swang and bang, bit of a wrestle… some adversity, he's the KO king. Everyone focuses on that [him doing shoeys], I'm knocking the best in the world out, got a great team around me, guys who have the best interests for me, we're doing alright.

This is the passing of the torch, one day I'll take over. I don't know who's in the top-5…"

Tuivasa reflects on a big night as he'll surge up the heavyweight rankings
---
Cannonier calls for Adesanya title shot, and deserves it
R2, 4:29 – Jared Cannonier (#3) defeats Derek Brunson (#4) via KO (elbows)
Derek Brunson's path to victory was clear: wrestle, establish control and swarm your opponent in deep waters. Jared Cannonier didn't need telling that was the gameplan, showcasing his physical strength to power up and thwart multiple takedown attempts in R1 on an electric night.
A beautiful counter right hand, as Cannonier closed the distance with his head sticking out and his hands low, could've proved the finishing sequence with just over 20 seconds leflt. It wasn't.
Brunson flattened him out and looked to seize his back, but after a brief struggle, Cannonier found himself literally saved by the horn with his neck deeply locked in a rear-naked choke.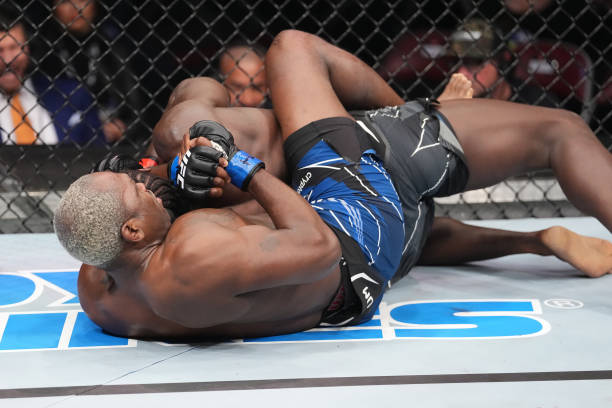 "That's the best he's got, he's already fighting desperate in the first round," bellowed Cannonier's corner. It didn't initially seem that way, but they were soon proven right. The energy expended, on 13 takedown attempts, is sure to wear even the most athletic fighters out rather quickly.
Brunson's body language had shifted and was suddenly all wrong, he was winging shots and leaning forwards chin first like he used to do in previous years, while Cannonier started landing some troublesome right-handed hook punches which weren't adequately defended.
They continued to connect, chopping the legs with kicks to boot, before a vicious end – precisely the exclamation mark Jared needed in a topsy-turvy showing:
"I never discounted his wrestling, that was his best chance of winning, wouldn't call it adversity [R1 knockdown], just going through the motions.

It wasn't just elbows, nice little backhand… you get in my face with disrespect, I'll bust you in yours. I turned Blonde Brunson into Blood Brunson just like I said I was gonna do, it went down in H-Town, you know what I'm saying?

Dana look at me, stop distracting him. Dana, I want that shot next. I get it next, it's me, nobody else, me. OK? Alright! [laughs]."
Elsewhere on the main card, it was a lightweight showcase.
Bobby Green soaked up the fans' energy and produced a fantastic striking display en route to a decision nod (30-27 x 3) over Nasrat Haqparast, before Brazil's Renato Moicano delivered another submission win – no. 9 in a 12-year career – this time in R2 vs. Alexander Hernandez.
---
Prelim results as Arlovski and Phillips win, Modafferi retires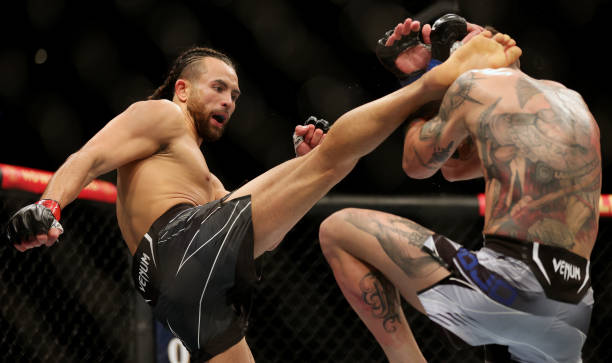 After logging a split decision victory (29-28, 28-29, 29-28) against Jared Vanderaa, former heavyweight champion Andrei Arlovski is now on his first three-fight winning streak since 2015.
Although it'll go down as a split decision victory, rising women's flyweight contender Casey O'Neill (#15) landed at least 70 significant strikes in each round and ultimately eased to a comfortable win against a gamely Roxanne Modafferi in the Happy Warrior's retirement fight.
Bantamweight prospect Kyler Phillips showcased his supreme striking skills to take control from the offset and despite battling in a competitive second-round against Marcelo Rojo, his eagerness for takedowns was eventually rewarded in R3 – a triangle armbar from bottom guard.
Afterwards, he also received some high praise from retired two-weight world champion Henry Cejudo, who via video link tipped him to be a future world champion in the post-fight presser.
Light-heavyweight Carlos Ulberg, who memorably started well but faded fast in his UFC debut against Kennedy Nzechukwu last March, returned to produce a much cleaner display – 66 significant strikes and two takedowns – en route to a dominant win over Fabio Cherant.
Early prelim results
In a battle of Contender Series alum at bantamweight, Ronnie Lawrence improved to 2-0 in the UFC with a hard-fought UD win over Mana Martinez (29-27, 29-27, 29-28). Importantly, his takedown offense (6 of 7 complete) proved decisive in a battle featuring five knockdowns.
After being flattened by Phil Hawes in just 18 seconds at UFC 254, Jacob Malkoun has now recorded successive UFC victories after outworking AJ Dobson – six takedowns and more than nine minutes' control time – to rally from a sloppy start, winning 29-28 on all three scorecards.
Douglas Silva de Andrade and Sergey Morozov produced the Fight of the Night at bantamweight, with the Brazilian veteran recovering from a sluggish first round – where he was knocked down – to log three knockdowns of his own in R2, en route to a submission win.
Adesanya's training partner and friend Mike Mathetha, nicknamed Blood Diamond, had a UFC debut to forget – suffering a R1 rear-naked choke defeat by Jeremiah Wells at welterweight, landing just one strike as he was swiftly taken to the mat and wrestled there by the 35-year-old.
To kick off the card, Russia's Maxim Grishin earned his second UFC win in four contests with a comfortable UD (30-27 x 3) result vs. William Knight – who was a short-notice replacement but recorded the biggest weight miss in history (12lbs), so this was contested at heavyweight.
Up next: UFC Vegas 48 on Feb. 19 — headlined by light-heavyweight contenders Johnny Walker (#10) and Jamahal Hill (#12)

Picture source: Getty Images – quotes via UFC's broadcast