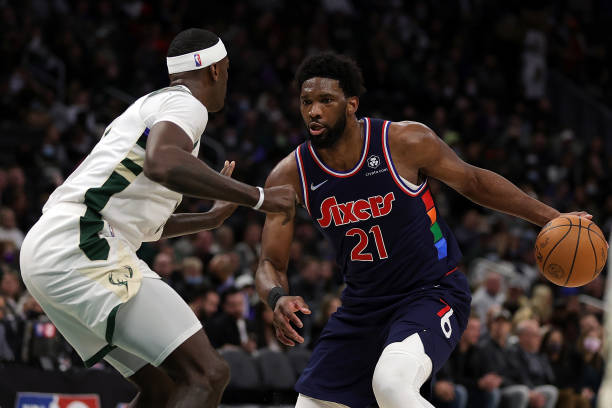 Leading the league in points per game and posting a monstrous 42-point double-double against the defending champion Milwaukee Bucks overnight, Joel Embiid is a clear MVP favourite before this All-Star break. With James Harden still to integrate after last week's big trade, how will the dynamics shift as the big man hopes to end years of playoff frustration?
Embiid exudes confidence as determined 76ers avoid losing skid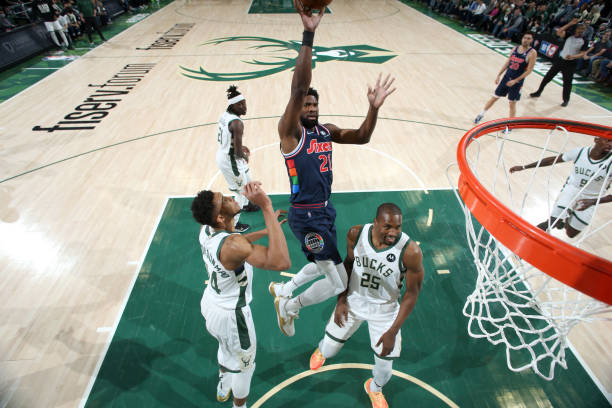 After scoring 42 points, alongside 14 rebounds and five assists in enemy territory overnight, Joel Embiid ensured the Philadelphia 76ers didn't head into this year's All-Star break on a losing run.
Having lost four of their last seven games heading into the marquee matchup on TNT, you couldn't help but fear for Doc Rivers' side as they were trailing by four points with 3:56 left in the fourth quarter after Giannis Antetokounmpo sunk his second three-pointer of the game.
Importantly though, the visitors didn't panic and led by Embiid, went on a 11-4 run in crunch time to secure a hard-fought road victory.
He was involved in all of their pivotal plays, with Georges Niang and Tyrese Maxey making good on free throws in the final 15 seconds to punish Milwaukee for their hopeful but futile foul tactics.
---
Frenetic finish at the Fiserv Forum
3:35 – Embiid gets his fifth assist, feeds Niang for his fifth three-pointer of the night
2:32 – After catching a defensive rebound off a Khris Middleton miss, he makes a two-point shot down the other end
2:06 – Secures the ball after Jrue Holiday's hopeful three is off, forcing Bobby Portis to intentionally foul him and stop the clock. He makes one of two subsequent free-throw attempts, before sinking both when back there after Holiday intentionally fouls him with 41.6 secs left
---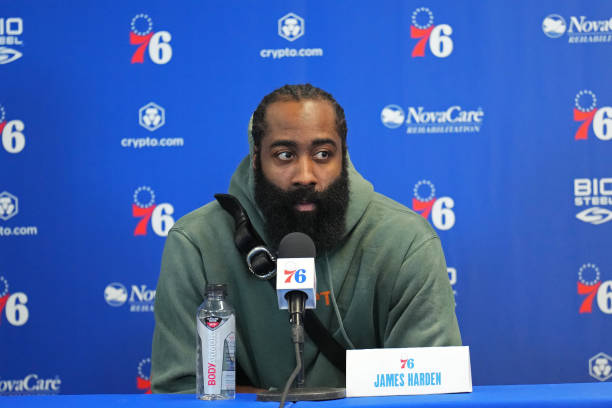 All of this transpired while new teammate James Harden watched on in casual clothes from the sidelines, still nursing a hamstring injury that has kept him out of action over the past fortnight.
If you cast your mind back to late July, when I wrote this piece about Ben Simmons, it felt inevitable a big change was coming – but where? Philadelphia's title window already looked to be closing, given the way other teams around the East have retooled, so what does Harden do?
Miami (38-21) are atop the East, alongside the Chicago Bulls – who've won five straight – while the Cleveland Cavaliers (35-23) share the same record. Milwaukee (36-24) are on the same footing as Philly at the time of writing, while Boston (34-26) and Toronto (32-25) aren't far behind either.
Untimely injuries and Kyrie Irving's vaccination status haven't helped Brooklyn's case to build from last season but they're still not exactly sinking without a trace in the eighth spot, while Charlotte (29-31) and Atlanta (28-30) both boast All-Stars who can change games in an instant.
Harden solidifies the notion the 76ers are trying to maximise Embiid's prime and his presence provides another perennial All-Star player who can offset the responsibility from his shoulders.
Tobias Harris (18.7 PPG on 48.4% FG, 7.3 REB and 3.7 AST) has been heavily criticised for not stepping into the breach, but he's never been the second scoring option on a championship-calibre team. Maxey meanwhile, has improved so much that he was off-limits in trade talks.
The 21-year-old guard is currently posting 16.9 points per game alongside 4.6 assists on 46.9% FG with 39% from 3PT, so it'll be interesting to see how he meshes next to Harden, who remains ball-dominant and critics have highlighted him – like many older stars – declining this season.
It's unlikely, but Philadelphia could foreseeably finish top of the East again this term. What they must avoid happening this time though, is a repeat of last year's postseason: 2-1 up but were taken to a seven-game series against the plucky Atlanta Hawks (#5) and collapsed at home.
Even after all of the hesitancy and refusal to attempt shots down the stretch in fourth quarter minutes, Simmons' tenure in Philadelphia was hanging by a thread. The Pass, as it was deemed:
---
with harden, can they win now? Breaking down the drawbacks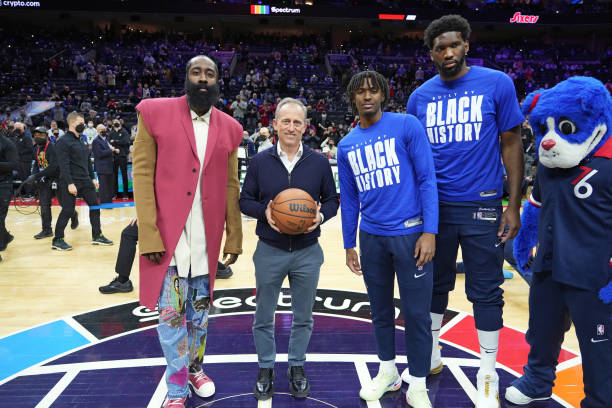 Despite his undeniable talent as one of the greatest players to play the sport, Harden has often flattered to deceive when it matters most in playoff games – regardless of the opponent.
To avoid contention, if you exclude the age 20-22 seasons (2010, 2011, 2012) and instead focus on his time in Houston after the Oklahoma City trade, a pattern clearly emerges. He regularly records high scoring numbers, but look at his turnovers and shots taken to get those tallies:
While it would be disingenuous to solely blame him for playoff defeats, it's not as though he didn't have All-Star teammates either: Dwight Howard and later Chris Paul in Houston.
The same happened alongside Russell Westbrook during the bubble season in Orlando, narrowly squeezing past their former ball club in a seven-game series – then winning Game 1 against the year's eventual champions – before disappearing without a trace in five games.
Also read: Nov. 2020 – Westbrook's trade request, tensions in Houston are no surprise
Embiid, who missed his first two years in the league with injuries, has played just 34 postseason games – but unlike Harden, can impact the game significantly without the ball in his hands too.
It's why the 2019 playoffs would've hurt him more than most, especially as the abrupt ending and chain reaction meant breaking up a promising partnership between himself and friend Jimmy Butler – flourishing in Miami instead – to better suit Simmons' needs. Hindsight, eh?
Despite nursing a knee injury and not being 100% fit, Embiid still managed to average 30.4 points, 12.7 rebounds, 3.9 assists, two blocks and one steal in the aforementioned Hawks series.
Harden by contrast, has only managed to average 30 points per game in two of his 24 complete playoff series during his career to date. His scoring touch and aggressiveness appear to have faded with wear-and-tear on the body, while playmaking numbers are down this term too.
He too was injured during Brooklyn's seven-game defeat by the Bucks last year and having returned for their final three games, his box score numbers didn't make for good reading.
Game 7, he almost posted a triple-double (22/9/9) but shot just 5-of-17 from the floor and 2-of-12 from deep, the fifth time he's hit those percentages or lower in an elimination game.
The biggest criticism of head coach Rivers, at least from those close to me, is that he's far too reactive a head coach to make any necessary adjustments until they're too late in a postseason series. So, can he help the Embiid-Harden partnership work? We'll have to wait and see.
Picture source: Getty Images – screenshots via basketballreference.com