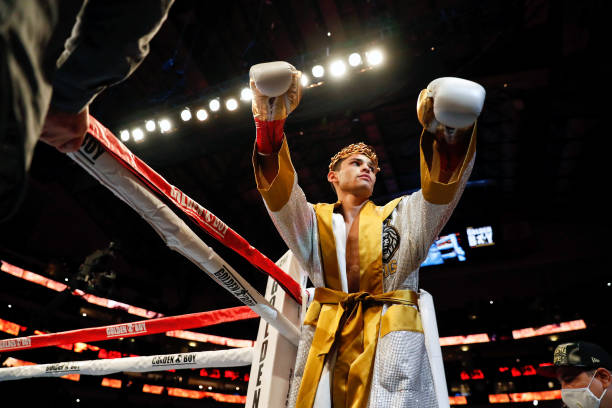 After departing Eddy Reynoso's tutelage last week citing a desire for independence and an opportunity to build his brand, lightweight contender Ryan Garcia is now with new coach Joe Goossen. Ahead of his return vs. Emmanuel Tagoe on Apr. 9, Goossen has this week claimed nobody will ever beat Garcia at his best. We'll wait to see whether he can inspire that next level.
time is ticking: following lengthy layoff, garcia must improve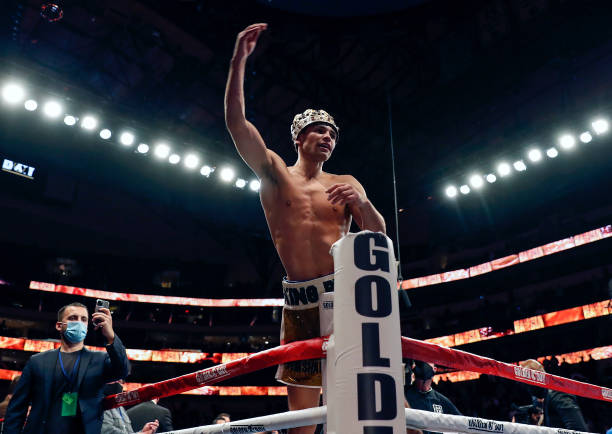 All being well, Ryan Garcia (21-0, 18 KOs) will end the longest inactive streak of his young pro career on Apr. 9 against former IBO lightweight champion Emmanuel Tagoe (32-1, 15 KOs).
It's not an eagerly-anticipated showdown against three-weight world champion Gervonta Davis, nor Isaac Cruz or a sexy name at 135lbs, but all things considered, expectations must be tempered. If Keith Thurman's return is anything to go by, it'll do as far as shaking ring rust off.
464 days after his R7 TKO win over Luke Campbell, rallying from a second-round knockdown to overwhelm the Olympic gold medallist, Garcia's return is scheduled in a busy month for boxing.
After withdrawing from a proposed bout to defend his interim belt vs. former WBA (Regular) super-featherweight champion Javier Fortuna citing mental health issues, Joseph Diaz stepped up and earned a UD win on July 9, becoming Devin Haney's mandatory challenger.
Remember this? Garcia's not worried about Campbell, here to conquer the LW division
Diaz was pencilled in to defend his new belt against Garcia on Nov. 27, but Ryan sustained a right-hand injury during training camp requiring surgery. Instead, a week later, Diaz would face Haney and ultimately fell short in his attempt to become a two-weight world champion.
So, to say 2021 was a bumpy year for Garcia is putting it mildly.
Stripped of his WBC interim status at 135lbs, suffering mental health issues and injured midway through camp ahead of an end-of-year return, far from ideal. The decision to depart Reynoso and co, while bold, also doesn't exude much confidence considering their success together.
He was 5-0 with five knockouts fighting under Reynoso, who many regard as the world's best trainer, but has now surprisingly decided to end a three-and-a-half year coaching run. 
"The main thing is that Ryan did not want to feel that he was in somebody else's, you know, he felt his brand can hold up, just like Floyd Mayweather Jr. when [Floyd] decided to move away from Top Rank and start his own thing.

He just didn't want to feel confined to one area where you wait until they decide to work out, we want to have our own place and what's wrong with that? Eddy helped me tremendously, we wanted to be with a championship coach so I can experience it myself. Nobody knows my son better than I do."
Whether fairly or not, the questions over his mental strength and dedication to the sport will be even more heightened now that he's not surrounding himself with the same world champion names like Canelo Álvarez and Oscar Valdez, especially given his heavy social media presence.
---
will Goossen be the man to cement garcia as a world champion?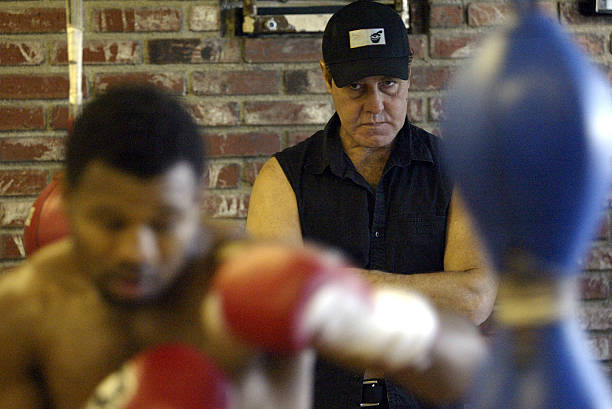 While his father Henry was keen to take inspiration from the Floyd Mayweather model, it's clear that there is renewed optimism about what the future holds with Joe Goossen's guidance now.
With a well-documented past between the Garcia family and Goossen dating back to Ryan's amateur days, it's certainly helpful to have these long-lasting relationships already in place so there won't be as much of a settling in period like most fighter-trainer partnerships often are.
During an interview with BoxingScene, the 68-year-old had plenty to say, including:
"Once I got in the car, I was all in and not looking back.

The fact that I'm packing up and moving to another city speaks for itself, I'm really gung ho on Ryan, always been a huge advocate of him and said it in the past, the beginning of his career, I'll say it again.

Nobody will ever beat Ryan Garcia when he is at his best. As a trainer, when you have somebody of that nature, it's incredibly inspiring and motivating.

I've been watching Ryan's progress, seen his maturity and prowess, really coming into his own and just starting to feel his oats. He'll hit harder than ever, the difference in strength is palpable for 23 going on 24 than 22 going on 23.

I don't think I have to draw any lines or set ground rules, he's motivated on his own right now – quite aware of what he can accomplish and the mark he can make in boxing as a superstar. He's looking to be the best he could be."
Goossen, in the California Hall of Fame, has coached world champions like Diego Corrales, Joel Casamayor, Shane Mosley to name a few – while working with Russian welterweight contender Sergey Lipinets and a freshly motivated heavyweight veteran in Chris Arreola more recently.
However, the drop-off in level is obvious and many critics feel there's an unwritten reason why the top divisional contenders and champions are instead choosing other names to train them.
On his podcast earlier this week, former two-time welterweight champion Shawn Porter told an anecdote about Goossen's stubborn attitude rubbing off the wrong way on a fighter he was coaching in training camp while likening that stance to one his own dad Kenny often adopts.
"Joe is a scenarios kinda guy, probably break down all these scenarios, this is what you do when this happens, make it make sense in a way that will help being able to see things quicker, react quicker and stuff like that.

You've got to be comfortable being uncomfortable. Joe doesn't care about the money, fame he'll gain from doing this, he's done and lived it. Ryan has a good thing coming: stern, knows what he's talking about, can help him improve."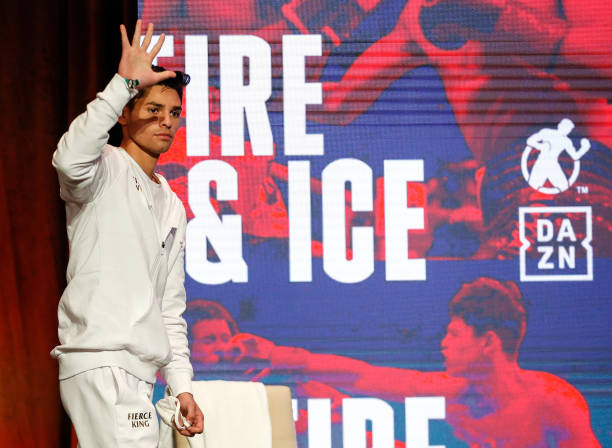 Naturally, that style doesn't always translate well and can often prove a sticking point of contention between fighter-trainer especially in a ego-driven environment like boxing.
But, as far as dynamics are concerned, it depends on the person. Some fighters need tough love, others need positive reinforcement. Having been coached by father Henry for his first 16 professional fights, the Reynoso change helped elevate him to the next level. Why deviate now?
Blistering hand speed and knockout power have been Garcia's strongest weapons to date, though he needs to sharpen his defensive skills and footwork if he's to fulfill this high potential.
"Once we start working, if corrections need to be made, they will be addressed. There isn't anybody out there that doesn't need a set of eyes to offer ongoing suggestions, I don't care how far you've come, there are always things you can work on, I'm going to take it as it comes.

I teach boxing, but also know that certain styles fit certain fighters, mindsets and personalities. You teach the style they prefer, and to the opponent we're fighting, strategise based on that. We will train, drill and put a gameplan together to beat Tagoe come April 9."
Boxing waits for no man and while Garcia has continued to talk a big game, the month of April presents him a chance to produce a statement with those atop the division still deadlocked in talks surrounding George Kambosos Jr's first title defence: Haney or Vasiliy Lomachenko.
Picture source: Getty Images — quotes via BoxingScene