Khabib Nurmagomedov's protege, Islam Makhachev, has long been tipped to capture UFC lightweight gold. Yet this weekend while preparing for his second main event, it'll be another instance where he's fighting down to the level of short-notice competition in a bullish Bobby Green after the eighth withdrawal or cancellation since signing with the promotion in 2015.
Makhachev asked for ranked opponents, Green answered the call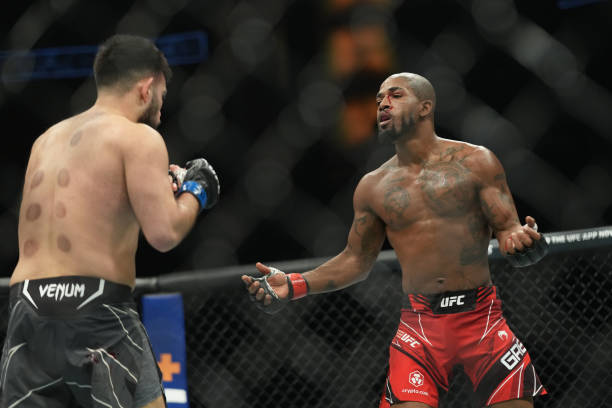 After #3 ranked Beneil Dariush (foot) pulled out earlier this month, Islam Makhachev (21-1 MMA, 10-1 UFC) was still hopeful the promotion would find him a ranked opponent to headline against this coming weekend. Unsurprisingly though, given his high standing and promotional push, no-one in the top-15 rankings at 155lbs was seemingly willing to answer the challenge.
Having produced a slick showing vs. Nasrat Haqparast at UFC 271, bullish vet Bobby Green (29-12-1 MMA, 10-7-1 UFC) did just that and Saturday's card will now be headlined by a 160-pound catchweight clash between two fighters finding themselves in contrasting circumstances.
Green, who notched five Strikeforce fights before the company merged with the UFC in 2013, has strung together successive victories in quick succession and finds himself deservedly rewarded with a maiden main event bill for his post-lockdown activity (5-2 since Jun. 2020).
His two defeats were against ranked opponents, in Thiago Moises (#14 at the time) and rising star Rafael Fiziev (#11). Fiziev is perhaps one of few contenders busy himself, with an intriguing battle vs. Rafael dos Anjos (#6), rescheduled for the co-main event slot at UFC 272 on March 5.
Former champion dos Anjos, while on the decline at 37-years-old, remains a credible challenge for any aspiring contender and that's why it made sense as far as Makhachev was concerned.
The fight was booked and cancelled three separate times for different reasons (Oct, Nov 20, Nov. 21) and in the meantime, Islam has gone about his business efficiently – three wins and finishes in them all, two at PPV events and his first headliner against the aforementioned Moises.
---
Unlucky or not, Makhachev must continue winning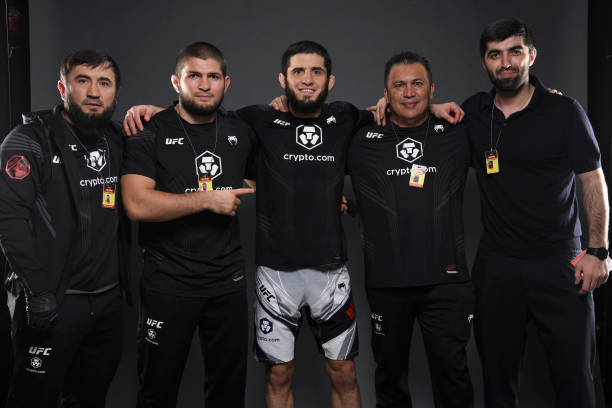 Although he's continued to rack up an impressive 10-fight win streak, the names themselves don't do much to move the needle as far as the true quality of his title aspirations are concerned.
Drew Dober always felt like a stylistic mismatch on paper and so it proved, while Moises and Dan Hooker – moving back to 145lbs – were both ranked wins, albeit on the low end of the scale.
Hooker, who took the fight on short-notice after dos Anjos' third withdrawal, looked overwhelmed while Moises was mauled in a humbling fourth-round submission defeat.
Considering his style, one Green described as boring on Wednesday's media day, it's not exactly surprising no top contenders want to face him – especially without a full training camp.
Michael Chandler (#5) and former interim champion Tony Ferguson (#7) appear destined to face one another in the not-too-distant future, to the point where the former last week revealed he's already begun a training camp and is eager to return before the summer months.
While he might still get what he wants, it wouldn't make sense for either of them to fight Islam on short-notice, even with less to theoretically lose, especially given both are on losing streaks.
Green is an overwhelming underdog and will be aware that his prospects seem ominous this weekend, but the 35-year-old's historically been one often enough that it won't matter to him.
A fan favourite who has shown he's getting better with age, his showing against Fiziev last summer was case in point to the notion fighters often compete to the level of their opponent.
Makhachev hopes for wholesale changes at 155lbs, but has a job to do first against a bullish adversary who has taken this main event opportunity on 10 days' notice.
He's also applied pressure on himself by predicting a first-round finish – the last time Green lost in R1 was against former interim titlist Dustin Poirier at UFC 199 in June 2016.
"When Ali [Abdelaziz, his manager] called me and said Beneil have injured, I tell him we have RDA [dos Anjos], he's supposed to fight with Rafael but [Fiziev] have some problem with visa.

I say he's ready, I think, call him and he say he don't want [the fight]. I say call Tony [Ferguson], Gillespie, Michael Chandler, someone… and just Bobby gave me answer. I think this guy need some little bit of money, that's why.

All these guys from top-10, they talk too much and that's it because without rankings we have many good fighters, it's very hard to jump to top-15.

We have to change all these old people and very soon we're gonna change the king in 155, very soon we're gonna change this division.

I really believe [I'm next in line for Oliveira/Gaethje winner] because I deserve this, it's gonna be a 10-fight win streak and this is key for the title fight. That's why it doesn't matter who, I just ask all the time for someone ranked.

They give me all these people, I smash all of them, just did my job, I have to beat this guy. Last three fights I finished all my opponents and next Bobby Green, and after it's gonna be a good match in Abu Dhabi I think."
Just like his mentor Khabib experienced, Makhachev's winning streak hasn't reached unavoidable levels yet – even if top contenders aren't in a rush to fight him for obvious reasons.
It's high-risk and low-reward, as far as they're concerned, unless it's a no. 1 contender fight – which the Dariush matchup initially appeared.
Given the landscape, one can't help but wonder how soon Dariush can fully recover from his injury, but besides those two, there's no clear no. 1 contender after perennial contender Dustin Poirier (#2) and Chandler both fell short against reigning champion Charles Oliveira last year.
Picture source: Getty Images, opening picture via mmajunkie