Despite insisting he isn't overlooking WBO mandatory challenger Jack Catterall ahead of Saturday night's showdown, undisputed light-welterweight champion Josh Taylor has continued to hint at moving up to welterweight while stressing there's only one opponent he's currently interested in fighting at 147lbs: unbeaten WBO titlist Terence Crawford. Will he? 

first title defence: Taylor vs. long overdue mandatory catterall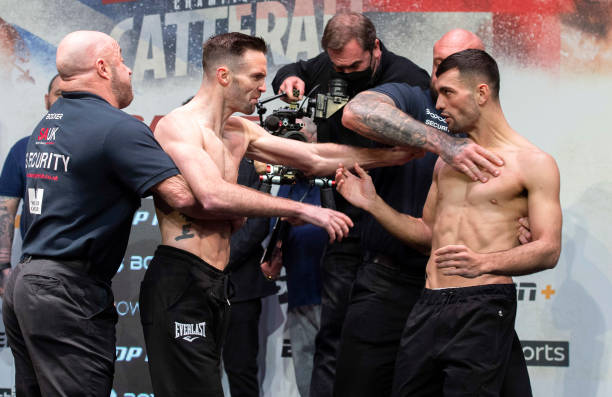 Saturday, live from 7pm BST – Light-welterweight: Josh Taylor (c) vs Jack Catterall (#1 WBO)
After sustaining a knee injury in training which set this fight back two months, Taylor hoping for a more active 2022 campaign after infrequent in-ring activity of late
"I just think I know how to beat him, can match him for everything in the game," Taylor on his chances against smaller but highly-skilled Crawford (38-0, 29 KOs) test
31-year-old Scottish southpaw (18-0, 13 KOs) faces a fellow unbeaten southpaw boxer in Lancashire-born Catterall (26-0, 13 KOs) on Saturday, defending all four 140lb titles
In recent months, Josh Taylor has gone back-and-forth with being open to remain at light-welterweight for the rest of his career – and seemingly itching for a move up to welterweight.
You can easily see from his weight drained frame that, win or lose tomorrow, his long-term future lies at 147lbs as far as sanctity of the Scot's health and well-being are concerned. That notion is strengthened by his public desire to be more active – wishfully calling for three fights this year.
Having watched ringside as Crawford scored a tenth-round TKO win over Shawn Porter in November for his fifth title defence, Taylor was quizzed by reporters: how would you beat him?
He laughed it off, aware how his words would be perceived – especially with unfinished business himself to take care of at 140lbs. But it's clear that he rates Bud as the division's best, not IBF and WBC titlist Errol Spence Jr or Manny Pacquiao's final conqueror WBA champion Yordenis Ugas.
ALSO READ: Rematch Ugas or retire? Assessing the Manny Pacquiao predicament
The aforementioned pair are slated to unify the belts in an intriguing contest on Apr. 16, but Taylor appears more interested on Crawford as well as the unprecedented history that would come with their contest: the first and second undisputed champions at 140lbs sharing the ring.
Despite Crawford no longer being partnered with Taylor's promoter, Top Rank and Bob Arum, the 31-year-old is convinced it'd be easy to theoretically set up. Per BoxingScene, he said:
"I think it's very realistic, that is a mouthwatering fight, you know, undisputed champion versus undisputed champ at welterweight… hopefully I can beat him to the punch of being a two-weight undisputed champion and become the first to ever do it at two weights."
---
Addressing the all-important question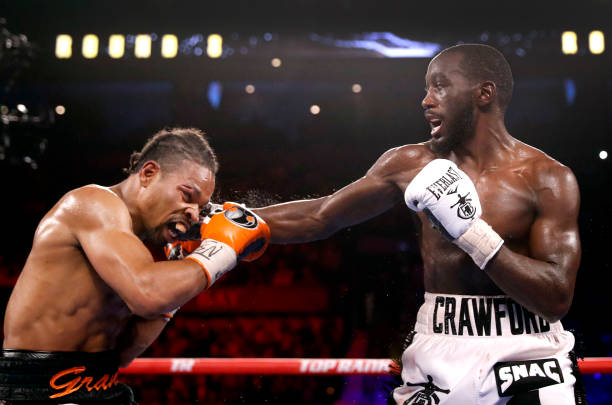 Crawford has won world titles in three weight classes and while not as active as he'd like either, has consistently justified his standing as one of the top boxers, pound-for-pound, in the world.
Taylor, while less experienced at the championship level, isn't intimidated by the prospect of a challenge against Crawford – much like the pair of highly-rated hungry young guns at 147lbs.
"I just think I know how to beat him, can box like him – a good rhythm boxer – can fight as well, match his skills, I can match him for everything in the game.

So yeah, I feel really confident in myself at the minute, feel good, all I need to do is move up to welterweight. I've got my nutrition on point but there's no wiggle room for me now to put on more size or strength, you know? I'm at my limit… moving up to 147, it's seven extra pounds to play with.

I can put a whole lot of strength on and put size on, and be more natural at the weight. I think that will suit me down to the ground, especially now that I'm 31, mature and coming into my prime. It'll be a perfect time to move up to welterweight and fill in and be a beast at 147 as well."
---
… Don't forget about what's immediately ahead
Catterall is a considerable pre-fight underdog, much like George Kambosos Jr was before his hard-fought lightweight title victory over Teofimo Lopez last November. It's clear that Taylor has bigger fish to fry, but cannot afford any misteps – a big fight awaits, which El Gato is relishing.
"It's a challenge I'm relishing, feel the fight week buzz now, excited to get stuck in on Saturday. It's been a long journey to get to this point, been mandatory for two years with a lot of roadblocks in the way, but I can put that behind me.

I'm not coming here to make up the numbers, I've been in the gym working continuously for this opportunity. The respect is there, but me and Josh both know that when the bell goes, we're going to punch each other's heads in."
Picture source: Getty Images — all quotes via BoxingScene