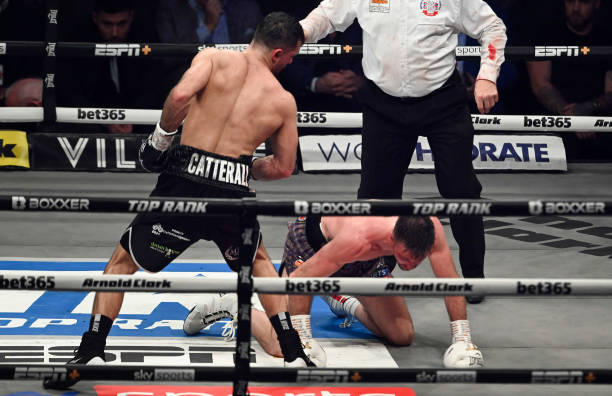 Against the odds, WBO light-welterweight mandatory challenger Jack Catterall produced a coming of age display in enemy territory to leave undisputed champion Josh Taylor flummoxed – scoring an eighth-round knockdown to boot. Ultimately his boxing excellence went unrewarded, after some egregious scorecards ringside marred a memorable night's work.
Taylor squeaks past, but truthfully lost rather convincingly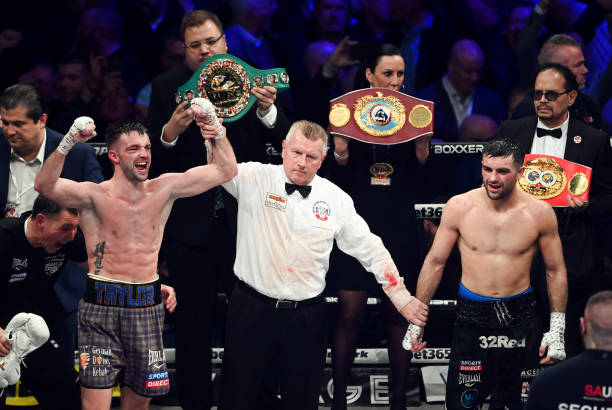 113-112 Catterall, 114-111 Taylor, 113-112 Josh Taylor retains his titles via split decision
Even with the increasingly long wait for the judges' scorecards to be announced, those watching on in the Glasgow crowd couldn't have been thinking things would unfold the way they did.
So on a night where Jack Catterall made a fool of those expecting him to get blasted out in a few rounds, in the biggest night of his professional career, instead we're stuck talking about the accountability – or lack thereof – of a sport that has long had a problem judging fights properly.
Ala Kambosos Jr in November, the 28-year-old defied the odds and didn't get knocked down either, instead cruising against an uneasy undisputed champion who looked perplexed as he tried and failed breaking down an opponent many were uncomfortably too quick to overlook.
Instead though, Catterall and his team suffered the sport's highest injustice – not one or two, but three scorecards of contrasting variance which belied his night's work. That includes the 113-112 in his favour, such was his dominance and an eighth-round knockdown which had been coming.
For all of Taylor's dirty boxing in the clinch, Catterall worked his jab well and landed good combinations with sustained success as the fight wore on.
When he'd inadvertently invite pressure by waiting too long in the pocket, the Scotsman would be encouraged to fight fire with fire – often emerging second best, much to the crowd's surprise.
A nice left hand and deft uppercut in R3 by the challenger echoed that, before more timeouts and further damage was absorbed by a struggling Scot at home.
Staying low to avoid being hit clean too often, Catterall landed a beautiful three-punch combo in the fifth as his shoulder roll and lateral movement came to the fore, showcasing sharp skills many assumed he didn't have at this level. Oh, he did.
He landed a big left in the sixth, while poking more jabs across the champion's face and unleashing further one-two combos. Smothering the Scot and stifling his attacks, the knockdown was further evidence of his brilliant boxing, hitting him clean to the side of his head.
"Championship mentality, you've got to switch on," bellowed Taylor's head coach Ben Davison after seeing his figher touch the canvas for the first time in his pro career. It felt futile and desperate to expect those instructions to have any real effect, but the judges had other ideas.
Victor Loughlin: 113-112 Catterall
Howard Foster: 113-112 Taylor
Ian John-Lewis: 114-111 Taylor
BOXXER promoter Ben Shalom had some choice words to say about the decision and how it reflects on the sport afterwards, calling for an inquest while questioning whether there was something underhand going on behind-the-scenes during a conversation with talkSPORT.
The argument of judging incompetence or naivety cannot be justifiably raised in a situation like this, especially when taking their respective point deductions into account.
Referee Marcus McDonnell called multiple timeouts and repeatedly warned both boxers for what quickly turned into a scrappy affair, but his admonishment largely went unpunished.
Catterall got one in R10 for punching low and pulling Taylor's head down when they clinched, ignoring the official's prior warnings as if they were just lip service to help improve optics.
While he didn't complain, Taylor did after having a point taken off at the end of R11 for needlessly punching once the bell had gone to signal the round's end. It summed up an evening that quickly evaded the Scot from the early rounds, ruining his homecoming in the worse way.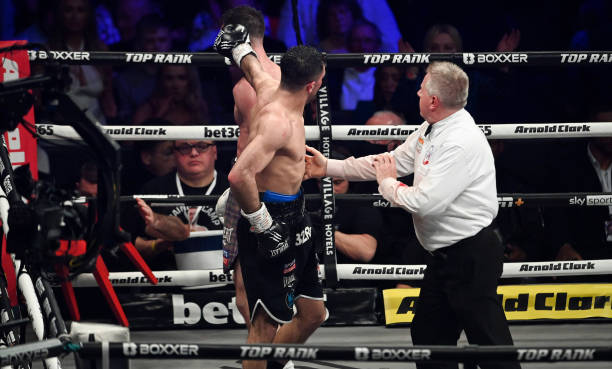 By that stage, you could only say with much conviction that he'd won three rounds: R2, R7 and R10. The easiest giveaway was his corner, as trainer Davison's desire for urgency was easier said than done against a man who was controlling the fight's pacing and picking him apart at range.
This was billed as the battle of two unbeaten southpaws, one with considerably more world-class experience than the other, but it was the overlooked contender who looked slick, Catterall imposing his will from the opening bell and Taylor soon found out it'd be a long evening indeed.
Having absorbed 120 punches – more than half of them power shots – and been outlanded in eleven of the twelve rounds, perhaps only blind pride meant the 28-year-old repeatedly insisted the right man won and there was no reason for a rematch post-fight. After all, he's moving up.
Yesterday's piece, which centred around Taylor's desire for a Terence Crawford matchup at 147lbs, seemed fitting. Naturally the pound-for-pound star watched on with a vested interest and like many, wouldn't have been impressed by what he saw:
Whether he struggled with the weight or not, that will all sound like excuses – especially having clearly been outboxed from start to finish. It goes without saying that Taylor cannot afford to fight like that at 147lbs, after watching one of the most unjust results I've seen in my lifetime.
Fair or not, boxing is bolstered by recency bias and Taylor's behaviour post-fight will only add accelerant to the flames he – like Teofimo Lopez – has believed his own hype in recent years.
Sure, this is only one poor display, but in the grand scheme of what-have-you-done-for-me-lately, 2022 couldn't have started worse for a champion now hoping to establish himself at a higher, more fierce weight class – especially if unable to secure the Crawford bout he so craves.
What next for Catterall? Who knows. Cruelly denied his career night here, having toiled away for years, and will always have unfinished business now. With no rematch clause, surely the BBofC must review and overturn this decision to a no-contest at least? Well, don't hold your breath.
Picture source: Getty Images — stats picture via BoxingScene