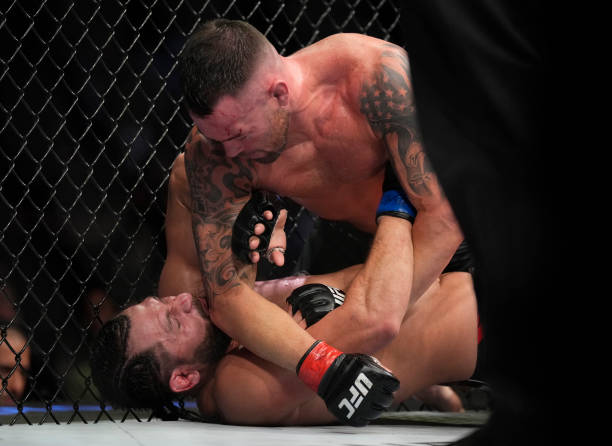 Colby Covington's wrestling proved key en route to a dominant decision win against Jorge Masvidal, in a grudge match between friends turned foes. Elsewhere, there were big wins for surging featherweight contender Bryce Mitchell and Kevin Holland on his debut at 170lbs, while Marina Rodriguez (#3) asserted her case for a shot at Rose Namajunas' strawweight strap.

Covington largely in command throughout vs. rueful Masvidal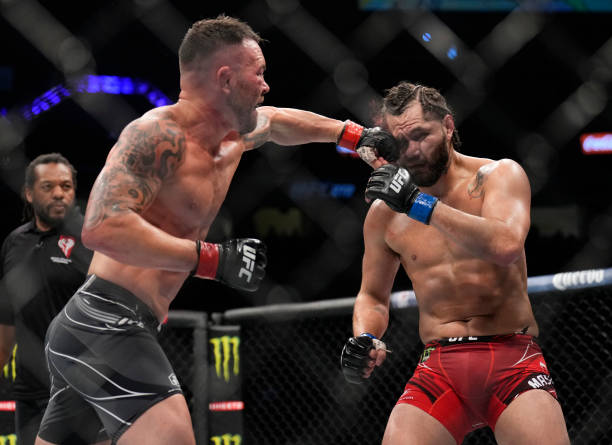 49-46, 50-44, 50-45: Colby Covington (#1) defeats Jorge Masvidal (#6) via UD
Covington improves to 17-3, returns to winning ways after losing Kamaru Usman title rematch on Nov. 6 in this battle of former welterweight championship challengers
Covington reignites Dustin Poirier feud post-fight: "I just took care of Miami street trash, now it's time to take care of Louisiana swamp trash, where you at Dustin?"
Masvidal rues lethargic performance: "I didn't have it, was off-beat with the wrestling, flat-footed today and should've had more moments like that [R4 knockdown]."
In the post-fight presser, Masvidal reveals Colby's unpunished R1 eyepoke was still affecting him: "The only thing hurting on me is my eye, [referee] Herb should've stopped it and let me get my breath back… it's been an hour and it's still throbbing."
All through fight week, former interim welterweight titlist Colby Covington vowed to inflict irreversible damage on Jorge Masvidal and while it was dicey at times, including absorbing a fourth-round knockdown, the #1 contender was largely in cruise control against Gamebred.
Masvidal began quickly, loading up on leg kicks after a flying knee to start. He briefly complained to referee Herb Dean about an eyepoke, which was ignored, while Covington began shooting for takedowns on an evening where his relentless pressure paid dividends.
After video replay, Colby was admonished for the aforementioned eyepoke and later penalised for a deliberate low blow, losing the position he had worked hard to establish up against the cage, handwrapping Masvidal some encouragement in what was quickly looking one-sided.
That didn't last long though, as Covington's spatial awareness and wrestling pedigree saw him reverse a precarious position before throwing multiple triple jab combos on the feet, buzzing Jorge – whose counterstriking was good, but his head movement was worryingly lacking.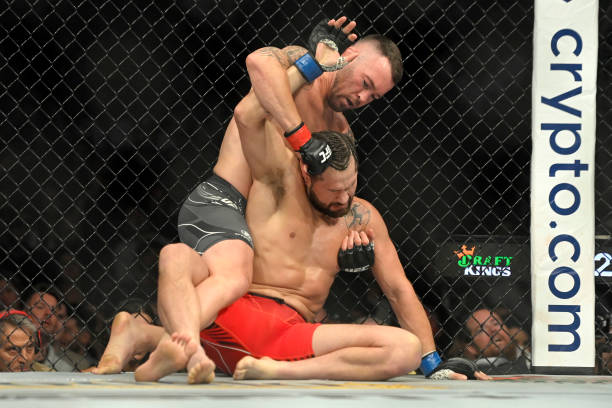 In the third round, Covington's dominance really showed. Elbows, short punches, hammer fists, hard ground-and-pound in top control to the head and body kept Masvidal under increasing duress, as Chaos threatened a few submissions including a rear-naked choke and neck crank.
Excellent wrestling transitions and scrambles helped him reaffirm that advantageous positioning as Jorge tried to powerfully explode upwards and assert his will, though a 10-second burst on the feet to finish the stanza was never going to be enough to convince any judge otherwise.
It was more frenetic in the fourth, as Covington stumbled him with a looping uppercut in the pocket before landing a punch flurry that had him backed up defensively against the fence.
Just as soon as you sensed a finishing sequence was near, Masvidal landed a counter right to score a knockdown. While brief, it had everyone on their feet as suddenly the tide was turning.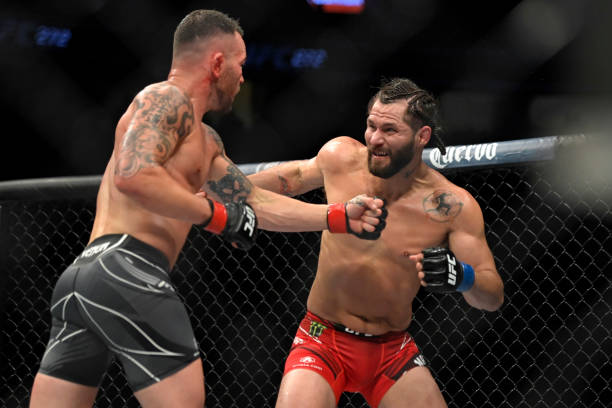 Or so they thought. Masvidal, clearly fatigued after being worn down on the ground, allowed Covington ample time to recover as the crowd were soon booing once Colby returned to the wrestling base which had given him such success. If there was any doubt, he erased that in R5.
In the early moments, Covington raced to another takedown attempt. Making Masvidal carry his weight up against the fence, he tried to sink his hooks in. Chipping away with punches aplenty, logging more than 10 minutes' ground control time, eventually an end was put to the damage.
---
dos Anjos outlasts gutsy Moicano on short-notice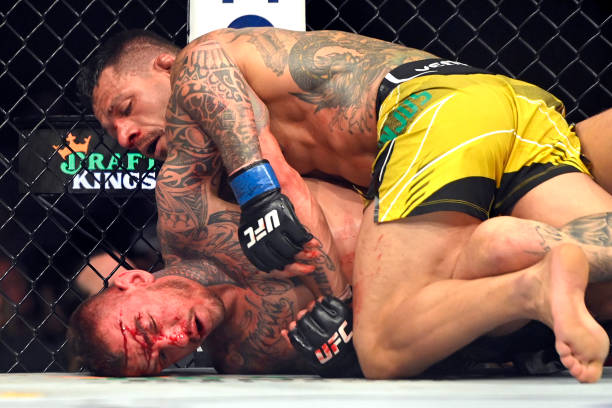 49-45, 49-44, 50-44: Rafael dos Anjos (#6) defeats Renato Moicano via unanimous decision
After earning an impressive submission win over Alexander Hernandez at UFC 271, Renato Moicano didn't think he'd be facing Rafael dos Anjos in a five-round co-main event on a few days' notice, but happily answered the call against his accomplished, veteran compatriot.
However, the 32-year-old – who has shared the octagon with former featherweight champion Jose Aldo, as well as Brian Ortega and Korean Zombie among others in previous years – started furiously here and was made to pay for poor pacing against a patient, deadly dos Anjos showing.
Having been dominated on the ground for the first two rounds, only he will know how he managed to survive the third.
Absorbing a head kick to the side of his head, as well as an ominous flurry of unanswered punches, Renato showed awareness to defend himself intelligently enough for referee Marc Goddard not to intervene despite some nasty ground-and-pound strikes too.
Following a brief doctor's assessment between rounds, on they went into the fourth although Moicano's left eye was almost fully shut and he looked spent. dos Anjos swiftly took the fight back down to the canvas after eating a few too many one-two punch combos for comfort.
Keen to secure a finish, Rafael flirted with submission attempts but couldn't secure any. Another lengthy evaluation, first from the doctor and then Goddard himself before the round began, the referee issued a stern warning: show me something in the first 30 seconds, or I'll stop this fight.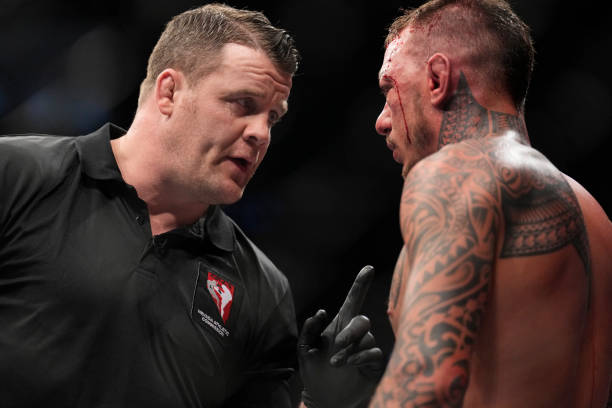 Moicano's toughness prevailed in the end, finishing with a boxing flourish as they exchanged strikes with the crowd's energy intensifying as RDA compassionately eased his feet off the pedal.
"I wanna thank Dana and Sean Shelby … a lot of people ran away, but Renato took the fight, five rounds on five days' notice. It's hard for me as well because I was training to fight [Rafael] Fiziev.

Moicano has an excellent ground game. 16 months since my last fight, there was a little bit of ring rust but I'm ready for whatever."
In the post-fight presser, dos Anjos reaffirmed his desire to fight good names and those who would motivate him to train hard in the gym. Fiziev, while a talented up-and-comer, isn't that.
"I'm 37, have pretty much fought everybody in two divisions. I have a 60-day suspension, the Conor [McGregor] fight makes sense. He broke his leg, I've been off 16 months, we have history.

[10th fighter to reach 20 UFC victories, thoughts?]

It feels great, pretty happy with the company and treatment I get, still have a lot [of time] on me, my coaches are getting the best from me."
---
Mitchell masterful against Barboza, improves to 15-0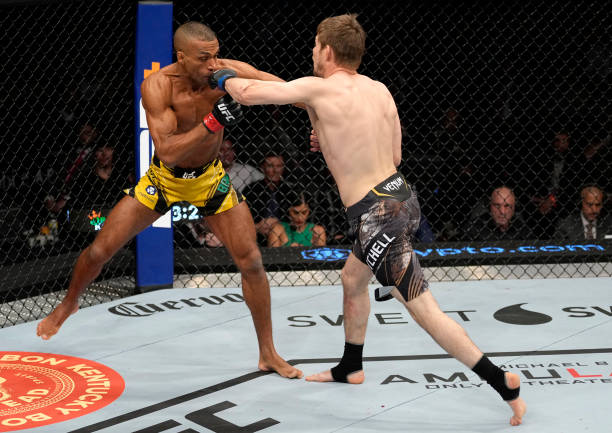 30-25, 30-26, 30-27: Bryce Mitchell (#11) defeats Edson Barboza (#10) via UD
Billed as a crossroads fight for both, Brazilian veteran Edson Barboza stressed he wouldn't be utilised as a stepping stone against surging young featherweight contender Bryce Mitchell.
Despite loading up on kicks aplenty in the first two minutes, the 36-year-old soon found himself with his head against the fence after absorbing a big left-hand that connected clean on his chin, and suddenly he was trying (and struggling) to defend from a repeated onslaught on the ground.
Exploding up with half-a-minute to go in R1, he finished it strong – perhaps a sign this wasn't a foregone conclusion just yet.
Early in the second, Barboza's kicks continued and soon enough Mitchell caught one before charging for a takedown in the middle of the octagon. Ground strikes aplenty were landed, as Thug Nasty's minutes in control intensified as he rained down punishment.
It took a considerable effort to return to his feet, and it was only briefly, as Mitchell seized the initiative once more while blood continued pouring from the left side of Barboza's face right in-front of his grappling coaches.
Into the third they went and Barboza, who knew he needed a finish, tried to box and keep the fight standing. That proved easier said than done though, with Mitchell perfectly timing a takedown entry and pushing him back down to the canvas once more (4/4 on takedowns).
The Brazilian, for all of his striking skills, had no answers for Mitchell's masterful ground game and instead was beaten to the punch – literally – against a rising contender who won fans aplenty throughout these last few weeks with his relatable personality shining through in the media.
"A lot of stuff I feel I can tighten up, nothing is broken… a lot of people get hurt against him, gonna need a little bit of [recovery] time but I'm okay.

Surprised I couldn't check his leg kicks, just resorted to getting the hell out the way. I'll still do something [despite Dana donating the above], I'm planting the seed, it's all about giving back.

The greatest thing I can do in the cage? Inspire people. $45,000 really ain't shit, gone in a couple skin grafts, a surgery. If I can inspire others, it's limitless. Just waiting in the lunch line for a title shot, doing everything I gotta do to earn it."

Mitchell's post-fight presser, on his win, giving back to the Arkansas community and earning his status as a future featherweight title contender
---
Rest of the main card as holland, spivak earn ko victories
2020 Fighter of the Year Kevin Holland had a welterweight debut to savour, overcoming an inconsistent first-round to overwhelm Alex Oliveira with a second-round TKO win via elbows.
After going 0-2 with one no contest in his last three fights, the Trailblazer is back in the win column and you saw him feeding off the crowd's energy as he retained his #14 ranking at 170lbs.
To start the main card, Moldova's Sergey Spivak promised to produce a statement display and did precisely that at heavyweight with a furious first-round TKO finish against Greg Hardy.
The former NFL defensive end looked all at sea again and was swiftly taken down despite a considerable weight disparity, something we've seen a few times before, en route to another rough defeat – his third straight, meaning he's 4-5 with one no contest since his debut in 2019.
---
Prelim results as turner, rodriguez earn impressive wins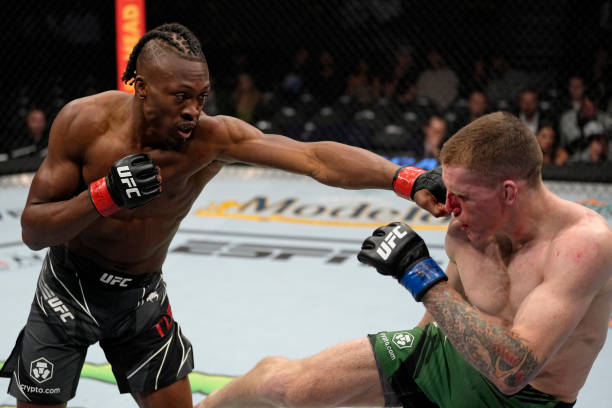 In the lightweight division, Contender Series graduate Jalin Turner produced an impressive second-round TKO win over Jamie Mullarkey to finish the night's prelims with aplomb.
Justified surprise this matchup wasn't featured on the main card, women's strawweight contender Marina Rodriguez (#3) edged herself closer to a maiden title shot and is now unbeaten in four after a gritty split decision victory (29–28, 28–29, 29–28) against Yan Xiaonan.
She endured a so-so start, finding herself outstruck from the opening horn by a fierce-starting opponent who wasted no time in landing fast punch combos to emphasise the speed difference.
Helped by solid takedown defence, effective clinch work and punch combos of her own, she levelled the scoring through ten minutes – at least on two judges' scorecards – finishing with a whipping right-hand punch which wobbled Xiaonan backwards just before the horn sounded.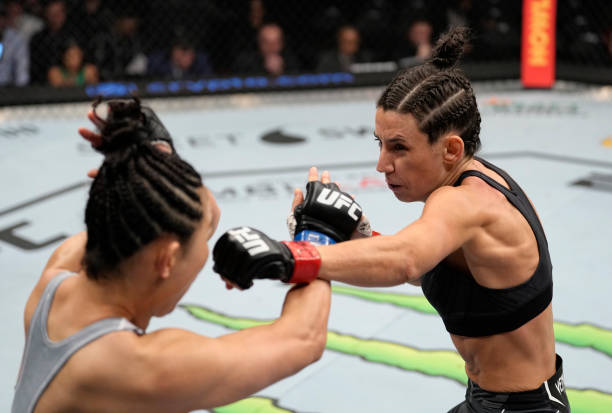 Rodriguez's boxing paid dividends with Xiaonan circling away where possible and being beaten to the punch too often for comfort in a competitive clash that could've gone either way.
They engaged in a firefight to finish, perhaps aware the matchup was still finely poised, but Rodriguez – even with a cut above her right eye – had the better of their exchanges.
It wasn't the best display but didn't need to be for Romanian light-heavyweight Nicolae Negumeranu, en route to a split decision win (27–29, 29–27, 29–27) vs Kennedy Nzechukwu.
A matchup marred by the Nigerian being penalised for multiple eyepokes, he has now lost successive fights in the space of four months after a KO defeat by Da Un Jung in November.
27-year-old Negumeranu, who lost on his promotional debut in 2019, has now strung together three straight wins and was made to work hard for it after his right eye was seriously suffering.
In a long-awaited tussle at women's flyweight, Maryna Moroz had the last laugh against Mariya Agapova after a brief rivalry – logging a second-round submission via arm-triangle choke.
After R1 with transitions aplenty and submission attempts by both up against the fence, Moroz's strength advantages were utilised to devastating effect against her former training partner.
She took charge early in R2, landing some sustained vicious ground-and-pound strikes with little resistance before sinking in an arm-triangle choke, eventually securing the submission stoppage.
At flyweight, former title challenger Tim Elliott (#13) returned to winning ways with a surprising but very credible unanimous decision victory (29-28 x 3) over Tagir Ulanbekov (#15).
In the featherweight division meanwhile, Umar Nurmagomedov improved to 14-0 with a first-round submission victory via rear-naked choke against experienced vet Brian Kelleher.
Slovakian featherweight Ludovit Klein wants more short-notice fights, such is the psychological benefits to not having to gameplan for a specific fighter throughout an arduous training camp.
After suffering successive defeats for the first time in his career, he didn't disappoint on this occasion either – coming through on less than two weeks' notice en route to earning a split decision win (28–29, 29–28, 30–27) against Devonte Smith.
In the night's opener, light-heavyweight contender Dustin Jacoby rallied from a sluggish start to earn a UD win (29-28 x 3) against Michal Oleksiejczuk.
The 33-year-old, in his second UFC stint, remains unblemished (5-0-1, 2 KOs) since marking his return to the octagon with a Contender Series victory in August two years ago.
Up next: UFC Vegas 50 on March 12 — headlined by light-heavyweight contenders Thiago Santos (#5) and Magomed Ankalaev (#6), a matchup widely being billed as a title eliminator at 205lbs.

Picture source: Getty Images