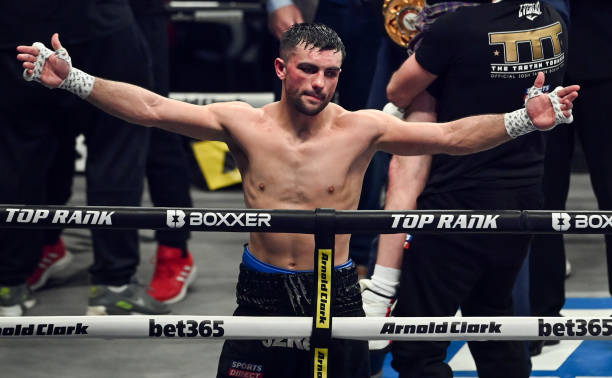 With the British Board of Control investigating the scorecards which saw heavy underdog Jack Catterall lose a highly-controversial split decision against undisputed light-welterweight champion Josh Taylor last month, the Scot's decision to move up in weight leaves the 28-year-old in an unenviable position as far as his ongoing pursuit of world titles is concerned.
taylor happy for catchweight rematch, but what's the point?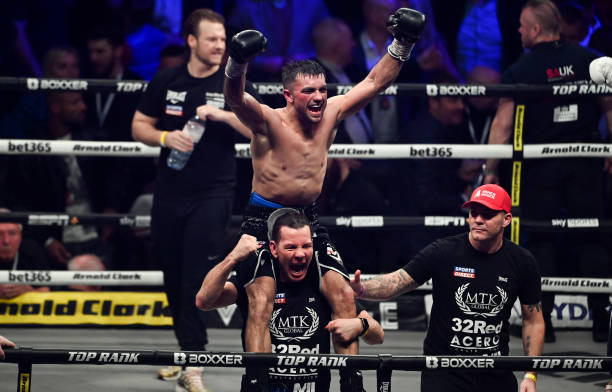 Catterall was pictured back in training earlier today, nine days removed from a career-defining night which had been cruelly ruined as undisputed 140lb champion Josh Taylor somehow managed to retain all four of his light-welterweight belts among home comforts in Glasgow.
On the evening in question, I wrote:
What next for Catterall? Who knows. Cruelly denied his career night here, having toiled away for years, and will always have unfinished business now. With no rematch clause, surely the BBofC must review and overturn this decision to a no-contest at least? Well, don't hold your breath.
Time has passed and still, nothing concrete has changed. Rematch talk feels more like settling the score for Taylor, especially after revealing he'd only be willing to fight at a catchweight:
"I think he [Catterall] deserves it, we'll see what happens down the line, why not. I'm certainly open to it, most likely at a catchweight, I can't make the weight anymore safely, I don't think, so we'll see but I'm keen for a rematch."
As far as Catterall and his team are concerned, finally becoming a world champion is of paramount importance now – rather than beating Taylor twice – even if the official record will show the contrary. Last month could yet prove the apex of his career and yet, went unrewarded.
Talking to Sky Sports News, his trainer Jamie Moore said:
"In an ideal world, if the right thing could be done and there was an independent inquiry into it, you'd like to think that the decision could be overturned, but that's not going to happen.

[If, in the event that Taylor rejects a 140lb rematch and moves up in weight] You'd like to think all the governing bodies would then decide that Jack was hard done by, it was a very controversial decision, let him fight for all the belts.

Politically, they've not always worked in sync with each other, but you'd like to think in a situation like this, where the vast majority of the boxing world are reading off the same page, that would happen."
While encouraging on paper, that's wishful thinking.
As highlighted in his comments, these governing bodies rarely play nicely with one another anyway and there's no financial incentive for them to help Catterall. He's not a big draw Stateside, was a significant pre-fight underdog and a mandatory challenger to begin with.
Also read: Ahead of rebooked 140lb title defence, Taylor eyeing welterweight move
Perhaps they'd feel more inclined to move the goalposts if Taylor lost a controversial result instead, but even he has spoken about moving up in weight – so what would be the point there?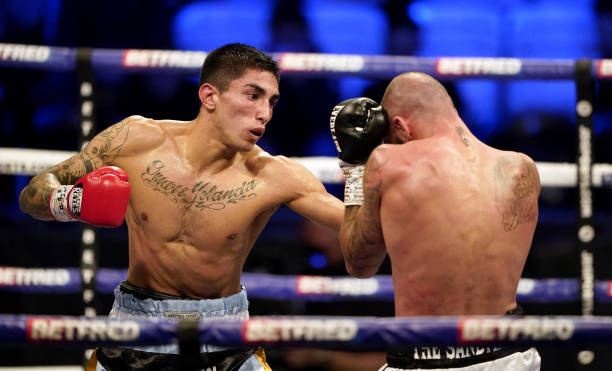 Taylor relinquishes his undisputed titles at 140lbs, these matchups would be made for his belts:
WBA: Alberto Puello (20-0, 10 KOs) vs Ismael Barroso (20-3-2, 19 KOs)
WBC: Jose Zepeda (35-2, 2 NC — 27 KOs) vs Jose Carlos Ramirez (27-1, 17 KOs)
IBF: Jeremias Ponce (29-0, 19 KOs) vs Subriel Matias (18-1, 18 KOs)
WBO: Jack Catterall (26-1, 13 KOs) vs. Liam Paro (22-0, 13 KOs)
Since being installed as the WBO mandatory challenger for then-champion Maurice Hooker in January 2019, it took three years and a month for Catterall to finally fight for world honours.
He was passed over on three separate occasions and kept ticking over with stay-busy fights in the meantime – step-aside deals agreed – waiting patiently in the wings for an opportunity he'd been working tirelessly for. Now, he'll have to wait even longer, as his mission for gold intensifies.
Picture source: Getty Images — quotes via BoxingScene