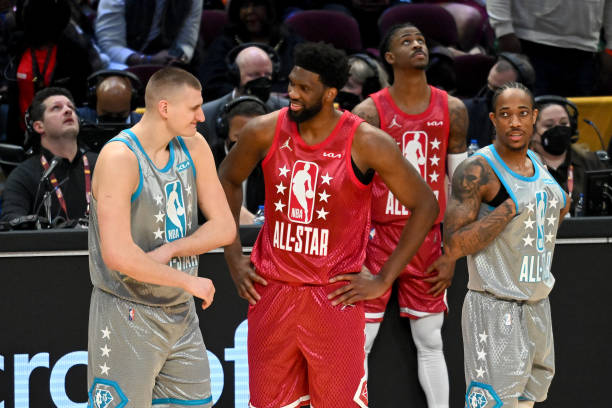 A few weeks removed from the All-Star break and now into the home straight for another eventful NBA season, I spoke to LA Clippers fan and NBA expert Jack Brown earlier this month – discussing multiple topics including: under-the-radar players, intriguing offseason storylines, the MVP race as well as why he has a surprise team emerging from the West come playoff time.
The second sentence of my last Q&A feature heralded a new superpower in Brooklyn, one who were seemingly ready to dominate their Eastern Conference rivals.
Their superstar attack was shaken up by a blockbuster deadline day trade on Feb. 10, sending James Harden to Philadelphia – with Ben Simmons (and others besides) going the other way.
Kyrie Irving's decision not to get vaccinated means he's only played 17 regular season games, all since debuting on Jan. 5, so Brooklyn's title ambitions have waned drastically in recent months.
But, as evidenced by his historic 50-point display in Charlotte overnight, Kyrie's presence could decide whether they embark on a deep run alongside Kevin Durant and their supporting cast.
READ: October 2021 – Naive or not, Durant's visualisations of Irving are echoed by many
DeMar DeRozan silenced his naysayers rather quickly this term and is playing at an MVP level among new surroundings in Chicago, while reigning MVP Jokic and Harden's new All-Star teammate Joel Embiid appear favourites to clinch the year's highly-coveted individual accolade.
Memphis, what's their ceiling with Ja Morant surging ahead? Centered around Darius Garland and Evan Mobley, how good are the Cavaliers? What will New Orleans do about their Zion Williamson situation? There are questions aplenty and intriguing storylines to track leaguewide.
So, I spoke with LA Clippers expert and fan Jack Brown, for his thoughts and importantly to hear another voice besides mine in an ever-changing season with twists and turns to come.
All player stats mentioned in this piece are correct to March 9th, unless stated otherwise. As this is a Q&A, Mosope (MO) and Jack (JB) are denoted in the conversation throughout.
---
MVP race, under-the-radar players and teams, underachievers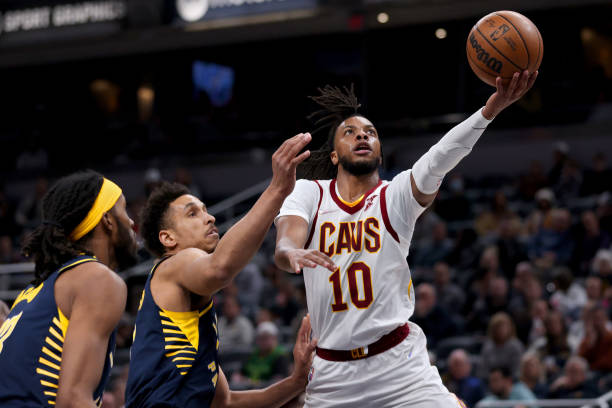 Mosope: OK, starting with a bang. If the season were to end today, who wins the MVP award?
Jack: In no particular order, one of DeRozan, Morant, Embiid or Jokic. I'm going with Joel.
He's been the biggest different maker, everyone else you could have an argument about besides Jokic. Leads the league in scoring (29.7 PPG) and has the most 30-point games this year (29) too.
With Harden alongside him, those stats will be even better. They'll win more games, probably shoot more efficiently, even if there's an argument he'll detract from Embiid's greatness.
If not Embiid, then DeRozan. He's putting up crazy numbers, everyone doubted him coming into the season, he's played through a lot of injuries to their key guys and has carried them to heights many felt were improbable coming into training camp. Multiple big shots, game winners…
MO: Fair enough, though I feel like Jokic – voter fatigue aside – has done enough to retain. Speaking of Embiid… who do you think is most likely to do a Hawks this year, by overachieving expectations out in an unpredictable Eastern Confernce?
JB: Cleveland. When healthy, there's no reason why they can't beat someone seeded above them in the postseason. Garland, LeVert, Mobley, Allen and Okoro with Love off the bench… they're well coached, professional and get the job done. That's all without Collin Sexton too.
MO: Favourite teams to watch, pick one in each conference?
JB: I'll go Memphis in the West. Very entertaining because of none other than Morant, they give 110% effort, play good basketball, have chemistry, are a fun but gritty, hard-working team.
ALSO READ: Ja Morant is right to feel hurt, but Memphis must show their star some love
As already mentioned, the Cavs. Plenty of young talent looking to prove themselves, they're well coached, have good ball movement, are defensive minded which leads to fast breaks too.
MO: Exclude the Lakers, who have been the biggest disappointment this season and why?
JB: Brooklyn. I know it's a bit unfair to say, considering all their injuries but even we [the Clippers] have a better record than them. They had the superstar trio, were the envy of the league, half a shoe-size away from the Eastern Conference Finals and now look at them. They can still win it all if they're fully healthy, I can see them beating a top seed – Chicago for instance.
MO: I'm inclined to lean more towards Atlanta or Portland given lofty expectations for both coming into the season, but I understand why you'd say that. Best under-the-radar player? Actually make it two, because I feel like you're gonna say someone from the Clippers..
JB: OK, so Luke Kennard. He's an absolute weapon, lighting teams up, as the designated threat on a team without our two star players. Getting gameplanned against, he still scores, hits big shots, isn't a bad playmaker either and was instrumental in the Wizards comeback (Jan. 25).
That was one of the best moments of our season, so I have to give him his flowers for all that.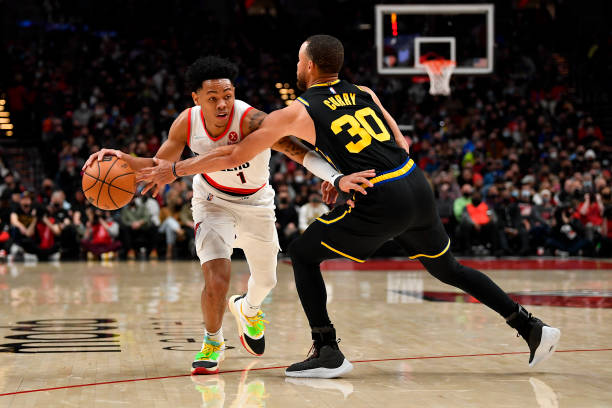 As for a second one, I'll go with Anfernee Simons in Portland. Without Lillard and McCollum now traded, teams know he's their next best player. Able to finish, good off-the-dribble and able to create his own shot without difficulty, he's a very good player and isn't getting that respect yet.
MO: All of the names I'd feel compelled to say are starting to get the recognition they deserve, like Mikal Bridges in Phoenix, Jalen Brunson with Dallas and Tyrese Maxey as Philadelphia's third star almost, developing as I expected to reduce the deficit felt by Simmons' absence this year.
As such, I'll say Monte Morris in Denver. Plenty has been said about Jokic carrying them on his back with Jamal Murray, then Michael Porter Jr, both sidelined indefinitely.
Others have had to pick up the slack with two of their best players injured and as far as I'm concerned, the guard is coming into his own this year, and it's refreshing to see. New career-highs in points (12.8) and assists (4.3), his 3P% has stabilised (38.5%) and he's taking more shots.
MO: One player that has been underachieving this year?
JB: Jimmy Butler. His jump shot has disappeared, even though it wasn't really there to begin with. 3P% (19.8), 47.1% FG on his most shot attempts since 2017-18. He's not overrated, but it's definitely a concern and will hurt them in the playoffs if it continues the way it's been going.
---
A game of true or false, looking into the future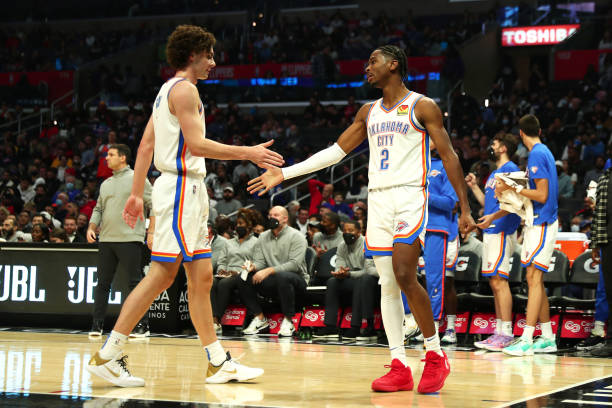 MO: OK, time for a game of true or false. I'll say a statement, you answer and explain your reasoning. First off… Los Angeles Lakers head coach Frank Vogel will still be in charge of the ball club once their preason training camp rolls around, presumably around September time.
JB:  False. They need a fresh brain, especially offensively. He's got plaudits for being a defensive coach but they're not playing any defence, so what's the point?
They need a regular season coach who gets wins like Mike Budenholzer in Milwaukee: enjoyed a 60-win year with Atlanta, two MVP years with Giannis… they need a clear identity going forward.
We'll wait and see how things shake out, because there's a good chance other coaches around the league will get fired between now and September. Maybe LA will take one of those.
MO: OK, perhaps they'll cut ties at the season's end. Anthony Edwards' first postseason, whether this season or later down the line, will be more like Trae Young and less like Julius Randle.
Young: 28.8 PPG, 9.5 AST, 41.8 FG% in 16 games, lost in six-game ECF series to champs Bucks
Randle: 18 PPG, 11.6 REB, 4 AST, 29.8 FG% in five games, KO'd in first-round by Young's Hawks
JB: True. He has size, athleticism, an infectious sense of confidence, is on a better team than Randle with a point guard that can set him up and importantly takes less poor shots too.
MO: Given how long Minnesota have waited for progression, I'm sure it'll be exciting to see Edwards in that environment. We will see Paul George and/or Kawhi Leonard return this season.
JB: No. I'd love to see it, but it's looking increasingly unlikely especially as time is ticking. Make the playoffs and we're going out in the first-round, given this current state as it is. We'd win the play-in game if we had Norman Powell (foot) back against the Minnesota Timberwolves though.
MO: OK, more questions into the future now. How do Giddey/SGA fit together in Oklahoma City?
JB: Good question. At the moment, not as well as they do individually. When Shai Gilgeous-Alexander has the ball, Josh Giddey is sacrificed because he's not as effective off-ball and SGA is noticeably better with it in his hands, but this situation is definitely a solvable one.
More playing time will help, communication between them… Over time, I think they have to make Giddey the primary ballhandler because his best attribute is passing, SGA's is scoring.
MO: What's the Pelicans' ceiling with a healthy Zion Williamson? Given his checkered injury history and murmurs of discontent, should they trade him this summer and cut their losses?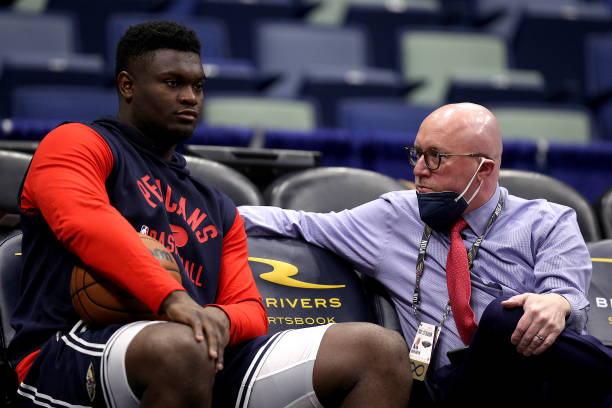 JB: Quite high! They have Herb Jones, a great defender, I honestly think they could push for the Western Conference semi-finals, definitely win a first-round series, but not much more than that with how things are currently constructed. They'd have to shore up a few things though.
Had a really bad start to the season but have a deceptive record (27-38). McCollum is underrated, one of the league's best scoring guards, and they'd win the play-in game even without Zion.
MO: Given his checkered injury history and murmurs of discontent, should they trade him this summer and cut their losses?
JB: If he doesn't want to be there, they should get rid of him – injured or not. Talk to him and ascertain the truth, I'm sure they're trying but right now it doesn't seem like he wants to be there.
Another season or two where he's frequently injured again and they're gonna have to think about moving him. He's crazy talented, we've both said that, but it's about health and whether he has a desire to succeed with the franchise – the future for him and them is very injury-reliant.
Him, CJ, Brandon Ingram and Jonas Valanciunas as a core quartet… play-in minimum, maybe where Minnesota (currently seventh) are.
MO: Realistically, with the roster as constructed right now, how far can Luka Doncic take Dallas?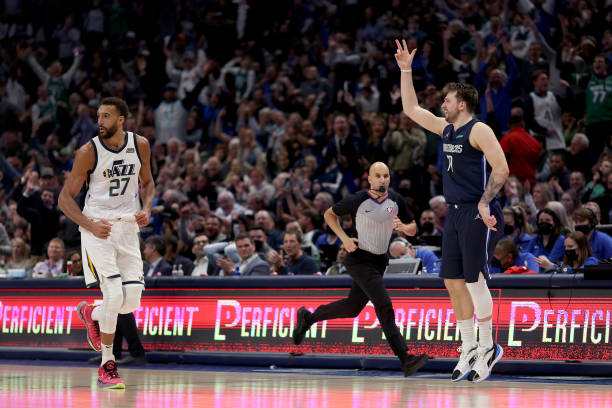 JB: I think avoiding the Clippers will help. We had all-NBA defensive players to throw at him, if he plays like he did against us, he can make a Conference Finals. I think the Mavericks are a wing or big away from that though and can't do too much because they're a little top-heavy.
After Luka, there's a massive drop-off from everyone else on their team after. As good as he is, I don't think they have enough tradeable assets outside Brunson to significantly upgrade either.
MO: Which of these players' contracts do you think will age the worst and why? Malcolm Brogdon, Jaren Jackson Jr, John Collins, Ben Simmons, Michael Porter Jr and Rudy Gobert.
JB: I think a standout pick for me is MPJ.
The main issue being recurring health issues, you can't ignore that. His back injury dropped his draft stock down from the number one picture, it's now re-emerged and he's not played since. A supremely talented offensive player with a selfish attitude, that style alienates teammates.
They just signed him to a big rookie extension but those two things are detrimental to his hopes of living up to that deal in the long-term. Brogdon is a similar one for me. Similarly bad health, stuck on a poor team detracting from young players gaining invaluable experience.
MO: This league is always waiting for the next disgruntled star to become available… who's next?
JB: Bradley Beal. I can see Atlanta making a deal, maybe for Danilo Gallinari, Clint Capela and a draft pick. They could still trade him, whether things seem rosy now or not, but it seems like he's staying in the short-term. Should've left when they were garbage… oh wait, they always are.
MO: Fair enough. One more, before the final question, what's a burning pet peeve for you?
Mine is easy: overkill with in-game entertainment during timeouts. Why am I seeing dance cameras when the home team are losing an important regular season game? Read the room.
JB: Yeah, I get that. I'll go with take fouls. Players circumvent the rules and benefit from stopping play in situations that favour their opponents, which is unfair and needs to be addressed.
MO: Hmmm, diplomatic answer there. OK, rest of your award winners and who'll emerge from both conferences?
JB: Miami and Phoenix will end the season with the best records in their conferences..
ECF: Milwaukee vs. Philadelphia
WCF: Phoenix vs. Denver
NBA champions: Philadelphia 76ers
DPOTY: Mikal Bridges
ROTY: Josh Giddey
COTY: Erik Spoelstra
MIP/6MOTY: Tyler Herro
GOTY: Raptors 124-120 Heat, 3OT
One or two surprising choices there, a brave new champion being crowned too. I think it'd be cruel irony if after all this time, the 76ers would finally win a championship with Doc Rivers in charge.
All pictures via Getty
---
As always, a big thanks to Jack (@CFCJack2712) for his time with this piece! If you've got this far down, I'm always looking to do more Q&A-type featured pieces with other experts too. If you liked this and want to contribute in future, don't hesitate to contact me – email or on Twitter.
It's not the first time Jack has featured here and won't be the last, as we're likely to discuss some new topics once again deep into playoff time – even with his bold predictions rarely coming true. With that in mind, stay tuned for more coverage from me as the business months unfold before us!