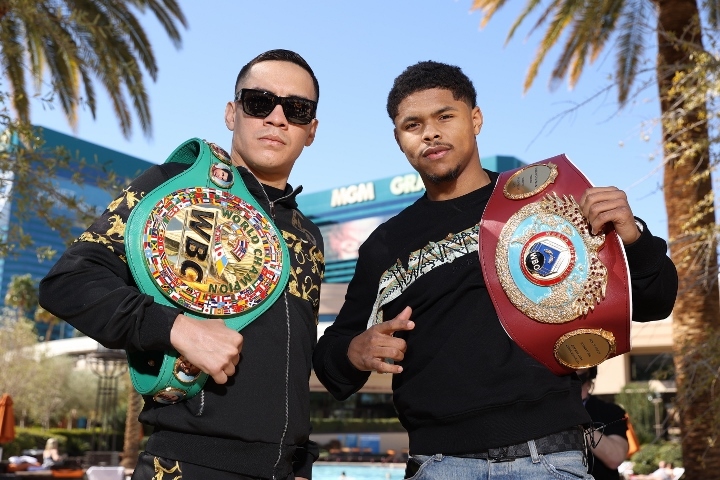 Having produced a mature, impressive tenth-round TKO win over Jamel Herring last October, winning the WBO super-featherweight title, Shakur Stevenson has a golden opportunity next month to do what he has long set out: continue on the road to superstardom, by inflicting the first professional loss on Oscar Valdez's unblemished 30-0 (23 KOs) record. Will he sink or swim?
Stevenson-Valdez, a unification fight many have long coveted
A lot has been said about the month of April for boxing. Ryan Garcia's long-awaited return features early, while Spence-Ugas and Fury-Whyte are scheduled for consecutive Saturdays.
To finish the month off, undisputed status at lightweight awaits for Katie Taylor vs. Amanda Serrano in what's being billed as the biggest women's fight of all-time. Stevenson-Valdez on the same night? That's somehow being spoiled with action and blotting the occasion altogether.
Not to worry though, as DAZN's executive VP Joe Markowski assured last month the fights will not clash. Now the night's practicalities are out of the way, how about the storyline at 130lbs?
After producing a devastating tenth-round KO against compatriot Miguel Berchelt last February, Valdez's stock and shine has diminished considerably following news of his positive drug test.
The timing, less than two weeks before his scheduled title defence against Robson Conceicao last fall, as well as the fact he was actually permitted to compete, only served to fan the flames.
How was someone who cheated, whether knowingly or not, allowed to continue without suffering any ramifications for their actions? All sorts of issues were raised and seemingly fell on deaf ears, worsened by the general consensus he went twelve rounds and lost to the Brazilian.
Since then, fight fans and critics are now reticent to crown his previously impressive achievements as such – wary he might not have been playing fairly this whole time. How long had he been getting away undetected? It almost means comments like these, didn't age well:
"There's nothing better in life than proving people wrong.

I have a list of people who doubted me… my idols, boxing experts, they all said Berchelt was gonna knock me out. I have a message for people out there: don't let anyone tell you what you can and can't do. Always work hard, be disciplined in life, do your best, stay disciplined and anything is possible." 
As for the man himself? Vehemently denying the notion he's a cheat, doing a clear-the-air sitdown interview with ESPN's Mark Kriegl and essentially downplaying the illegal substances' advantages, there was a lot to take from what he said. On the defensive and understandably so.
The same way some purists highlight Canelo Alvarez's positive clenbuterol test in 2018, or Tyson Fury's nandrolone discovery three years prior, and more high-profile cases like those.
Those two are on the sport's pound-for-pound lists and revered worldwide, but a blot on the copybook will always linger – irrespective of whether innocent and cleared of wrongdoing or not.
---
eyes on you: why this is a perfect opportunity for Shakur
As for Shakur? Well, his conundrum has been one of the box office kind. Adding an experienced champion like Herring to the 24-year-old's resume last October is a serious coup, but also one that means he now has more knockouts (9) than decision victories (8) for the first time in a while.
Even with all of those early career comparisons to Floyd Mayweather, it's easy to acknowledge his level of competition will intensify going forward. If he's to achieve his Hall of Fame potential, Shakur cannot stagnate: continue evolving and showcase his full repertoire when challenged.
It's one criticism currently being levelled at PPV star Gervonta Davis, who last summer became a three-weight world champion but has rarely faced world-class opposition in an era where most elite fighters have carefully padded resumes and are afraid to risk their unbeaten record.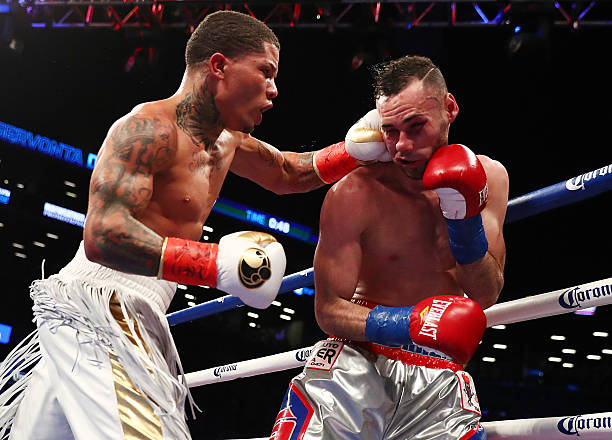 After winning a silver medal as a bantamweight at the Rio Olympics, Shakur wouldn't turn professional until the month after Tank won IBF super-featherweight gold against Jose Pedraza.
Starting at a weight-class below him, Stevenson clinched the WBO featherweight strap with a unanimous decision (119-109 x 3) victory over Joet Gonzalez in Oct. 2019.
Having since moved up in weight without a title defence, it's clear he harbours a desire to go up to 135lbs before too long – but Valdez and a few other names appear first on the agenda.
WBA champion Roger Gutierrez and IBF titlist Kenichi Ogawa both have mandatory challenges to progress past before unification talks could arise, though it's not that hard a sell in principle.
Whether he'd be willing to wait, defending both titles in the interim, remains to be seen. Then again, the slick southpaw must first prevail on April 30 before looking too far into the future.
The lightweight sweepstakes continue to intensify and judging by George Kambosos' recent success against Teofimo Lopez late last year, Shakur fancies his chances up there too.
"I want to thank Timothy Bradley, he was criticising me, calling me boring. I wanted [to put on] a fun fight, to show my boxing skills, defence, power and showed everything tonight. 

It felt amazing, I want to be a superstar. I'm here to last, take my craft very seriously… disciplined, had a strong camp and team, were in the gym grinding.

There's only one fight left, WBC champion Oscar [Valdez] can't keep ducking, there's nothing else to look forward to in the 130lb division, we need to unify."

Stevenson after his tenth-round TKO win vs. Herring on Oct. 23
Those comments, while defiant, are exactly what you want to hear from someone in Stevenson's position because he doesn't need telling: there's work to do. Will he flourish? We'll wait and see.
Picture source: Getty Images, BoxingScene