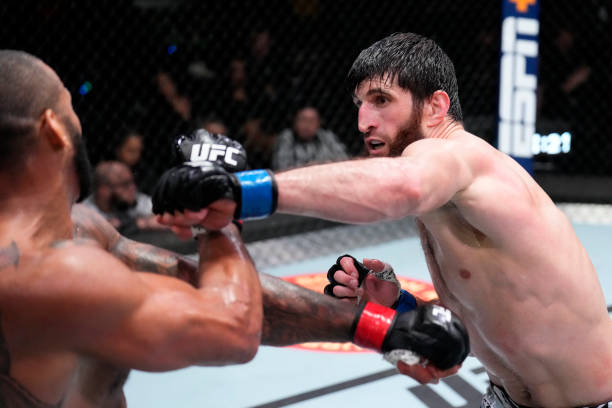 Title shot next? It wasn't an electrifying main event, but light-heavyweight Magomed Ankalaev took Thiago Santos' best strikes – R2 knockdown included – and weathered the Brazilian's storm over 25 minutes. Prior, featherweight Sodiq Yusuff (#12) returned to winning ways, while bantamweight contender Song Yadong (#14) blasted Marlon Moraes (#10) in the co-main event.

far from perfect, ankalaev still asserts himself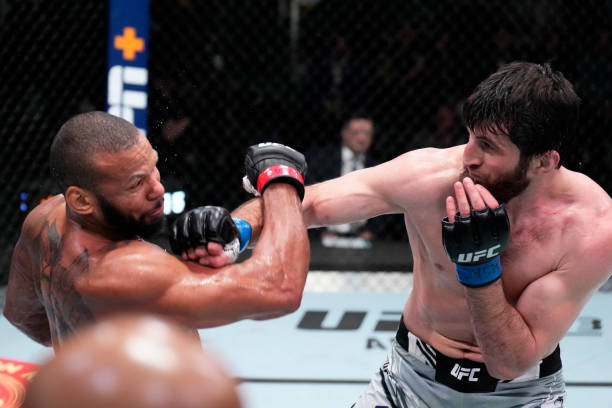 "It's completely up to the UFC and my manager, but in my opinion, I deserve the title shot next because I'm on an eight-fight winning streak and some of the fights I finish the guys. I'm ready.

My goal was to fight the whole distance – five rounds – test myself to see if I'm ready. Now I'm completely confident in myself and I'm ready for a big shot."
Magomed Ankalaev (#6) got the job done against a one-time title challenger in Thiago Santos (#5), and that's all that matters on the surface.
But considering this main event was laced with high expectations from the jump, the 205lb division wasn't exactly put on notice by a hesistant display from a highly-regarded contender who was likely assured for the next title shot with an explosive showing here. It was anything but.
Santos was typically self-reflective afterwards, but at 38 – even with the admiral belief that a late career resurgence remains possible – many critics believe he's a world-class gatekeeper at 205lbs. Marreta's punch power is dangerous and perhaps, Ankalaev adapted his tactics as such.
---
Rest of main card, as pereira and dober among big winners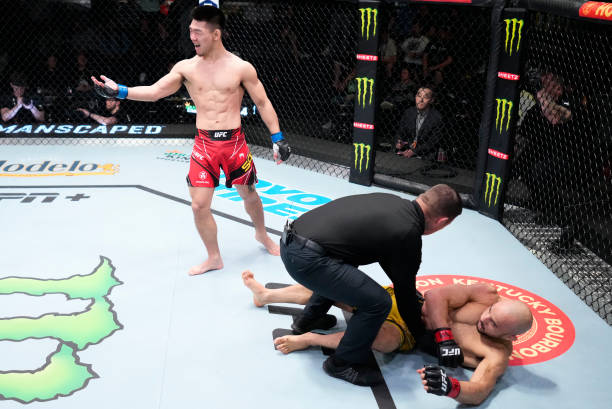 Marlon Moraes (#10) certainly cut a convincing pre-fight promo, talking about how he had been training diligently for a must-win matchup against a surging contender in Song Yadong.
After three consecutive first-round finishes, he had and ultimately came up short in his bantamweight title opportunity against Henry Cejudo. That R3 TKO defeat was in June 2019.
Just over 1,000 days later and Moraes has now lost four straight, all by stoppage in the first two rounds, with Yadong's three-punch combo signalling the latest in a string of bad defeats for a former title challenger whose resistance continues to diminish rapidly as his stock does too.
11 months on from his humbling decision defeat by Arnold Allen last year, Nigerian-born American featherweight contender Sodiq Yusuff (#12) returned to winning ways and importantly showed some defensive improvement against Alex Caceres (#15).
Despite landing two less significant strikes (66-64) and just three more total strikes over 15 minutes (74-71), the 28-year-old's insistence on leg kicks paid dividends (37, 34 in R2 and R3).
Caceres, a crafty southpaw with more submission wins (7) than knockout victories (3) in a 33-fight pro career, tried and succeeded in frustrating Yusuff early on – his only takedown could've set the tone, but instead, Yusuff stayed composed when potentially precarious situations arose.
Interestingly, Yusuff called for a showdown with Edson Barboza's latest conqueror Bryce Mitchell (#9) but if that prospective matchup got made later down the line, he'd need to be sharper across all fronts – especially the ground game – to stay competitive vs. Arkansas' finest.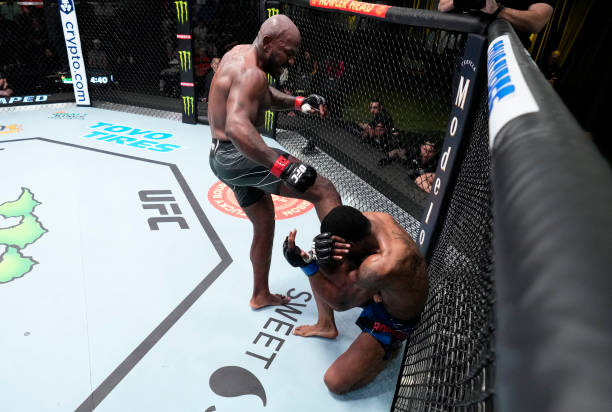 After losing two of his last three fights, light-heavyweight Khalil Rountree Jr. now has successive UFC victories for the first time since 2017 and earned a Performance of the Night ($50,000) bonus for his vicious second-round TKO win (body kick, punches) against Karl Roberson.
Following a tentative opening stanza by both, Rountree came out for round two like someone with somewhere better to be and Roberson, who moved back up to 205lbs after a rough time trading wins with losses at middleweight, paid for his sheepish defence up against the fence.
"If I'm not winning fights, one, I make half of my money and two, nobody gives a shit. The person who loses kind of gets forgotten about, you don't get an interview, don't get this or that – only the winners get to say a piece. It might sound a bit cliche, or you've heard this before, but your life matters.

You can be special, strong, be seen, heard, life is beautiful if you make it that way. It doesn't have to be how everybody else makes it seem. Stick around, stick around another day."

An excerpt from Rountree's passionate post-fight message, discussing the mindset and helping those who are struggling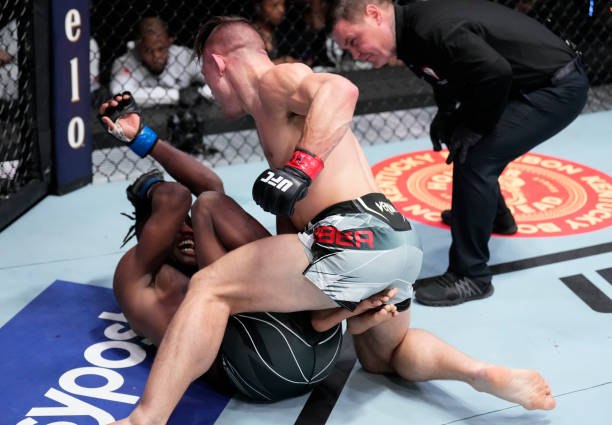 Drew Dober somehow managed to weather the Terrance McKinney avalanche that awaited him early in R1, en route to a gutsy comeback TKO victory against the lightweight prospect.
In an early contender for Round of the Year across the sport, Dober appeared moments away from being stopped by his short-notice opponent after absorbing furious punch combos to start the round with a knockdown – then a high knee wobbled him to his knees shortly afterwards.
Immediately on the back foot, the 33-year-old used ringcraft, spatial awareness and more than a decade's experience as a pro to hold firm against the tide.
Roles soon reversed after a brief pause as referee Keith Peterson halted proceedings, separating the pair as they returned to the feet to hand McKinney his mouthguard in a neutral position.
As they resumed, McKinney was hitting air with a few too many extravagant strike choices and soon found himself in a turtle position, being overwhelmed by ground-and-pound strikes less than 40 seconds later after absorbing a devastating knee which similarly took him by surprise.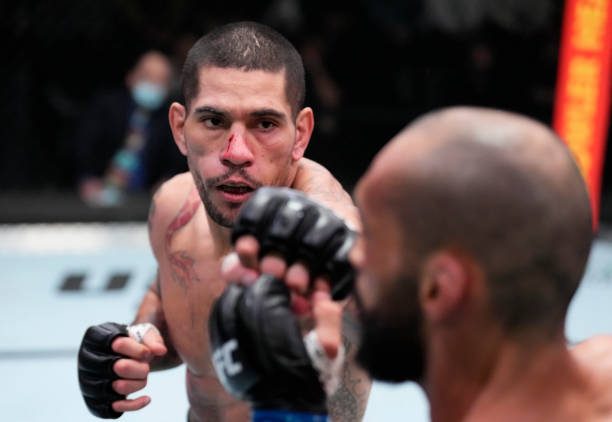 In the main card opener, highly-regarded middleweight prospect Alex Pereira impressed but had to work for a unanimous decision win (30-27 x 3) against Brazilian compatriot Bruno Silva, who did well to survive and hear the final horn after being severely buzzed in the final stanza.
Pereira, a former kickboxing double-champion in Glory, made a memorable debut at UFC 268 on Nov. 6 with an emphatic second-round TKO win over Andreas Michailidis, recovering from an ominous start where he struggled on the ground and his grappling weakness was exploited.
However, if he's ever to reach the dizzying heights of his previous career – especially as the UFC could fast-track him – he'll need to succeed in acid tests like these against stern opposition.
Having recorded two kickboxing wins over reigning middleweight champion Israel Adesanya, the 32-year-old was asked what he'd like next post-fight and ambitiously called for a matchup against Jared Cannonier (#3), who is already next in-line for Adesanya's 185lb title this summer.
"I had talked about Cannonier because he's a guy that is next for a title shot, some people have already talked about me and Adesanya, so why not Cannonier? I don't think I'm talking too much.

I had two great fights, was able to showcase my skills, didn't even show everything that I go through my daily basis training with Glover Teixeira's gym. I'm improving, evolving everyday. I don't know where I am in the division. I'll let the promoters talk, they'll know where to properly put me in."
More analysis to follow soon…
---
Prelim results, including maverick returning to win column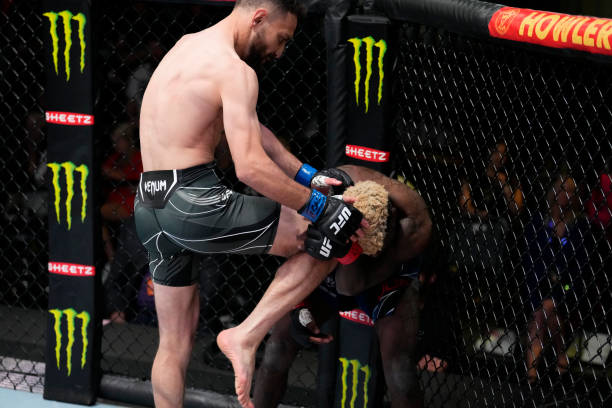 In the evening's featured prelim at welterweight, Matthew Semelsberger inflicted AJ Fletcher's first professional loss with a hard-fought unanimous decision victory (29-28 x 3).
Meanwhile in the women's flyweight division, Gillian Robertson struggled again and is now 1-3 in her last four after limping to a frustrating UD defeat (30-27 x 3) by JJ Aldrich, who was originally slated to face Ariane Lipski before the Brazilian's removal for undisclosed reasons.
There was mutual respect aplenty shown post-fight, as Afghanistan-born British bantamweight Javid Basharat improved to 12-0 after a UD win (30-27, 30-27, 29-28) over Trevin Jones.
The 26-year-old, a signee after a R3 choke win on Week 9 in last year's stretch of Contender Series nights, lamented his inability to finish a durable Jones – having repeatedly hurt him in each round – but called out another winning prelim fighter after paying homage to Trevin, who purposely didn't train at Xtreme Couture for this training camp given the impending matchup.
Although original opponent Joshua Culibao withdrew, the change didn't impact featherweight veteran Damon Jackson en route to a R2 arm-triangle choke vs. Kamuela Kirk. The 33-year-old, in his second stint with the UFC, is now 3-1 since agreeing terms after six straight LFA victories.
Afterwards, he called for the promotional brass to give him a step-up in competition saying:
"Give me someone. I don't know, do the Bryce Mitchell thing where you throw me at Edson Barboza. Not Edson, I'm not calling him out – don't get all pissy about it, but just saying. Like, give me someone I'm supposed to lose to, and I guess we'll see if I'm overhyped, underhyped, or whatever."
After being outworked on the ground by Erin Blanchfield at UFC 269, women's flyweight Miranda Maverick returned to the win column and will again be on the cusp of cracking the rankings after a morale-boosting R2 rear-naked choke submission victory against Sabina Mazo.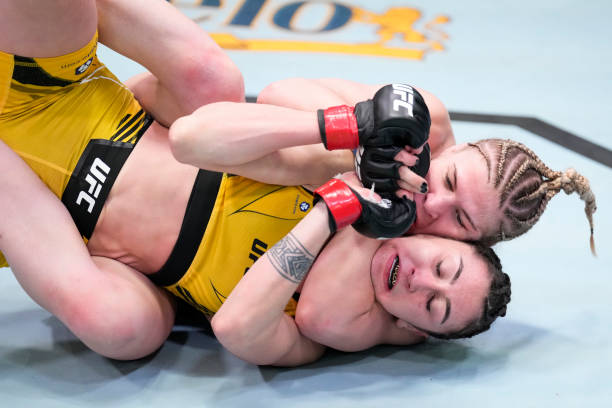 As the lingering sense of injustice from her dubious Maycee Barber split decision defeat last July still lingers for most critics high on Miranda's future potential, the 24-year-old is happy to have silenced doubters by logging a seventh submission win of a promising young pro career.
In the middleweight division, Cody Brundage's celebrations spoke volumes as the 27-year-old recovered from a debut defeat by Nick Maximov after some quick thinking saw him adapt on the fly deep into R1 against Dalcha Lungiambula.
With his back against the fence and in a defensive position, he quickly secured a guillotine choke, punishing the Congolese' aggressive approach.
Eight months after a memorable debut display against Sean O'Malley, brave bantamweight Kris Moutinho returned but endured a rough sophomore showing as he was abruptly blasted into a sixth professional defeat with a first-round standing TKO defeat by Guido Cannetti.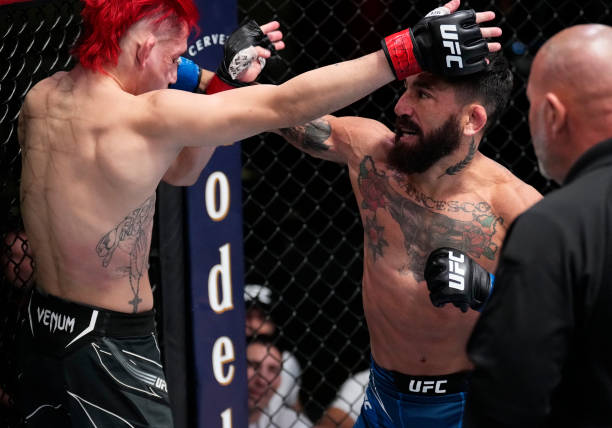 Meanwhile to kick off the card at 205lbs, Contender Series graduate Azamat Murzakanov – who had three prospective matchups all cancel last year – produced a thunderous third-round flying knee KO on his UFC debut, leaving Tafon Nchukwi with his second career loss.
Picture source: Getty Images — quotes via UFC broadcast unless linked