Paula Badosa, defending her 2021 Indian Wells title this week, is the latest player to issue a social media warning for the sport's teenage sensations given their rapid rise in recent months. She's concerned compatriot Carlos Alcaraz and US Open titlist Emma Raducanu in particular might not yet be prepared to carry the weight and pressures that come with their success.

Badosa joins Gauff, federer, Murray and others in public stance
Are the negatives merely a price to pay for their impressive achievements, or an unwanted distraction that can amplify self-doubt and worsen mental health? In a sport as cut-throat as tennis, especially at the highest level, it's fair to say social media usage should be tempered.
World no. 7 Paula Badosa, winner of last year's rescheduled Indian Wells tournament, has joined several other high-profile players in sharing her own concern at how the younger generation have to contend with pressure and added attention, a byproduct of their success.
American teen Coco Gauff, who celebrated her 18th birthday on March 13, warned Raducanu about the overwhelming nature of social media after her stunning US Open triumph last fall.
Both players are ranked inside the world's top-20 at the time of writing, though Gauff broke through as a precocious 15-year-old and has spoken about her own struggles in the past too.
Meanwhile, Next Gen Finals winner Carlos Alcaraz has long drawn comparisons to compatriot and 21-time Major champion Rafael Nadal, with his recent attainment at Grand Slam level and other ATP tournaments reinforcing the belief among most: he already belongs among the best.
As far as rankings are concerned, both teenagers are in a similar boat as far as their rapid rise is concerned. Alcaraz has risen almost 400 places in the past two years and will surge even further past world no. 18 with a win tomorrow vs. Daniil Medvedev's surprise conqueror Gael Monfils.
Raducanu was ranked world no. 338 at the start of last summer's Wimbledon and now sits #13, despite a disappointing three-set defeat by Croatia's Petra Martic in R3 on Sunday evening.
Badosa, who turned 24 in November, told Eurosport:
"When I think of young players like Emma and Carlos, I want them to try and not pay too much attention to what they may see because it could hurt them a lot. No matter how well they perform, I worry they are not yet prepared to carry all the weight and pressures that inevitably come with social media.

I have suffered from it myself and wouldn't want others to experience it, ultimately it's part of tennis and the price to pay for success.

[Advice?] You need to have a good environment, surround yourself with the right people, work hard and listen to the outside as little as possible. Cannot control the outside, but what is in your control, just try to do your best."
Elsewhere last year, 20-time Major champion Roger Federer called for a revolution in how the sport and media work together to relieve players' stress, citing Naomi Osaka and Raducanu as examples, highlighting the technological advances and an increasing need for demand.
This week, former world no. 1 Andy Murray expressed sympathy for Osaka but revealed athletes need to tolerate fan hostility as the four-time Major winner was almost reduced to tears after a disgruntled spectator heckling her during her defeat by Veronika Kudermetova last week.
---
Mouthwatering clashes as Indian Wells intensfies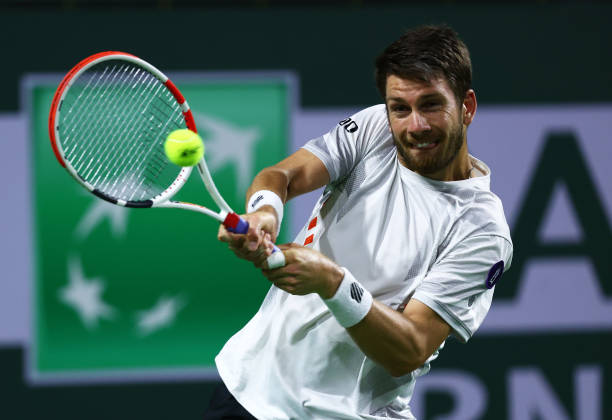 Men's Round of 16 matches
Gael Monfils [26] vs. Carlos Alcaraz [19]
Defending champ Cameron Norrie [12] vs. Jenson Brooksby
Rafael Nadal [4] vs. Reilly Opelka [17]
Jannik Sinner [10] vs. Nick Kyrgios
Matteo Berrettini [6] vs. Miomir Kecmanovic
Taylor Fritz [20] vs. Alex de Minaur [29]
Andrey Rublev [7] or Frances Tiafoe [28] vs. Hubert Hurkacz [11]
John Isner [23] vs. Grigor Dimitrov [33]
Women's Quarterfinals
Simona Halep [24] vs. Petra Martic
Iga Swiatek [3] vs. Madison Keys
Defending champ Paula Badosa vs. Veronika Kudermetova or Marketa Vondrousova [30]
Maria Sakkari [6] vs. Elena Rybakina [17] or Viktorija Golubic [31]
Picture source: Getty Images