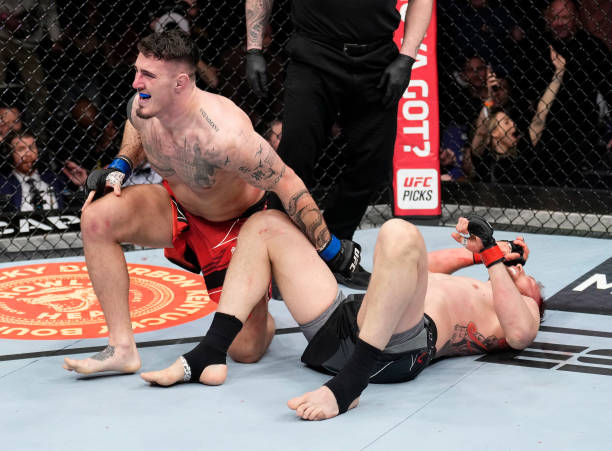 Rising heavyweight talent Tom Aspinall put the division on notice in his first main event opportunity. He wasted no time becoming the first man to submit perennial contender Alexander Volkov since 2010, as the Mancunian capped an electric night of fights at London's O2 Arena after big KO victories for Ilia Topuria, Paddy Pimblett and Arnold Allen among others.

after logging biggest career win to date, aspinall eyes tuivasa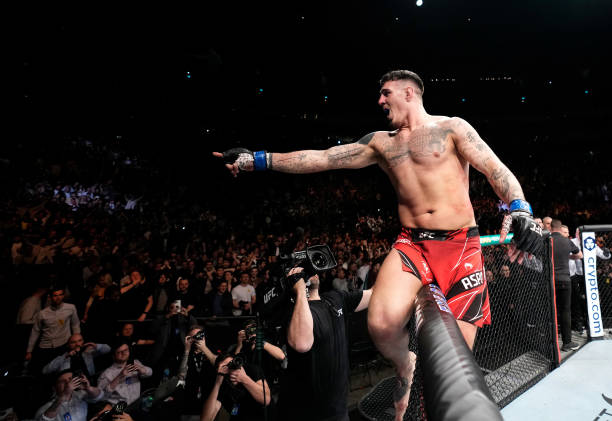 R1, 3:45: Tom Aspinall (#11) bt. Alexander Volkov (#6) via submission, straight arm lock
Four years ago this month, Alexander Volkov earned a fourth-round KO victory over former UFC titlist Fabricio Werdum at the O2 Arena and this week vowed to again win big in enemy territory.
Instead, the affable Aspinall had other ideas and logged a scarily easy night's work against a perennial contender representing the 28-year-old's toughest test to date. It was treated as such but even still, he passed it with flying colours in a way that belies his current #11 ranking at HW.
"I've been telling people all week, I'm born for this, I'm ready… secret is self-belief, believe in myself, my dad, coaches, teammates, thanks to all of them."

Aspinall's post-fight interview cageside, after which he called out Tuivasa
Aspinall will likely rise into the top-6 on Monday with this impressive showing and although his average fight time in the promotion (2:56) didn't exactly increase exponentially after this latest acid test, Tom instead reinforced why many believe he's a future world champion in waiting.
Armed with a well-rounded base and 6ft5in frame, Volkov's rangy physique – which makes him awkward for some – didn't deter a conscious effort to manhandle the Russian from the first horn.
He threw a few leg kicks early on, as well as a three-punch combo, showcasing his agility and fluid movement for such a big man. Able to maintain distance avoiding countershots, he secured the first of two takedowns with remarkable ease and was into side control rather quickly too.
From there, he landed some elbow strikes, flirted with a kimura grip briefly before landing a sneaky knee to the body as Volkov did well to rise back to his feet, circling backwards.
You could sense the crowd, emotionally spent from events earlier in the night, were a little tense as everyone briefly held their breath after Aspinall lost his footing and slipped to the canvas.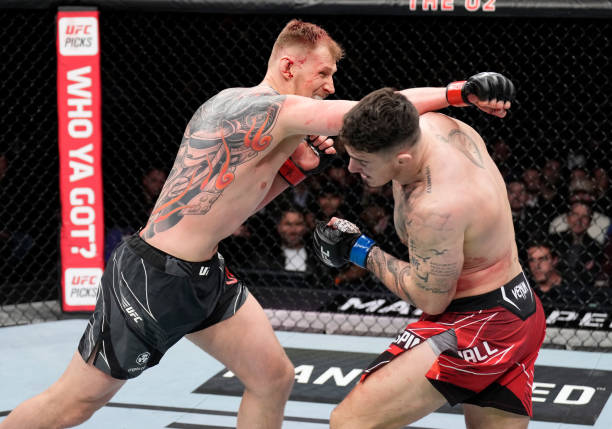 If you weren't paying attention, you could be forgiven for thinking he'd just been rocked. Instead he took it well and responded properly once back to his feet, again showing great head movement and awareness again, ducking and weaving his way into a double-leg takedown.
Statistic: With this victory, Aspinall now ties Derrick Lewis' latest conqueror Tai Tuivasa (#3) for the promotion's tied-longest active finish streak at heavyweight.
From there he teased another submission, and this time there was no escape for the Russian as he had his arm trapped. Replays showed it possibly dislocated or overextended just before the 33-year-old tapped, with Aspinall composed with the spotlight on him among home comforts.
With former interim champion Ciryl Gane – who beat Volkov handily last summer – among those watching in attendance, something tells me it won't be long before these two heavyweight talents are being paired against one another in what would be an intriguing future matchup.
---
Allen ends Hooker's featherweight return in style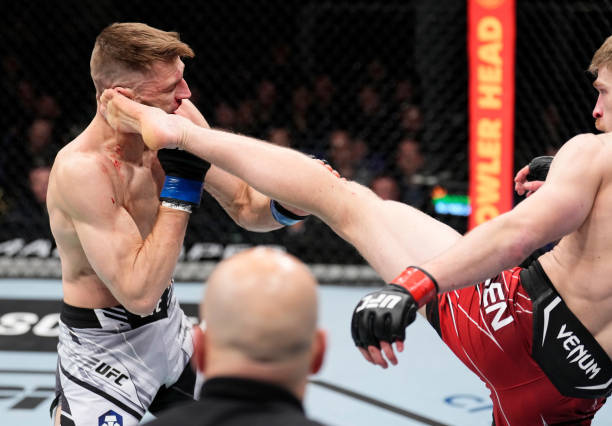 R1, 2:33 – Arnold Allen (#7) bt. Dan Hooker (#8 LW) via TKO (punches and elbows)
This co-main event always felt like a peculiar one to take from Dan Hooker's perspective, and so it proved in worryingly quick fashion here. Making his featherweight return, five-and-a-half years after his last appearance there, was a thought-provoking decision that again hasn't paid off.
Now though, the New Zealand native has lost four of his last five fights and while there's no shame in coming up short against the best, displays like these do nothing to shake the notion that at 32, Hooker's paying the price for previous wars against Dustin Poirier and others.
Allen chin checked him early by unleashing fast punch combos, then was briefly wobbled by smart counterpunching as they traded in the pocket. Just as soon as this seemed like turning into a back-and-forth fight, it descended into a one-sided beatdown Hooker couldn't withstand.
The commentators couldn't believe what they were seeing, highlighting his ability to absorb damage and continue unassisted but once Allen changed up his method of attack, it was over.
Deciding to throw a high leg kick, as seen above, proved the beginning of the end as Allen could smell blood. Landing hard knees and elbows with Hooker's back up against the cage, referee Daniel Movahedi mercifully stopped the beating just after the halfway mark in the first round.
Having now passed reigning champion Alexander Volkanovski for the division's longest active win streak (9), Allen spoke afterwards about this showing just how hard he hits, even though he's had the decision machine tag attached, while calling for a matchup with Calvin Kattar (#5) next.
Where does this latest loss – another in round one – leave Hooker? In a tough position, much like when retirement rumours arose after his lacklustre showing vs. Michael Chandler last year.
His stock continues falling, now across two divisions, and while many hoped he turned a corner against Nasrat Haqparast, would he have the stomach to be an elite gatekeeper at 155lbs?
---
Paddy's hype train continues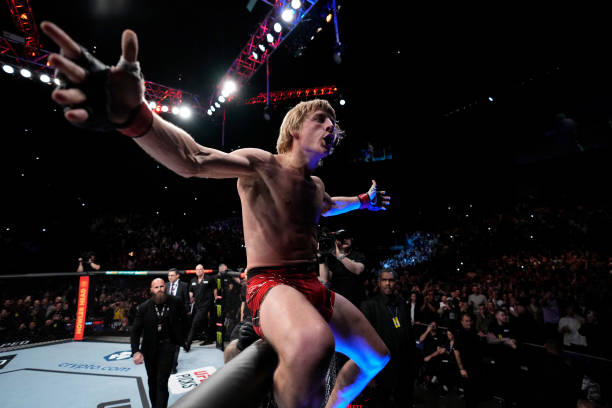 Just like his UFC debut last September, highly-regarded lightweight prospect Paddy Pimblett didn't have things all his own way but responded well after being floored by a triple right-hand jab to submit Kazula Vargas with a rear-naked choke and send the O2 Arena into raptures.
Against Luigi Vendramini, he was punished for having his chin up in the air. Here, the 27-year-old's exuberance – defensive carelessness – was duly exploited early on. It could've been worse.
However with his back up against the fence as the pair fought for position, Pimblett found himself in an opportune position to absorb his coaches' advice: eventually completing a judo hip toss to reverse a disadvantageous position before securing the neck in a chokehold.
Finishing in just shy of four minutes (R1, 3:46), it's the sort of showing that amplifies naysayers who rubbish his limitless potential but he won't mind a jot because the job got done.
---
other main card results, with pair of thunderous knockouts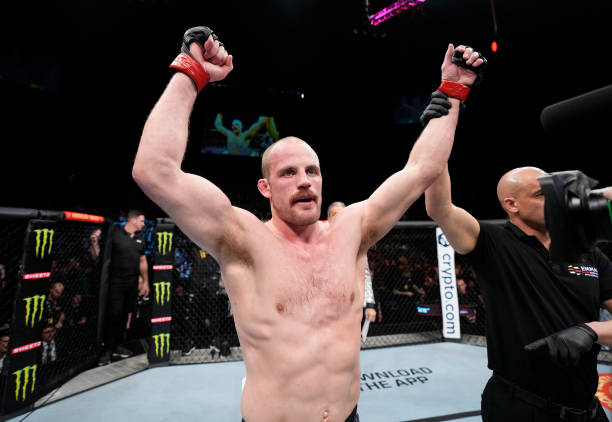 Just over 900 days after his last fight – a 29-28 UD loss by former title challenger Gilbert Burns – Icelandic welterweight Gunnar Nelson returned and was thoroughly dominant vs. short-notice opponent Takashi Sato: logging 140 strikes, three takedowns and eight minutes' control time.
In the women's flyweight division, Molly McCann's blistering start with punch flurries proved the precursor to a devastating third-round spinning back elbow KO win over Luana Carolina.
As for the evening's main card opener, #15 ranked featherweight Ilia Topuria went up a weight division and recovered from a first-round knockdown to produce a similarly devastating knockout win over Jai Herbert. Sometimes words alone don't do it justice, so see for yourself:
---
Prelims: recovery win for Craig, Mokaev's magic debut & more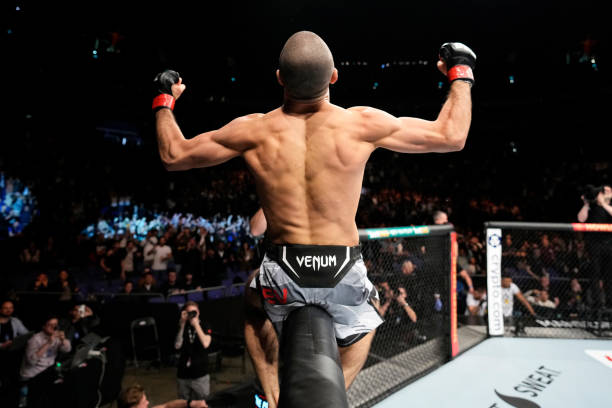 Mike Grundy's family were captured watching on nervously cageside and unfortunately, they saw their son succumb to a rapid first-round (0:57) anaconda choke submission defeat during the evening's featured prelim at featherweight against Makwan Amirkhani.
After three straight defeats, this result pushes the Iranian back into the win column as the 33-year-old proved one of two spoilers on a night where Europeans ruled the roost.
Speaking of long-awaited returns, heavyweight Sergei Pavlovich – sidelined by injuries, then travel issues – ended a hiatus lasting just under two-and-a-half years with a violent R1 TKO victory over Shamil Abdurakhimov, who was KO'd on his return by Chris Daukaus at UFC 266.
Meanwhile in the light-heavyweight division, beloved Scotsman Paul Craig (#11) didn't panic after being pushed into deep waters uncomfortably early by Nikita Krylov (#9), instead showcasing his slick submission skills once more en route to a R1 triangle choke recovery win.
He took the chance post-fight to call for a maiden main event matchup of his own with one-time title challenger Anthony Smith (#5), who appears game for the opportunity later this year:
Wales' Jack Shore was narrowly outstruck in rounds one and two but a fantastic third, where he logged two knockdowns and takedowns to boot, helped him edge past Timur Valiev in a competitive clash at bantamweight that lived up to the billing between two 135lb talents.
It was gritty and tough to watch at times but women's strawweight Elise Reed was the night's other hometown spoiler, earning a split decision win over Cory McKenna (27-30, 29-28, 29-28).
To kick off the card with a bang at flyweight, highly-rated 21-year-old prospect Muhammad Mokaev had a promotional debut to savour: a swift knockdown which set him up for a first-round guillotine choke victory, submitting Cody Durden after just 58 seconds.
Up next: UFC Fight Night 205, heavyweight headliner – Curtis Blaydes (#4) vs. Chris Daukaus (#8)
Picture source: Getty Images