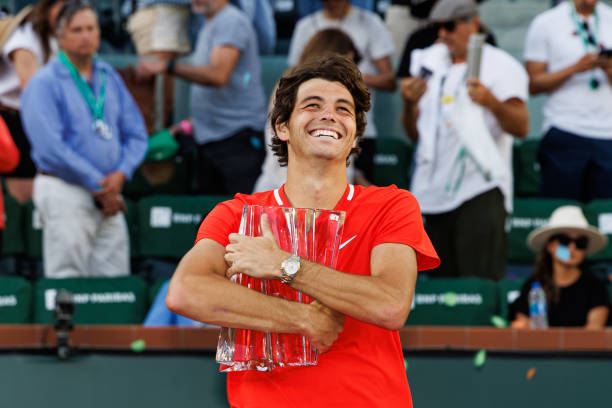 Taylor Fritz earned his first Masters 1000 title the hard way, gritting through the pain barrier to overwhelm a similarly injury-affected Rafael Nadal and snap the Spaniard's 20-0 unbeaten streak in 2022. Elsewhere over the weekend, 20-year-old star Iga Swiatek beat US Open semi-finalist Maria Sakkari for the second time in 24 days to secure yet another big trophy herself.
Super Swiatek surges to third WTA 1000 title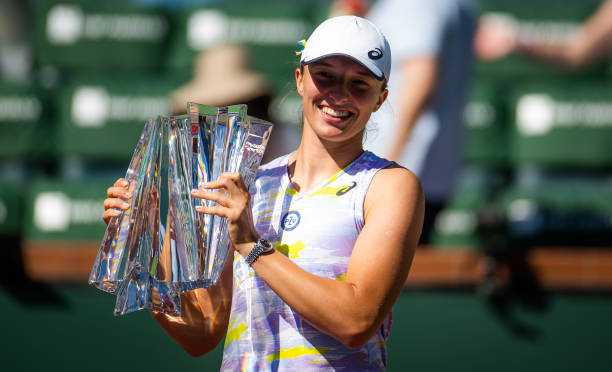 Swiatek [3] bt. Sakkari [6] 6-4, 6-1
Just as quickly as Iga Swiatek had been broken to love in the match's opening game, with two double-faults and unforced errors apiece, she reversed roles shortly afterwards with a crunching crosscourt forehand winner among the shots showing this was to be a compelling finale after all.
After four consecutive breaks of serve, the Pole seized the initiative first and had a 4-2 lead at one point. Maria Sakkari, armed with excellent shot-making of her own and the power to give anyone on tour problems aplenty, briefly levelled the scoring.
But there's a reason why it's better to be a frontrunner – shifting the scoreboard pressure on your opponent often makes things tense, frenetic and unpredictable at the best of times. So it proved.
Swiatek's winner count increased in the business end of a first set that could've swung either way until the final point. Sakkari shanked a makeable forehand long, before a costly double-fault gifted Iga a hard-fought set in the bank – which didn't look likely after the match's first five points.
Sakkari, for all her good work, was frequently undone one way or another before quickly unravelling midway through set two. Either she struggled to consistently get enough net clearance on her shots in their back-and-forth rallies, or failed to punish Swiatek's missteps.
---
Fantastic Fritz downs nerveless Nadal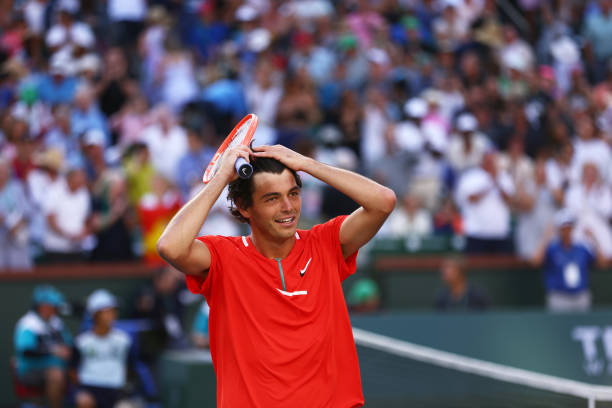 Fritz [20] bt. Nadal [4] 6-3, 7-6 (7-5)
Nadal was 16-0 in recent tiebreaks, on a 20-0 streak to start the 2022 season and while both weren't at 100% fitness, it didn't matter, such was the quality tennis on display by both in stages.
Playing some pulsating rallies as the finish line neared, Taylor Fritz responded well to adversity just when you were convinced Nadal would rise again against the odds like he did in Melbourne. If it went to a deciding set, who knows what would've happened?
After hard-fought three-set victories against a lively Nick Kyrgios and even more fearsome Carlos Alcaraz in the previous two rounds, Nadal would've normally backed himself to finish the job.
But given his pre-existing niggles coming into the tournament, as well as a shoulder giving him increasing discomfort, the 21-time Major champion was ultimately undone by a gutsy Fritz performance which illuminates his progression over the past 18 months.
After some character-building defeats, namely against Novak Djokovic and Stefanos Tsitsipas more recently, the 24-year-old has really come into his own against the world's best and while in disbelief at this latest achievement, he really shouldn't be.
---
Nadal injury update: Sidelined for 4-6 weeks with rib issue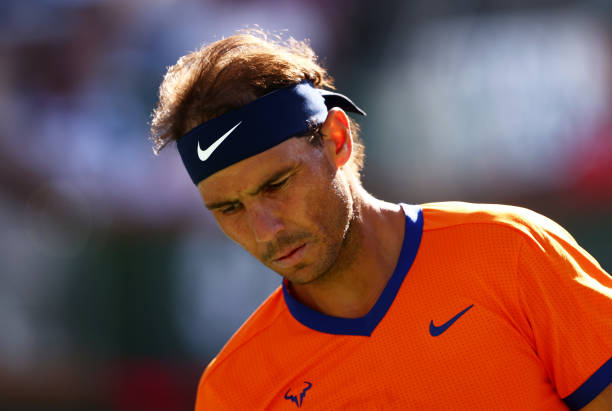 Per Marca's Joan Solsona earlier today, Nadal suffered a stress injury during his aforementioned win over Alcaraz but still persisted to play Fritz – a serious doubt himself.
"I had pain, honestly, problems breathing. I don't know if it's something on the rib… when I'm breathing and moving, it's like a needle all the time inside here. I get dizzy a little bit because it's painful."
When you add dealing with a persistent foot injury into the mix, it's not exactly surprising that the 35-year-old is now injured once more given how little competitive tennis he was able to play in the eight months before clinching an awe-inspiring Australian Open title on January 30.
While the projected timetable for his return should allow him back before Roland Garros begins on May 22 – where he has sealed 13 of his 21 major titles – this latest update is uncomfortable and will again pose questions aplenty about how well he'll perform upon his eventual return.
Picture source: Getty Images