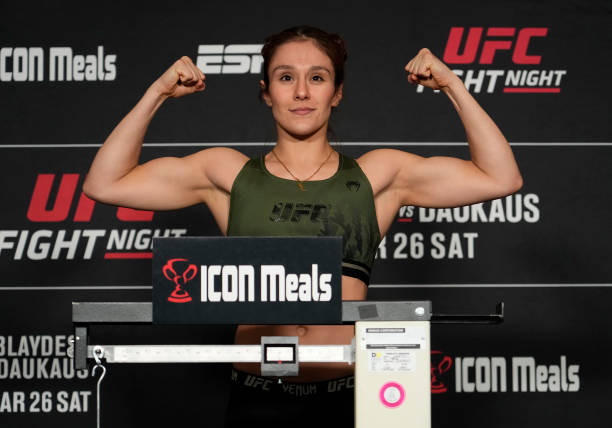 She's glad this matchup, slated for November, was rebooked. Now, Alexa Grasso has a golden opportunity to rise up the women's flyweight rankings in a division without many genuine challengers for Valentina Shevchenko's throne. Will the Mexican flourish or falter against perennial contender Joanne Wood, in a striking showdown during Saturday's co-main event?

Grasso-Wood: Long overdue, co-main event slot for both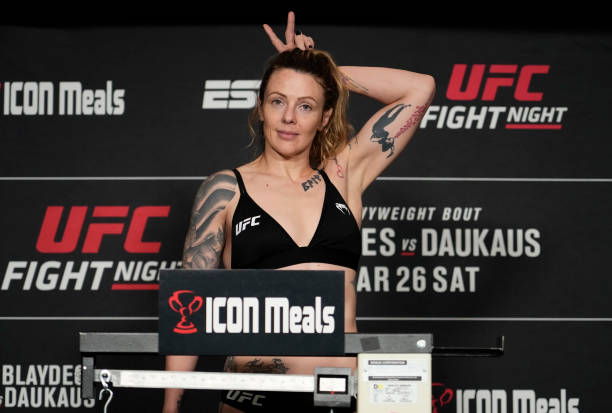 For all of her ability, Joanne Wood has always appeared tantalisingly close to a title shot but the Scotswoman's desire to stay active is a double-edged sword: having lost three of her last four post-lockdown, while Grasso is trending upwards after making the move up in weight to 125lbs.
Taila Santos, who scored a R1 rear-naked choke win over the 35-year-old Nov. 20, is now slated for a shot at Shevchenko's strap at UFC 275 on June 11 in what will be another fresh matchup.
"It's kind of a little bit disheartening when I think about my journey and the title because I've been so close a couple times, and it's just not happened for me. But I'm someone that never gives up, if it's going to happen, I need to do my job on Saturday. Win, keep winning, then it'll happen.

But I have a good case because right now, Valentina's up there and she's taken out all the girls above me and have fought me. I've still got that chance because I've not fought her yet… we have to win to put that case out there."
Currently ranked #5, the Contender Series graduate is only five fights into her UFC career and suffered a split decision loss to Mara Romero Borella on her debut three years ago last month.
After four consecutive defeats – including successive first-round armbar submissions – MRB was released 18 months later and has since inked a new deal with former promotion Invicta.
Santos racked up decision wins over Molly McCann, Gillian Robertson, the recently retired Roxanne Modafferi, before her memorable first-round win at Wood's expense four months ago.
READ: Casey O'Neill's patient progression stance is one more UFC prospects should follow
It was her first finish in five years and given the logjam in a division without many bonafide contenders, proved a necessary springboard for the Brazilian as she enters unchartered waters this summer – a maiden five-round main event against a fearsome foe with gold on the line.
I say that because it could've been Grasso in that position. Instead, she's had more prospective fights fall out (4) than completed (2) since losing a majority decision against upcoming title challenger Carla Esparza in Sept. 2019 and while not all her own doing, the situation isn't ideal.
Grasso's matchups cancelled, for one reason or another
Viviane Araujo: Jan. 22, this year
Joanne Wood: Nov. 20, '21
Ji Yeon Kim: Jun. 27, '20
Claudia Gadelha: Jan. 18, 2020
The 28-year-old has had to wait patiently with others leapfrogging her in the race for high divisional rankings, acclaim and the lure of performance-related leverage that comes with it.
"I wanted to fight JoJo because we have a similar style, we're both strikers, I'm pretty sure this is going to be a showcase of striking clinic. I take every fight pretty serious, Jojo has more fights than me – that's why I wanted to fight her.

Fighting veterans is different than newcomers, this is a very important fight, she's No. 7 right now and that's what I want: to be climbing the rankings."
Viviane Araujo couldn't do it last May, falling short against a formidable challenge in former title challenger Katlyn Chookagian (#2). Will Grasso successfully clear the hurdle before that?
---
UFC Columbus card, is as follows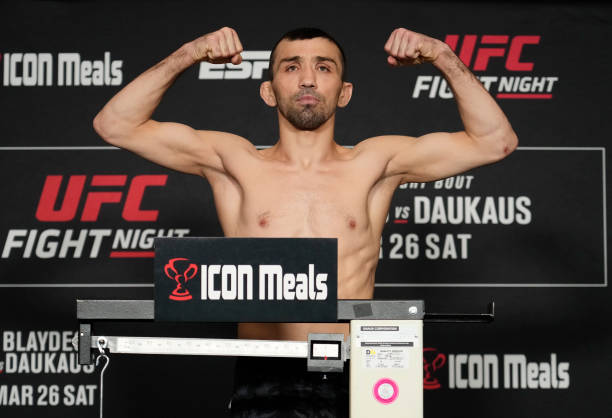 Heavyweight main event: Curtis Blaydes (#4) vs. Chris Daukaus (#9)
Women's flyweight: Joanne Wood (#7) vs. Alexa Grasso (#9)
Welterweight: Matt Brown vs Bryan Barberena
Flyweight: Askar Askarov (#2) vs. Kai Kara-France (#6)
Heavyweight: Ilir Latifi vs. Alexey Oleynik
Lightweight: Marc Diakiese vs. Viacheslav Borschev
Prelims
Welterweight: Neil Magny (#9) vs. Max Griffin
Women's bantamweight: Sara McMann vs. Karol Rosa
Bantamweight: Chris Gutierrez vs. Danaa Batgerel
Middleweight: Aliaskhab Khizriev vs. Denis Tiuliulin
Women's flyweight: Jennifer Maia (#4) vs. Manon Fiorot (#13)
Flyweight: Matheus Nicolau (#7) vs. David Dvorak (#10)
Featherweight: Luis Saldana vs. Bruno Souza
Picture source: Getty Images — quotes via mmajunkie