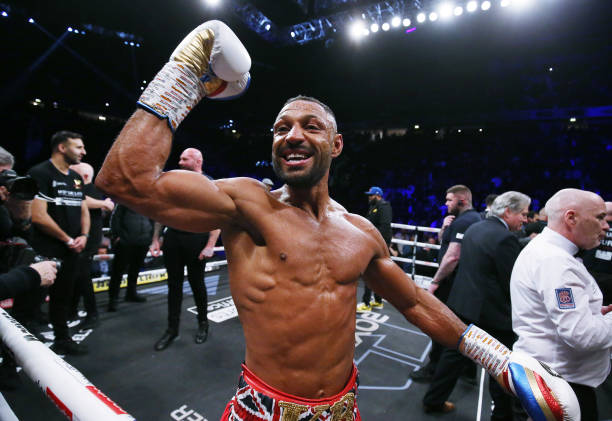 Referee Victor Loughlin compassionately saved Amir Khan from further punishment 40 days ago today, in a long overdue grudge match between two of the country's best boxers since 2000. While Khan is reportedly plotting a bold comeback, there's speculation aplenty but no clarity over who Kell Brook's next opponent will be – after confirming he won't retire last month.
After a one-sided grudge match victory, what's next for Brook?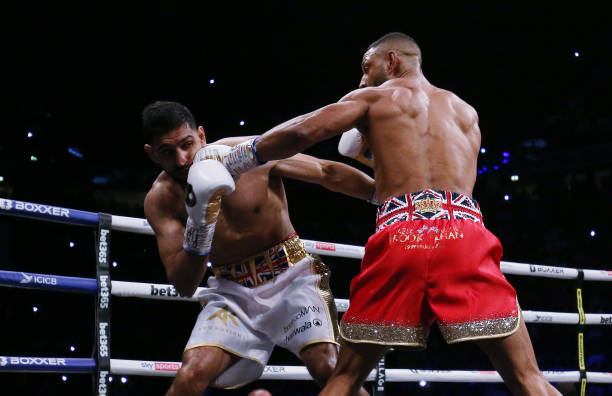 Although we'll never know, there was always a notion Brook would've been favoured to beat Khan – and convincingly – when they were supposed to fight, more than a decade ago. Now both 35, past their respective primes and with suspect durability, this was billed as a toss-up.
It was obvious, quite quickly, that it shouldn't have been. Brook buzzed Khan multiple times in R1 alone and had Amir on wobbly legs, just minutes after having to change his gloves in the ring beforehand after a protracted dispute about the gloves he was wearing in the changing room.
While Khan's hand speed and punch combos are among his biggest strengths, the 2004 Olympic silver medallist only landed 10 punches in a round once (R2) and was largely second best. So much so, that you could argue he was 49-46 down on the scorecards at the time of the finish.
As each power punch landed flush, or Khan displayed negative body language, Brook's confidence grew exponentially in considerably different circumstances to those that saw him suffer a worryingly easy R4 TKO defeat by WBO champion Terence Crawford in Nov. 2020.
Even the most valiant competitors can only absorb so much damage before it accumulates and so it proved at the start of R6, once Khan was again buzzed with another stinging left hand jab:
---
Assessing brook's prospective opponents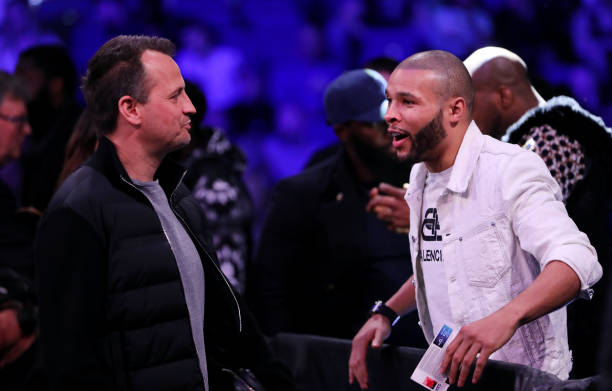 Having hinted at potentially retiring on a high note beforehand, Brook instead remained coy in the aftermath on fight night and has since reaffirmed a desire to continue in the short-term.
Middleweight contender Chris Eubank Jr, who watched things unfold ringside alongside Crawford and others, expressed a desire to face Brook in a domestic duel later this year:
"I was not expecting that sort of performance from Kell, dominance from the first round to the finish. He's proven tonight he still has the spice, now I want to see how spicy he can get with me, I'm not Amir Khan.

We have history, he's the reason I didn't fight [Gennady] Golovkin all those years ago, I've never forgiven him for that, always held that against him because that was my fight… I'm still looking to get it [the fight], I didn't think he still had it [this performance level] – now I know it's still a challenge."

On agreeing to fight at a catchweight: "He fought GGG at 160, he walks around heavier than me, I'm at 168, he's probably 175 [lbs]… listen, we can make it happen. The fans have asked for this a long time, who else can he go to?"
Unsurprisingly, Eubank Jr isn't the only one interested. Rising welterweight contender Conor Benn (#5 WBA, IBF) remains keen on securing a domestic dust-up of his own but has business to take care of first, in the form of South Africa's Chris van Heerden (28-2-1, 1 NC) next on Apr. 16.
Khan had three weeks to, but hasn't exercised his rematch clause, per one clause inserted into their fight deal. Although there'd seemingly be little appetite for them to run it back so soon after such a beatdown, BOXXER promoter Ben Shalom is open if Amir looks good in a tune-up bout.
Claims Khan (39-6, 21 KOs) was injured in the build-up to this bout have served as another way back into an unlikely rematch later down the line, but interestingly, there are tough opponents Stateside eyeing a shot at Brook (41-3, 28 KOs) too: Danny Garcia and Keith Thurman.
"We put offers into Danny Garcia, we think that's a great fight – one or two other options but I can't say what they are, I'll be honest.

I think Kell wants one last dance, maybe two but it will have to be right for Kell. If he retires now, I don't think anyone can blame him."
Thurman ended a 932-day absence with a UD win over Mario Barrios on Feb. 5, while fellow former WBC titlist Garcia hasn't fought since losing via decision to Errol Spence Jr in Dec. 2020.
Also read: 2022 must be about less talk and more action for returning Thurman
Garcia is the latest top welterweight linked with a move up in weight to 154lbs, while a Thurman rematch, Mikey Garcia and Crawford WBO title shot are all options he's eyeing.
That plan is easier said than done though, and given both have been inactive of late, they need tune-up fights if they want a strong finish to their respective careers. Attempting to secure a Brook fight, considering the interest is there, makes sense. Whether it'll happen, is another thing.
Picture source: Getty Images — video via Sky Sports