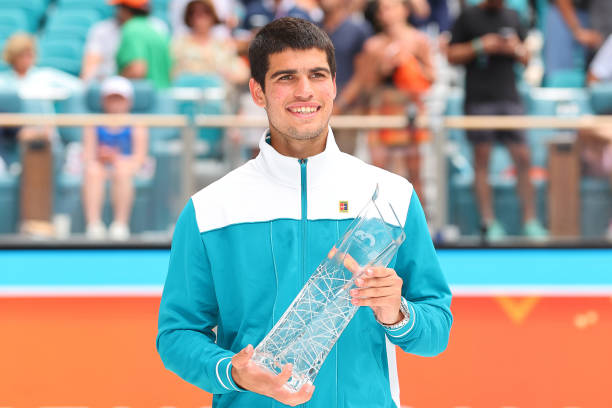 US Open quarter-finalist Carlos Alcaraz made history in Miami, becoming their youngest ever champion and equally the third-youngest player ever to win a title at Masters 1000 level after recovering from 1-4 down in set one, beating Casper Ruud 7-5, 6-4 – capping an unforgettable fortnight for the Spanish teenager, who will rise to world no. 11 in tomorrow's rankings update.
Alcaraz's awe-inspiring ascent continues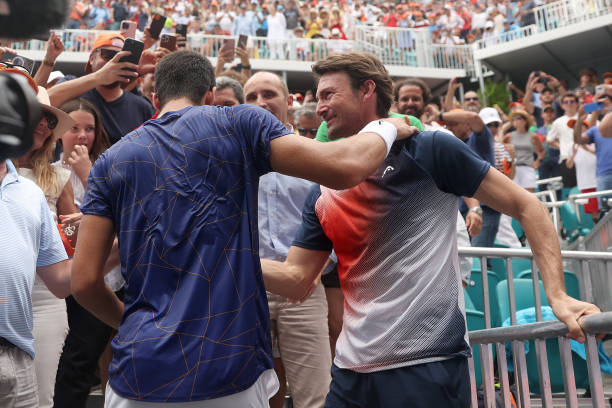 Alcaraz [14] bt. Ruud [6] 7-5, 6-4
"No words to describe how I feel, so special to win my first title here, with an unbelievable team with me. Juan [Carlos Ferrero] came yesterday during a tough moment for him, coming here – an important point in my career," Alcaraz post-match
"Congrats to Carlos, such a good player so young already, continue like this and you'll stand up here many more times. Super nice guy, I respect you a lot as a person and player, it's well-earned," Ruud reflects after a fortnight's tennis that neither will forget
Both with career-high world rankings: Ruud at #7, Alcaraz just shy of top 10 in #11
All things considered to start 2022, perhaps we shouldn't be surprised two players operating away from their favoured clay court surface were battling in this finale.
"It's a pleasure to watch a career just starting," tournament director and former world no. 4 James Blake proudly said of Alcaraz after flexing his minimal Spanish in the trophy presentation.
As both extended pleasantries to their opponents' coaching staff, praised the other's respective skills and highlighted one another for being nice guys on tour, this proved a wholesome scene.
While four-and-a-half years apart, both represent tennis' new age – a welcome end to a Miami Open full of twists and turns, albeit undoubtedly impacted by their staggered scheduling format.
After an ankle injury saw him unable to improve upon a career-best Major result in Australia three months ago, Casper Ruud will regret how this matchup unfolded. However, the Norwegian should instead hold his head high and use the experience as fuel for a return to clay shortly.
Just as Stefanos Tsitsipas experienced Wednesday, a promising set one advantage disintegrated here without warning after some sketchy execution gave the Spaniard initiative he didn't need.
Alcaraz has grown exponentially over the past nine months and while he turns 19 a few weeks before the highly-anticipated Roland Garros tournament begins this year, his superlative-laden tennis is growing traction across the sport as everyone is quick to crown him as the next best.
Also read: Badosa warned Alcaraz and Raducanu over social media pressures, in March
While his boundless potential is obvious as he happily builds up invaluable experience by regularly testing himself against the world's best, matches like these highlight he already deserves to be among such company. Sustaining it on a weekly basis is a challenge he relishes.
---
A telling sequence ruud will rue, as pressure ultimately shows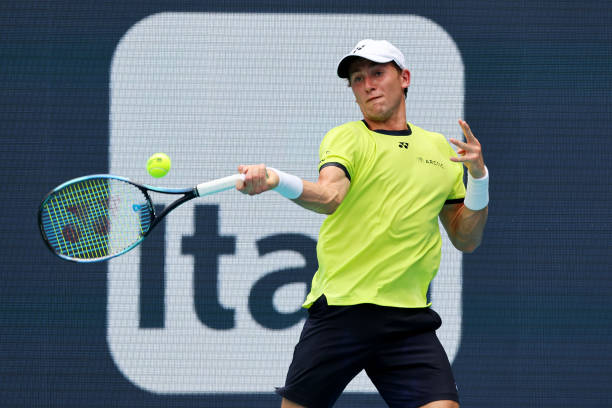 15-all on Alcaraz's serve was quickly 40-15 as the teenager varied his serving to help finally get him on the scoreboard after 18 minutes. An ace, then timely serve-and-volley tactic and the deft drop shot usage he has made increasingly deadly helped him avoid going down a double break.
40-0 on serve in the next game, things started to take a turn. His second serve was met by an emphatic return ace, then watching a passing shot fly past him as he intently approached the net with soft hands but iffy execution on the very next point.
Alcaraz's athleticism helped him stay in the next point with some staunch mid-rally defence and before long, the crowd were roaring as Ruud hit an overhead shot into the net. Uh oh.
Deuce now, Ruud constructed the point well but hesitated as he advanced towards the net – let the ball sail over him – and watched it drop in as the seeds of doubt had been set in his mind.
Break point, Alcaraz. Ruud's errant first serve invited some tetchy fans to encourage more of the same and this time, Alcaraz's drop shot magic backfires as he bails mid-rally and drops it short.
Although Ruud did enough to eventually hold and save a break point, the damage was done.
---
Miami crowd gets behind tenacious teenager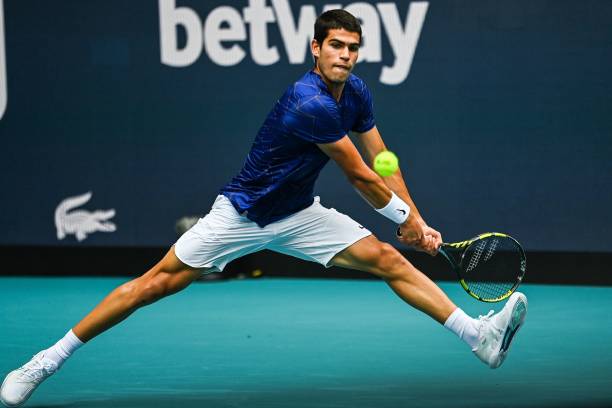 Alcaraz's confidence was boosted, the incredible stadium he thanked afterwards helping to create a sense of foreshadowing what was to come: either Casper would crumble under pressure or he'd snatch it away entirely like he did quarter-finalist Miomir Kecmanovic over time.
Bit of both, in truth. After winning the first point on serve, the Scandinavian's first serve deserted him – so much so that Alcaraz had two further chances to break.
Ruud overhit a forehand on the second attempt and suddenly, parity was restored. 4-1 was soon 4-4 and Alcaraz was hitting his spots in a cagey affair that soon became a sprint before long.
Winning six straight games, Alcaraz went from 4-5 down to a set and double break up in set two.
Ruud would've been reeling and all things considered, performed valiantly to keep things competitive during the final stages in a match that quickly evaded his grasp. After calling for the trainer, he received treatment for a tight TFL (tensor fasciae latae) issue, a hip abductor muscle.
As explained by the match commentators at the time, it's an awkward problem that can impact multiple other areas of the body including the lower back and knee if not successfuly resolved.
Although not blatantly obvious his movement was impacted, Ruud wasn't 100% and Alcaraz astutely made him work harder for points after the Norwegian snuck one of the breaks back.
Quick service holds for both saw set two speed by after the aforementioned MTO, so it felt fitting Alcaraz ended a historic tournament with a backhand winner at the net on championship point.
---
So, what's next?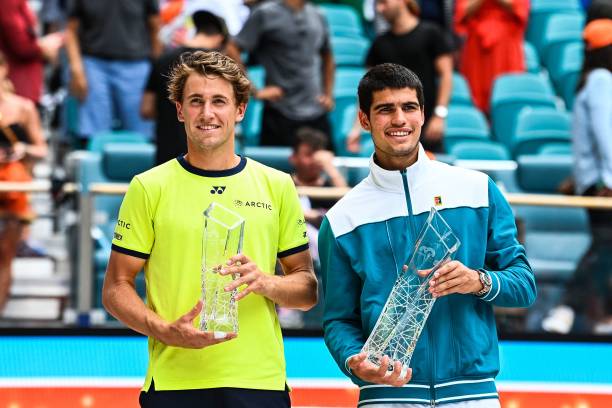 Ruud, who beat Indian Wells titlist Cameron Norrie and Olympic champion Alexander Zverev among those en route to his first Masters 1000 final, has unsurprisingly withdrawn from this week's ATP 250 in Houston as he recovers from the aforementioned injury sustained here.
It's unclear whether he'll play the Monte-Carlo Masters on Apr. 11, though he and Alcaraz are both tentatively among the tournament's top eight seeds – so will get byes into round two.
The only other top-eight seed scheduled to play this week is US Open semi-finalist Felix Auger-Aliassime, whose inconsistent results so far this year have prompted the 21-year-old Canadian to enter Morocco's ATP 250 event in Marrakesh after successive early Masters 1000 defeats.
Picture source: Getty Images