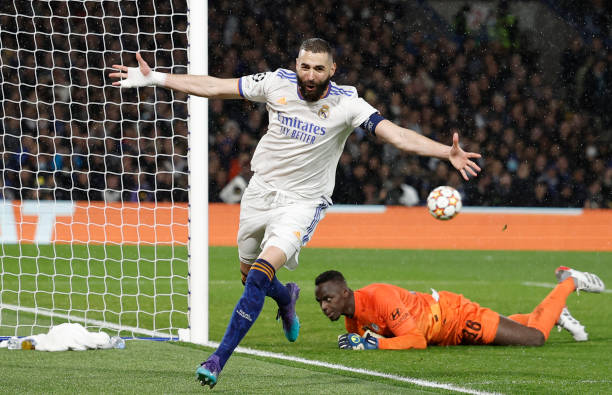 After conjuring up magic to save Real Madrid from the brink of elimination against PSG in the previous round, it was again Karim Benzema's night – this time in west London – as two first-half headers and pouncing on Edouard Mendy's early second-half mistake has now confined Champions League holders Chelsea to an unenviable second leg recovery mission on April 13.
Benzema, who else, gives Carlo's crew comfortable lead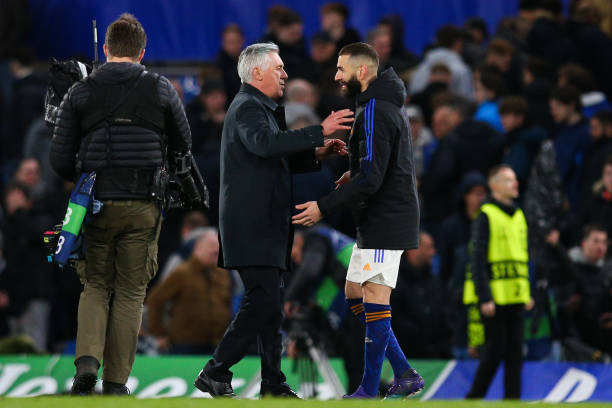 Benzema has 42 goals for club and country this term; Chelsea boss Thomas Tuchel rejects notion the tie is alive with 3-1 aggregate deficit to overturn in post-game presser
Arnaut Danjuma's first-half winner sees Villarreal earn surprise 1-0 first leg win over Bayern in the evening's other UCL fixture, after wins for City and Liverpool yesterday
Alan Shearer waxed lyrical about Benzema in the lead-up to this game, and rightly so. After a weekend where Harry Kane was lauded by many across England as the world's most complete striker, Benzema predictably blitzed Chelsea during a match wrongly defined by small margins.
So, what makes it worse? The fact everyone highlighted the 34-year-old as Real's overwhelming danger man, or the Blues' inability to stop him wrecking havoc on their backline? This, for context, was very similar to the one conceding four at home to Brentford on Saturday afternoon.
Back in a 3-4-2-1 formation, as opposed to the 4-3-3 ruthlessly punished on the counter-attack last weekend, Chelsea were second best against a side seeking revenge.
11 months ago on this same turf, Timo Werner's 28th-minute opener lit the proverbial touch paper as Chelsea outfoxed their semi-final visitors and left the midfield maestros stumped. This time, the roles were reversed and Benzema's potency saw them shellshocked after 25 minutes.
Punished for ball-watching and having a half-hearted press out of possession, Chelsea's midfield found themselves being comprehensively bypassed with seeming ease.
Benzema's one-touch forward flick for Vinicius Junior saw the Brazilian burst past Andreas Christensen to the ball, float an inviting return cross into the area and wheel away to celebrate moments later as Edouard Mendy's dive couldn't prevent it flying beyond him at the near post.
Three minutes later, another Benzema header evaded the African Cup of Nations winner at his far post this time. Between David Alaba, Ferland Mendy and Casemiro, the visitors retained possession in tight spaces before splitting Chelsea's press as players charged forward in support.
Luka Modric exchanged passes with Federico Valverde, before curling an incisive first-time delivery into the box without having to scan for options. He knew what would be waiting there.
Thiago Silva did too, but Benzema positioned himself in the sweet spot between the experienced Brazilian and a backpedalling Christensen. Neither could track him stride-for-stride, he gladly pounced as you'd expect and expertly steered this strike towards the opposite corner.
---
Tale of contrasting goalkeeping mistakes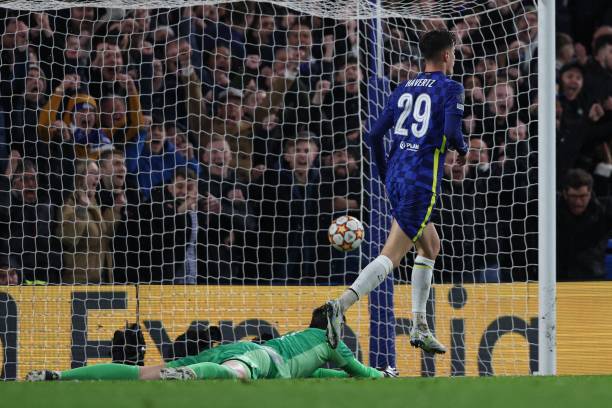 Thibaut Courtois, roundly booed by his former fans whenever he touched the ball throughout the evening, experienced a moment he won't remember fondly just on the stroke of half-time.
Anyone who knows the Belgium international well is aware of his world-class talent, but also a frustrating penchant for conceding preventable goals – either because of slack positioning or failure to adjust in time with his 6'7 frame seeing the opposition exploit him from close-range.
That could be said for Kai Havertz's 40th-minute goal, in a half punctuated by headers, from Jorginho's probing pass. Dani Carvajal could only fling an outstretched boot out to try distracting the German, while Eder Militao briefly pushed up too high and was thus a bystander.
Courtois got a significant touch to the effort, but rather than palm it to safety or at least back into the six-yard box, it bounced off his outstretched left hand into the far corner. Chelsea didn't care.
As far as they were concerned, it was game on. Fans were re-energised, could sense the makings of a morale-boosting second-half comeback in the offing and Real would eventually run out of steam right? Well, 46 seconds after the interval, things turned upside down without warning.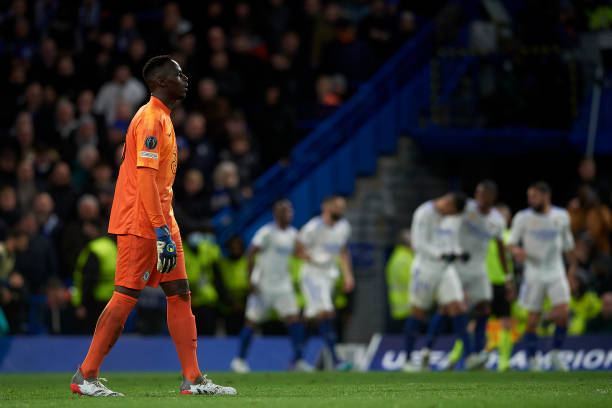 Edouard Mendy's comfort with the ball at his feet – or lack thereof – has remained the main sticking point for justified scrutiny since his £24m move from Rennes in September 2020. Having turned 30 last month, it's unlikely he'd suddenly develop into a distribution king overnight.
But with that in mind, surely you'd adopt a stance that masks said weakness?
Instead, he ventured into Manuel Neuer territory outside his own area to recycle play after a benign clearance and was burned rather badly after a dodgy first touch, subsequent hospital pass towards Antonio Rudiger was pinched, all so Benzema could bury into an empty net.
3-1 it eventually finished, but you could be forgiven for thinking the second-half's goal glut had just begun considering how Chelsea were probing and Real beginning to defend in numbers.
Romelu Lukaku, on off the bench just five minutes earlier, headed wide from close-range after Cesar Azpilicueta's deflected cross gave him a wide open look at halving the deficit again.
The hosts dominated possession and second-half opportunities (64%, 12 shots to one) but without reward as Courtois saved from Azpilicueta, Christian Pulisic, Havertz and Reece James.
When you consider Mendy's mishap with Lukaku's header flashing wide, the hosts have a convenient scapegoat (or two) to blame after witnessing another underwhelming result. After the week they've had, successive defeats for the first time since Sept. 29, it's understandable.
It's an easy defensive mechanism to utilise raw in the moment but if the players echo their fans' belief, rather than being galvanised by their boss' seeming pessimism, they'll be left staring at a limp Champions League defence next week and a campaign without major silverware.
Picture source: Getty Images