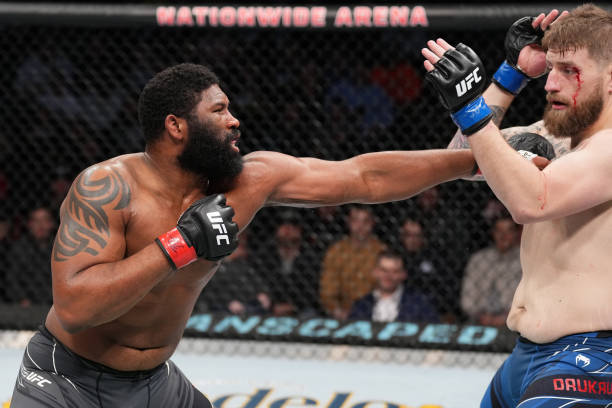 After a rare week off last Saturday, the promotion returns with the heavily-anticipated UFC 273 PPV this weekend from Jacksonville featuring two title fights. However before then, it's time to reflect and unpack proceedings from an eventful Fight Night card attended by 18,630 in Columbus, Ohio as Curtis Blaydes reasserted his heavyweight title aspirations and much more.
#1: Fiery Fiorot latest to sidestep former title challenger Maia
Availability is the best ability, so the saying goes. 13 months after her UFC debut on Fight Island, French women's flyweight Manon Fiorot has announced herself at 125lbs as a true contender and is now firmly in the top-10 rankings after a workmanlike showing late last month.
Jennifer Maia, who challenged for Valentina Shevchenko's strap in Nov. 2020, defended her #4 ranking against the surging European upstart with plenty to gain and nothing to lose here.
The big takeaway from her clash with the champion was appearing to chip away at Valentina's invincibility, by managing a second-round takedown and 4:33 worth of control time too en route to a 49-46 UD defeat. It's not much, but it's a glimmer for other contenders to take courage from.
In nine Octagon appearances, she has only outworked her opponent (significant strikes landed) once, during a comfortable decision win over now-retired Roxanne Modafferi in July 2019.
As has been the case in most of the Brazilian's fights of late, she had some success in spurts but frustratingly couldn't string things together enough to chain a submission manoevure nor truly gain Fiorot's respect for her punching power either during their stand-up exchanges.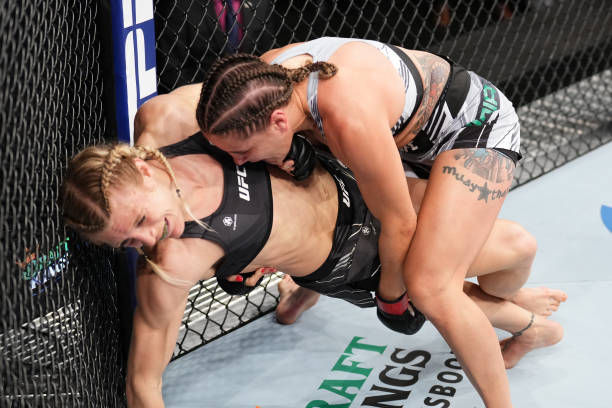 30-27 across the board, there could be no complaints. This was the first fight on a new four-fight contract for the 33-year-old, but after this display and a UD loss by Katlyn Chookagian in January, it's likely she'll be utilised as an acid test for fresh contenders going forward in future.
Speaking of another former title challenger in Chookagian (#2), Fiorot called her out post-fight. It makes sense to continue climbing up the rankings as far as ambitious callouts are concerned, but Katlyn is scheduled to welcome Amanda Ribas (#9 strawweight) to the division on May 14.
Regardless of the result in that matchup next month, you'd expect Fiorot would instead defend her new #7 ranking if she's injury-free and available to fight again this summer. Following successive second-round TKO wins, she's now gone the distance in consecutive encounters.
That means there's plenty to unpick with her coaches in the fight tape, still things that can be developed before thinking about a title shot in future. But as we've seen, it's not exactly too far away in a division lacking true depth as far as championship contenders are concerned.
---
#2: Diakiese-Borshchev reinforces importance of good grappling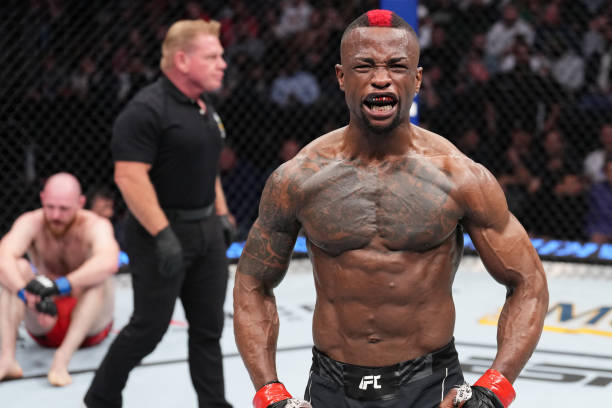 After an impressive first-round win over Dakota Bush on his promotional debut, Contender Series signee Viacheslav Borschev would've hoped for a superb sophomore showing against lightweight veteran Marc Diakiese. Instead, the promising Russian endured a rough 15 minutes.
Following successive post-lockdown defeats to Rafael Fiziev and a first-round guillotine choke against Rafael Alves last November, the 29-year-old DR Congo-born Brit cruised back into the win column but importantly did so after embracing a style not exactly popular among most fans.
From the commentary booth with Michael Bisping and Daniel Cormier, both former UFC champions in their heyday, they were initially taken aback seeing Diakiese shoot for takedowns.
After the first few were well-defended, it was obvious what his gameplan was. Wear down a fearless kickboxer with an unblemished record (6-0), albeit one that hasn't truly been tested in the way it needs to be before he continues climbing the ladder of hungry sharks at lightweight.
Diakiese completed an whopping 11 of 18 takedowns attempted (61% accuracy), logging 12:24 minutes of control time from a 15-minute matchup. Across ten Octagon fights before this, Marc had landed 16 – with six vs. Frankie Perez alone on his own sophomore showing in Dec. 2016.
Considering he only landed 40 strikes (Borshchev had 32 of 44), this made for an understandably frustrating watch if you were expecting a back-and-forth duel. However, we're seeing this trend become increasingly common. With the right execution and sufficient cardio, it's very profitable.
Sergey Spivak ragdolling Greg Hardy last month, Jacob Malkoun doing the same to AJ Dobson and highly-rated middleweight prospect Nick Maximov are just three recent examples.
---
#3: Kara-France's big win just what flyweight division needed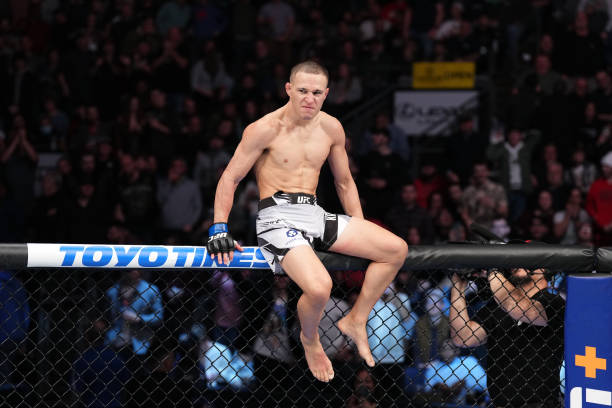 This was a competitive, highly entertaining matchup between two title-contending flyweights and could've easily headlined a Fight Night card on its own.
Instead it was strategically placed in the middle of a main card needing juice and unsurprisingly delivered, as much of fights involving Kai-Kara France have in recent years.
While reigning titlist Deiveson Figueiredo and former champion Brandon Moreno remain locked in for a fourth fight, tentatively sometime in July, the depth of contenders has lacked true fire in the meantime. Cody Garbrandt failed memorably, while Alexandre Pantoja (#4) has been iffy.
Askarov, entering this as a clear favourite and armed with an unbeaten record (14-0-1), has been regarded as a decision machine who doesn't exactly have fans clamouring for him next in-line.
Since a split draw with Moreno on his UFC debut in Sept. 2019, the Russian notched three straight wins but also amplified a notion smaller fighters aren't that exciting to watch regularly.
Kai is the opposite: win or lose, he has a fan-friendly style, is able to mix risk with reward in a way that invites pressure but equally coaxes opponents to abandon their defensive principles.
Case in point being here, where the Columbus crowd serenaded him and watched the crafty New Zealander rally from a precarious first-round where he was in trouble and could've easily been submitted. The last time that happened was a back-and-forth duel with Brandon Royval.
KKF landed almost double Askarov's significant strike totals (51 to 27) over 15 minutes, grew in confidence after fighting off two submission attempts and was happy baiting him into sustained boxing exchanges where he could repeatedly sting the Russian, much to the crowd's pleasure.
This result will suit the matchmakers just fine. Askarov, who started well and had an ominous sense of inevitability early, can't have any complaints and instead must respond well to adversity for the first time in his professional career. That makes for an intriguing redemption arc.
---
#4: Grasso's improved grappling earns a career-first submission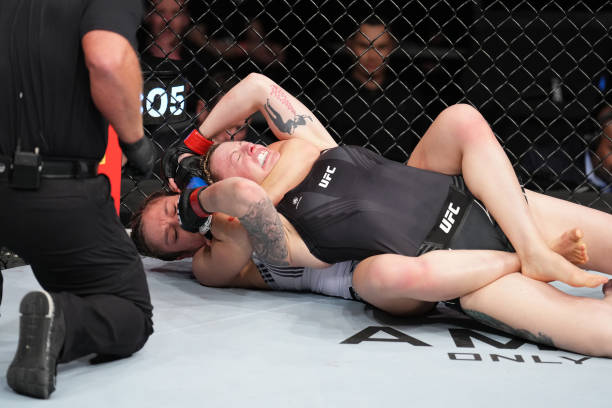 In all three of her UFC defeats – two by decision – Alexa Grasso gave up a combined eight takedowns against Felice Herrig, Tatiana Suarez and most recently, Carla Esparza.
Considering the latter is set for a title shot next month, in a division the Mexican has departed, that controversial majority decision result forced her to hone in on chinks within her armour.
Known as a boxer with sharp hands to prove it, the 28-year-old has taken time focusing more on her ground game and wrestling, which has given opponents cause for optimism in the past.
While this was the latest step-up in her pursuit of gold at 125lbs, perennial contender Joanne Wood (#7) is no slouch and certainly an impressive name to have on the resume.
Sprinkle a R1 submission win via rear-naked choke and well, that's the icing on a perfectly-executed cake. Daniel Cormier described it as the biggest win of her career and she didn't argue:
"I'm so happy, thanks to my coach and sparring partner, finally my first submission win. I know she likes to do spinning [attacks], worked this hundreds, hundreds of times so wanted to do it [the manoevure and finish] exactly that way. It's a long road, stepping up, I have the best matchmaker [in Mick Maynard] so whatever he chooses [for a next opponent], I'm happy with."
She has now risen four places to #5 in the flyweight rankings and with another win, could easily see herself fighting for gold. Considering there's a desire for fresh contenders, that sits nicely.
---
#5: Blaydes blasts Daukaus, calls for interim title shot vs. gane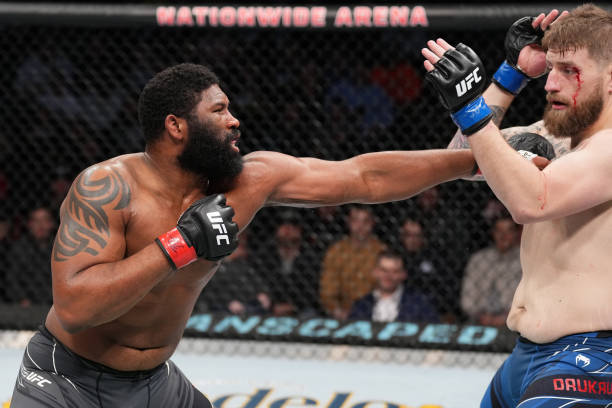 Last but not least, a statement win for Curtis Blaydes to cap an eventful Fight Night card in emphatic style. He called for an interim title shot against former interim titlist Ciryl Gane sometime this summer afterwards and in truth, you can't blame him after such a striking show.
There isn't much in the way of fresh highly-rated matchups for Blaydes, so Chris Daukaus (#9) was deemed suitable. Within a few minutes though, Blaydes' boxing caused problems aplenty.
Daukaus, who suffered a thunderous KO loss by Derrick Lewis late last year, hoped to rebound here and emulate Tom Aspinall's step-up victory vs. Alexander Volkov in London last month.
Like most, he and his team were clearly expecting Blaydes to adopt the wrestle-heavy style that is tough to watch and exhausting to be on the receiving end of. Instead, he was absorbing one-two punch combos and regularly coming out second best in their striking exchanges.
Either he'd needlessly overextend and find himself open defensively, or be too slow to slip strikes as they whizzed in his direction. One combo in particular snapped his forward-thinking approach and from that point forward, around the midway point in R1, he was risk-averse.
You can't afford to do that against someone with Blaydes' explosive power, whether on the ground or if he wants to exchange. Undoubtedly enthused as he saw blood dripping from Daukaus' eye, without admiring his handiwork, the 31-year-old would've known Chris was hurt.
So as the second-round began, he continued where he left off in the first – an inadvertent eyepoke besides – landing a devastating right-hand which signalled the beginning of the end.
After some hammer fists, referee Herb Dean wrestled him off a helpless Daukaus and just like that, it was over. If ever you needed an advert for the trials and tribulations of heavyweight fighting, with former champion Stipe Miocic watching cageside, there it was in full effect.
---
Other results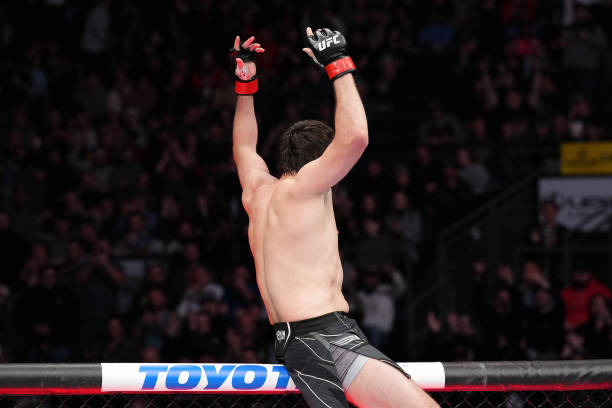 In a pick-em fight at welterweight, Matt Brown and Bryan Barberena brought the best out of one another in what was into an all-out war – both in their stand-up exchanges and the ground.
The 32-year-old, who has now won two straight for the first time since 2016, was showered with boos after the result was confirmed, prevailing via split decision (29-28, 28-29, 29-28).
Neil Magny (#9) recovered from a first-round knockdown to outlast a determined Max Griffin effort, as he tied Hall of Famer Georges St-Pierre for the most welterweight wins in UFC history after edging a split decision win (29-28, 28-29, 29-28) before calling out Khamzat Chimaev.
The rising star, feared by many, has been repeatedly called out by the Haitian Sensation for over a year now but it's unlikely they will match up unless Magny continues rising up the rankings.
At women's bantamweight, Sara McMann (#8) defended her ranking with aplomb – logging four takedowns, more than 10 minutes' control time and has now surpassed former champion Miesha Tate in the latest update after a gritty UD win (29-28 x 3) against Karol Rosa (#13).
In a battle of two Russians at middleweight, Contender Series graduate Aliaskhab Khizriev made his long-awaited UFC debut count with a second-round RNC against Denis Tiuliulin.
The 31-year-old, who had three separate matchups cancelled last year for various reasons, was originally set to fight Abusupiyan Magomedov here. Instead came Tiuliulin, though there was no love lost between them as Khizriev showed why he's so highly-rated among many MMA experts.
One to watch: Afterwards, he revealed a desire to lose weight and fight at welterweight in future.
Bantamweight Chris Gutierrez's nasty R2 spinning backfist (R2 TKO, 2:34) suddenly signalled goodnight for Danaa Batgerel before landing huge elbows on the mat. The American is now on a seven-fight unbeaten streak, earning the eighth stoppage victory of his career to date.
It was admittedly an underwhelming watch for sustained periods, amplified by a restless crowd,  but Matheus Nicolau (#7) did the better work and ultimately prevailed on the scorecards (29-28 x 3) against David Dvorak (#10) in a battle of two 29-year-old flyweight contenders.
In the prelim opener at featherweight, there were impressive flashes from Contender Series signee Luis Saldana as he earned a UD win (29-28) across all three scorecards vs. Bruno Souza.
Picture source: Getty Images